Review:
SmartvCard and SmartvCal
Score:
77%
Version Reviewed: 1.01
Buy Link | Download / Information Link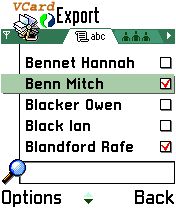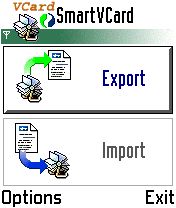 I don't trust my computer. After playing with probably every PDA under the sun (and that includes such delights as the Apple Newton 200), I tend to think of my data as something that lives independently of a platform, no matter what it is running on. I always like to have a central file, readable by anything, tha holds my information, and I like to be able to export my information on my terms, and not rely on any software synchronisation, Bluetooth kludges or any other solution that is forced upon me.

Using Symbian OS, the most important things for me are the Calendar and Address Book details. On previous versions of Symbian OS (even as recent as the Communicator) it was possible for me to get to these files and, if nothing else, copy them onto a 1.44" floppy (stop giggling at the back – Ed) and I then had a secure back-up. Where's the export function in Series 60? Nope, not found it.

Which is where third party applications come in, and the pairing of Symbianware's SmartvCard and SmartvCal is probably the best of the bunch. They allow me to dump out all my calendar and address book to a single file for each applicaiton, with the bonus that they are in a standard format that can be read by pretty much any PIM application. In theory, anyway.

Here's something that might be a surprise to those people who design the connectivity software. Not everyone uses Windows based PC's. And a lot of those Windows users do not like using Outlook. The last few months have seen some solid developments with iSync for the Macs, which is nice, but these two apps provide the 'rosetta stone' of application-independence, importing and exporting via a common file type (vCal and vCard).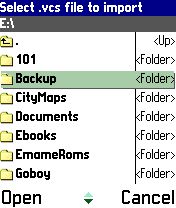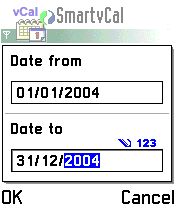 One example, you can dump your entire address book to a single vCard file. Beam this file (using FExplorer or any of the other popular File Explorers available) to a Palm OS powered PDA and, lo and behold, everything is moved over, same mappings, same fields. Perfect. Now try and do the same via Outlook.

SmartvCal and SmartvCard do the job they need to do, with a very clean and simple interface. When you run the application, you have two graphical options – Import or Export. Selecting Export lets you mark which entries to export (or all of them) and then presents a directory tree. Import works in the same way, here's the directory tree, choose the file, and away it goes. These apps are like Ronseal – they do exactly what they say on the tin. And now there's a UIQ version of SmartvCard as well!
They do what they need to do, and if that's important to you, then they're worth every penny.
---
SmartvCard and SmartvCal can both be downloaded from Symbianware.
Reviewed by Ewan Spence at