Review:
Sendo X
Score:
91%
The X is almost the perfect smartphone (or it was when this review was written).
Version Reviewed: x1.22.8.1
Buy Link | Download / Information Link
So, being one of the first journalists in Britain to get a hold of some production versions of the Sendo X (not that we haven't been playing with the beta models since Christmas last year) I thought I'd get some quality time in with the Smartphone from Birmingham. Alas, I've had to write this interview in the wee hours of the morning, because once Vikki got a hold of the Sendo X and the bundled game Funny Farmer, she wasn't going to give it up unless I could prise it out of her cold dead hand.
Where's The Phone Been Then
The Sendo X was announced last November. It's now July in the UK, so where's it been? Well, everywhere else in Europe. It missed the Q1 launch date by a matter of days, and is currently available in some European territories. The UK is waiting for whichever operator is going to carry it to announce it, and we'll be there like a shot with the news (and to place our order - Rafe).

Sendo freely admit that the Sendo X is later than announced, but to be fair to them, 15 months before the launch they were still working with Microsoft on the Z-1000, and hadn't even seen one line of Symbian code. You want to know how long a smartphone takes to make? Ask the boys from Birmingham.

And let's be honest, while those of us online know about the delay, the vast majority of people don't. They're just going to see what I still think is the current ultimate Series 60 phone. And yes, we all know that it's Series 60 1.2s, and not Series 60 2.0 (as in the 7610 and 6600) but frankly, you wouldn't notice. A lot of the 'new' features in v2.0 have been backported by Sendo into the X. Sendo did have the option to move to the later version, but given that they're 100% familiar with the original version, and have extended it quite spectacularly, I think this is the right choice to make.

Sendo are pushing the X in four areas... See more, hear more, do more and play more. Let's use them to look in more detail at what's still at the top of my list as the most desirable Series 60 handset in the world. But first...
The Phone Itself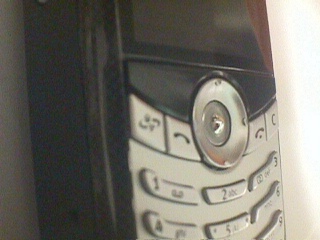 The most striking thing about this phone is that it's a phone. Strange as it may seem, we've never had a truly generic looking Series 60 device. This is much more phone-centric than some of the others, which can look like escapees from the Concept Labs. Every device up 'til now has had something 'funny' about it, be it a sliding out keypad (the 7650), a squished out at the sides overweight look (the 6600) or a 'funky' but impractical keyboard (ehrm, the SX-1, the 3650, the 7610, heck, most of the Series 60 devices really!). The Sendo X scores immediate points in that it looks like a phone, with buttons in the right place, a screen in the right place, speakers and microphones where you'd expect them...

In short, you could put this next to a Sony Ericsson T610 and it would look like a regular phone. Which is important if any smartphone is to break out of the geek market.

The cursor / joypad is still a bone of contention. Nokia managed to get it just right with the 7650, and since then I don't think there's been a good controller (N-Gage excepted, but then that is a gaming machine, so they tell us). The Sendo X comes close, and is definitely workable. It's a two piece design as you can see, with an outer 'ring' for direction and an inner nipple for 'clicking in.' Great for day to day use, but a bit useless in games, because if your thumb is as big as mine, you hit left/right and accidentally hit the dial/hangup buttons. Not good.
See More
In a similar way to the Siemens SX-1, the screen is a 178x220 65K Colour screen with a pretty powerful backlight that's easily viewable in strong sunlight. As you all know, Series 60 is 178x208, so the top 12 pixels aren't accessible by any regular programs. This 12 pixel status bar is there to ensure you always have an indication of battery power and signal strength, something the mobile networks have asked for. This is a recurring theme in the Sendo X. As well as asking the end-user what they want in a phone, they've also asked the operators. This is good news all round (for most, but not all, the features). One thing to point out, unlike other Sendo phones, is that the Sendo brand will appear on every phone sold, although the carrier can happily brand it in the software.

We're looking at the first graphics co-processor in Series 60 here in the GraphiX chip (everything ends in an 'X' nowadays). This takes care of any call in software to the CPU to do something on the screen. Which means that when you swing the phone around to frame a picture, you easily get 30 fps updating on the viewfinder. It also means that applications which make heavy use of the screen for 3d graphics should see greatly improved smoothness. This processing is invisible to the programmer, and takes place very close to the kernel of Symbian OS. So we all reap the benefits of some hard hacking from Birmingham.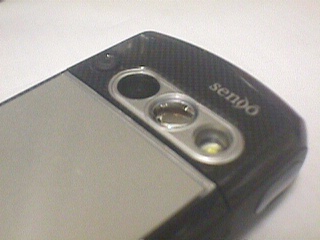 The still camera takes pictures at the regulation 640x480 (only beaten by the Nokia 7610), but has two advantages. The first is the 4x Digital Zoom, which is pretty smooth and an improvement over the first and second generation Series 60 devices. The second is the big one. We've got a flash on the camera.

It's not a flash that's like the flash you find in a regular camera, because that would require too much power. While this would have been possible, the engineers would have had to switch the screen off for a few seconds to charge it up, and the impact on battery life would have been tremendous. So what we have here is a flash made up of some insanely bright white LED's. This switches on as you take the picture, bathing the scene as if you'd shone a really bright torch on everyone, and then snap the picture gets taken. It works well for what it's designed for (up to around 2 metres in a pub or club) but it's not going to light up the room at an Iron Maiden gig.

And they're pretty confident it won't be used in a "Torch" program hacked together by the coders in their bedroom. That sounds like a challenge to me.

We've got a camcorder in here too, which does the job and should boost MMS revenue for the operators (because, frankly, MMS is dying a death, but that's for another article). It's here you really see the benefit of theGraphiX chip, so kudos to Sendo for giving us things that work in the real world.
Hear More
To go along with the GraphiX chip, we've got the SoniX sound system – any sound requests sent to the main CPU are again intercepted and passed over to this system, rather than going into the regular Symbian/Series 60 sound code. Where this is most noticeable is in the MP3 player. Unlike the original Nokia N-Gage (but like every other handset) the Sendo X has a software based MP3 player. But because of the SoniX chip, it's a lot smoother and you can multi-task with a lot less 'pauses' than on other handsets. And we've got stereo sound through the supplied (stereo) hands free kit, which will please the audiophiles.

Ringtones are pretty impressive. While we've no support for the Nokia standard monophonic ringtones (are there still people out there using these on Symbian phones?) we've got support for 64 voice polyphonic ringtones, along with the ability to use AMR, WAV, MIDI, SP-MIDI, XMF, Real and SMF – which should just about cover any format on the planet. The only format it doesn't cover for ringtones is MP3 – because it's 'difficult' to tie in the phone side to the MP3 side of things. So while we can convert these on our computers to wave files, it's hard to explain to regular users why this should be the case.
Connect More
Desktop Connectivity
Right then, connection options to your Windows PC are as follows. Infrared. Bluetooth and USB. Infrared and Bluetooth are self explanatory, and similar to other handsets (but it's nice to have the option of either). The USB needs a little bit more in-depth investigation.

First thing is that the Sendo is not seen as a Mass Storage Device. Which is a shame from my point of view because it's one of the things that makes the N-Gage such a flexible smartphone. The Sendo USB connection can only be used on a PC where the Sendo PC Connect software has been installed. On the other hand, because it's tied into the PC Software, you can sync over the Sendo USB cable, unlike the N-Gage.

And what a lot of sync options you have. We've got the standards in MS-Outlook (all current versions) and Lotus Notes. But as well as Calendar, Contacts and Tasks synchronisation, Sendo are the first to provide Email Synchronisation with the handsets as well. Which is great on keeping the GPRS bills down, and great for when you type a bundle of emails when out and about (and I can see me typing a lot of emails on the Sendo X, but more on that later).

Not only have we got extra sync filters, but we've got more programs you can sync to. While Outlook and Lotus Notes need to be purchased separately for your PC, every version of Windows ships with Outlook Express for email, and Windows Address Book to manage contacts. Why nobody has thought to include these freely available applications in the Sync package is beyond me, but Sendo again are looking at their phone in the real world and yet again providing a little tiny benefit in their phone over all the other Symbian OS phones. All these are slowly adding up.

Of course, we still can't sync notes, so with all the additions above, it's a shame the last of the main PDA functionality still isn't in the package.

Along with the sync and backup options in the PC Suite, there's also a basic File Browser that lets you get to the 'safe' areas of your phone's memory. While it means power users are going to need to get some third party software to see everything on the C: (we'd recommend Epocware's PC File Explorer), the casual user is going to like this view.

What about Mac Users? Well, Apple's iSync is pretty good at handling other Series 60 phones, so I'd expect the same with the Sendo X. Now if only I can find someone to test it for me...
Document Viewer
Time for another real world benefit from Sendo. One of the big problems of using a Symbian Phone when out and about for business use is the number of people who insist on sending you Word documents, Spreadsheets or (God forbid) a Powerpoint presentation. The Sendo X comes with a Document Viewer program that will allow you to read a whole host of file formats on the phone, be they email attachments, or sent over from your PC. Built into the handset are viewers for MS-Word, MS-Excel, MS-Powerpoint, Adobe PDF and the standard Zip format. Need anything beyond that? There's another 40 or so viewers on the bundled CD with such estoric delights as Visio, MS Outlook mails (.msg) and PCX graphics. Page 134 of the full scary manual has the full list.
Bluetooth Profiles
Sendo are being cagey over the exact underlying Bluetooth stack they're using, but it's not the standard Nokia one – it's specifically designed for the TI BT Chip inside the Sendo. It seems to be pretty good at spotting Bluetooth hardware that's non-Sendo (i.e. everything I've got here in the AAS Office). The Sony Ericsson Bluetooth headset (which has problems with the 6600) doesn't have those problems with the Sendo.

There's no headset profile present in the Sendo X, but you can happily use the hands-free profile with any Bluetooth headset. This also has the advantage of a much larger feature set - so facilities such as mute are available. It uses slightly more power than the headset option, but the extra flexibility offsets this to a certain degree.
Do More
Memory
We're talking lots of memory here. Lots and lots. There's a total of 64mb Flash memory, some of which is used for the Operating System. All told as a user you've got around 32mb left over to store your files, applications, programs and documents. Given that the Nokia 6600 has a massive 6mb for storage, you can see how flexible this extra memory makes the Sendo X.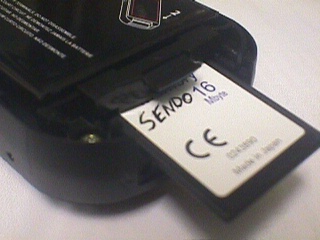 To go along with that, we've got a memory card slot. The Sendo X is the first Symbian OS phone to ship with support for SD cards. These are now available up to 1 gigabyte of size. Crikey! Given that most contact files aren't going to top 500K in size, that's a massive amount of storage space. As with most SD devices, it's compatible with regular MMC cards as well.
The Now! Screen
Ah, the Now! Screen. Sendo's pride and joy, the way that their phone is different to everyone else's Series 60 phone. Or, to take it out of the marketing speech territory, it's the 'home' application that can act as a Today screen, an applications and document launcher, a history guide to how you've been using your phone, a place to deliver small packets of XML data (say the latest headlines from All About Symbian?)... it's the key application on the Sendo X – where you'll spend most of your time – and a lot of time and thought has been put into the Now! screen.

First things first, this replaces the static wallpaper screen that most Series 60 phone have. While you can put a fixed picture as one of your Now! screens, that's not taking advantage of the flexibility it has. It's made up of various 'panes', where each pane is a function. One of them is the 'Today' screen equivalent. Another lists your favourite applications. And so on. You can add panes yourself, move them around, change the colours, in fact you can do pretty much anything with them.

Look out for the Now! Screen SDK, which should allow lots of plug-in programs to be added. Imagine having a pane that keeps track of your current Cell ID (a la Mini GPS from Psiloc). Or that pulls the latest headlines about your favourite football team from the BBC web site? All of these should be possible from the Now! Screen. Expect lots of subscription services along these lines from whichever networks carry the Sendo X. As a user you don't need to wait for plug-ins, as it is possible to use the elements already present to customising the existing panes, or create new panes yourself (for example I've grouped all the 'Internet' applications under a single new pane in the Now! screen).

One of the interesting features about the Now! screen is that Sendo will be able to offer some control of this to the networks before they ship the phone to you. Specifically in terms of graphics, wallpapers and the initial presentation of the Now! screen. We understand it is possible for a network to lock the first pane to one of their choosing for branding purposes. Just as long as I don't have to pay for any data the network pushes onto their own pane.

The Now! screen isn't just for the Sendo X, it should be making an appearance on more Sendo handsets in the future. Given the polished nature of this app, that can only be a good thing. It's just a pity we can't install it on other Series 60 devices – it's almost (but not quite) into killer app territory.
Over The Internet firmware upgrades
Does exactly what it says on the tin. Connect up with the USB cable, log onto the Sendo website, and it'll poll your phone to find out what needs updating. This is not only on a per country basis, but on a per operator basis. So the German T-Mobile customer will have a different firmware to the US T-Mobile customer. All very clever, and all very easy. Both the end user, Sendo and the networks should benefit from this... as long as you have the mains power in place so you don't suffer a loss of power when writing to the flash memory.
Gaming
There's no Snake from Sendo, but they've bundled two games into the memory of the phone. The first is a pretty competent but highly unremarkable version of Pinball. It's a good distraction, and shows off the graphics and sound capability of the phone, but it's not something that you'll want to play over and over again.

The same cannot be said of their second offering, Funny Farmer. This is a simple story of a man with a field, who decides he is going to become the best Farmer in the world. Think Sim City, but on a farm. You can buy and sell chickens. You can milk a cow. You can sell corn. I kid you not, this is utterly addictive. So addictive that I'm not going to say much more than it works, it's addictive as anything, and we'll do a separete game review of Funny Farmer at a later date.

Games programmers are going to be interested in two things. The Java programemrs will want to know that the Sendo X is using MIDP1.0 (not 2.0) which keeps it on a par with the N-Gage. There are a few new API's that Sendo have included for the programmers. And as previously mentioned, the C++ programmers can take advantage of the two co-processors, without having to alter their code.
A Whole Bundle of Accessories
Sendo haven't stopped at just designing a killer phone, they've got a whole bundle of accessories to help you get the most from the phone.

Bluetooth Headset
Pretty standard bit of kit, it does the job and talks nicely to the BT Hands Free profile.
Bluetooth car kit
Requires a professional installation. Seeing as I don't drive, I've no idea if it's any good. Unsurprisingly, Sendo says it works really well.
Hands-free (wired) headset
This is shipped with every Sendo X, along with the USB cable and appropriate charger.
Sync Station
Rather than a separete USB connection to the PC, and a DC Jack from a mains charger, this all in one cradle can be used. It really does reinforce the idea that Sendo are pushing for a PDA style package as well as the "it's a phone" crowd. Looks like you can have your cake and eat it.
Qwerty Pocket Keyboard
And this simply seals the idea that they're building a PDA in disguise. Just like the brummies to be sneaky. Anyway, we'll be reviewing the keyboard seperately in the next few days, so bear with us. I'll just raise one point here. You can plug your charger into the keyboard so the phone charges when it's attached to the keyboard. Very nice...
The Big Gotcha?
One of Sendo's greatest commercial strengths is that they do have closer ties to the phone networks than the other manufacturers. While there's nothing wrong with that, it does mean that the Sendo X will never truly be your own computer that you can do what you like with. The Now! screen, and the possible pushed content from the Networks is one area that I'm wary of.
The other is in DRM (Digital Rights Management). The Sendo X is more open with its OMA (Open Mobile Alliance) usage than other handsets, although they all implement the same standards on board as the X. The closed content list for Series 60 is not encrypted, it just won't show up in the "send via" pop up options. It can still be backed up happily.
In terms of forwarding content that has the OMA Forward Lock enabled, there is a problem in that you can only restore these files back to the same phone. Which means that if you have to exchange your phone, and you put these encrypted files back on your new handset they won't work. You'll have to re-download them, re-register them if needed, and hope that this doesn't put a strain on your wallet and that the author will be happy to give you a new registration code if needed.
Lets stress one thing. Every Symbian OS phone has the Forward Locking through OMA, so I'm not going to beat Sendo up to any great extent on this one.
While Sendo's Software Store will be able to re-issue codes, a lot of items are going to need some negotiation with the original author. And while this is the way forward, and I know that it's going to happen, it's one of the few truly negative points about the handset.
Summary – Why Choose the Sendo X?
Apart from the issues mentioned above, I've no hesitation in recommending the Sendo X to people looking for a good all around smartphone. When it was proposed it was up against the Nokia 3650 and the Siemens SX-1. It's beaten them hands down. Now, even though there will be a few people who won't touch it with a barge pole just because it's not at the bleeding edge with the latest Series 60 build, the feature list on the Sendo X rivals (and just about out-guns) the Nokia 7610, which is it's current competitor. That says a lot for the forward planning of the designers.

Don't ignore the simple fact that it looks like a phone, with it's regular keypad and subtle black and silver finish. It looks like it can do the job, and do it well. Not only that, but it feels well built and sturdy in the hand and in use.

Finally, it has a flash for the camera. No matter what they do inside the casing, what features it has, or the accessories you can buy, the fact that bullet point one in any Mobile Phone Shop says "Camera With Flash" will ensure it flies out the door. Which is great, because when they discover what the Sendo X can do, they're not going to be disappointed.

We're going to report on the UI and the new programs in the Sendo X over the next week or so, but for the meantime, the X is almost the perfect smartphone.


Reviewed by Ewan Spence at