Review:
SMS Chat
David Gilson reviews SMS Chat, an SMS manager application which shows you your text messages in a conversation view, and throws in a lot more features too. If you are tired of the same-old S60 SMS manager and want something new, then read on.
Buy Link | Download / Information Link
Many years ago I had a feature phone on which I discovered a nifty little feature - it would display text messages in the form of an instant message chat. This was great for exchanging several dozen messages with a friend, and it's a feature I've missed ever since I gave up that phone. Seven years later, we have "SMS Chat" (v1.4) which adds that very feature to S60 3rd and 5th Edition phones, and what a welcome addition it is! (Note, there is another application named SMSChat, which is not this application, the space matters!)
The first screen that greets you is comfortingly similar to the standard S60 SMS manager. SMS Chat works by collating all the text messages in your phone's memory according to who they were from or to. Hence, the "All Messages" option presents you with a list of all the people you have had any SMS contact with. The "People" option allows you to pick one of your contacts or manually enter a number, and the "Inbox" option appears only when you have unread messages. Before we go any further, do note that SMS Chat is only for SMS, not MMS.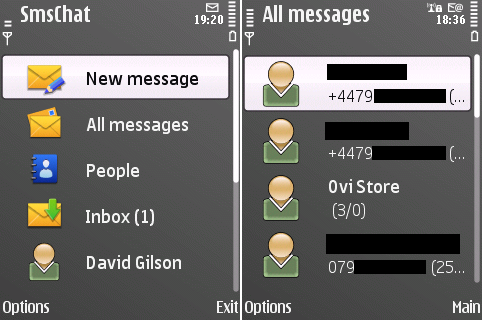 It is only these initial screens that resemble the standard S60 user interface. Once we get into writing or viewing messages, we are treated to the much more fun speech bubble user interface.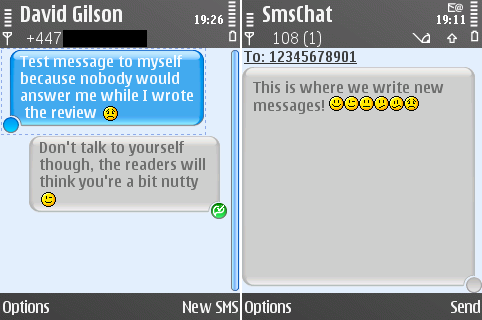 The first thing I expect you'll notice here is proper smilies! In my experience, the Nokia E51 would substitute smilies once you typed them out, but the E55 is completely boring and doesn't have them at all. (Come on Nokia, you're making us Eseries users look bad!). Here however, you have a sub-menu with a wide selection of smilies to choose from. To add to the fun, SMS Chat is skinnable, and comes with a selection of themes.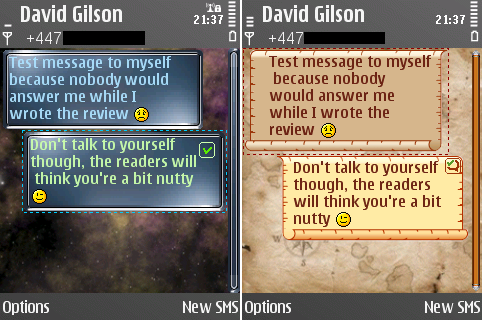 Moving on to more serious things, the top of the screen shows the name and number of the person you're talking to. Depending on the theme, either the font colour or background colour discriminates between the two of you. Notice the green icon or tick? This is a little notifier to tell you if you have received a delivery receipt or not (assuming you're enabled this setting in your phone). Slightly confusingly, if you want to reply, you have to press the New SMS soft-key. Moving on, you can call up information about any text message, such as date, length or delivery status. To help you move around in a given chat, you can skip to the first or last message, and search for a particular word.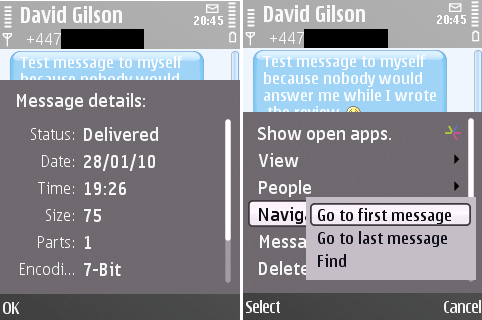 SMS Chat has more useful features than you'd initially assume, you just need to explore all of the sub-menus. As you'd expect, while composing a message you can abort (delete) and save as a draft, but you can also schedule a text to be automatically sent later on. This can be incredibly useful, even as a reminder tool for yourself. While you're viewing a conversation, not only can you delete individual messages, but you can delete everything, or just everything from you or the other person, in that particular conversation. This is a great time saver, when you consider how long it would take to selectively delete messages when you didn't want to clear out your entire message bank.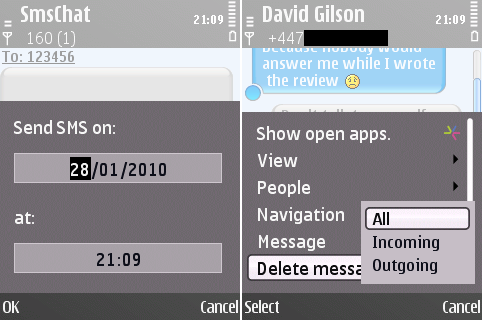 In closing, I approached this application with the question "could this completely replace the default SMS manager?". Initially, my answer was 'almost', because there was no hyperlink function for phone numbers or internet addresses, which meant I'd sometimes have to fall back on the built-in SMS manager. However, when I mentioned this to Symbianwave they flew into action to bring this feature into SMS Chat, overcoming both time limits and operating system bugs! Having tested their latest beta version, I can report that SMS Chat has functioning hyperlinks for: phone numbers, web URL's and e-mail addresses.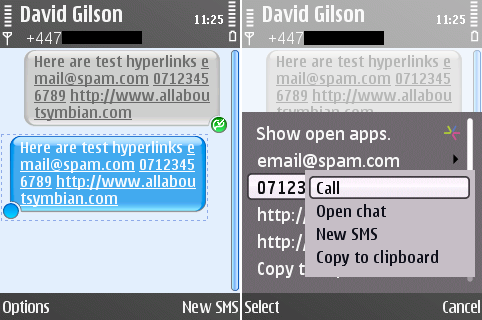 Phone numbers can be called and messaged, and web URL's can be opened in the browser. However, there are some limitations due to SMS Chat being a self-signed application, e.g. You can't add phone numbers to your address book or create new e-mails. To mitigate this, every hyperlink has the option of copying content to the clipboard.

If having a fun and fully featured extension of your basis SMS manager sounds like your thing, I recommend you take a look at SMS Chat. You don't need to worry about waiting for new features either, as all version upgrades are free of cost.
David Gilson for AllAboutSymbian, 3rd February 2010
Find me on my blog and @davidgilson on Twitter.
Reviewed by David Gilson at