Review:
Rseven (beta) - online mobile backup/sync
David Gilson and Panashe Ngwerume review the new Rseven online sync and backup service, uncovering a number of browser compatibility issues that the developers need to address. They find the beta-status Rseven understandably immature from a functionality standpoint, requiring more development in order to deliver its aims and ambitions in a modern multi-platform environment, but Panashe in particular calls the service a 'gem', implying that there's great potential here for the future.
Buy Link | Download / Information Link
David Gilson:
Upon studying all the introductory information about Rseven, the immediate impression was of a privacy advocate's nightmare. It is disconcerting to see how your whole life can be captured by your little electronic friend and then be laid out in a comprehensive time-line.
Here's a detailed video from Rseven themselves, which will illustrate how their backup system works:
Once the application is installed and a new account created (which was all painless), you are required to prompt the application to check for updates to all of the relevant data categories, and again to upload them to the "archive", which is tiresome. A "Check all" method would be better.
A new version of the S60 Rseven client, released on the 25th of January, introduced automatic scheduled backup, which works as intended. You can configure which items are backed up, and on which days of the week and time of day.
From using the website, and phone application, I do not think that this is a PIM-synchronisation system in the same way we would use a cloud calendar like Memotoo.com or Google Calendar. It feels like the default mode for this is to continually dump data from your phone into their servers.
Browser compatibility also turned out to be a problem. While the basic structure of the site loaded in any browser I tried, my data would not load in with either Chromium 4 or Google Chrome 4. However, the site did work as intended with Firefox 3.5 and Opera 10 (I didn't test with Internet Explorer as I'm using a Linux desktop). I reported this bug to Rseven.
When looking at how to restore items from Rseven to the phone, I found that the contacts manager had a "mark for download" button, which I assume will restore contacts to the phone. However, there was no such button for calendar events.
As a workaround, I wondered if editing a deleted event would somehow flag it for being sent back to the phone. However, I found the editing event function was buggy Every time you try to save changes to an event you are presented with; "Error: Repeat until date is before the start date/end date", regardless of whether the event actually has a repeat set or not. This bug also applies to creating new events on the calendar too. I reported this to Rseven and they confirmed the problem and that this will be fixed imminently.
I wanted to test how robust the PIM sync aspect of Rseven was, so I devised a test with my contacts database. Having already done an initial upload of all my contacts, I did the following:
Wipe my phone's contacts.

Run Rseven so it would see the empty contact database

Restore contacts from my SyncML server (Memotoo.com)

Run Rseven again.
The results were that all 155 of my contacts uploaded again. Returning to the web interface showed that all the contacts were indeed duplicated. What's more, there are no tools in the site to deal with this (such as you'd find in Gmail). Mind you, the next time I synchronised my contacts with Rseven, the duplicates were not downloaded. This is because Rseven would see the first generation of contacts as deleted items, and they would need explicitly flagging for download at the next sync.
Uploading of phone call recordings only seems to work if you manually set the audio search path correctly. However, trying to actually hear the recordings doesn't work. When trying to play it back from the timeline, where the flash player should load, there is just a black box with white text saying "Awaiting video". This happened on both Firefox and Opera, I reported this to Rseven too, and they said that this was a compatibility issue with Linux.
I asked Rseven if there were any plans to have automatic transcripts of phone call recordings:
"Yes, the transcripts of audio files would be cool to have, but as you know even Google haven't solved that problem perfectly yet. Perhaps we will work with some other service providers in the future to have this feature."
Viewing photos was also buggy, viewing a photo in the time-line view just shows an empty box. According to Rseven:
"The blank outline of images is due to a problem with out thumbnail making code, it was stuck at a corrupt file someone uploaded a couple of weeks back. We've fixed that problem & now its going through the backlog to ensure all images/videos have thumbnails."
Conclusion
The potential of Rseven is interesting, given the potential future market for so-called 'LifeCasting'. However, it appears to me that the implementation is at a very immature state. Even setting that aside, I find it hard to decide if I would find this terribly useful. This is certainly not a cloud calendar you would want to use on a day to day basis, and in all fairness, I do not believe it is meant to be.

Rseven is very much meant to be a long term dumping ground for every bit of information that passes through your phone. I can see the usefulness of this, in that it is the emergency backup you would turn to if you need to track some old and deleted text messages. Or a really important phone number that had been accidentally deleted on your phone and lost on your regular cloud PIM service because you synchronised before you realised. Although for that very reason, I am not comfortable with so much of my personal information being cached over time in a service which I'm likely to forget I use most of the time.

This brings us back to implementation. Allegedly your information is under your control and you delete as much as you want. However, the current user interface does not lend itself well to handling bulk amounts of data.

Rseven needs to develop the following:
A more powerful calendar interface.
A notes application (to match S60 Notes)
A conversation view for text messages
Bulk item management
David Gilson, for All About Symbian
You can find me at my blog and on twitter, @davidgilson.
---
Additional comments and notes by Panashe Ngwerume (tested on the Samsung i8510)
Set up is simple. Fill in the form with your details at the website then download and install either on the website on your desktop or directly on the device via the browser. Registration can also be on the device.
I messed up my password the first time around and I was surprised to find there's no obvious way to change your password on the website. Now I have to enter the 20 character combination set for me after requesting a password reset.
The mobile application has a pleasant UI, simple and intuitive but slow in places, especially when going through content. It has to load items each time you access them and the messaging tab was particularly annoying as it took almost a minute "loading".
You have to access each item for it to scan through the content, otherwise it will indicate that there is nothing there. For example, after accessing the application for the first time, it indicates that there are no messages in the phone, yet they are there. Only after you access the messaging section and it loads the messages does it indicate that there are messages that need to be archived. I wish there was a "scan memory" button so that it just scans all the fields at once instead of one at a time.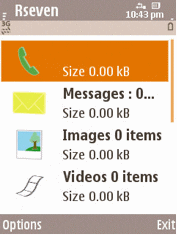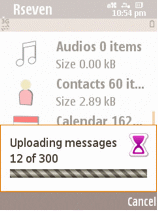 There are five items synced by the program; call logs, messages, images, videos, 'audios', contacts and calendar.
Selecting "Archive" uploads all the content online. Again messages took a while to upload. It can only upload 300 messages at a time, so the first time using the service might take a while - roughly a second per contact. 300 contacts equals around 5 minutes on WiFi.
After uploading, it gives a summary of the amount of content uploaded and how much was left out. It resumes from where it left off if the network connection is interrupted, which is great. However, the items had to be synced several times to get all the content online. 300 messages (max) at a time, 60(max) contacts at a time etc. Very time consuming. Why can't it upload everything once? The app froze quite a few times, too, but never crashed.
Once uploaded, you can view details of when content was uploaded (date and time) and what was uploaded within the application. Hovering over a contact in the timeline reveals the messages sent. Clicking on a call or message made or received brings up a dialog box with the option to enter Notes, to Tag or to Share.
Clicking on a calendar event brings up the event description, date, time and frequency. There's also the option to edit the event information and to share the event with a group. On the website, you can also add new calendar events. Unfortunately these new entries and edits cannot be synced back to the device, very disappointing.
Content viewed in the timeline is controlled by the bars on the top of the interface. When you click one it greys out - this means messages are excluded from the timeline. Rather strange, I expected the opposite, but it works well and helps remove the clutter from the timeline.

Rseven syncs the pictures associated with contacts on your phone. In case, your contacts do not have photos, it gives the option to upload a new photo from the PC or through Facebook.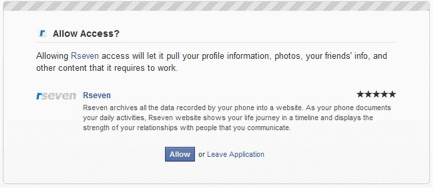 This latter didn't work for me, I kept getting some server error. Looks like there are a few bugs to be ironed out. For contacts, there are also handy stats like call duration, number of calls, and number of messages per day per contact, complete with graphs.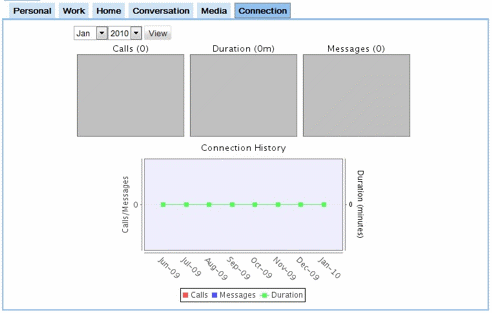 Overall, the Rseven application and services were really well thought out. The application is easy to use and it is ideal for anyone who wants to keep their world in order. They were a few problems that I encountered, as stated above, a few bugs to be ironed out, but not enough to spoil this gem.
Panashe Ngwerume, for All About Symbian
Reviewed by Steve Litchfield at