Review:
Review: Samsung i8910 HD
It has been a long, long, rocky path, but the i8910 HD has finally made it to mass market - well, in some countries and for some networks, at least. And armed with II1 firmware, it's high time for me to wrap up this top-end Symbian flagship. Just how good is it and what is its Achilles heel, if any?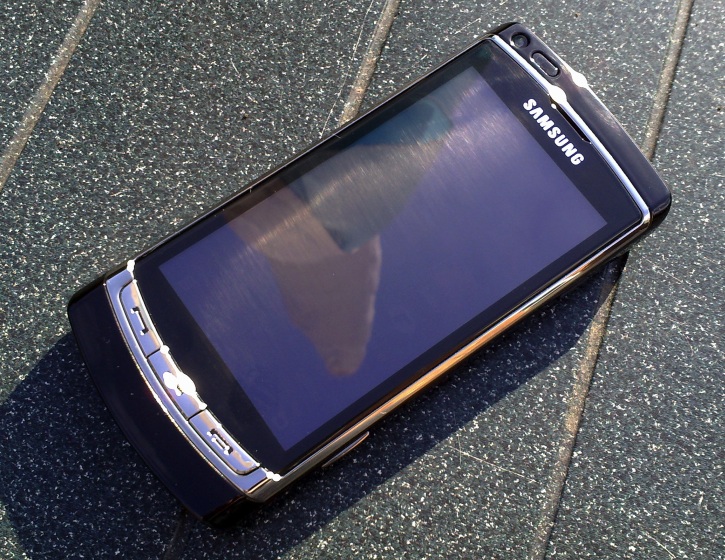 Background and summary
The story of this phone is symptomatic of Samsung's confusion in the smartphone market in general, if I'm honest. Previous Symbian OS-powered Samsung smartphones (G810, i8510 and i7110, to name the three best known) had all had good points but also rather gaping holes and weaknesses - and none had really taken off in a big way, despite the i8510 being promoted heavily in the UK - its weakness was a screen that couldn't read outdoors, in case you were wondering. In parallel to this Symbian experimentation, Samsung had been playing with Windows Mobile (the original Samsung Omnia and now the Omnia II) and we also now have an Android-powered phone or two in similar form factor. All in addition to Samsung's proprietary platforms.
It's a lot to support and it shows, with parts of the i8910 HD feeling somewhat unfinished and unloved. The flip-flopping over the name of the phone ('Omnia HD' in our original previews, on the i8910 HD's splash screen and in some markets today) is fairly trivial and easy to forgive, the lack of distribution and support is harder to overlook In the UK, the phone was only available in slightly crippled form on the Orange network. You can get it SIM-free now if you look hard enough, at silly prices (around £600), but there are no other network deals. Some countries don't have this phone available at all. And, if my review phone is anything to go by, some owners are having to rely on updates provided for the Italian market in order to get round bugs and issues. Say what you like about Nokia, but they're focussed enough to provide much better end-to-end distribution and support.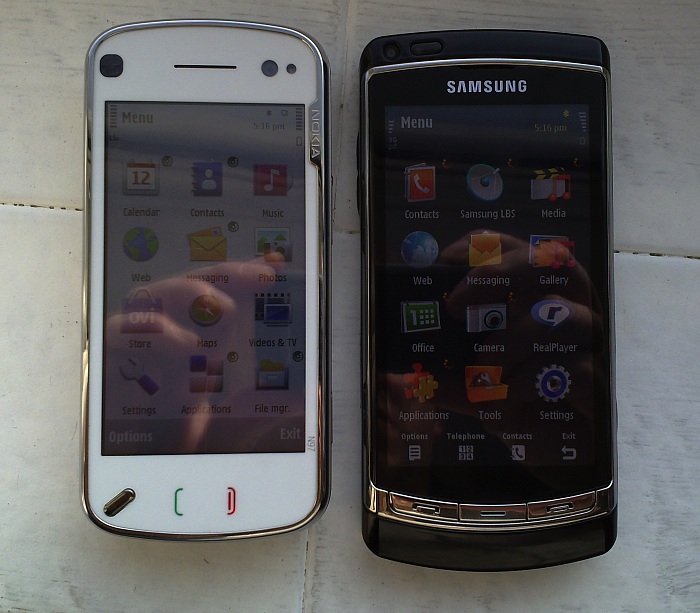 The N97 lined up, with the two screen tops in a line: note the very slightly larger screen on the i8910 HD (0.2" more diagonally). Also note that, on this sunny window-sill, both the transflective TFT and AMOLED displays cope to about the same degree.
All of which is the background to a review of what is, in some ways, a stunning smartphone, with specs right at the very top of anybody's range. To recap:
3.7" AMOLED capacitive glass touchscreen

8 megapixel stills, 720p (1280 by 720 pixel frame by 30fps) 'HD' video capture

Powered by the TI OMAP 3430 chipset, based on the ARM Cortex A8 architecture, with a POWERVR SGX graphics co-processor. In layman's language, this thing kicks butt graphically. In theory, this means that advanced (iPhone-grade) 3D games are possible.

256MB of RAM, 150MB free after booting. So you'll never, ever, hit a RAM ceiling and receive an 'out of memory' message.

8GB of flash memory built-in, plus microSD (there's also a 16GB version, by the way)

The usual Wi-Fi, GPS, quad band GSM, tri-band 3G, plus TV-out, UPnP, Bluetooth and Digital Compass
It's quite a bullet point list, especially for anyone coming from the core All About Symbian readership, brought up on less capable Nokia and Sony Ericsson hardware, and it puts the i8910 HD at the top of any 'buy list'. However, there are also some negatives that also deserve mention here, to balance the above bullet list:
There's even less internal flash memory (disk C) than in the much-maligned Nokia N97. And yes, it's just as big a problem here.

The i8910 HD is, hands-down, the biggest fingerprint magnet I've ever used. It's simply impossible to keep pristine.

Some applications, even with very latest (II1) firmware, are still not 'finished' (e.g. 'Communities')

Perhaps obvious, but most official Nokia add-ons for other S60 5th Edition phones can't (legally) be installed on the i8910 HD.
Hardware
The i8910 HD sets a number of important firsts. It's the first S60 5th Edition device from Samsung, it's the first mainstream mobile phone to record HD video, and it's the first Symbian device running on a next generation chipset (OMAP 3). At 123x58x12.9mm, it's also a large phone, some 6mm longer and 3mm wider than the already-largish Nokia N97. It's thinner though, thanks to the monoblock form factor - there are no sliding parts to fit in.
The i8910 HD's size means that prolonged one handed usage, especially for those with small hands, is somewhat cumbersome. This is true of all touchscreen devices to an extent, but it is a matter of degree - the Nokia 5800, for example, is narrow enough that it feels more like a traditional phone and less like a PDA/tablet. At 144g, the i8910 HD is also significantly heavier than the typical mobile phone.
In style terms, the i8910 HD is typical for a high end Samsung device, with metal and hard, glossy plastics and with tempered glass covering the screen. It is a sleek and attractive device, apart from the perennial problem of fingerprints on the glossy surfaces. The overall build quality feels very good with no squeaking or flexing.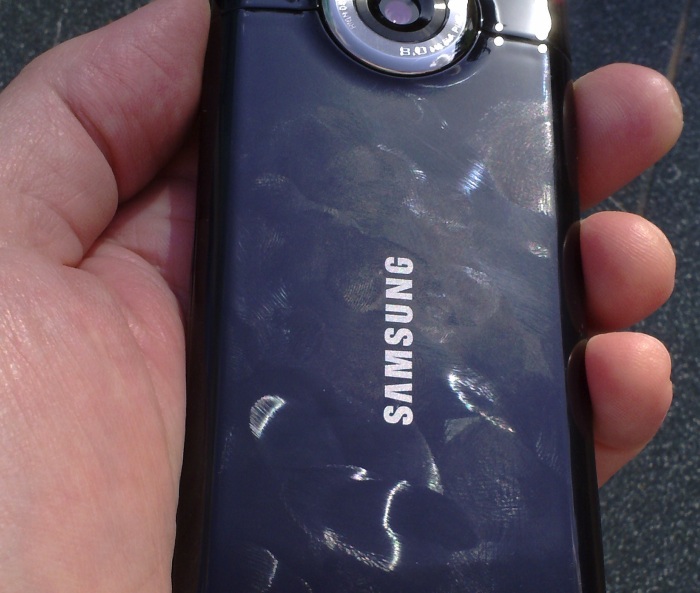 The 3.7" touchscreen dominates the front of the device, there are three buttons (call, home, hang-up) placed on a silver band at the bottom of the device, with a VGA camera and light/proximity sensor at the top of the device. The keys are large, well defined and give good tactile feedback - exactly what you want. The light sensor at the top of the screen controls screen brightness based on ambient light conditions and works well, while the proximity sensor prevents accidental screen touches when you hold the phone to your face (in the same way as on the Nokia 5800 and other touch devices).
The screen uses AMOLED technology (each pixel shines for itself rather than being illuminated by a backlight), and is brighter, uses less power, has a wider viewing angle and better contrast ratio than similarly sized LCD TFT screens. It looks absolutely fantastic indoors, especially when displaying photos and other multimedia content, but pales a little outdoors and struggles in direct sunlight, as you might expect. In common with other S60 5th Edition touch devices, the screen has a resolution of 360x640, a real boon when viewing web pages and competing well with other touchscreen phones on the market.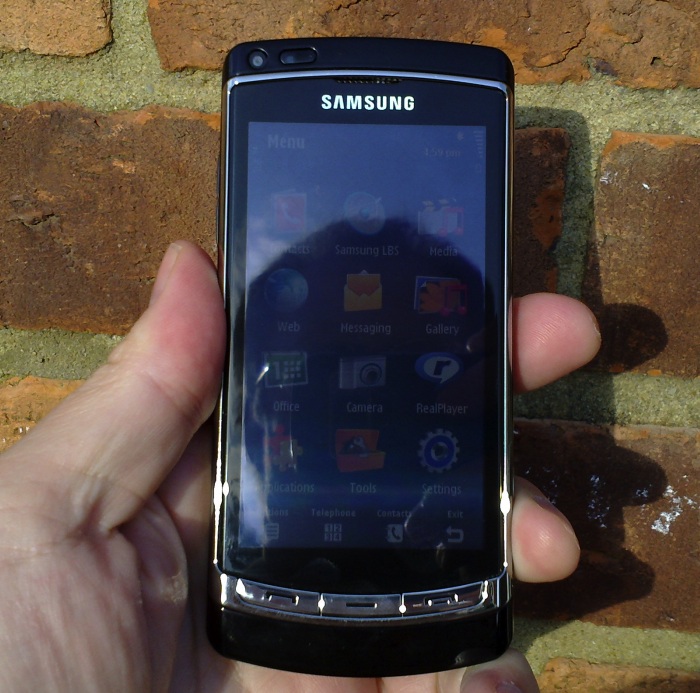 The touchscreen uses capacitive technology, with the advantage of much greater sensitivity and the disadvantage of only working with a fingertip (it needs your electrons!) The most significant advantage of the capacitive screen is that it means hard, tempered glass can be used to cover the screen - subjectively, the glass feels better to the touch than the plastics typically used in resistive displays. On the other hand, handwriting recognition, especially for longer blocks of text, is cumbersome, especially as you have to use the flat of your finger rather than a nail or stylus.
On the right side of the device there's a thin, two-stage camera key, a microUSB port (also used for charging), and a hold/lock key, which locks the screen and other keys. The positioning of this isn't ideal, since it's the exact position that a right handers thumbs normally contacts the phone when holding it, resulting in plenty of accidental locks/unlocks. Still, maybe that's just me, everybody uses and holds their phone differently.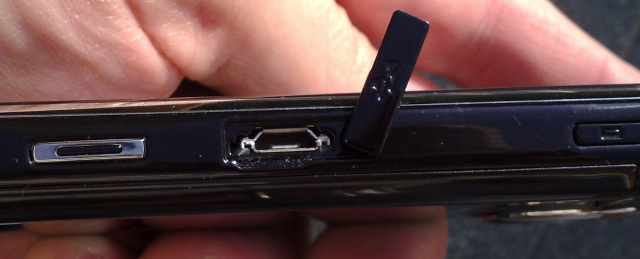 On the left hand side of the i8910 HD, there's a microSD card slot and volume up/down keys. At the top of the device, there's a small (tethered) hatch covering the 3.5mm audio/TV out jack. It's good to see Samsung include this as it's not something they always include (e.g. i7110) or position ideally (i8510).
There are twin speakers at the top and bottom of the device and they're VERY loud, rivalling and even exceeding those in the Nokia 5800 XpressMusic, impressively. Overall sound quality was very good; the device includes the DNSe 2.0 technology, as seen in various Samsung products, including the audio-impressing i450. Over headphones (a decent in-ear set were included in the box), unless you've got a good ear, you'll have difficulty picking an audio winner between most current top of the range S60 phones.

The back of the device houses the i8910 HD's 8 megapixel, autofocus camera (with unprotected but deeply recessed lens) and an accompanying LED flash, of which more later.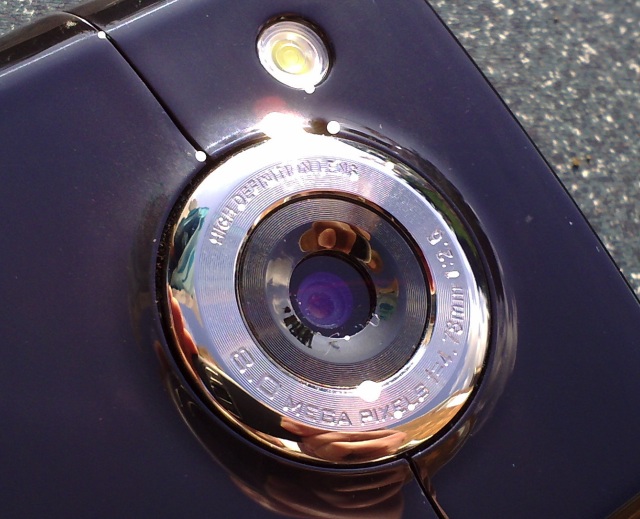 Opening the battery cover reveals a 1500 mAh battery, big enough to get the phone through a working day in my tests. (Non-stop video playback time is quoted at 4.3 hours (for 720p HD) in the specs, though this seems a little optimistic, even with the display dimmed down.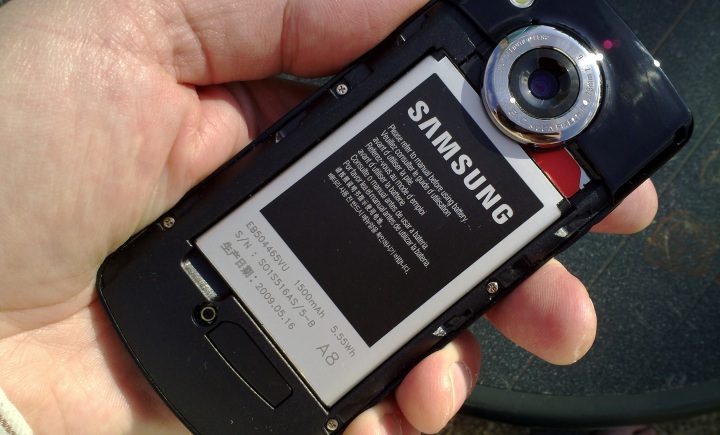 The i8910 HD has two variants, one with 8GB mass memory, the other with 16GB, both expandable via microSD of course. Mass memory clearly isn't a problem for the device, but internal (disk C:) memory certainly is. Only 40MB is available with the latest II1 firmware, and this has to suffice for all OS patches (including the likes of Quickoffice) and all temporary files, cookies, the web browser cache and more. By installing every third party application to disk E: (the mass memory), it's possible to live with the i8910 HD in this incarnation, but space is somewhat tight and you've got to have your wits about you.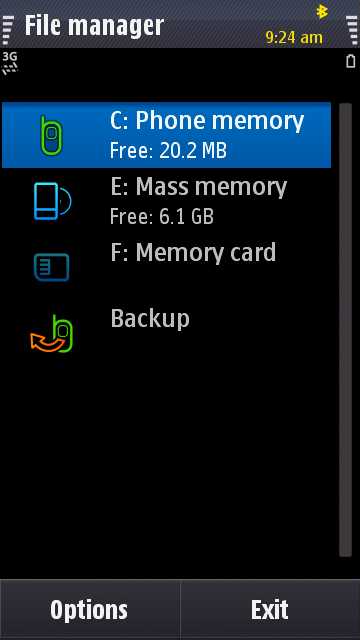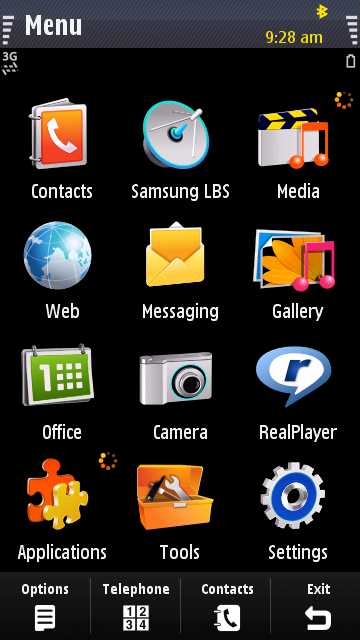 Probably because of the requirements of handling HD video, there's a massive 256MB of dynamic RAM, with over 160MB free after booting. This is almost four times the free RAM in the competing Nokia N97 and should ensure that you never, ever see an 'Out of memory' error.
Inside the i8910 HD, there are GPS and magnetometer (compass) sensors for geotagging and mapping and a G-sensor (accelerometer), which is used in the built-in Media browser to scroll through items (as if they were falling under Gravity) and also to rotate the display as needed.
There are also the usual connectivity options: WiFi, Bluetooth (including support for A2DP and HID profiles) and USB 2.0 (including HiSpeed), quad-band GSM and tri-band UTMS/3G (900, 1900, 2100 Mhz) with both HSDPA (7.2 Mbps) and HSUPA (5.76 Mbps) support. HSUPA, which allows faster upload speeds, is a nice extra, and, while it is not widely implemented yet, it does provide good future proofing.
The i8910 HD runs on the OMAP 3x chipset (most likely the 3430) from Texas Instruments (TI), which is based on the ARM Cortex A8 architecture, and includes a graphics co-processor which uses Imagination's POWERVR SGX graphics technology. OMAP 3 is the next generation chipset on from the OMAP 2 family that was used in the Nokia N95, N95 8GB, N82, E90 and Samsung i8510 and TI say the OMAP 3 provides three times the ARM performance of previous ARM 11 based processors. The integrated POWERVR SGX graphics technology provides graphics, imaging and video acceleration and enables the support of Open GL ES 2.0 and Shader 4.1 graphics APIs.
Undoubtedly, the OMAP 3 chip will provide the i8910 HD with better benchmark results, but what does this mean in the real world? The new silicon technology means the phone is able to encode and decode 720p HD video in real time, something which previously wasn't possible. It also means that the operating system and applications sometimes run more quickly, with the difference being most obvious in processor intensive tasks (multimedia, graphical effects, properly-written games). Just as significant is that the amount of power needed to perform the same amount of processing is less, potentially opening up energy savings, though this is likely to be more than offset by the fact you'll be doing more with the device.
HD video support aside, the improved graphics support, most notably Open GL ES 2.0, may in the long term be the most obvious visible improvement. It provides the potential for near console graphics quality (they use similar APIs) and fully matches the new Apple iPhone 3GS. In the short term, however, there isn't a single released game for Symbian that takes advantage. There are plenty of Java games that work (to varying degrees) on the i8910 HD and a fair number of games for 'S60' or 'Symbian', but absolutely none that I know of which use the full screen and the graphics acceleration.
Direct performance comparisons between different silicon families are difficult, but it is fair to say that the OMAP 3 chipset comes close to matching Intel's ATOM processor, which is best known for its use in the recent surge of netbook computers. The OMAP 3 chipset manages this despite using approximately half the amount of power. The important point is that in processing terms the i8910 HD will be effectively matching the performance of current netbooks - that's a significant step on the road to mobile - laptop convergence.
Imaging
The i8910 HD's 8 megapixel still image capture is largely over shadowed by the HD video recording, but is still very impressive in good light conditions. It uses the same sensor as Samsung's i8510, which we rated as one of the best camera phones on the market. Here are some of our photo image samples, click on each to download or open it:
The presence of a single LED flash is very disappointing, it felt weak compared to some of the dual LED solutions that Nokia and Sony Ericsson have introduced in recent devices, plus the sensor isn't anywhere near as good in low light as the Nokia N86 8MP. Attempting to shoot a subject in pitch darkness was, simply, an abject failure. Sony Ericsson have used a proper Xenon flash in their new Satio and I fail to see why Samsung couldn't have done the same here, given the device's size and price tag. A missed opportunity.
Other than a weak flash, I have two main complaints about shooting photos on the i8910 HD. Firstly, there's a slight lag between pressing the shutter key (after focussing) and the photo actually being taken. It's only of the order of a fraction of a second, but it does result in a few blurred photos at first until you learn to hold the phone steady for a second after the shutter is pressed right down. This should be something that can be optimised in future firmware.
Secondly, the OLED screen is absolutely at its worst on a nice sunny day with the sun behind you - exactly the same conditions which represent the optimum lighting for taking great photos. All of which is a bit unfortunate - Nokia has exactly the same issue with their OLED-screened N86 8MP, interestingly - I can't help thinking that, gorgeous as OLED is indoors, a standard transflective screen should have been used for a camera-centric device. Compromises, compromises. With care though, taking a moment or two after pressing the shutter and trying to avoid 'sun right behind you' situations, the i8910 HD is capable of working well as a camera and taking great photos.
The camera application has been extensively reworked for Samsung's implementation of S60 5th Edition and is optimised for finger touch use. It is intuitive to use, with a clear icon-based layout supplemented by text labels where necessary. The most common functions and settings are just a few taps away - touching one of the icons on the toolbars on either side of the screen 'pops-up' the appropriate options, which are overlaid on the viewfinder's screen. More extensive options are tucked away in a settings menu, but this too has been redesigned to be finger friendly. Rather than using the standard S60 style, Samsung have used their own system and the results are impressive.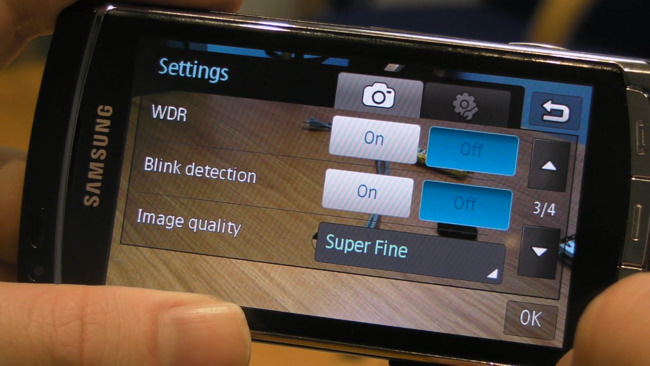 As with other Samsung camera-phones, there's a whole slew of camera application settings and features. These range from the important (scene mode, flash, geo-tagging, exposure, white balance, ISO speed) to the more fun/gimmicky (panorama mode, smile shot, framing, sepia and so on). It's a comprehensive system, though does involve a little retraining for anyone used to Nokia's camera interface.
The camera's video mode has the i8910 HD's headline feature - 720p HD recording (1280 x 720 pixel frames). With the latest 'II1' firmware, this now works without serious issues, producing smooth video with no audio sync problems, with high quality audio capture and only a little mike hiss. If the latter worries you then there are fairly well documented methods for diving into the inner workings of the i8910 HD to tweak the mike 'gain'. Clearly it will not match a high-end standalone device, but that's not really the point - it is a massive step up from current mobile phone video capture technology.
Interestingly, the initial focus system that was present in the prototypes has been disabled, in favour of a fixed focus in video recording. The preset seems to work sensibly, so no complaints here. (The 'initial focus' system sounds good, but how many times have you started a clip on one subject and then roved around to something completely different?)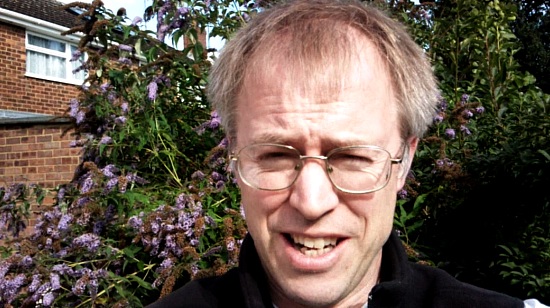 (Click to download or play, 48MB MP4 video, i8910hdsample2.mp4, recorded with IG2 firmware a few weeks ago, but quality is indistinguishable from that in II1)
It is less that seven years since the launch of the Nokia 7650 - and that didn't even have built in video recording out of the box! HD video recording is a truly impressive technical achievement; in the years to come it will no doubt become very common, but right now it has a very definite wow factor. It is also a relatively easy feature to understand when being sold on the high street - and that makes it easier to sell.
The video mode of the Camera application has the same on-screen controls as the image mode; these give access to a variety of settings, including turning the flash on and off, setting an exposure level and setting the resolution. There are also several modes, one to limit the video for transmission via MMS, one for slow motion and one for fast motion. In addition to 720p, video can be recorded at 720 x 480 (also known as D1 resolution), 640 x 480 and 320 x 240. D1 resolution is the most significant of these, being identical to NTSC DVD resolution, widely used in many parts of the world. (Compared to 720p) D1 has the advantage of being less processor-intensive to encode, and can be recorded for longer and takes slightly less storage space (a still staggering 40MB/minute, compared to 720p's 70MB or so per minute of footage). All resolutions work well though and all play back well on the device itself, despite the prodigious resolution and bitrates, thanks to the aforementioned graphics acceleration hardware.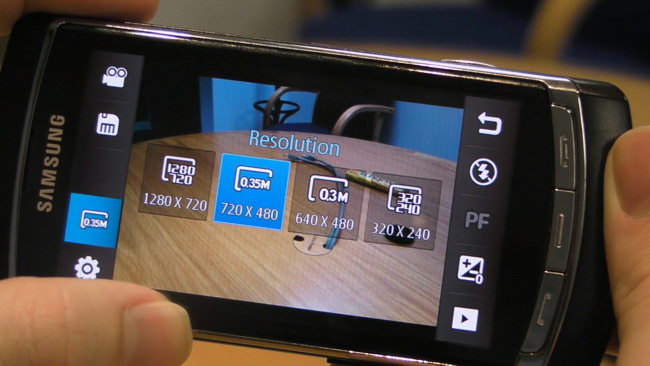 TouchWiz
The i8910 HD includes Samsung's cross-platform 'TouchWiz' homescreen system; it is provided by default as the active homescreen in this version of S60 5th Edition, though the traditional 'shortcuts, music and Calendar' homescreen is also available in Settings. TouchWiz is a 'widget-based' homescreen, and Samsung uses it to create a common UI and 'identity' across its portfolio of mobile devices. It is designed to give easy access to some common phone functions, onboard software and services, and shortcuts to web based services.
The TouchWiz homescreen consists of three distinct areas: the widget toolbar, the desktop and the bottom toolbar. The widget toolbar is a scrollable ribbon and 'holds' the widgets that can be used on the homescreen, while the desktop 'contains' the active widgets. Widgets can be dragged from the toolbar and 'dropped' on to the desktop; widgets can be arranged by dragging them to the desired location. The bottom toolbar of the home screen has four on-screen buttons: Telephone (brings up the dialler), Contacts, Messaging and Menu (opens the standard S60 application launcher). These four buttons are present on both TouchWiz and the standard S60 apps menu.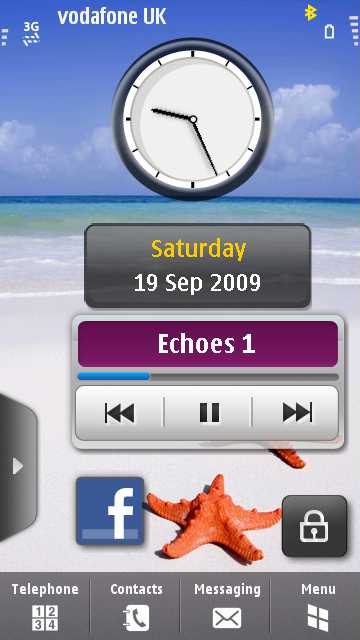 These three homescreen elements are consistent across almost all of Samsung's TouchWiz implementations. However, the i8910 HD has an interesting extra - there are three separate widget desktops, which can be accessed using the icons on the top right of the screen. This allows you to use more of the widgets that would otherwise be possible due to screen size limitations; you could, for example, have a homescreen for multimedia, one for personal use and one for business use.
The available widgets range from a simple analogue clock, through Bluetooth shortcut and mini-music player controls, to shortcuts to web-based services. The Bluetooth shortcut opens up the appropriate application, showing local Bluetooth devices in a 'radar' like format. The Profiles widget allows you to switch the currently active profile, via a drop down menu, directly from the homescreen. Other widgets include calendar, birthday reminder, digital clock (with time zone), FM radio, calculator, voice memo, alarm and more. The web services widgets currently available (MySpace, Facebook, YouTube, Samsung Fun Club) consisted of simple shortcuts to the mobile web versions of the appropriate service, but it is possible we'll see something more substantial in the future. Samsung recently announced that they were working with Yahoo, Google and Accuweather on a range of different widgets and I would expect more of these partner announcements in the future.
A (somewhat recursive) 'More widgets' widget goes online and shows any new widgets available for download, but at the time of writing most seemed to be variants on different clocks.
On the i8910 HD, swiping on the screen, from right to left, switches to the application launcher (and vice versa). Swiping from left to right brings up Photo Contacts; this is a photo-based, speed dialler type application and takes the form of a pile of photos, similar to HTC's TouchFLO equivalent, which you can flick through to select, and communicate, with a contact. You can choose which contacts you want to add, and choose all, or part of, a photo to represent that contact. It is easy to use and customise, but I wonder how much use it will get compared to the standard Contacts application. The swiping, which Samsung refer to as '3D navigation', is an elegant solution and provides UI eye-candy, but it is probably quicker to use the dedicated buttons on the bottom of the device.
The TouchWiz homescreen is a significant departure from the traditional S60 homescreen, and Nokia users will rightly feel as if it has been grafted on to the platform. However, for existing Samsung users, it offers an immediate feeling of familiarity and ties the i8910 HD very strongly into Samsung Mobile's look and feel.
Web
The i8910 HD uses the standard S60 5th Edition web browser, as first seen on the 5800. The browser has been optimised for finger touch, with the large pop-out shortcut panel used to access many of the browser key functions. The software changes are welcome, but the biggest change, compared to earlier phones, is provided by the increased screen size and resolution - the extra physical size means you can zoom out on a page and see more, yet still comfortably read the text being displayed. The capacitive screen makes scrolling easy, a light brush across the screen is all that is required, although two hands are almost essential for long browsing sessions. Unfortunately, as with the Nokia 5800, there's no significant kinetic scrolling - something that, as demonstrated by Nokia on the N97, would make a sensible addition.
Samsung have added a number of customisations to the S60 Browser. The best of these is a zoom in/out shortcut; holding a finger on the screen pops up two zoom 'icons' and if you move your finger upwards you zoom in, if you move it downwards you zoom out. It's a simple idea, but it works very well - it makes it possible to move round a page relatively quickly and goes some way to overcoming the inherent resolution limitations in mobile devices. Another example of Samsung's customisation is the mini thumbnail overview that is automatically displayed when dragging a page around, showing your current viewport's context on the larger page. Samsung have also added a number of visualisations (swirling 3D effects) when switching between pages in the history list - they don't add any functionality, but it does help reduce the perception of a delay between page loads.
As you would expect, with a S60 handset, there's full support for Flash content, either in the browser or packaged separately (Flash Lite 3.1). Web Runtime (WRT) with device service integration (e.g. the ability to read GPS information) is also fully supported. One particularly welcome WRT widget is BBC iPlayer, which is supported (for streaming, at least) and lets UK residents view TV programmes 'on demand'.
GPS and Mapping
Quite unaccountably, at the time of writing, Samsung's main specifications page for the i8910 HD doesn't even mention the GPS, let alone any navigation functions. Earlier Samsung S60 devices came with a version of the Route 66 system, as did early prototypes of the i8910 HD, and indeed there was even a cryptic download on Samsung's support site for a while that let you download Route 66 (with a little fiddling around), but even this has gone now.
Regardless of Samsung's careless attitude here, there is a GPS in the i8910 HD and it works very well - you'll just have to do some of the navigation legwork yourself. Google Maps 2.3.1 is the best start, giving you worldwide maps and information, plus manual routing and navigation, for free, all on the lovely large screen. Samsung's approach to 'Assisted GPS' is to provide a dedicated almanac-downloading utility, GPS+, though thankfully this can be set to auto-download this data each week without you having to remember to do so (though, bizarrely, you have to reboot the device to let it take effect).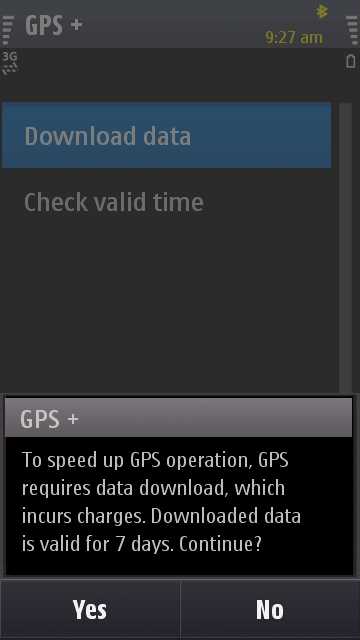 Samsung's hookup with the GyPSii people means that their 'social location' system is preloaded, which is fine. It's a competent first-gen social utility, but it's looking dated and underused in 2009.
There's also a digital compass similar to that in the Nokia N97 and N86 - and it too needs calibrating every time you use it, wiggling it about in figure of eight movements until the indicator turns green. The Compass utility is, strangely, hidden under S60's 'Tools' menu, but it does work well once calibrated.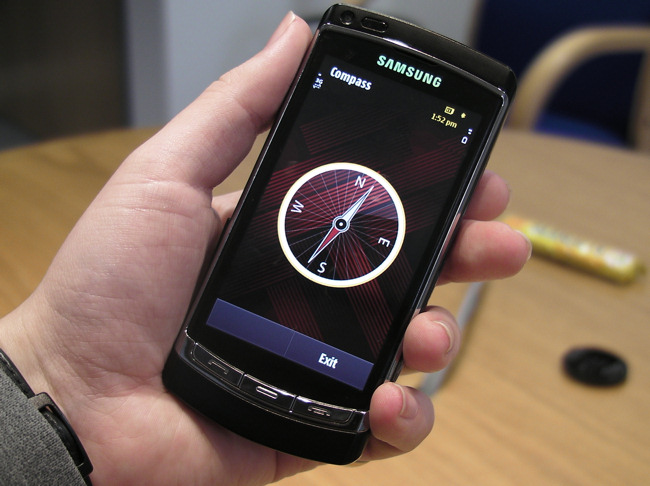 Media: Images, Video, Music, Audio
The i8910 HD's screen makes for a fantastic image viewer, indoors at least. The standard S60 Gallery application is present, but it's buggier than I remember from any Nokia phone and in any case Samsung have also included their own version: MediaBrowser, curiously hidden in its own 'Media' folder - you'd have thought Gallery should be hidden instead if Samsung had been confident in their own application. MediaBrowser can be used to view both images and videos, with three main views: default (media appears in a strip across the screen), thumbnail (images appear in three rows of three) and full (image occupies whole screen). You can move between the images either by tilting the device to the left or right (i.e. using the accelerometer) or flicking your finger across the screen. In default and thumbnail mode, a finger flick uses kinetic scrolling, in full mode it moves from one image to the next. Touching an image opens it in full view mode and there are the usual options to manipulate it - uploading to the web (using Communities, see below for more on this), sending via messaging or via Bluetooth, editing, printing, using as wallpaper, and so on. Touching a video opens the video in RealPlayer though, curiously, the option to 'Edit' a video has been taken out since we saw the i8910 HD prototype.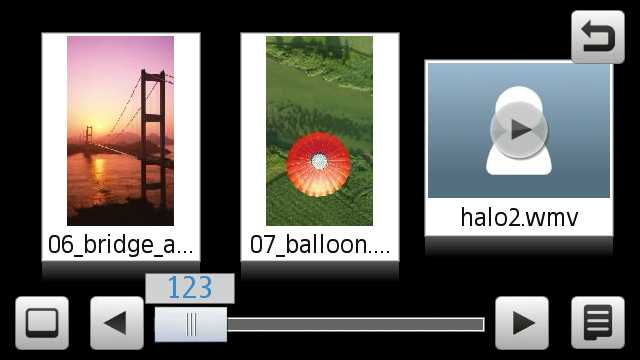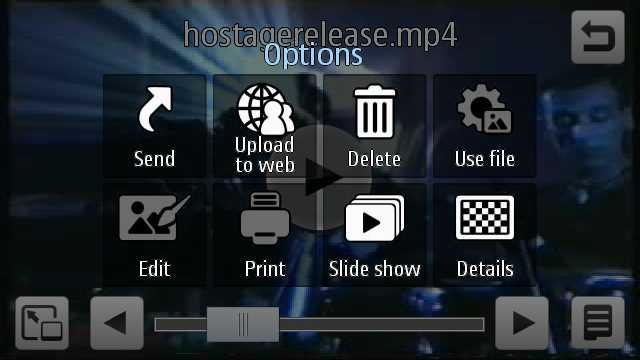 Video playback is impressive - the large physical size of the screen makes things much easier on the eyes than a typical mobile phone. The specifications say the i8910 HD supports the DivX, XviD, H.263, H.264, WMV, MPEG4, RealVideo and FLV formats (the longest list of any phone I've ever seen) and, indeed, most videos I threw at it played perfectly - the exceptions were some WMV and DivX movie trailers. Despite the occasional problems, it's still fair to say that this is still the best phone bet for playing video in the world at the moment.
UK users will welcome the fact that the i8910 HD is recognised by the BBC's servers and allowed access to streaming TV programmes from their iPlayer system, though the right DRM is obviously not in place or ratified yet, since the 'Download' option is not offered. Regardless, TV on your smartphone has never looked so good.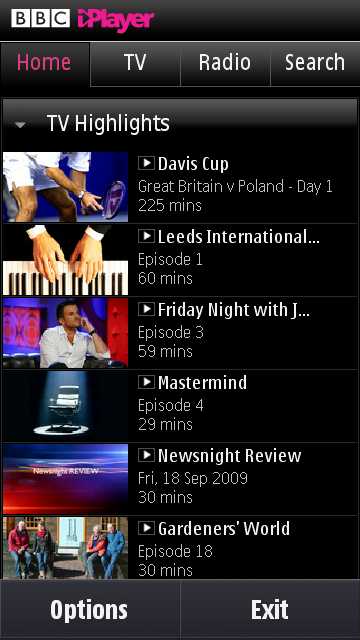 Hooking up a TV can be either via the supplied composite (red/yellow/white) lead, which works well, albeit with the 'analogue' limitations of the system, or via the all-digital DLNA (UPnP), a standard used by many consumer electronics manufacturers to share content between devices over a WiFi connection. There are an increasing number of DLNA compliant devices available, amongst the most common are the Playstation 3 and XBox 360, but it is still not commonly used or very well understood by most consumers. If you've got a Samsung DLNA-compatible TV then things should be straight forward. However, in our experience, as soon as you start mixing equipment from multiple companies, the odds that it doesn't work are increased. In addition, HD video is a particularly complex area because it requires significantly more network bandwidth than music, images or SD video. Consequently, the positioning of the WiFi hotspot/router, its throughput and its compatibility may also become a factor.
We've mentioned that Gallery and MediaBrowser are direct alternatives. For videos, there's also RealPlayer itself, with shortcut prominently on the opening applications menu. And, utterly bizarrely, there's also a new application, VideoPlayer, by the same authors as MediaBrowser (ArcSoft), which also plays videos if needed, and which includes specific DivX registration code. My guess is that VideoPlayer was going to be the default video handler but that Samsung got cold feet at the last minute. Still, at least you've got the choice. And no, VideoPlayer didn't play my problem WMV and DivX files any better than RealPlayer. Having such a confusion of overlapping applications is a little sad, to be honest, and shows that there's no one product manager confident enough to hold his or her head up and say 'Stop - this is a mess'. To be fair, Nokia have a similar confusion with their current Photos/Gallery/Videos system on many phones - I fail to see why these issues aren't picked up and stomped on in early testing.
For music playback on the i8910 HD, there's a Samsung 'skinned' version of the standard S60 Music player. As you would expect, all the mainstream audio formats are supported: MP3, WMA, AAC. A notable addition is the inclusion of a '5.1 Ch' button that activates a custom equalizer/audio setting when listening over headphones. Obviously, you haven't really got all those speakers available, but stereo widening and extra EQ is applied to give something of an aural illusion. I loved having an EQ button prominently displayed too, making it trivial to cycle between the six EQ presets. A 'Sound effects' dialog gives insight into what that '5.1 Ch' button does, with settings for 'Wide', 'Bass enhancement', 'Music clarity', 'Externalisation' and 'Concert hall'. All in all, there's plenty here to fiddle with, to make sure you get lost in music rather effectively.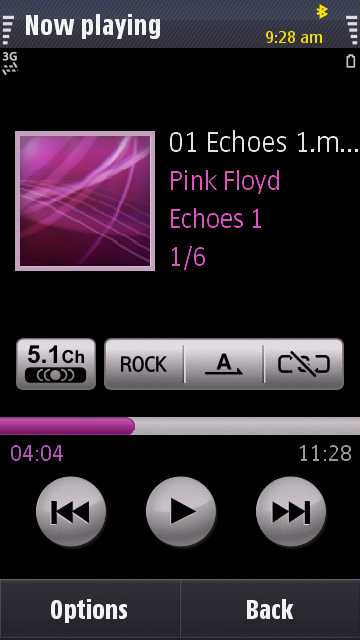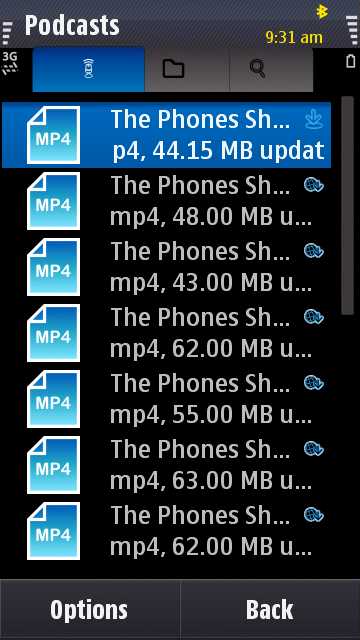 Podcasts is Samsung's clone of Nokia's Podcasting and seems to work almost identically. Very buggy in earlier i8910 HD firmwares, Podcasts now seems to be working as advertised in 'II1', thankfully. Rounding out the audio features is an FM radio (with RDS support), though in common with most mobiles you will need to plug in a set of headphones to act as an aerial.
Communities
'Communities' (previously known as SharePix) is Samsung's social media utility, working with YouTube, Facebook, Flickr, Photobucket, Picasa, MySpace and Friendster. And it does, reasonably competently. But it has also got the interface from hell. On the face of it, it's just a list of shortcuts to mobile web sites - tapping any of the services brings up the right page. You have to know to delve into the Settings for each, select 'Account manager', then pick the service again and then dig on the Options menu for 'ID & Password'. And so on. And even then nothing will happen until you also work out that you have to add that service manually to Communities' 'Preferred list'. Phew.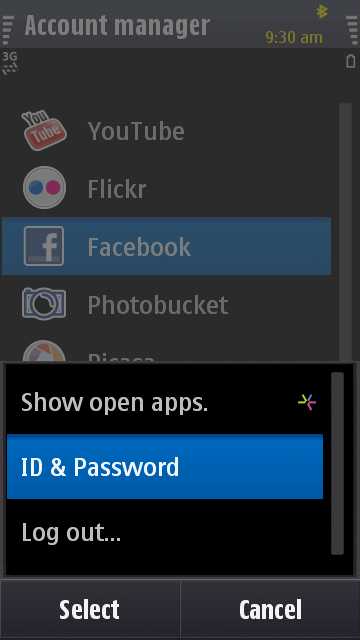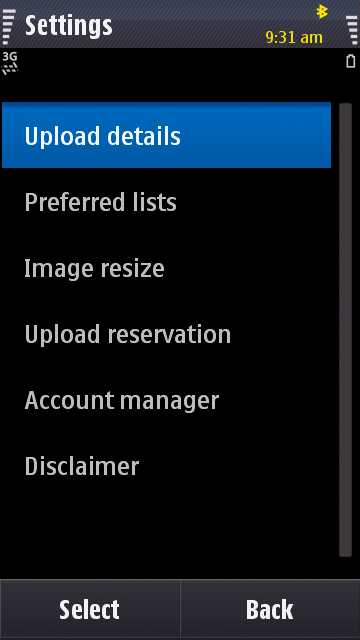 Having got through this usability disaster, Communities does work, in that 'Upload to web' then works from MediaBrowser, for photos or videos, bringing up the appropriate tag and title forms for each service, but to be honest, the whole system either needs a rewrite or (better) changing into a 'wizard' that simply asks the user the set up questions needed in friendly fashion.
Other Software and S60 5th Edition
There are a few more custom Samsung applications shipping with the i8910 HD, in addition to those we have already mentioned. 'Smart search' is a global search tool, analagous to Nokia Mobile Search. It is divided into three 'tabs', one tab for on-device search, one for (ringtone) downloads (this ties into an online catalogue) and one for the Internet at large (effectively just a shortcut to Web).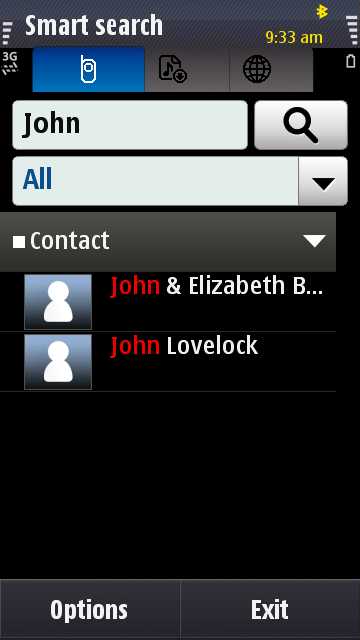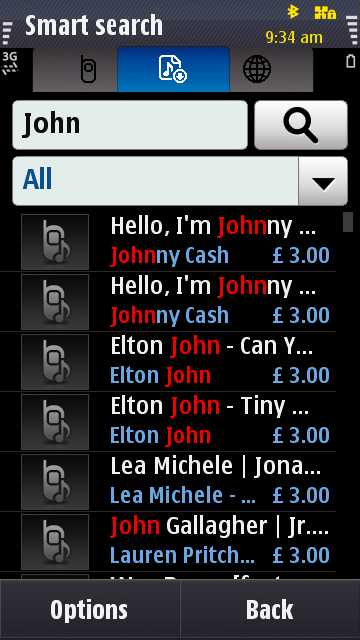 There's also a Download application which serves as an on-device application store, though at present it's a little patchy, with some Handmark-published content and a selection of games. Note that it has no relation to Nokia's similarly-named Download! application.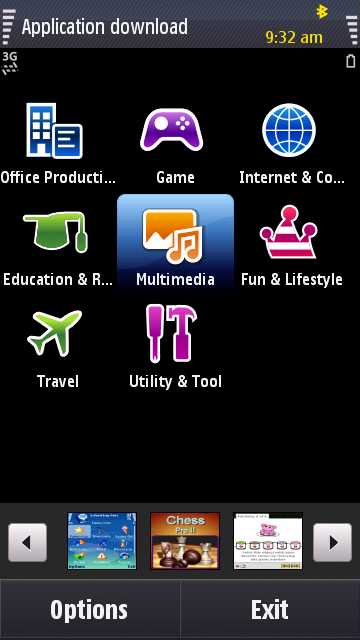 Other applications include Dictionary, which worked on our prototype but which now just gives and error and points the user towards Samsung's web site. Smartreader looks more complete and offers full optical character recognition (with text copy and paste to other applications) plus business card scanning (and save to Contacts). The i8910 HD also ships with a variety of third party-licensed applications including Zip manager, Quickoffice (v4, view Microsoft Office files), Adobe Pdf Reader (the Quickoffice-written v2.5), RoadSync (Microsoft Exchange sync for emails, contacts, and calendar), and the game 'Asphalt 4' (disappointingly not taking any advantage of the graphics acceleration in the phone).
The i8910 HD has the default text entry options of the S60 5th Edition platform - you can choose between a full QWERTY keyboard, virtual alphanumeric keypad, small QWERTY keyboard and handwriting recognition. Handwriting recognition, beyond a few letters, isn't really practical on a capacitive screen and, similarly, the (in)accuracy of capacitive touch makes the small QWERTY keyboard tricky to use. The alphanumeric keypad, which includes optional T9 recognition, works very well, but isn't as fast, at least potentially, as a full QWERTY keyboard. S60's full screen QWERTY keyboard, with a bit of practice to avoid screen contact from multiple fingers, works well here on the large screen, with especially good haptic feedback and audible confirmation - there's a distinct 'typewriter' feel to text entry. However, there are no writing/auto-correction aids and the system doesn't really match up to that in the Apple iPhone. Given the potential provided by capacitive screens (multi touch) and the flexibility of S60 (e.g. the plug-in for the FEP) this is really an area we would have liked to seen Samsung customise.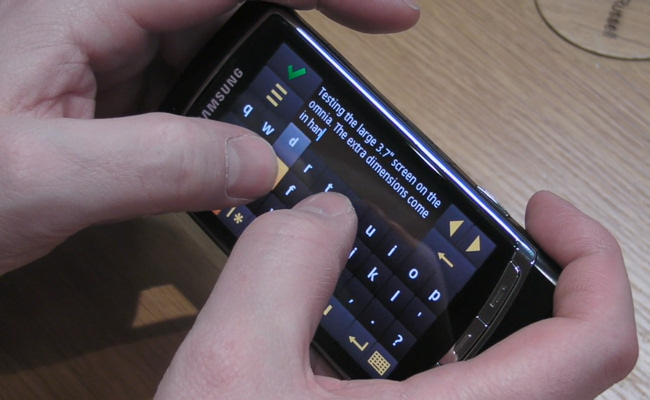 Samsung have made such customisations in other parts of the S60 UI. In general, there are more transitions and eye candy than on Nokia phones. The most significant change is the customised version of the application switcher (accessed by holding down the home key). Rather than a simple list of icons of open applications, it shows a 'carousel of screens' of open applications (some showing live views, others showing default graphics); finger flicks move you around the carousel, touching a screen loads up that application and there's also an x, in the corner, to close the application. An alternative 'grid' view is also provided, which shows all open applications in a (scrollable) 3 x 3 grid - it is somewhat similar to Expose on the Mac. It's possible to see this as a bit gimmicky, but on the other hand it is a visually, highly effective, demonstration of the multi-tasking capabilities of the phone.
Samsung, unlike Nokia, hasn't licensed Red Bend's firmware-updating system and so to update the i8910 HD you have to use a Windows PC in conjunction with Samsung's Nokia PC Suite clone, 'PC Studio'. Checking for updates is easy enough, but the device does get wiped, so the usual backup precautions have to be used. Annoyingly, PC Studio isn't in the slightest bit compatible with PC Suite, despite their common ancestry, meaning that Samsung and Nokia smartphones can't be hooked up to the same PC without jumping through hoops. Discussion of PC Studio is left for another day and another review.
Conclusion
For viewing images and video the i8910 HD's large AMOLED screen is the best we've seen on a mobile device. Similarly, its 8 megapixel camera (especially the HD video recording) and audio capabilities (dedicated DSP, 3.5 mm audio jack, loud stereo speakers, and FM radio) are amongst the best you'll find on a mobile phone, in good light conditions, at least. Taken with its tablet like form factor, these attributes mean the i8910 HD feels like more of a cross breed - part mobile phone, part personal media player.
If there's good promotion in major markets, if Samsung continue to produce firmware updates (II1 is still far from perfect - as witnessed by, for example, random disconnects from Wi-Fi and assorted application lock-ups) for a wider range of countries and markets, if Samsung can get the SIM-free price of the i8910 HD down from its current silly levels, then the i8910 HD could start to see some of the success that its flagship concept deserves. In terms of specification it's just about top of the pile - and yet the Nokia 5800 and (to a certain extent) the N97, both with far less horsepower and less impressive screens, have stolen all the glory. This is partly down to Nokia's huge reach and integration in all parts of the mobile sphere - Samsung have shown that they can get close (in terms of reach) for their feature phones, but the i8910 HD isn't currently part of this scene - sadly.
Is the Samsung i8910 HD any good, then? Absolutely yes, though there are a few rough edges in terms of software - I would rate II1 firmware as still quite early in the grand scheme of things. However, anyone with geek tendencies and patience (and grease-free fingers!) who wants to play with the ultimate in multimedia capture and display should look no further.
Steve Litchfield (and Rafe Blandford), All About Symbian, 20th September 2009
Reviewed by Steve Litchfield at