Review:
Review: Nokia E72 - part 2: Camera, Media, Applications, Round up
Score:
78%
In part 2 of my Nokia E72 review, I look at its camera functions, multimedia handling and general applications, before rounding it up. Does it measure up to the 2009 competition? See also part 1 of the E72 review, looking at its hardware and performance.
Camera
Although it's debatable whether camera and multimedia functions should be emphasised too much in what is, unashamedly, a communications-focussed smartphone, the fact remains that:
a) Nokia has also included Music player, Music Store, (voice) Music Search, the full (Nseries) Photos suite, etc. So it clearly wants to promote a degree of multimedia prowess.
b) Anyone reading this site will be wanting a properly converged device, one that also handles basic photography and multimedia without flinching.
You'll remember from part 1 of this E72 review that the device has an 'Optical Navi key' in the centre of the d-pad. If left enabled, this is also used in the E72's Camera application, for focussing - rest your thumb on the pad and focus is set up according to whatever you've got centred in the viewfinder, then press in the d-pad to actually take the photo. If the Navi key is disabled, pressing in the d-pad focusses and then snaps, in the manner of many non-Nokia touchscreen phones - nice to have crisp results but you have little control over focussing or subject (who may be restless and move before the photo is actually taken!)
The Camera interface is familiar from all recent Nokia S60 phones, and I have to admit that the lens and sensor in this 5 megapixel camera unit are pretty good (relative to expectations). Here's a testing shot, taken in fading sunlight on both E72 and Nokia N97: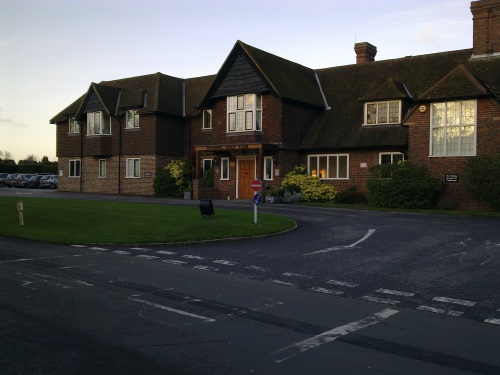 Taking the identical photo on the N97 (photo fragment on the right):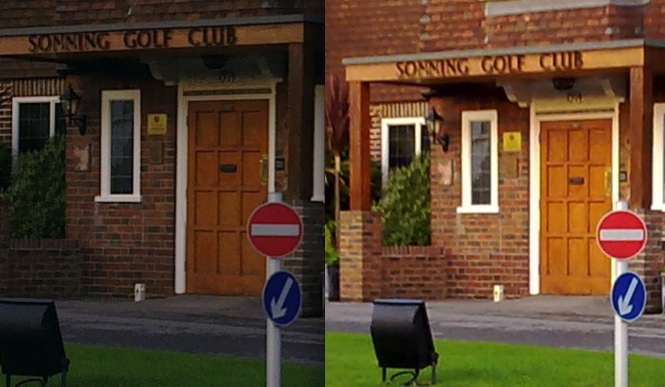 The first thing to notice is that the E72 photo is quite a bit darker - with launch firmware it currently makes something of a mess of exposures on most photos, each of which ends up being a little darker than you'd like. Hopefully a firmware update can easily fix this. What's most important is that the raw detail and digital noise level are both good, certainly comparable to the 5 megapixel units in many Nseries phones. With the caveat over exposure, I can confidently say that the E72 has the best camera ever put into a Nokia Eseries phone.
Here are some more photo samples taken on the review unit:
(Click each to download or enlarge)
The Optical Navi key method of focussing is a little clumsy, one's thumb naturally rests on the d-pad centre and it's easy to find yourself focussed on something before you've even framed the shot, so you then have to consciously remove your thumb, reframe the shot and then re-apply your thumb. In addition, if you've brought up the Camera toolbar, focussing doesn't work at all (at the moment) - you have to first dismiss the toolbar (using the d-pad) and then apply your thumb. To be honest, pressing 't' (as on the E71) suddenly seems like the easy option.
Video is shot at the new Eseries standard of VGA at 15 frames per second. Quality is OK but there's no attempt at pre-set focus and the results are only good enough for casual/fun use. Still, this really is diverting from the main point of the phone.
Multimedia playback
So, we've established that the camera's pretty decent (speed apart) and that the mono speaker is better than average, but what else can this nominally business-aimed phone do in the multimedia stakes?
Video playback is aided by the use of S60 3rd Edition FP2, which had extra codecs (including WMV) and performance tweaks. You're not going to handle many clips above QVGA resolution and sensibly low bit rates, but the basics are here, in terms of playing back clips recorded on the device, downloaded through Ovi Store or played directly through the included Google YouTube application. With a screen of only 2.4", you are not going to be watching feature length videos on the E72 and what's here is probably good enough for most.
The landscape-screened form factor has one advantage here, of course - you don't need to keep rotating the device in order to get the screen to the 'right' aspect ratio!
Music playback is excellent, just as in all other smartphones since about 2005, with plenty of volume over my test headphones. The supplied pair weren't up to the same standard of course, and this is where audio reproduction tends to fall down for many handsets. There's a full software equaliser now, I'm guessing this is part of the S60 3rd Edition FP2 baseline functionality.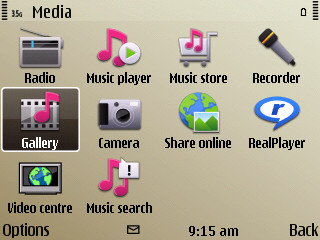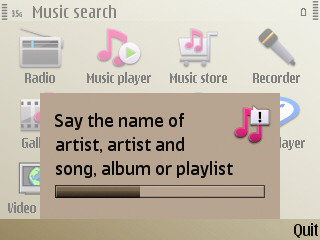 Slightly odd is Nokia's latest take on the confusing Gallery-Photos-Videos scene. Here, on the E72, for example, you get 'Gallery', which has tabs for 'Images' and 'Videos'. 'Images' takes you to 'Photos', which also includes your videos.... Oh, I give up, Nokia are absolutely hopeless at media organisation. Mind you, Sony Ericsson and Samsung don't seem any better. Nokia, if you're listening, I'll design you a new system on the back of a postcard which will be a darn sight more intuitive than the current system...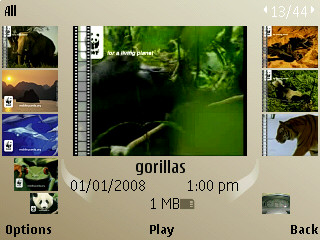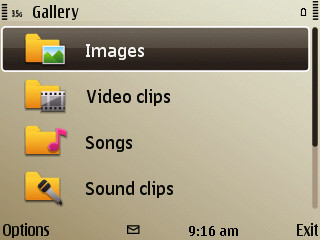 Photos, showing videos (on the left), a familiar but deceptive front end (on the right)
'Music search' is the 'say to play' system that debuted on a number of consumer music phones - I can't for the life of me work out what it's doing here given that Podcasting has been banished - but hey, it works well, it seems that voice recognition is finally starting to work well for phone manufacturers and service companies. The usual FM radio (with the additional hacked in 6120 Classic version of Internet Radio, in my case!), Music store, Video centre (ooh, another way to umm.... play videos) and Share online are all present and correct though.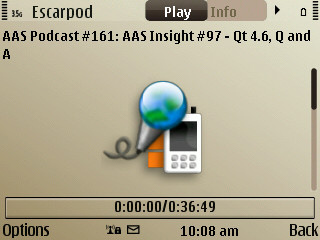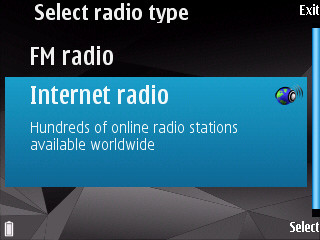 Attempting to fill Nokia's gaps: Escarpod podcatcher (left) and Internet radio from the 6120 Classic (right)
Internet
Web on the E72 is, of course, 2009's 'Next Gen' variant of Web, slicker and smoother and with a slight UI overhaul, though sadly without copy and paste (from a page) facilities still. The biggest restriction on Web is the physical one. On a QVGA screen (especially a small 2.4" one), even the simplest web sites require a laboursome amount of scrolling around, zooming out and then zooming in again. With judicious use of the likes of BBC Mobile and mobile-optimised services, this isn't a problem and, in fact, it's often faster to get to the information you need via this low bandwidth route, but it does rankle a little in these iPhone/S60 5th Edition/Android days to have to work your way around the web through a QVGA keyhole.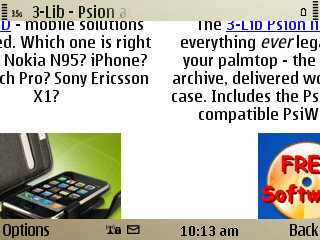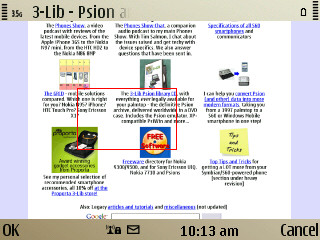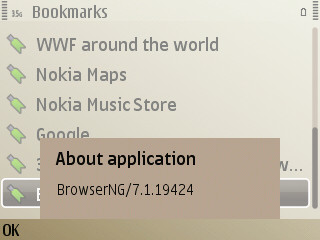 The free Opera Mini is another option here, of course, as is Skyfire. The Optical Navi key works to move the on-screen pointer in Web, with an additional optimisation for successive 'flicks' to set the page scrolling faster, but ultimately it's a gimmick. You can't really say it's intuitive, since you swipe down to make the page move 'up', etc., and simple d-pad keypresses nearly always got me to the desired place in a big page faster. And, as mentioned above, you can't turn the Navi key off because then you lose control of focussing in the camera. Not very well thought out, Nokia.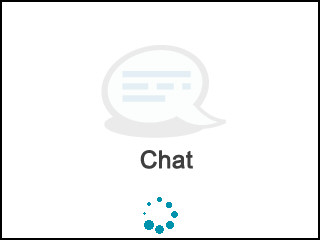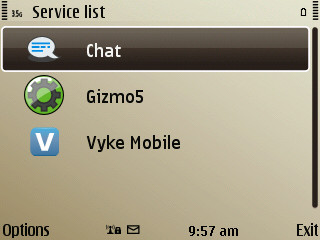 'Chat' is a newcomer to S60, incorporating instant messaging interoperability with Google Talk, Ovi Chat and Yahoo Messenger. It works well enough but, as part of the Nokia Messaging family (see below), isn't without its quirks. I've known several E72 owners who have Chat 'disappear' and have had to factory reset their device in order to get the 'Set up chat' bit back on their homescreen, to get going again. Still, promising to see a decent chat client in the works and not just the vanilla 'IM' system that S60 has had for years.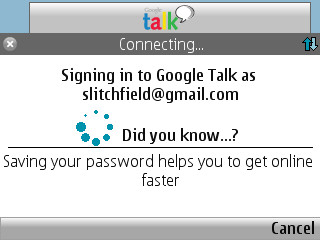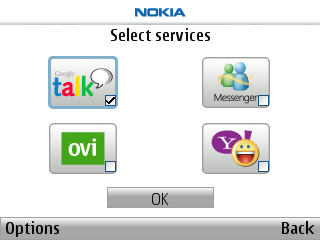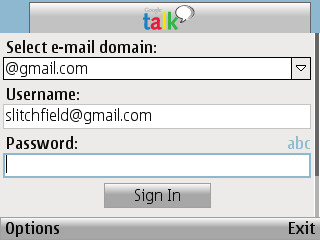 'Files on Ovi' is a shortcut to an online setup wizard, helping you get going with Nokia's continual backup service. 'Facebook' isn't the new S60 3rd Edition widget, disappointingly, but a simple shortcut to the Facebook mobile page. A missed opportunity - hopefully this too can be rectified in firmware. Ditto 'MySpace', though again, quite why Nokia's marketing team deemed a Podcasting-less business device worthy of having even a mention of MySpace is beyond me. Maybe all will become clear as the firmware matures - let's hope so.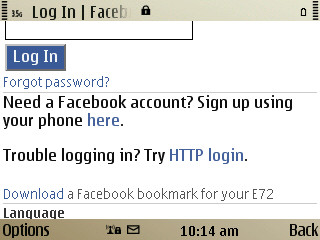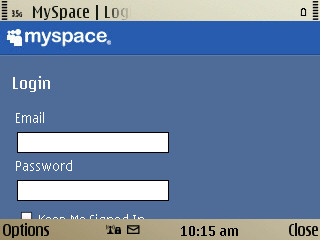 Both mobile sites and not widgets/clients, sadly
'Ovi Store' is the real client, together with automatic update checking, at last - this store is moving out of the slow and awkward phase into something which is genuinely useable, at least for casual use, though with the application bundle on the likes of the E72, not a huge number of extras will really be needed.
Office
It goes without saying that, with this being an Eseries phone, there's the full editing version of Quickoffice Premier. Version 5.3 if you're counting, with the usual free upgrade to version 6.0 to get the latest file compatibilities and features. Quickoffice now works very well on this size of device and it's a reassuring icon to see in the E72's 'Office' application folder.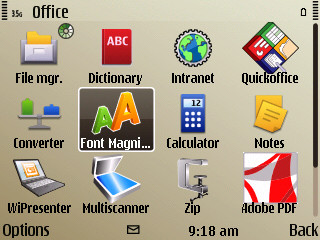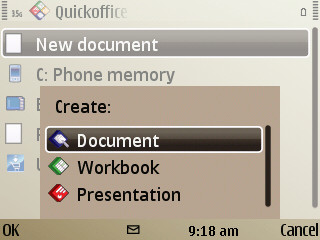 Also in this folder are the usual Eseries suspects, including 'Dictionary' (which debuted with the E71, you may remember), 'Font magnifier' (licensed from Psiloc), WiPresenter (ditto, enables WiFi or Bluetooth-driving of a compatible laptop for presentation purposes), 'Multiscanner' (for handling business cards, licensed from ABBYY), plus Zip manager and Adobe PDF viewer.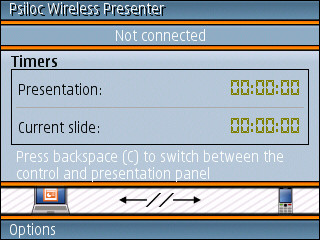 General applications
It's slightly disconcerting to see Ovi Maps hidden inside a 'GPS' folder inside 'Applications' rather than prominently flagged up in the root folder, but at least it's here and works well, with the GPS locking on quickly in tests. There's also the freeware 'World Traveler' (also from Psiloc) and a couple of nice games, the Java-based Block Cascade and the super-slick Epocware card solitaire compendium.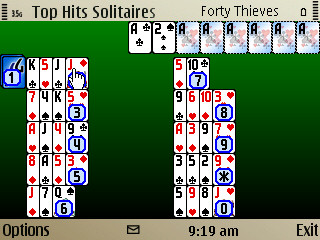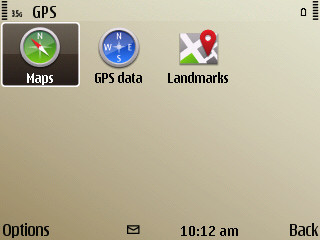 Fitting in with the rising trend to allow more voice control (Eseries has always been strong in this department), there's the third party Vlingo as well as the E72's own voice commands.
Nokia Messaging
And so to Email, a.k.a. Nokia's next-gen Messaging system. I've deliberately left this until last because it's the most controversial aspect of Nokia's recent Eseries devices. Some people love Nokia Messaging, declaring it to be a huge step forwards. Others, like me, can see the potential in it - and also admire Nokia for rolling out a six month long beta test in actual device firmwares, rather than behind closed doors - but end up cursing it, hating and generally giving it as wide a berth as possible.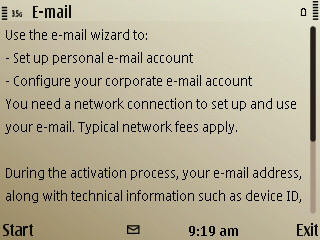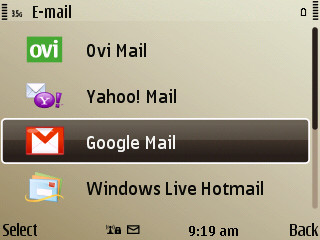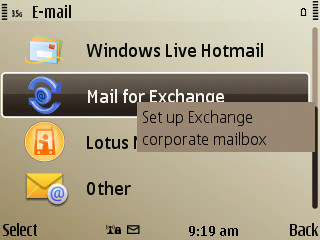 Predictably, Nokia Messaging on the E72 was just as flawed as on every other device I've tried it on. In this case, I couldn't even complete the setup process, as the wizard just looped around, asking me again and again for my email address and password, with no error messages, no confirmations and no progress. Fail. Yet again. It's a complex client server system with multifarious connections to many third party services and software packages and isn't, in my opinion, ready for the prime time yet. In fact, given its complexity, there's a serious argument that it will never, ever, as a system, be glitch-free.
I've also heard from many people that Nokia Messaging on the E72 (in the current firmware) has a number of serious problems talking to Microsoft Exchange 2003, which is a bit of an own goal, considering the device's target market.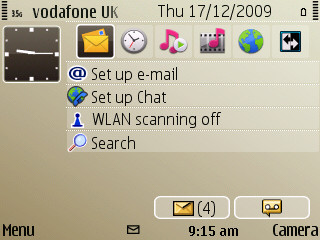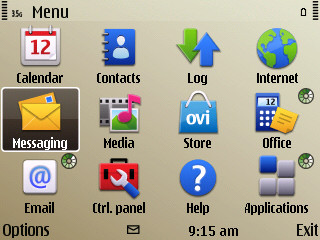 Rounding up the E72
In addition to the omission of Podcasting, to the confusing media handling and to the Email problems, there are plenty of other signs of early Nokia firmware - for example, hit a Web search box and start typing quickly and you'll find that your first character gets misplaced, often getting inserted several letters into your first word. This is the sort of glitch that happens when low level OS software modules aren't talking to each other properly and really needs to be addressed and optimised.
I have to say that it's disappointing that, at the end of 2009, we've got a S60 3rd Edition smartphone with major issues. The core OS and FP2 modules must all be locked and stable by now, but the E72's product team (and the N86's before it, to be fair), with the addition of a new version of Web, of Email, with the inclusion of fancy transitions into the UI, have managed to create something which is eminently in need of a firmware fix-up from the very beginning.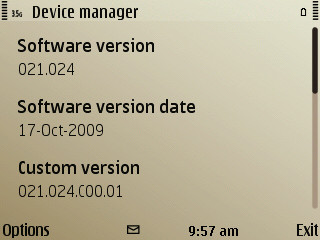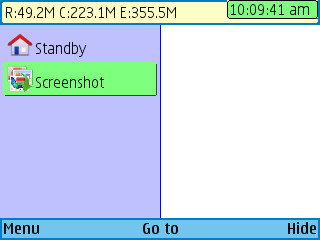 Firmware as of 17 Dec 2009 (left) and free RAM after booting (right, top left of screen)
As detailed in part 1 of the E72 review, the hardware itself is almost as solid as that in the E71, which is a compliment, and the list of welcome additions over the previous model is nothing short of surprising. Performance generally is great, there's enough RAM to go round and there's plenty of system disk space. However, the Optical Navi key is a gimmick and Nokia needs to divorce its use in camera focussing from its use in the general UI, so that the latter can be turned off without affecting the former.
I gave Nokia's N97, Samsung's i8910 HD and Sony Ericsson's Satio a little extra time before delivering a verdict, since each, in its own way, was trying to do something new and different and a little patience from me wasn't unreasonable. But the E72 should have arrived on the market in 'finished' form - the Eseries team have had a good reputation here - and, while hitting 90% of its software targets, doesn't quite have the full package yet. I'd have accepted the current firmware as a 'beta release with two months to go before availability' and it's frustrating that Nokia's business customers are being used as guinea pigs here - the very customers who have been swearing on (not at) Nokia Eseries for reliability and dependability.
So, yet again, we have a modern smartphone arriving on the scene in a flawed state. The E75 team took forever (months) with their first major firmware update - the E72 needs to get one right now - or at least a downloadable patch for Nokia Messaging.
And, while the software teams are beavering away, can I suggest the hardware team look into the tolerances on the plastic frame underneath the metal battery cover?...
Steve Litchfield, AAS, 17 Dec 2009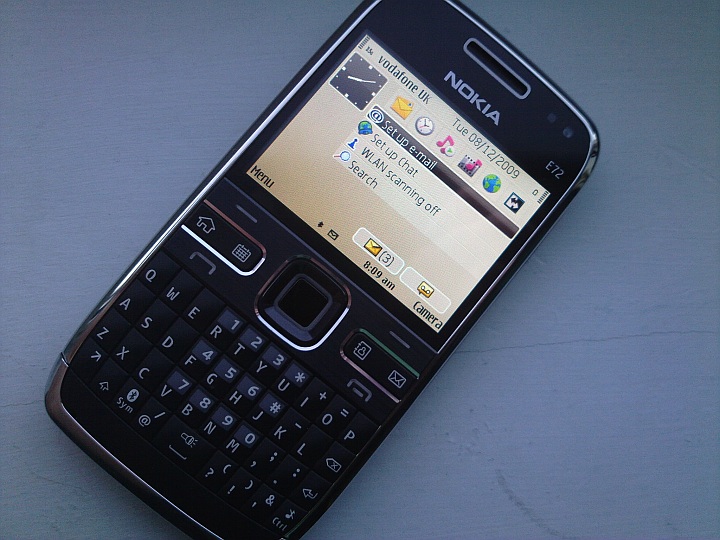 Reviewed by Steve Litchfield at