Review:
Proporta USB Mobile Device Charger
Score:
87%
A fully stocked mobile device charging system...
Travelling with a smartphone has always been a little problematic. As recent tests on the massively-featured Nokia N95 have shown, modern devices can empty their 1000mAh batteries in a matter of hours if you use all the wireless and camera functions to their fullest extent. Which leaves you..... flat out of power and stuck.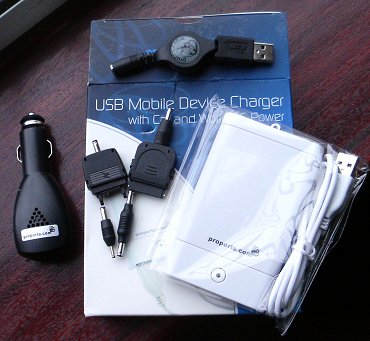 Now, bringing along your mains charger or buying a 12V car charger gives you recharging options - and for many people these will be sufficient. But what if you're separated from your vehicle for the day and you don't want to bother third parties by trying to find mains sockets to stick your charger into? And, moreover, what happens when you want to travel abroad, giving you another set of mains adaptors to buy and worry about?
Proporta's USB Mobile Device Charger is a well thought out solution to many of these worries. By taking it along in your briefcase, the aim is that you can recharge at least twice anywhere at all. And, with its associated adapters and options, it gives you extra ways of converting power when away from home.
The charger itself is a stylish iPod-esque box, with a single button and two mini-USB and USB ports, marked 'In' and 'Out' (so 10/10 for simplicity!) respectively. The core idea is that you plug the charger into any convenient USB socket before you travel, charging up the internal Lithium-Ion 3400mAh battery through its 'In' port. Then, when you're out of power and in need of replenishment, you plug the retractable USB-to-anything cable into the 'Out' port, with the tip of your choice, and plug it into your smartphone.
The product comes with tips for standard Nokia, Nseries, Sony Ericsson and (I'm guessing here) Motorola handsets, but by using the raw USB out socket you can actually plug in any other device which can charge over USB (such as a Windows Mobile smartphone or PDA or iPod) and achieve a similar effect.
3400mAh goes quite a long way (output voltage is 5.5V or thereabouts, by the way) and I was able to fully charge a Nokia E70 from scratch and more or less fully charge a Nokia N93, in the one charger session. As always with charger of this kind, you don't get 100 efficiency, but I'd be confident in suggesting that you could fully charge any smartphone or PDA or iPod twice from a single charge of the main unit.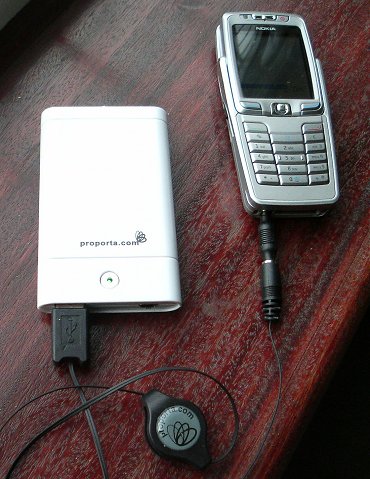 When it comes to charging the USB Mobile Device Charger itself (which takes about four hours), it's USB yet again, with a standard mini-USB to USB lead that can plug into any convenient port on a desktop or laptop computer. Or you can use the supplied 12V car-to-USB or worldwide mains-to-USB converters.
Or indeed plug your smartphone/PDA/iPod into these extra USB ports rather than into the Mobile Device Charger. You get the idea - it's a flexible system in which you usually have several options available to you - if there's mains then you charge the central unit or device (or both) from that, if there's 12V then you use that, if there's USB then that, and if there's none of the above then with the USB Mobile Device Charger fully charged you've still got the aforementioned two full charges.
The product arrives as a box with five or six parts/pieces, plus another bag with the mains-to-USB kit and all the plastic adapter bits this needs for every country in the world. The end result is a lot of 'bits', but you can leave quite a few of them at home - those for countries you're not going to and those for devices you don't own etc. There's still a bit of clutter to carry though and I note that Proporta are just about to launch a special bundle of their new Gadget Bag with the USB Mobile Device Charger, a partnership which makes sense, especially given the prices involved.
Whether you're strapped for power while camping (as I was last year) or while sitting in the middle of a big trade show floor or while on the train, this kit has the potential to get you out of trouble and set you up for the next stage of your travels. For many mobile devices, you could always buy a second or even third battery, of course, but this solution isn't that much more expensive and gives you more options and more power in reserve.
Recommended.
Steve Litchfield, 5th Feb 2007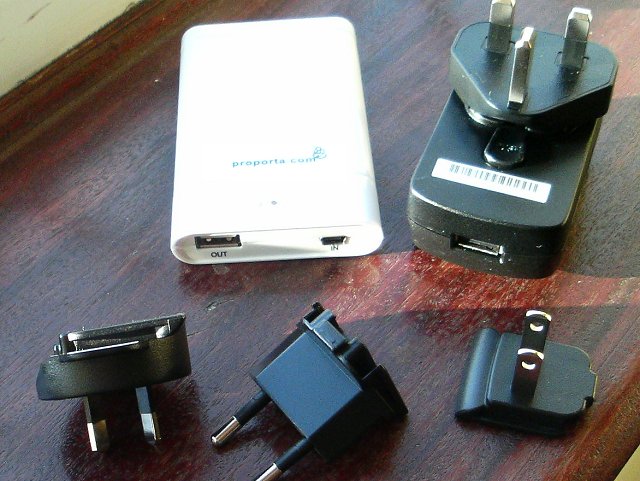 ---
Reviewed by Steve Litchfield at