Review:
Projekt, the only REAL outliner for Symbian smartphones
Score:
80%
Kylom just announced recently the availability of Projekt for S60 3rd Edition. I have used it since it was first available (on P900), also on 9300 and still loving it on P990. What makes Projekt very special? Let's have a look...
Version Reviewed: 3.01
Buy Link | Download / Information Link
Some users may be familiar with the concept of the 'outliner application'. The principal behind these applications is that notes or indeed any text can general be broken down into a hierarchical 'outline' structure. Projekt implements this outliner way of doing things for Symbian phones.

Most current Symbian phones, be it S60 or UIQ or Series 80 Communicators, come with an application called Notes or Jotter which gives users an easy way to jot down ideas or take quick notes. However, these applications tend to be very limited in their functionality. There's no support for attaching objects and you can't create different files for different projects or categories. The concept at the heart of Projekt is to serve up that extra functionality.
Projekt organises entries into hierarchical lists of items. With its tree structure (which you can see in the screenshots below), Projekt combines a powerful note taking app with clear organisational capabilities. As such it is a very flexible application and different people will use it in different ways for different things.
One of Projekt's strongest features is customisation. Almost every aspect of the application's appearance can be changed. For example, you can change the background colour to improve readibility or stick with the default ones and, while you're at it, you can also change the selection colour.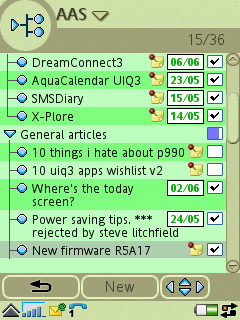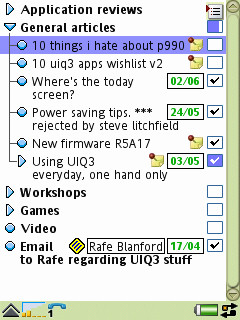 The default background colour vs my preferred easy-to-read setting
Projekt's main view consists of main item lists with short titles. If you need to store additional information then you can use the Notes field of an entry for unlimited text (complete with Rich Text Formatting: Bold, Italic, Underline, Bullets, Tables etc.) There are other hidden gems too, such as the Log Date function which stamps the (pre-formatted) current date and time inside the Notes.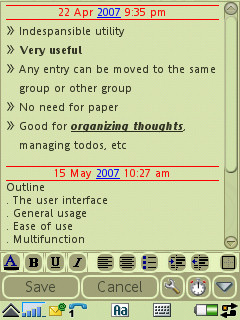 Notes, attached to an entry

Moving items around is also supported. An entry can be moved up or down or, if it's a child-entry, it can be moved to another parent. If you maintain multiple Projekt files (e.g. for business and personal), you can also move entries to different files.
To view information on the screen, Projekt offers various options. In addition to the standard application view there's a 'full screen' view and a 'landscape' view. In the UIQ 3 version, there are 3 levels of zooming that can be applied.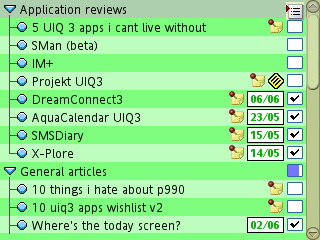 Landscape view
Kylom have put a lot effort into the development on Projekt, a good example of this is Projekt's ability to run in flip closed mode on the P990. In flip closed mode, the application has the same functionality as the flip open mode and all the functions performed perfectly. It's unusual to see this level of thought in third party UIQ applications.
One of the most powerful functions of Projekt, in terms of expanding the uses of the application, is the linking function. This allows you to link any entry to other items such as contacts, files, calendar entries or todos. This linking with other applications opens up new levels of fucntionality, meaning Projekt can be used as an alternative PIM tool.
It is also possible to create links to new items directly within Projekt. For example you can create a new entry and from it create a (linked) new appointment in the Calendar application.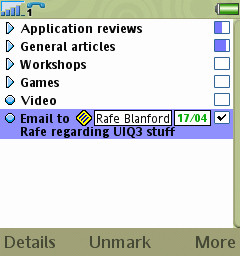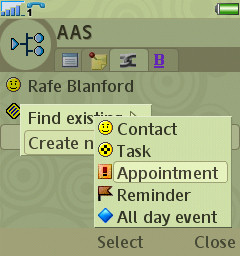 Projekt works perfectly in FC mode (P990)

Another useful function is Export. It is handy when you want to share your notes or send reports to someone else (such as the Boss). Lists can be exported in human readable and machine readable formats (TXT, HTML and OPML).
As we mentioned before, Projekt is a multi-purpose application with a variety of use cases. You can use it as a notes replacement app to write quick notes in a structured way, or, if you like, to keep track of your todo lists (very useful here is the provision of a checkbox to mark things as completed).
With all its functions and a clean implementation, it is no surprise that Projekt won the Best Application Award (Business Category) in UIQ Open. It is a relatively unique application, thanks to its flexibility, providing numerous options to manage thoughts, notess and tasks. Highly recommended.

Asri al-Baker, June 13th 2007

Reviewed by Asri al-Baker at