Review:
Powerball
Score:
75%
With a mind altering control system, and just enough one more go and I'll crack it - we are onto a winner.
Version Reviewed: 1.00
Buy Link | Download / Information Link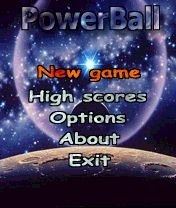 There are things in life that you should not trust. Updating classics is an area fraught with danger. Take "The Avengers." It's a class TV show, and an almost perfect Swinging Sixties Spy Series. Now take the modern film of "The Avengers." Please, take it, it's atrocious. What about Ben Stiller in "Starsky and Hutch?" Shudder. There are some things that are best left alone (Taito Memories on the N-Gage worries me, but more on that when I get a copy).
But sometimes, just sometimes, a remake comes up trumps. It manages to take what was good about the original, preserve it, and add its own twist. There are a handful of classic computer games that get ported to every new platform with regularity, and most of them miss the point. Powerball from Symbianware avoids all the pitfalls and comes within an ace of getting a perfect update.
Powerball is a reworking of the classic Bat and Ball, with lots of bricks to hit with a bouncing ball. You have a bat at the bottom of the screen, and use this to stop the ball falling away off the bottom of the screen. A bit like playing squash actually. Getting the balance right in Bat and Ball has been achieved only twice in history. The first is the arcade game Arkanoid, and the second is Batty for the ZX Spectrum. [Hey, don't forget Popout, for the Psion Series 3a? - Ed]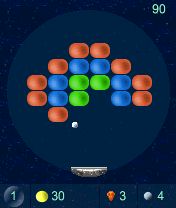 So is Powerball your standard bat and ball affair?
No. Becuase you don't have any walls along the side or the top of the screen. Your little bat has to keep that ball bouncing against the bricks by going round the outside of the screen and covering all the angles. Which in my book is a pretty funky update, keeping all that was good about the original game, but making it just different enough that I'd be happy to part with some well earned cash.
The controls take a bit of getting used to. Left is anti-clockwise, and Right is clockwise. Which is all fine and good when the bat is at the bottom of the screen - but once you get to the top of the screen, you need to flip your mind around, because clockwise (left key) sends the bat to the right... but it is still clockwise.
So we've got a bit of a learning curve here, and it's pitched just about right. You never quite reach the point of frustration, and you seem to get a bit further with every game. Throw in all the old favourites of falling bonus blocks (bigger bat, more lives, etc) and danger blocks (smaller bat, lose points, etc), the mind altering control system, and just enough one more go and I'll crack it - and you're onto a winner
Siemens seem to think so, Powerball is now bundled with the SX-1. For everyone else, I think 10 Euros (about £7 for those Imperials still hanging on) is an absolute bargain for a game scoring 75% on the big scorechart
Reviewed by Ewan Spence at