Review:
PiZero Premium Themes
Score:
80%
Ewan evaluates a theme pack with a difference...
Version Reviewed: 1.00
Buy Link | Download / Information Link
One of the features that sometimes goes unmentioned in the world of smartphones is that of personalisation. As phones become more personal, a lot of technology is geared towards giving people their own experience. I'm sure if you handed Rafe, Steve and I a 'clean' Symbian device and gave us each 24 hours to set it up how we like, you would get three different interfaces, with tweaks to the layout, the look and the actions.
Through the 'Themes' application, Nokia have made it easy for you to change the graphical look of your phone, and provided programming hooks so that people who design themes can provide their themes in installable SIS files. Which make new themes easy to distribute and easy to... sell.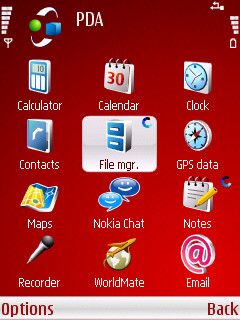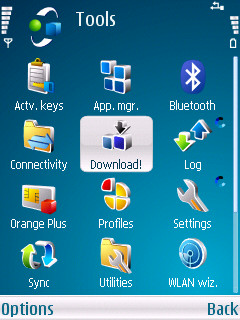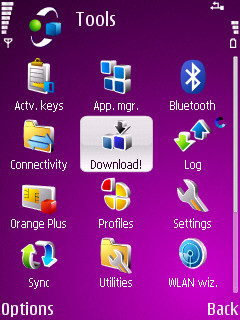 The Zen Themes - Ruby, Aqua and Violet
There are of course countless themes out there, many for free, many looking for your hard earned cash. And while All About Symbian isn't about to turn into a themes review site (for that we'll point you at Symbian Themes - http://symbian.mobilethemes.com/), the recent release by PiZero of a Premium Pack of his art is worth highlighting.
I think that word 'art' is one of the keys to understanding the appeal of themes. They all look wonderful, with full SVGA graphics (in all bar the 'Psycho' theme) and are compatible over the full range of S60 devices, including the E90's letterbox wide-screen. Let's have a look at the themes in action over my more traditional devices...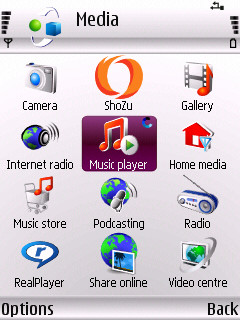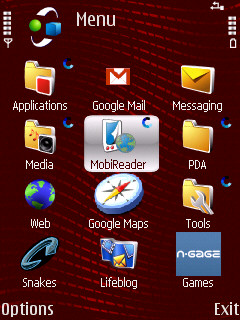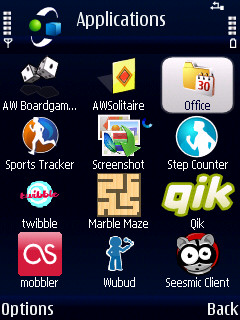 Muted yet clear themes in Tech, Ruby (v2) and Deep Abyss
Yes they are all gorgeous, and I'm pretty sure that everyone could find one or two in the Premium pack that they will appreciate. Personally I'm very much a traditional person. By that I mean I'll find something I like and use it for a long time; and my phone theme is one of those areas - see the bottom of this review for my choice. Between you and me though, I've a strong urge to switch over to some of the new looks provided in this pack.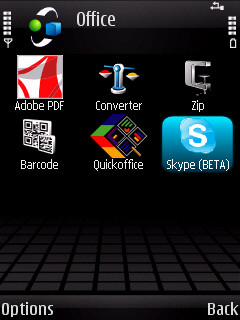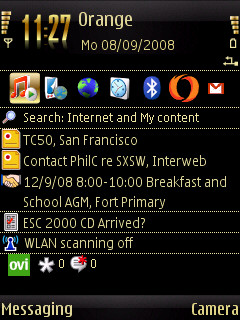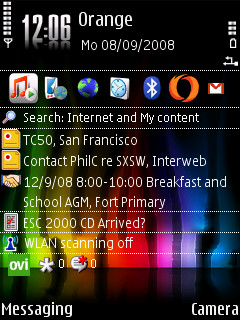 Painting it Black, with Black Diamond, Aurum and Psycho themes
Congrats also to PiZero for making sure that the themes are clear and that text is easy to read. Even in the colourful packs, words are readable and not being scrubbed into the background. Credit also for creating smaller bundles if you only want the 'Zen' (default icon) themes for example, and for providing demo versions of all the themes for free.
Now, how do you score a theme pack? To be honest I have no idea where it all fits in, so I'm going to give it 80 (an AAS Recommended score) and let you all decide yourself from the screenshots and your personal tastes whether this is for you. What I do know is that it's an impressive pool of work, and given that I've been using one of PiZero's themes on my phone for over a year, it certainly is recommended.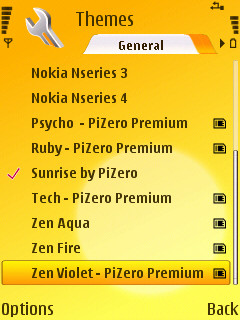 -- Ewan Spence, Sept 2008
All About Symbian readers can also take advantage of a special promotion code ('get25offrightnow') to recieve a 25% discount on any of the Premium Packs that PiZero has for sale. It's good for the first 100 people to use it.
Reviewed by Ewan Spence at