Review:
PDF+ Standard Edition
Score:
50%
Version Reviewed: 1.76 (03)
Buy Link | Download / Information Link
PDF+ is an alternative PDF reader for S60, facing stiff competition from QuickOffice's Adobe LE PDF reader, which is included on all Eseries firmwares and on the likes of the N97 and N97 Mini. There are three versions of PDF+: Basic, Standard and Professional. The latter is only available for Eseries phones. Here is a feature comparison table (source). Note, PDF+ is only compliant to version 1.5 of the PDF standard; QuickOffice's Adobe LE reader is compliant to version 1.7.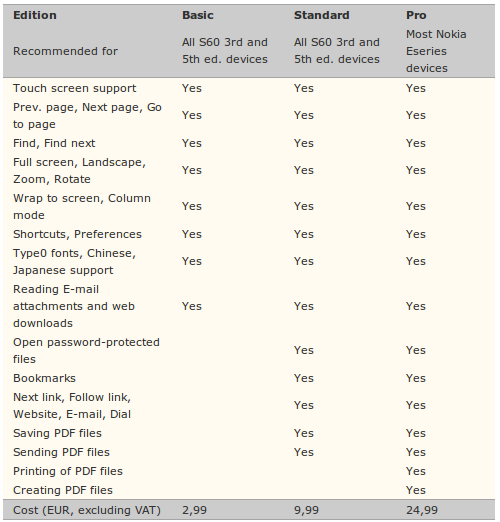 When you start PDF+ you are presented with a file explorer, and a list of recently opened documents.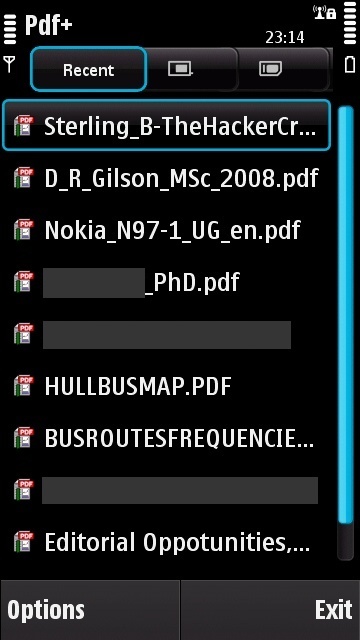 On touch-enabled phones, the primary user interface consists of five buttons: Down (one screen at a time), Search, Full Screen Mode, Options (i.e. main menu), and Back (to file selector). The full screen interface has six, albeit smaller, buttons; which are actually a more useful set of functions. They are: Down, Search, Zoom (Sub-Menu), Bookmarks (built-in links, not custom bookmarks), Normal screen mode, and Options. Most functions in PDF+ are also mapped to physical keys, if the phone has them. The user can scroll up/down and left/right simply by dragging with a finger.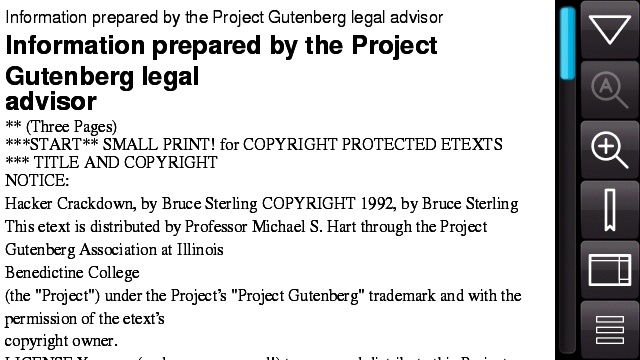 PDF+ has the ability to wrap text around the screen width, thus removing the need to scroll sideways. PDF+'s website describes the method by which this is done as a heuristic algorithm, and they warn that it will not always work correctly. In their own words:
There are however still some problems that need to be solved.

Adding the layout information is optional, which will mean that a lot of the PDF 1.4 and later documents will not contain the layout information.
Pre PDF 1.4-files do not have this layout information at all, and it is almost impossible for users to add such information.
You need to spend extra money to buy new tools to create PDF documents with layout information.

Document Content Reflow (DCR) Technology is a piece of software that addresses these problems. With DCR Technology, Pdf+ is capable of creating a new layout for the text on a page in a PDF document. The new layout will fit nicely on the screen of the device Pdf+ is running on, whether it is the small screen of a Smartphone, or the wide screen of a PDA. Note: DCR Technology uses a heuristic algorithm. It is to be expected that such an algorithm makes mistakes, especially in it's earliest incarnation. In particular, sometimes the different pieces of text aren't always in proper reading order. Another issue is the lack of images and drawings in the reflowed text, which means that text that is part of an image (for instance the labels on a graph), are treated as 'normal' text, and not as part of an image. Finally, you cannot search for text, or follow links. It is expected that future releases of Pdf+ will have this functionality.
In tests for this review, more files than not were reflowed incorrectly, only showing a few words per line, as shown below.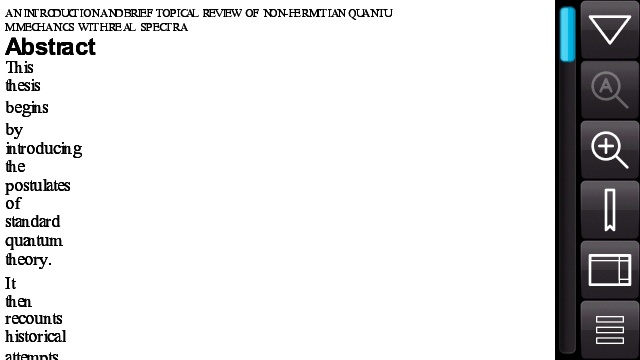 Rendering in PDF+ is generally slow. For simple text documents the rendering time, per page, is tolerable. However for particularly large documents, the slow rendering speed makes PDF+ practically unusable. In tests for this review, the large document was a city bus timetable, that you can see here, and is shown below. The same file can be rendered significantly faster in QuickOffice Adobe LE reader.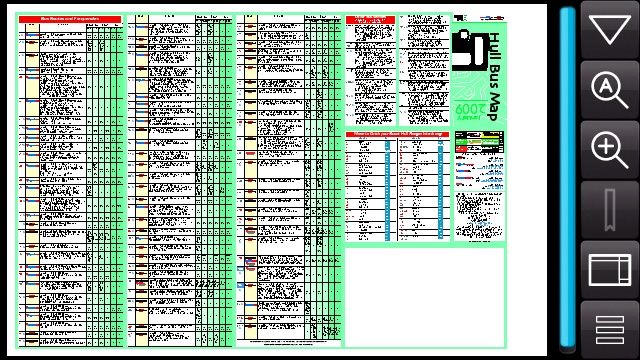 The effect of slow rendering is multiplied when you consider that the document needs to be re-rendered every time the zoom level is changed. Furthermore, since there is no way to drag out an area to zoom to, performing multiple zooms to fit the desired content to the phone's screen is quite likely.
A further bug occurs when viewing in non-reflowed mode; text that is dragged off the side of the screen, and back, vanishes. The only solution seems to be going to another page and back, thus forcing a re-draw of the page.
Conclusion
On the Ovi Store, the basic edition of PDF+ costs £3 and the standard edition costs £8. Clearly, people will look at PDF+ as an alternative to QuickOffice's Adobe LE PDF reader. Adobe Reader LE 2.5 also costs £8 on the Ovi Store, which puts it head to head with PDF+ Standard. While PDF+ has a friendlier user interface than Adobe LE, the difference in text reflow and rendering performance prevents me from recommending PDF+ Standard. However, at only £3, PDF+ Basic is a viable replacement to Adobe LE, as long as you won't be viewing demanding documents.
David Gilson, AAS, 2nd April 2010
Reviewed by David Gilson at