Review:
Nokia N95 8GB
Score:
88%
Nokia has pulled out a lot of stops for this, the second Nokia N95 iteration.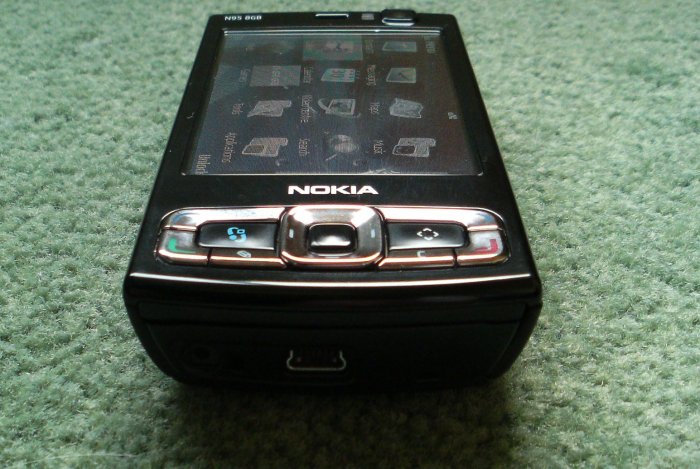 In terms of reviews, the Nokia N95 8GB is relatively simple to handle, thankfully. Not because it's a simple or trivial product, but because the original N95 is so well known and has been written about so many times that there's really little point in going over every function that's common to both devices in minute detail.
Setting the scene
But a short summary is in order, at least. The original N95 was intended to be the last word in the classic S60 phone line, i.e. with a typical phone form factor, with (and I'm judging it by the last released firmware, v12 here):
S60 3rd Edition Feature Pack 1, with the combined Web/WAP browser and miniUSB connectivity
HSDPA, UPnP and Wi-Fi (all fairly cutting edge in a phone when announced but more commonplace today)
a largish, recessed 2.6" screen
an utterly superb 5 megapixel stills camera with great optics, light sensitivity and options, protected by a physical shutter and spoilt slightly by slow image processing and slow camera startup
a great VGA-res video recorder (producing good video images but only mono sound)
a very full set of media software, with all audio and video codecs, video and image editing suites, online integration
the facility to work in portrait or landscape mode
a built-in low power GPS with 'Assisted GPS' for fast lock-on times
great and tactile d-pad and button set
TV out for video echoing of any application or media item to a TV or other video equipment
It was quite a package for a 'phone', but despite the plus points above and even with latest firmware, two big negatives remained. The 950mAh BL-5F battery just wasn't up to the job of powering all the multimedia and comms goodness, with power users of the N95 finding that the battery sometimes didn't last the day and with casual users irritated by having to recharge every single night. Secondly, the free RAM after booting, around 20MB, while enough for lesser S60 3rd Edition devices, wasn't really enough for a device of the N95's ambitions and RAM was prone to run out while (for example) browsing a largish web page, prompting various 'memory errors'.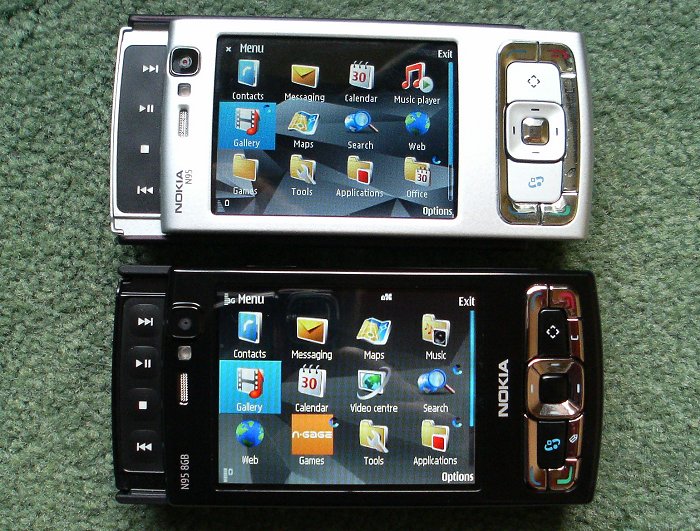 Armed with feedback about the issues above and with one eye fixed firmly on the company's new Ovi strategy, Nokia set about revamping the N95 and trying to fix everything in one go, to produce a worthy flagship phone for 2008. And now it's here, with WOM World kindly sending me one of the very first production N95 8GBs in the world. How has Nokia done?
The changes
Although much of the N95 8GB's hardware and software are identical to that of the original, there are more changes than you might think at first glance.
The microSD slot is gone, replaced by a fixed 8GB flash disk mounted internally. This appears to the smartphone as disk 'E' in the usual Symbian OS way and all programs should treat this just as if it were an 8GB microSD card. This capacity matches Apple's iPhone and is more than enough for the vast majority of users. For example, it represents 6 HOURS of video recording at full VGA resolution or around 30 hours of commercial movies at QVGA resolution or around 160 CDs worth of music (in WMA format at 64kbps).

The system RAM has been doubled to 128MB, meaning that there's now around 95MB of free RAM after booting. This figure is slightly higher than you might have guessed because the N95 8GB also features 'demand paging', i.e. only the bits of applications that are strictly needed are loaded into RAM, other bits are left on disk until needed. Although demand paging is really only for Symbian OS 9.3 and above, the OS 9.2-running N95 8GB has had the feature back-ported specifically for the OS and S60 built-in applications. In fact, it may even be possible to include demand paging into a future firmware release for the original N95. Watch this space. In summary, you'll never run out of RAM with the N95 8GB, even on the largest web pages, while simultaneously viewing the largest image and keeping ten Java games running in the background.

The back of the N95 8GB has been redesigned, with an extra millimetre or so of depth allowing the use of the BL-6F, rated at 1200mAh. This would appear to give 25% extra battery life, but in fact extra optimisations in the OS (and possibly the use of demand paging) mean that the real world increase is closer to 50%. Although this isn't exactly capacious, the use of the BL-6F does mean that very few people will exhaust the N95 8GB's battery in a day, even if they try quite hard.



Allegedly as a result of the redesign, the old physical shutter in front of the camera lens has been replaced by a simple recess, with the camera now activated with a long press of the shutter button. It's not obvious to me why the deeper rear has forced this change, since the original N95 camera cluster was already proud of the main battery case, but then I wasn't privy to Nokia's design team and their hardware tradeoffs. It's a shame to see the shutter go, but the new arrangement is also satisfactory and isn't a problem.



It's also worth noting that camera operation has been improved slightly, with 5 megapixel images now handled more swiftly (a second or so) and with a message telling the user what's happening at each stage. Camera launching is still slow though, I really struggle to understand why this is still pegged at a full 3 seconds.

The screen is better in every respect. It's larger, at 2.8" diagonal, it's clearer and brighter in all lighting conditions and it's better protected, with a hard top layer that's flush to the also-redesigned top slide, whose sides now encompass the N95's edge better (with the side effect that less light 'leaks out' sideways). The d-pad and main controls have been squished slightly to allow for the larger screen but they still work well.



The multimedia controls (visible when the screen is slid down and the unit turned 90 degrees anti-clockwise) are now dimpled/contoured, making it easier to locate the right pressing point in the dark.

The standby screen now has 7 quick-launch icon slots (versus 6), and there's a new standby shortcut/strip, a whole new version of Nokia's Mobile Search utility. v4 was supplied with the review unit, but it's quite slow (seven seconds to start up) and I'd expect a few tweaks to this in the coming months. v4 appears to be a whole new rewrite of the old utility and in addition to new content types (Music, Bookmarks, Images, Video, Landmarks), there's genuine quick matching of any text search string. Just start entering text and within a few seconds the matches are shown within each area and can be drilled down into. Great stuff and genuinely useful. No doubt Search v4 will appear for older devices on the Nokia Mobile Search site.



The 'multimedia' key, which used to be rather irrelevant and annoying is now slightly less irrelevant and less annoying. But I'm still struggling to work out why it's there. What was wrong with the traditional S60 standby screen and menu of icons and folders? There's now an additional carousel of 7 panes, Music, Videos, Gallery, Games, Contacts, Internet and Maps, each of which lists various options, documents and shortcuts, as appropriate. With the rise of the Nokia Music Store, Maps, MOSH and, of course, N-Gage, I'm really hoping that the reason for this rather unattractive and painful carousel arrangement will become obvious. With enough relevant Ovi content in place, then listing everything sorted by content rather than by opening applications will make more sense, but as I said in Smartphones Show 45, I remain a little sceptical and need to be convinced further.



There's an N-Gage Games icon on the main menu! Currently this has shortcuts to the placeholder URLs for the N-Gage home page and the N-Gage client download page, but these will become live in time. There are also two demo games, FIFA 07 and Asphalt 3, both of which play rather well (in portrait mode only) and bode well for the success of N-Gage in a few months time. I'm no game player though, Krisse will be along shortly with more on playing these titles.




Other software tweaks include the removal of the built-in video editor, a huge shame, especially considering that there's now enough RAM to allow editing full VGA videos. Maybe Nokia reckoned it was just too hard and troublesome for novices to use? Anyway, I was sad to see it go. Internet connections are now handled better and if you're already online with an access point, most applications don't pester you with the big question or, worse, complain that the access point 'is already in use'. Video centre is now promoted to position 7 on the opening icon menu, reflecting Nokia's confidence in the importance of video. And they seem to have fixed the problems playing back YouTube videos from the latter's mobile site, as I had no problems, even on the same Wi-Fi router as I'm still having problems using Video centre on the original N95. Finally, Share online is now in the firmware, which is good to see.


The verdict
So, quite a list of changes from 'original' to '8GB'. Most are very positive, but it's also worth noting a few of the negatives, which may, just may keep people using the original design. There's the lack of a physical lens shutter, which may be an issue if you're rough with your smartphone, there's the lack of a built-in video editor, the fixed flash memory, with no option to take out a card and stuff it into a printer (for example), and finally there's the black finish, which is slightly less tactile than the original N95 and the 8GB model slipped from my fingers more than once while testing it. Gulp.

But there's no doubting, on balance, that the N95 8GB is 'better' than its predecessor. The improvements in speed, battery life, free RAM and screen size all stand out as highlights. Build quality on this production unit was excellent in every regard and some of the mechanical oddities of some batches of the original are nowhere to be seen.
Is this the best smartphone ever made? Yes. You could even drop the 'smart' bit and call it the 'best phone ever made', since this will be sold in High Street shops and picked up, as the original was, by people from all walks of life, most of whom have never even heard the term 'smartphone'.
For the hardened AAS reader and power user though, note that the form factor limits of the original N95 are still in place, i.e. the QVGA screen, placing real usability limits on which web sites can comfortably be browsed around, and the numeric keypad - going back from the Nokia E90 or E61i to a keypad is a real wrench. Still, the latter problem can be solved for some use cases with a Bluetooth keyboard.
A big thumbs up overall though. Nokia has listened carefully to the feedback coming from early N95 users and has addressed just about every criticism and done it in style. The original device enjoyed several major firmware updates and countless extensions via the Download! application and I'd expect this to see the same attention from Nokia.
Steve Litchfield, AllAboutSymbian, 22 October 2007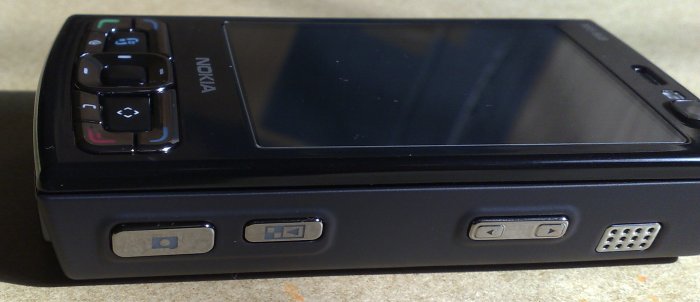 ---
Reviewed by Steve Litchfield at