Review:
Nokia N78 Review Part 2 - Multimedia
Multimedia
The multimedia convergence and capabilities of the Nseries are a key selling point and the N78 is no exception. Compared to the N70 and N73, the N78 adds a raft of extra functionality, but more significantly has made improvement in usability. The breadth and scope of its multimedia functionality out of the box is extremely impressive, as is the continuous pace of improvement in the Nseries range. For me this has been a key part of the Nseries story over the last 2 years.
This is exemplified by the introduction and evolution of the multimedia menu, which aims to simplify and speed access to key multimedia functions on the phone. The menu consists of a series of panes collected together in a revolving carousel, with each pane representing one media area (Music, Images, Videos, Games, Maps, Internet and Contacts). Each pane has a list of shortcuts (tasks): for example, the music pane has Now playing, Music, Podcasts, Playlists and Music store. For new users, the multimedia menu offers simpler and faster access to core multimedia functions; the menu is more task than application based, which is generally more intuitive for beginners.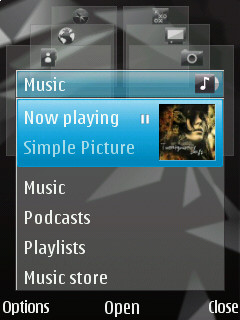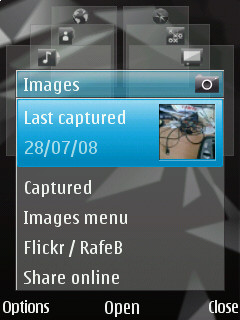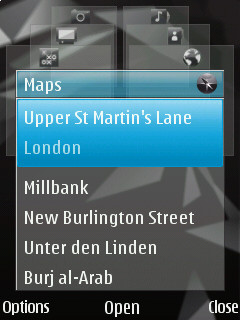 Long term S60 users will tend to access multimedia functions via the application launcher and could therefore see the multimedia menu as unnecessary duplication and lacking customisability [I'm looking at Steve here. Gulp - Ed]. While there is an element of truth to this (it would, after all, be possible to design a better overall UI from scratch), it is a reasonable solution, bearing in mind practicality and the need to fit in with the legacy of the older S60 UI. The multimedia menu is emblematic of a wider issue for Nseries and S60 (and converged devices generally); there is a need to support both an ever widening range of devices and consumers, while, at the same time facilitate the addition of more functionality (technologies, inputs, software, services, and so on). Both of these factors make it harder to build and design products around a single platform, although (paradoxically) they also make a single platform ever more necessary.
Camera, Photos and Video
The N78's 3.2 megapixel camera may not measure up to the 5 megapixels of the N95, but the difference isn't as large as the specifications might suggest. You need to look quite closely to see the difference. The higher resolution camera may capture a little more detail, but you need to zoom in on an image to pick this up. If you print out a standard size print of the same picture form both an N78 and N82 it is very hard to pick out any major differences. The N78 has an LED based flash, which means performance is limited in low light conditions, especially when compared to the Xenon flash-equipped N82. The N73 also had a 3.2 megapixel camera, but the N78 produces clearly superior images, a result of hardware (and significant) software improvements. It is also far better than the E71, which also has a 3.2 megapixel camera, proof, it were needed, that camera performance is about a lot more than just megapixels.
Colour reproduction is particularly good and the N78 impresses with its relatively low noise levels (with the usual exception of dark areas). Most welcome is the speed of the camera; auto-focus time is excellent and, while capture isn't quite instant, it is not far away. Shot to shot time and camera start-up time are also good, although the need to hold down the camera button for a few seconds to start the camera application can add a small delay.
The N78's VGA video at 15 frames per second is a notable step down from the 30 frames per second of the N95 and N82, but a step up from the N73 (352 x 288 at 15 frames per second). The N78 lacks the hardware 'oomph' necessary to power better video capture, but in a lower cost device compromises are inevitable.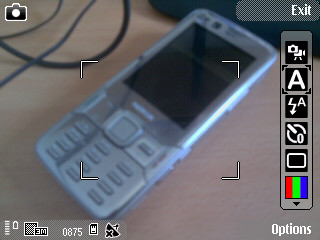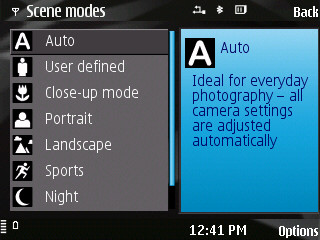 The N78's Camera application has the familiar icon-based toolbar for accessing camera settings, which can be used to adjust scene mode, flash, self timer, sequence mode, colour tone, white balance, exposure, sharpness, brightness, contrast and light sensitivity. Automatic mode is perfectly sufficient most of the time, but the extra settings can be used to fine tune results and it's surprising what can be achieved with a bit of experimentation and basic camera knowledge (e.g. macro mode will give better close up shots). Once you've captured an image there's a toolbar allowing you to send/share a photo (via Bluetooth, email, web or MMS), upload the photo to the web with one click (via Share online), add the photo to an album or add details to the photo (tagging, description, title). The Camera application also has support, thanks to the integrated GPS, for geotagging of photos (embedding the location the photo was taken into the image file's EXIF header). The N78 makes intelligent use of caching and time delays to make geotagging as accurate as possible (e.g. if it can't get a GPS signal it will wait a few minutes and try again, but will not do so endlessly). By default, geotagging is switched off for privacy reasons, but once you've activated it, it is a nearly invisible process (a small satellite icon indicates the presence or absence of a location lock).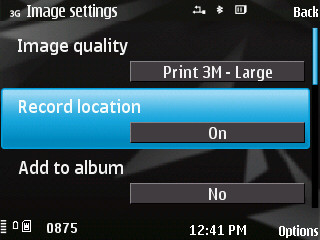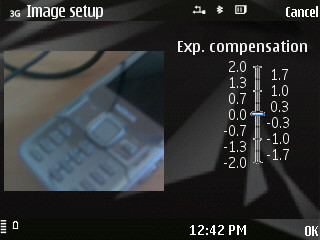 Previous Nseries phones relied on the Gallery application to view images and video; the N78 boasts a new application in this department, Photos, which has a tighter focus around images and video and more viewing options. From the application's starting screen there are options to view media in a number of pseudo-categories: Captured (the same as Gallery), Months (by month), Albums (by album), and Tags (by user defined tags); other options give access to Downloads (downloaded images), All (all images and videos) and Share online (a shortcut to the Share online application). Once inside a category, the familiar viewing carousel is used to flick through images, with the option to select images and view them full screen. The navi-wheel is particularly useful here (the carousel is really just a fancy list), but you can also use the d-pad for finer control - together it is a winning combination in my opinion. When viewing an image full screen, there an icon toolbar on the right hand side giving quick access to functions such as image rotation, sharing, web upload, add album and add details (title, description tags). Additional functions can be accessed via the Options menu, including slide show, show on map (using Nokia Maps to show the location, if geotagged), printing (direct or online), editing and 'use' image (for contact, wallpaper or calling photo).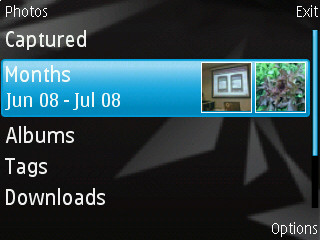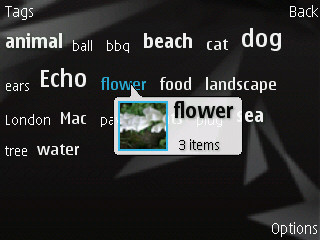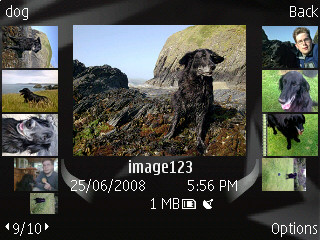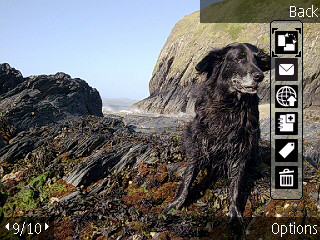 Despite going through several versions, Gallery never felt like a particularly strong application. In particular, there was little or no incentive to organise images on the phone. The Photos application changes this; not only does it make it easier to add metadata such as album, title, description and tags; it also preserves this data when transferring images to the PC version of Nokia Photos. Photos manages to pull off the trick of having rich functionality while maintaining ease of use for the basics (mainly by 'hiding' more advanced features in Options menus) and is much faster in operation compared to its predecessors; you can flip through images very quickly without the thumbnails lagging behind, as was typical on earlier devices. Photos does have a few annoyances - it only operates in landscape mode, which is harder to use one handed; furthermore, text entry (e.g. tags) is, by necessity, in portrait mode, which means you can end up juggling back and forth when adding titles, descriptions or tags to your photos. Finding specific videos can also be a bit tricky as they tend to get lost in a sea of photos. It would have been better to have one of the top level categories dedicated to video. Gallery is still present on the phone, tucked away in the Media folder, but is only needed for storing streaming links and accessing sound clips; for images, videos and music it acts automatically to direct you to the appropriate application.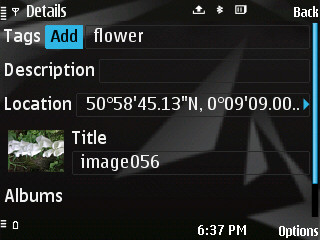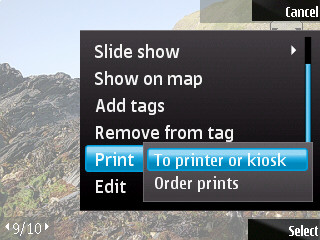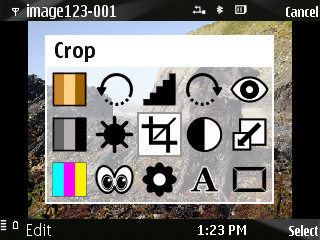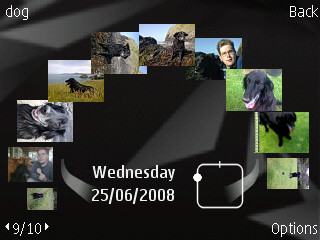 Nokia Photos is the PC side of the equation, a place to transfer, store and browse images captured by the phone. It is an upgraded and rebranded version of Nokia's Lifeblog software and, in addition to a date and album-based view, maintains Lifeblog's time-line style browsing. Syncing photos from the N78 is easy, with photos stored in a sensible month-based folder and file hierarchy in the My Pictures folder on Windows. It's great that Nseries finally has a half decent PC companion application for images; in particular, the preservation of meta data mentioned above adds an enormous amount of value. I think users are more likely to add such information on the phone at capture time or in spare moments, but it is best utilised on the PC, when browsing through past photos (e.g. search by tag or title). There is plenty of room for improvement though, the application is resource intensive (you'll need a well specified computer to get decent performance) and the feature set is relatively limited, compared to other PC-based image storage programs.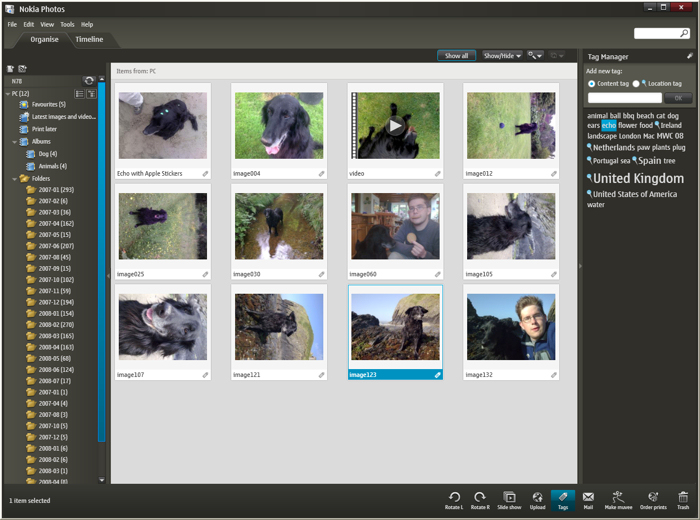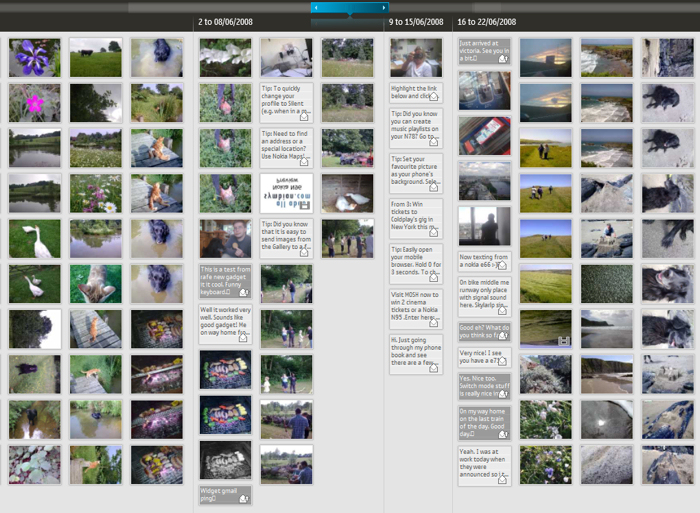 Share online and Print online round out the N78's imaging software. Share online can be used to upload media to online services such as Flickr and Share on Ovi, although most of the time you'll likely access this via the Camera or Photos application rather than directly. Share online can also be used to view and add comments to media recently uploaded to the online services. Print online allows you to directly upload images to Nokia's online photo printing service - XpressPrint (only available in some markets). A WiFi connection is almost essential given the size of the uploaded images and a bit of patience is required, but there's something rather special about doing everything from your phone and just having to wait a few days for your prints to arrive by post. Basic 10 x 13cm photos cost 10p each, which is quite competitive compared to other online options and, if you're feeling adventurous, you can order prints on t-shirts, mugs and teddy bears.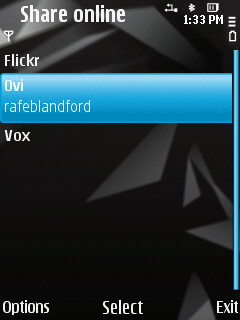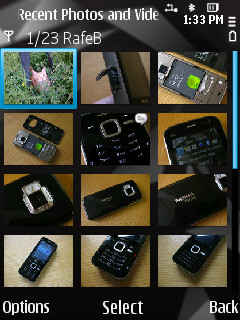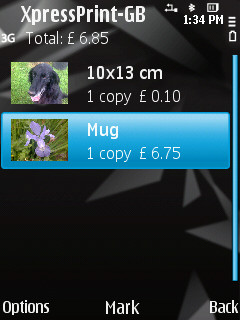 Video center, an application for downloading video from select services, is also present on the N78. Nokia provide a listing of compatible services (RSS feeds) and you can add you own, but the available content is relatively limited. A YouTube client, as found on other (non-Symbian) phones, would allow access to a broader selection of content [new readers should note that there are at least two third party YouTube clients for S60, though neither are tried and tested under FP2 yet - Ed]. You can transfer video from a PC for playback on the phone and Nokia Video Manager (part of PC Suite) will help with this, but you will need to source the source the video file yourself. There is definitely scope for Nokia to provide a video service similar to its Music Store in the future and, until then, the Nseries phones will be compared unfavourably to Apple's iPod and iPhone products in this department (at least in the UK and US markets).
The overall combination of camera performance and accompanying software means that the N78 arguably performs better as a point and shoot camera replacement than any previous Nseries. Performance in low light conditions is poor, but that's hardly unique to the N78 and, while it is true that the best capture results (especially for video) come from the N82 or N95, the N78 is a good all round performer and excels in the speed department, so it should satisfy most users.
Music and Audio
The N78 does not have the dedicated music controls of other Nseries devices but it does have the same comprehensive suite of music software and there are a number of notable improvements thanks to S60 3.2. With an FM transmitter, stereo speakers, A2DP support, UPnP Support and a 3.5mm audio jack, there are (at least) 5 different ways of getting audio out of the device.
The N78 has the standard Nseries Music player application, with the music library, playlist editor and now playing screen. Other highlights include visualisations, settings for balance, loudness and stereo widening, 8-way customisable equalizers, a standby screen plug-in and integrated podcasting support. Music playback control is via the D-pad, which means that most of the time you'll need to open the music application, although there is an in-box headset remote control which can be used in conjunction with your own headset. The N78 supports the usual formats - MP3, AAC, AAC+ and WMA; it also includes DRM support for both Windows Media and OMA 2.0.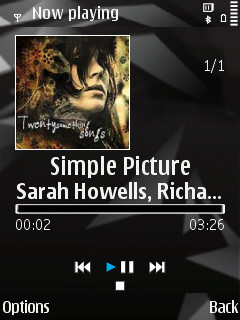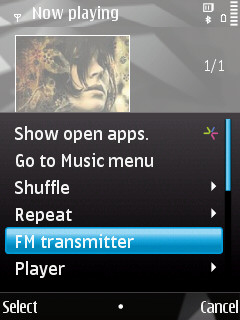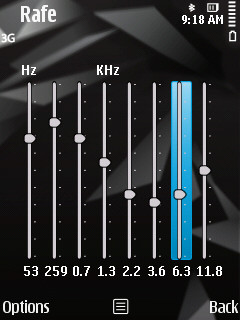 The Windows Media DRM is used by the Nokia Music store, a web site accessible via a dedicated shortcut icon or directly at music.nokia.com. There's a comprehensive selection of music for download and the prices are competitive. Whether you choose to use this or another store is a personal choice, but it does provide the capability to download new music to the phone wherever you are. 'Side loading' music from the PC is easy, although the current Nokia Music Manager (part of PC Suite) is a bit unfriendly. In due course the new Nokia Music for PC (now in beta) will replace this component and start shipping with the N78; this should improve the experience for novice users and make the Nokia Music store a more popular option. Fortunately you can also choose to side load music using Windows Media Player (or any other MTP-compatible program) or copy music across manually using the device's USB mass storage mode. A really welcome change, thanks to S60 3.2, is support for USB 'Hi-Speed', which facilitates much faster music transfers whatever side loading method you choose to use.
As on other Nseries devices, the Podcasting application caters for search, subscription and download of audio and video podcasts. On the N78, the integration with the Music player application has been improved, with podcasts treated as a top-level category (like albums or genre) in the music library. Unfortunately there's still the annoyance of the phone 'forgetting' your progress through an audio podcast if you exit half way through. Given that many shows are 30 minutes or so, it's a pain to have to manually fast-forward using trial and error each time you dive in again. The presence of the Podcasting application, especially its ability to download podcasts on the phone, is still unrivalled by its competitors, but it would be good to see Nokia push this advantage further with additional functionality and updates.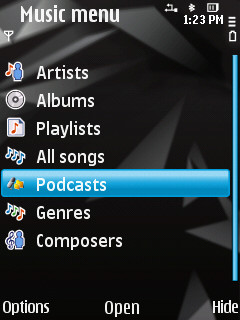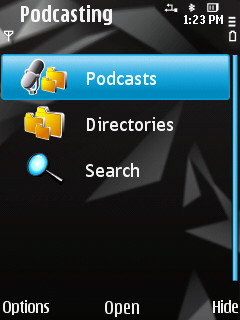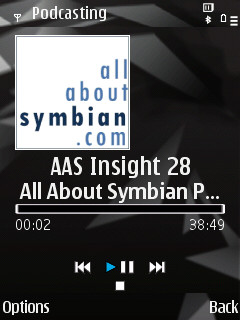 The N78 has an FM radio and accompanying Radio application. Thanks to support in the underlying Symbian OS S60 3.2, devices now have support for RDS (Radio Data System). This is a system which sends small bits of data (such as the radio station name) embedded with the FM radio signal. It makes it easier to identify what station you are listening to without having to look up a frequency listing. Another new feature is support for Internet radio streams using the shoutcast streaming protocol (MP3, AAC, AAC+ audio formats). This is done by integrating the Nokia Internet Radio client (previously available through Nokia Beta Labs) with the Radio application; at start up you are given a choice between FM radio and Internet radio. The application includes a directory of several hundred radio stream (categorised by type and country) which makes it very easy to get started, but you can also add your own if you so wish. Internet Radio is an impressive extra feature and it's good to see it made available out of the box rather than as a download. However it would be even better if it supported streams in the Real Audio format which is used by some of the bigger broadcasters (e.g. the BBC).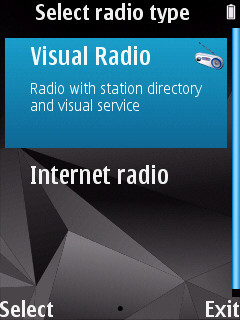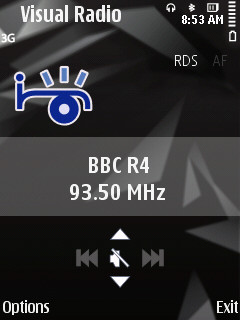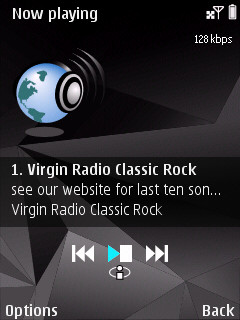 Perhaps the most innovative audio feature of the N78 is its integrated FM transmitter. This sends the audio output of the N78 over an FM transmission which can be picked up by any FM receiver, such as a car radio. While the technology is not new, this is the first time it has been integrated into a mainstream mobile phone. The transmitter can be activated via the dedicated application or from a menu entry in the Music player application. In use, it worked flawlessly; the transmitter had a range of about 3 metres, although in practice you'll get the best performance if you put the phone next to the receiving device. The FM transmitter application lets you set the frequency to be used, which lets you avoid interference from mainstream broadcast stations. A2DP Bluetooth and UPnP could be used, in principle, to do the same thing, but FM technology is much more widely used. Almost all cars come with an FM radio and there's probably a stereo or FM radio in every home in the country; sometimes using a legacy technology is better than being cutting edge. It is worth noting that legal requirements mean that this functionality is not enabled in all markets, the details are available on the Nokia web site.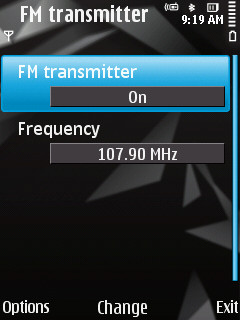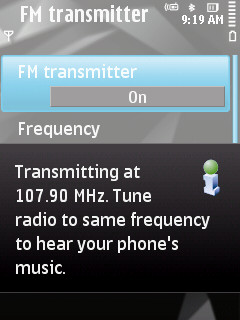 In the music and audio area, the N78 leaves the N73 in the dust. This is largely down to the extra software and improved functionality, but there are hardware improvements too, the most crucial of which is probably the 3.5mm audio jack. Thanks to the Nokia Music Store, the N78 is also a more complete offering and is much better positioned to compete with dedicated MP3 players. Its always on connectivity provides a number of advantages and, capacity issues aside, there's going to be very little point, for most people, in carrying around a stand alone MP3 player.
UPnP
Like earlier Nseries devices, the N78 has excellent support for UPnP, which is used to interact with other media devices over a network (WiFi) via the Home network application. UPnP devices fall into three categories: servers (store media), renderers (play media) and control points (control a renderer by telling it to play something from a server). The N78 operates in all three categories, although it cannot be controlled remotely as a renderer. With the N78, media (music, video and images) can be streamed from a PC to the phone or to another player (or simply downloaded for later playback); alternatively media on the phone can be streamed to a PC or another player.
UPnP functionality is also integrated into the Music player and Photos applications. Both of these have an 'Show/Play via Home network' option when a piece of media is highlighted. This will send the media to a specified UPnP device and show it or play it. In Photos, once this has been activated for the first image, any subsequent photos you view will also be shown on the remote UPnP device - effectively giving you a slideshow over WiFi functionality.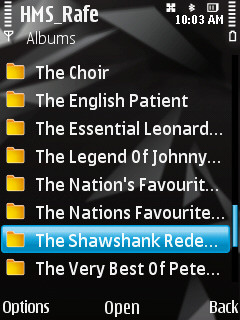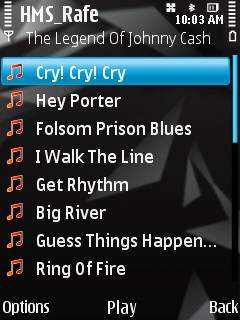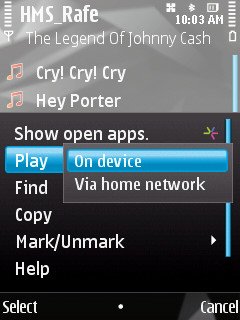 Playing music on the device which is stored on a remote media server.
If you do not have any existing UPnP-enabled devices then you can still make use of the UPnP functionality. Windows Media Player can act as a UPnP server (stream music to the phone) if you enable media sharing, but to get the most out of UPnP (e.g. rendering/play media from the phone on the PC) you need a full UPnP renderer and server application - fortunately, Nokia provides one in the form of SimpleCenter (included on the N78's CD, Windows only). I was able to use both these applications without any problems and SimpleCenter impresses, in particular, as a way of remotely showing all types of media stored on the phone.
New to Nseries phones running S60 3.2 is support for the synchronisation of media over WiFi using UPnP and the Home network application. You can sync media in both directions (from your UPnP server to the phone and vice versa). There are a variety of settings to control exactly when (automatic/manual) and what you want to sync from the phone, which allows for fine control over what exactly gets synced. I set it up to just sync images and video (i.e. content I had created) and to leave a copy on the phone. Similarly, using configurable lists, there's detailed control over what to sync from the server (e.g. 100 MB of random music). In use, UPnP sync worked reasonably well, although the sync speed is not as fast as the WiFi connection bearer might suggest, especially when syncing lots of small files. With the improved USB speed of the N78, a cable connection will be faster in most instances. Moreover, UPnP Sync does not tie in with Nokia's PC companion applications such as Nokia Photos. While you can manually import the photos, this is an unnecessary extra step (and you lose album and tag metadata). It would be good to see future versions of Nokia Photos and Nokia Music have their own UPnP server built in, to facilitate the sync and viewing of photos via UPnP.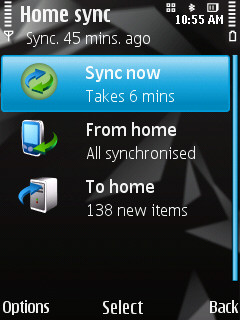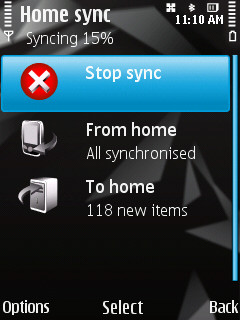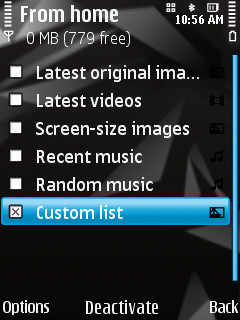 When UPnP was first introduced to the Nseries (in the N80), it was a relatively young technology. Since that time, many more devices and applications supporting UPnP have appeared on the market. Among the most notable, at least in penetration terms, have been the X-Box 360 and Playstation 3 gaming consoles. There are also a variety of media servers for PCs and a number of external hard disks have UPnP servers built in. As such, Nokia's strong support of UPnP out of the box is a real plus point; the only issues are making people aware of the technology and the fiddly set up of other devices/applications.
Rafe Blandford, All About Symbian, 30th July 2008
Part 3 of the N78 review will cover other software and our conclusions
See Also
Part 1 of the review which covers hardware, design and connectivity.
Reviewed by Rafe Blandford at