Review:
Nokia E90 vs Toshiba Portege G910 - Review
Steve Litchfield pitches the two flagships head-to-head...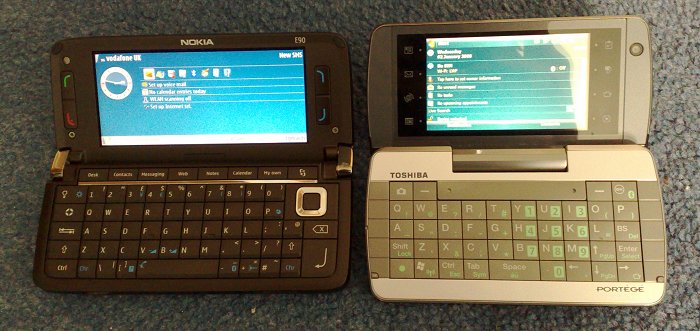 It seems scarcely possible that the Nokia E90 is still, arguably, the flagship of the S60 and Nokia family, a full fifteen months after its announcement - and even more unlikely that it's able to hold its own against the very latest similarly-formed competitor from the Windows Mobile world, with the G910 only on the streets for a few weeks. And yet hold its own it does.
Don't get me wrong, the E90 (as has been widely documented) is not without its share of quirks and issues, but a look sideways at the competition shows that it's still king of the heap. Let's look at the E90 and G910 side by side, testing them feature by feature.
Nokia E90
Toshiba G910
Availability
£450 SIM-free, free on most serious contracts, since mid 2007
Now, £450 SIM-free
OS, interface
Symbian OS 9.2, S60 3rd Edition, Feature Pack 1
Windows Mobile 6
Screen size(s)
800 by 352 inner, 240 by 320 outer, both transflective and very visible in all light conditions
800 by 480 touch-sensitive inner, one line outer (for monochrome status messages, icons and playing media title). Both screens are horribly reflective and are often rendered invisible outdoors
Display and UI comments
S60 isn't a perfect fit for such a large screen, but the only occasions when it really rankles are when in Web, with very small fonts used in order to render desktop-like graphical layouts
Windows Mobile also just about handles larger screen resolutions, and again it's the (Opera) web browser where it all falls down. With the temptation to try desktop renderings, the fonts are all over the place and often unreadable. Pocket Internet Explorer is also included and fares better for fonts but makes a poor job of many heavy site front pages
Comms spec
Wi-Fi, quad-band GSM, 3.5G, Bluetooth
Wi-Fi, tri-band GSM, 3.5G, Bluetooth (on oddity is that when the screen goes off, so does the Wi-Fi, and it takes a good 15 seconds to re-establish your Internet connection when you power the screen 'on' again...)
Performance and OS
With latest firmware, fairly nippy, especially with the shortcut keys and using the multitasking
Generally quick but with some horrible exceptions (e.g. video playback, plus opening a new Word Mobile document takes 15 seconds!). The touch-sensitive application shortcuts either side of the screen do the same job as those on the E90 - they're configurable, which is a plus, but they're also sometimes fiddly to hit (only the spot beside each icon is actually active)
Weight, length
210g, 132mm
183g, 117mm
Battery life
1500mAh, 2 to 3 days between charges for moderate use
1320mAh, up to 2 days between charges
Photography
3.2mp camera with auto-focus and LED flash. VGA video recording at 30fps
2mp camera, with optional auto-focus (nice to see and interestingly implemented - as on the forthcoming Nokia E71 (shhhh), you tap the camera screen icon to snap and there's a separate key to auto-focus, if you've got the time and your subject is still). Having focussing in a 2mp camera is rare these days, the last one I saw was in the Nokia N90 about two and a half years ago - I'd say the photo results from the G910 are worse than those from the N90, but then the latter also had Carl Zeiss optics. Still, this is the best camera in a Windows Mobile device for quite a while. There's also LED flash for stills. Video recording maxes out at 320 by 240 by 15fps.
Video playback
MP4, including H.264, plus 3GP, most clips play in the centre of the large screen - not ideal. Playback is fairly smooth but not up to Nokia Nseries standards
WMV, plus some varieties of MP4 and 3GP, none of which play back with any kind of fluidity. Video playback is often as poor as 1 frame per second, depending on the encoding used, and rarely as smooth as video on the E90
Music playback
MP3, AAC, AAC+, eAAC+, WMA. Music quality is excellent and volume ample, through built-in stereo speakers or 2.5mm stereo headset
WMA, MP3, AAC. Music quality is excellent and volume again ample, at least via the headset. The built-in mono speaker on the bottom surface is tiny, tinny and quiet. The headset jack is proprietary, but it leads to a 3.5mm breakout adapter, thankfully.
Memory
80MB free RAM, 120MB flash memory, expandable via microSD to 32GB
60MB free RAM, around 128MB flash storage, expandable via microSD to 32GB
Keyboard comments

Good for thumb typing or, on a desk, those with strong fingers, separate row for number keys

The screen hinge acts as a decent stand, in order to angle the keyboard, which is beautifully weighted and only spoilt by the garish number key labelling

Positioning
Built-in GPS, with online 'assistance'
Built-in GPS, but there's no built-in or obvious add-on software to take advantage of it. The free download Google Maps worked perfectly though. Overall fix time wasn't significantly less than the assisted GPS on the E90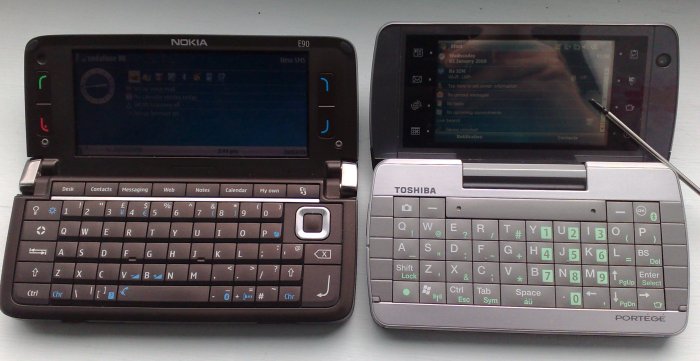 It's tempting, very tempting to say that the Toshiba Portege G910 is a match for the Nokia E90, the raw specs certainly give it a run for its money. The stylus-based touchscreen and qwerty operation reminded me a lot of the old Psion 5 palmtops and fans of these will welcome the G910 with open arms. But ultimately the G910 doesn't quite live up to expectations - yet. The shackles of Windows Mobile, along with the inevitable glitches in the early Toshiba firmware, two(!) poorly implemented browsers and poor multimedia performance all give the E90 the prize - yet again.
However, in fairness the E90 has had over a year of firmware upgrades in order to mature - the G910 is just starting out. With proper support from Toshiba - perhaps a WinMob 6.1 upgrade in a few months time - it's distinctly possible (camera capabilities aside) that the G910 will close the gap.
Steve Litchfield, AllAboutSymbian, 21 May 2008
Supplementary photos: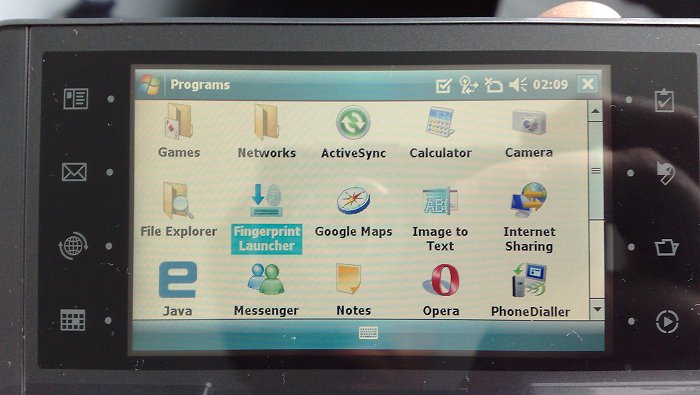 Reviewed by Steve Litchfield at