Review:
Nokia E61i - Part Two, The Information
Ewan looks at the Messaging, web browsing and PIM functions of the Nokia E61i.
In years gone by, I would have started a review on a S60 device with a list of the GSM frequencies and which 'fast' data connection was available. All that is moot on the E61i, given that it's quad band GSM, GPRS and 3G (WCDMA) , alongside 802.11 Wi-Fi, Bluetooth and (given it's a device for Enterprise users) an Infrared port. It's a comprehensive line up, blighted only by the fact that the WCDMA radio can use only the European bands.
What is important now in 2007 for an enterprise focussed smartphone isn't a features list as such, but rather access to your information. Can you get to your personal details, can you manage it all, and can you look up information when out and about? That's what I'm looking at in this part of the E61i review.


Messaging, Email, SMS, MMS
The E61i, more than other members of the Eseries family, is a messaging device. To people on the move that means email support. The standard Messaging app in S60 is well known, so I won't dwell on it here, though I will remind you that it can be set to pull in email automatically, every 30 minutes or so, kind of a poor man's 'push' email. But the E61i (and upcoming E90 and E65, etc.) are fully compatible with real push email systems, an area we haven't covered much before, so this is a good opportunity to see how well it works.
Push email is a service where email is delivered to your device as soon as it arrives at the central mail server (be it your company, an ISP, or a third party server). On the E61i, you just need to add in the Mail for Exchange application, the latest version is a free download from Nokia. In some markets Mail for Exchange will be preinstalled. Some companies already have Exchange servers and enterprise users and will be able to get help from their IT support group if the device is not already pre-configured when they receive it. It is possible for consumers to take advantage of the Exchange push email experience too; you can use one of the hosted Exchange options such as Mail2Web or 4Smartphone.
Setting up the device to use push email from an Exchange server requires only a few details (username and password, server name and domain). These are entered into a profile in the Mail for Exchange application (essentially a configuration utility). With the full qwerty thumb keyboard on the E61i, this is a trivial piece of data entry. After that, you are ready to go, although there are some further settings you can tweak to your own requirements. It possible to turn off push email and instead check every 15, 30 or 60 minutes; switching to a time interval check will general improve battery life, but at the expense of immediacy - and a bit pointless considering that you're losing the unique selling point of 'push'. However, one of the nice touches in Mail for Exhange is that you can set up a peak time which has a different frequency than off-peak. So you might set up off peak to check every 30 minutes, while during business hours it can be connected constantly.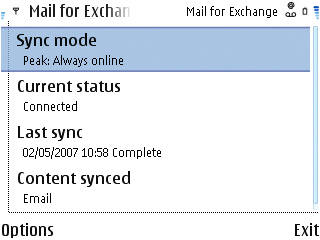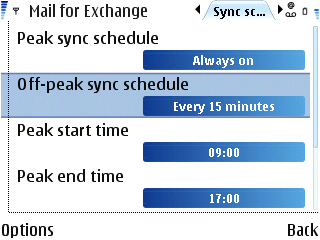 Mail for Exchange can also optionally be configured to synchronise Contacts and Calendar entries from the same Exchange server as your email. Using this option means that syncing via PC Suite is no longer necessary. The sync process is no longer something you have to think about, it just happens. This is a real benefit for both enterprise and consumers. If you update a Calendar entry or Contact in Outlook on your PC or via Outlook Web Access (a web mail service provided by most Exchange servers) the update will be pushed to the phone. Similarly, if you update an entry on your phone then it will be pushed back to the Exchange server and thence to your desktop PC.
A major plus for Mail for Exchange is the integration with the built in Messaging client and the Active Idle screen of the E61i. The Active Idle screen plug-in shows the number of new messages together with the subjects of the two most recent emails – ideal for that quick glance. The reading, managing and replying to all emails is carried out from Messaging and a new mailbox is added, as for any other email account, to the root display (labelled Mail for Exchange). The only difference is that 'Connect' on the options menu is replaced with 'Synchronise emails'.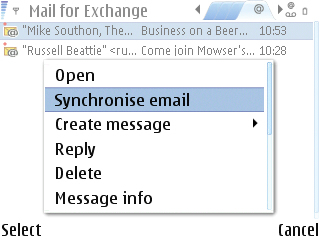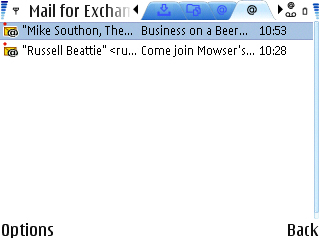 This unification of received messages in Messaging, be they from an Exchange server, email from a standard POP or IMAP account, SMS and MMS via your operator or Bluetooth files from another device, is a strong point of Messaging on the E61i.
The rest of Messaging, like most of the built in applications on the E61i, is unchanged from the E61. While the top level view of the mail options (outbox, drafts, mailboxes, etc) still has the large fonts, so only five options are listed on screen, when you get into a mailbox, the much smaller font size means that you are presented with a relatively large amount of information, and it is easy to get an overview of your mail. Of course with push you'll be checking every email as it arrives, rather than batching them up once an hour, so this is not as vital as it once was.
In this review, I have focussed on the Exchange push email experience, but the E61i has an extra trick up its sleeve. It is also compatible with a number of other push email services. Blackberry support is provided in a number of guises depending on your level of operator support. The entry level is the Blackberry Connect Desktop option, but full integration with a Blackberry Enterprise Server (BES) via Blackberry Connect is also available. The Blackberry software works in a similar way to the Exchange for Mail, adding an additional Inbox to the Messaging application. Nokia's own Intellisync Wireless Email solution is also supported, along with Visto and Good Mobile Messaging.
Push Email makes the E61i device. Even though it can be added to any of the E-Series devices (and other Nokia devices via the third party RoadSync software), the user experience of the E61i is designed to compete with Blackberry's devices and thumb keyboard-driven Windows Mobile devices such as the Palm Treo 750v and Motorola Q. The fact that it is relatively service agnostic, in contrast to some of its competitors, can only add to the overall appeal of the device.


Web Browser
The built in Web Browser is Nokia's version of the Web Core based Browser (the same browser that drives Safari in Apple's Mac OS) and it's a great mobile browser. It is the best mobile browser available today. There's a natural tendency to compare it to a PC based web browser, and it will come up short, but that misses the point – you're browsing on a mobile device, so there will be changes.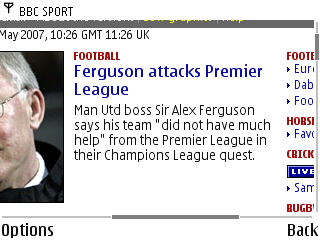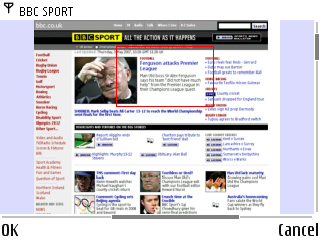 The lack of a touch screen invariably makes a web page clunky to navigate – you control a virtual pointer on the screen with the navigator key, which also scrolls the screen when you reach the edges. It is a quirk that is common to all one handed devices. The best solution I've seen has to be on the 9500 Communicator, where you also were able to scroll one line or one screen at a time using extra dedicated arrow keys, without pushing a pointer around the screen.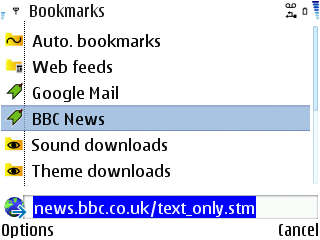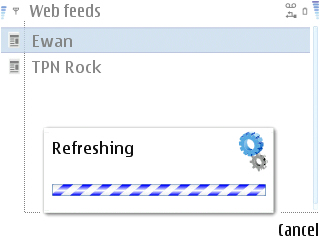 Like the rest of the built in applications, nothing has changed in the Web browser on the E61i compared to the E61, and I'm slightly disappointed that this is the case. This is because the E61i runs the same version of S60 3rd Edition as the E61. A more recent version, with Feature Pack 1 is now available, and shipping on some devices, but unfortunately it did not make it on to the E61i. It is a shame because there are some nice changes and additions to its browser. The E61i browser has a built in RSS Feed reader, but it isn't very good and doesn't download attachments, which would make it a good tool for podcasts and video asts. In its current form, except for a few of your most popular feeds, it is better to use a web-based service such as Bloglines Mobile or Google Reader for your RSS needs, since both work well in the S60 Web Browser.

PIM Suite
The core PIM applications from every S60 device are present in the E61i, namely the Calendar, Contacts and Notes applications. These PIM applications have proved consistent over the life of S60, there have been very few changes over the years. The E61i has the same simplicity as its predecessor, but it means that, for some, the same problems remain. For a device with an enterprise focus, and easy synchronisation either directly or via Exchange to Outlook, the lack of category support, especially in the To-Do tasks (integrated into the Calendar application) and the Notes application seems to be a wasted opportunity. Admittedly Windows Mobile's implementation of categories is very clunky, but at least they have made the effort. Nokia seem to have ignored this, and it could hamper the appeal of the device for a subset of users.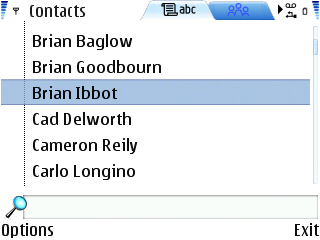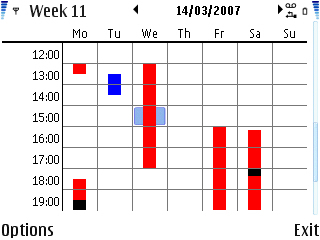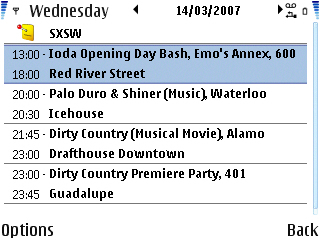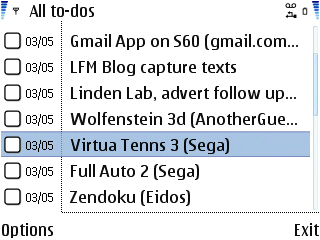 The Active standby screen is also worth mentioning in more detail. With up to seven programmable icons, user-definable soft keys, and an overview of the daily PIM information and your messaging inbox, the stand-by screen is now a very efficient home page for S60 devices as a whole. It is particularly effective on the E61i thanks to the landscape orientated (320 x 240) screen. There's a fair amount of flexibility too, which means it can prove to be surprisingly effective once it's set up to the user's own requirements.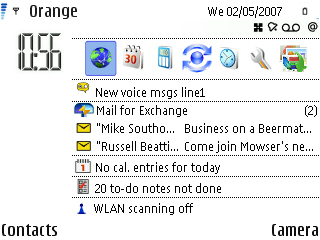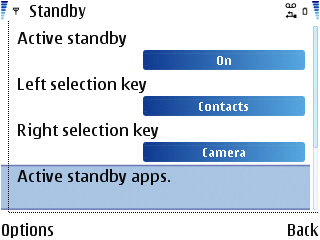 Getting to your information onto the E61i is, for the most part, pretty painless. Power users may have one or two issues, but this shouldn't dissuade anyone. The E61i is more than a match for any other PDA/smartphone variant out there, and will be suitable for most people looking for an information-centric communicator.
---
Buy the Nokia E61i Sim Free from Nokia UK's Shop

In the next part of this review, I'll take a look at the remaining programs on the E61i, including the Office Suite, PDF Reader and multimedia applications.

Ewan Spence, 3 May 2007
Reviewed by Ewan Spence at