Review:
Nokia E5
Nokia's mission for the forward-facing, messaging-centric QWERTY market (think Blackberry)? Take the best selling E71/E63/E72 concept, interpret it in 2010 design language, beef up the internals and try to sell it for as low a price as possible while making as few compromises as possible. The result is the E5, announced way back in April but, surprisingly, not available until now.


Key hardware specs
115 x 58.9 x 12.8mm in dimensions (75 cc volume), 126g in weight; QWERTY candy bar form factor.

2.4 inch screen; 320 x 240 pixels resolution


5 megapixel 'full focus' (EDoF) camera with LED flash.


Integrated A-GPS


3.5mm AV connector

BL-4D (1200mAh) Li-Ion battery, support for both microUSB and 2 mm power port charging.

Quad band GSM and tri-band WCDMA (900/1900/2100 or 850/1900/2100) with HSDPA (10.2 Mbps) and HSUPA (2 Mbps).

Up to 250MB of internal memory, 256MB of RAM, microSD card slot.


Initially available in five colours: Carbon Black, Chalk White, Sky Blue. Copper Brown and Silver Gray.

Sales package: Nokia E5-00 phone, Nokia Battery BL-4D, Nokia Connectivity Cable (CA-101), Nokia High Efficiency Charger (AC-8), Nokia Stereo Headset (WH-102), Nokia 2GB microSD card (MU-37).



Design and compromises
I used the term 'design language' intentionally above. It seems that every couple of years a new 'look' emerges from Nokia's design departments. We've had 'industrial and square', we've had 'plastic with silly keys', and everything in between. And now it's time for 'human curvature', to nick Sony Ericsson's term - rounded corners, rounded back and a generally 'comfy' feel. This in turn does have some implications for specification, in that the Eseries stalwart BP-4L battery would have been too tight a fit, so instead we've got a 1200mAh BL-4D battery - although an obvious compromise, in practice it makes little difference, since typical E5 users will still see an easy two or three days use per charge.
No, the big compromises made for the E5 are in the screen and the camera.
The QVGA display is a cheaper transmissive-only TFT (the E61, E61i, E71, E63 and E72 all used a Nokia standard transflective screen), meaning that it looks similar indoors but washes out to nothingness outdoors in any degree of sunlight. This is clearly a case of cost-cutting - I'd love to know what the relative costs of transmissive-only versus transflective screens of the same size are - anyone know? Regardless, this inability to work outdoors is a dealbreaker for me and, I suspect, for many others.

Some have pointed out that there have been plenty of other Nokia smartphones with screens that don't work well in sunlight. Witness the OLED-equipped N85 and N86, or indeed any of Nokia's touch-driven devices. But at least here there was an obvious trade-off. The former has glorious colours indoors and potential power savings, while the latter offered a whole new way of interacting with the device. The E5's screen is just... cheap.

The camera is more arguable. At first sight, it's a downgrade from (for example) that in the E72, since it's a fixed-focus, no focussing necessary, affair, despite its 5 megapixel resolution. The optics and sensor are very obviously cheaper (there's that theme again), but in their place comes Nokia's excellent EDoF camera technology. I've written about EDoF before, explaining how it works, but suffice it to say (through a clever multi-wavelength lens and algorithm) that what you shoot is 'automagically' in focus from about a metre to infinity, quickly and efficiently. There are some sample E5 camera photos below.
Purists will say that the camera's not very good at handling anything challenging and they'd be right. But EDoF does mean acceptable results for casual users with 'less ways to much things up' and in that regard it's possibly preferable to the E72's more powerful camera that needs a deft touch to focus images properly.

Hardware

But back to the device taken as a whole. Initial impressions of the E5 in terms of build quality are terrific, with a very sturdy plastic frame and stainless steel front inlay and battery cover. The latter is held in place using catches on both sides (E71-style), a far better system than on the E72, where the edges of the cover can be pressed in too easily.
The only side buttons are on the right hand side, for volume adjustment - though sturdily made, these are far too hard to press - adjusting volume during a call will be next to impossible - the pressure needed makes it a two-handed job, which is just silly. Nokia's designer really slipped up on this one.
On the top of the device are a 2.5mm charging port and a microUSB data/charging port (so dual charging options), plus 3.5mm audio out. No complaints here and all the cables stay nicely out of the way of the various docks E5 users might like to try.

Much of the front face functionality is very familiar from previous devices, taking the best of the E72 and E63 designs, with quadruple width space bar (complete with LED torch function), superbly sculpted keys and highlighted (raised) function keys giving access to the main S60 menu and Messaging. The hangup key doubles as a power key, an arrangement which annoys some but has been around a while now...


Inside the E5 is 256MB of RAM, the first Nokia device running Symbian to reach this level. The E72, running similar software, was down to 42MB free RAM after booting and, while enough on the whole, proved problematic at times when users started to hit particularly rich web sites or overdose on running widgets. With the extra 128MB of RAM, free RAM after booting is now around 171MB, eliminating this potential bottleneck. General speed is good, partly due to the extra RAM and partly because of the nippy (for Symbian) 600MHz processor.

There's also just over 200MB of flash memory free on disk C, so again fine for every future app upgrade and extra module needed. It's just such a shame that Nokia learned the lesson of insufficient memory (from the likes of the E72 and N97, among others) but then fixed the problems on a budget device that has a crippled screen technology and whose users would have been unlikely to hit the limits in the first place. Let's hope there's an E72 successor in the works, creating a new flagship device in this form factor.
One point that's worth emphasising is that there's no external access to the E5's microSD silo - you have to power the device down, take the back cover off and remove the battery. For myself and many others who consider themselves 'power users', this restriction is appalling, we're used to swapping memory cards between devices, whipping out cards to insert into printers and so on. However, back in the world of the typical E5 user, it's fair to say that, once in place, it's unlikely that much card swapping will be needed - and there's the plus side of having the card tucked away safely and one less access door on the outside of the device, increasing the general robustness.
The E5's software suite
The E5 features S60 3rd Edition Feature Pack 2, with just a few minor application additions and a reworked homescreen theme, 'Contacts bar'. This latter has also been seen on the likes of the 5730 ExpressMusic in recent times, giving a side-scrolling carousel of favourite contacts - tap on any to see contact options and a summary of recent communications with them. There's limited homescreen space in this theme, so only a subset of plugins are offered in Settings - more are available in the traditional S60 homescreens, e.g. 'Active', also shown here. In summary then, plenty of flexibility and every shortcut, every plug-in, every function assignment can be customised, to really make the E5 your own.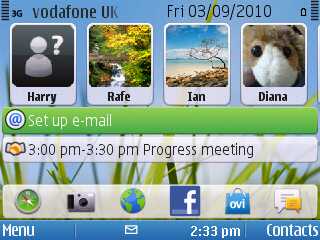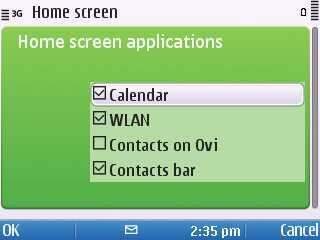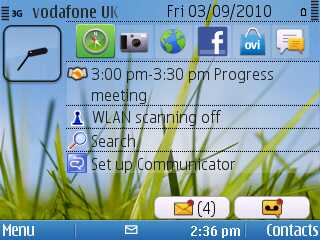 From left to right: the default 'Contacts bar' homescreen, configuring plugins for the same, and the more traditional S60 'Active' homescreen
'Set up email' links through to the 'old' email mailbox system inside S60 Messaging, not to the newer, more capable Nokia Messaging system, which is also included but only as a shortcut hidden inside the 'Office' menu - why is the newer app being deprecated in this way?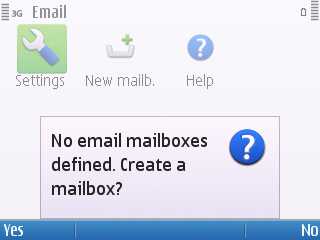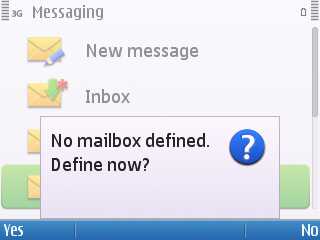 Wizards: The two ways of starting to use email, both totally in parallel, confusingly. On the left, Nokia Messaging, hidden away in a sub-folder. On the right, the 'old' S60 Messaging client, presented as the default from the homescreen and from the 'Email' hard button... Go figure.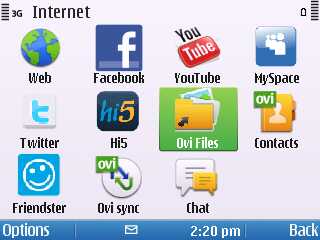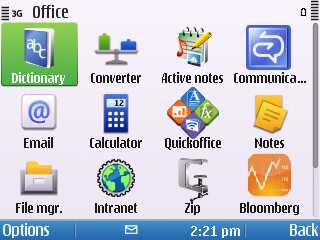 Let's run through some of the highlights of the E5's application suite, in approximate order of presentation by Nokia in their menus:

Ovi Maps 3.4 - of course - though obviously not quite the latest version from a few days ago. The update appears in both Ovi Maps and in Sw_update on the device. Getting a GPS lock was very quick indeed and there's the free voice navigation worldwide, as you'd expect - I tested it on a UK journey.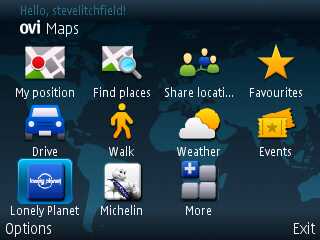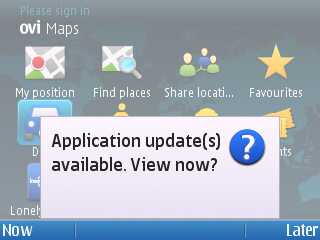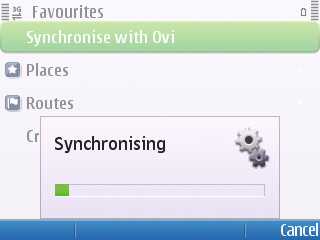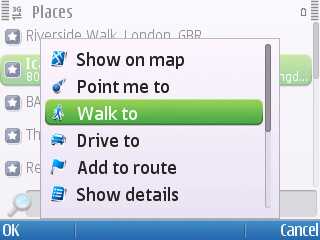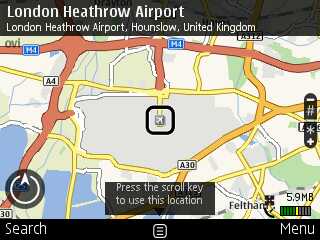 The Facebook client is a native/WRT hybrid - a native Symbian app that loads up dynamic content using Web runtime, a bit like the way Ovi Maps now works, to add its extra services. An update was available as soon as I started it, and it offers a pretty comprehensive function package, from messaging to updates to searching for users. The main limitation here is the tiny E5 screen, of course - browsing Facebook for updates is bad enough on a desktop screen - trying to do it on the bus on a 2.4" screen and driving it with a d-pad isn't ideal!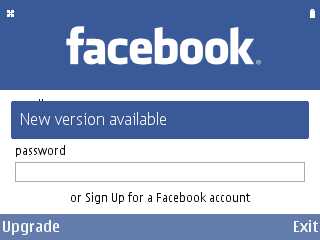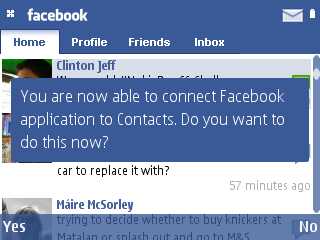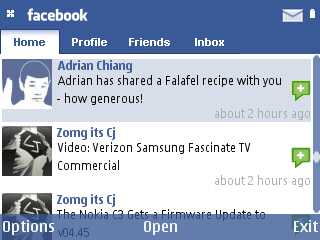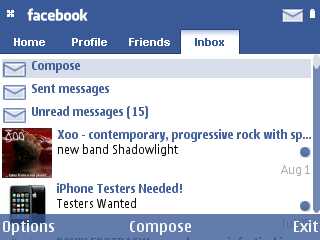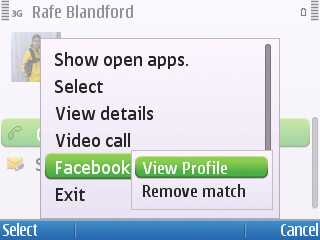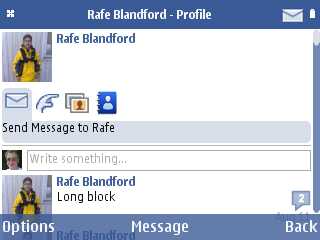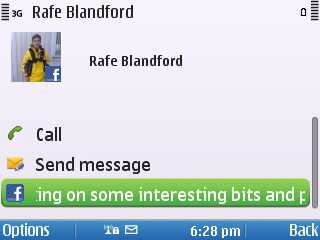 Showing the sign-up process through the rather good native Symbian Facebook client. The last two screenshots show the profile/status integration into S60 Contacts
When first logged into Facebook, the client offers to go through your Contacts and spot matches. Where a match is found, a shortcut 'Facebook | View profile' is added to the appropriate Contacts record, plus if there's a recent status update by the contact, this is scrolled neatly both in the main Contacts list and in the contact homepage, as shown above. It's a neat implementation, even if it stops short of the level of integration on some HTC-made Android handsets.

The latest YouTube (v2.4.4) client is built-in. This works really well on the small QVGA screen, where the resolution/quality limitations of the generic YouTube streams aren't noticeable.
MySpace, Hi5, Friendster and Twitter are shortcuts to the appropriate 'mobile' versions of the popular web services.
Ovi Sync is a wizard that walks you through setting up a SyncML link up to Nokia's servers for syncing of Contacts, Calendar and Notes. It's a great idea though the usual cautions about doing backups first apply - I've heard far too many people who claim that Ovi Sync has messed up their contacts for it to be a coincidence. Has Nokia finally cracked the glitches?
Chat is Nokia's new (for 2010) instant messaging client, written rather quaintly in Java, possibly for compatibility with their low end Series 40 phones. On startup, you're given just one choice, to 'Get the latest IM service'. After a brief check with the cloud and accepting the terms of service, you're forced to login with an Ovi Chat username, but can then chat to any friends on either Ovi or GTalk/Gmail chat.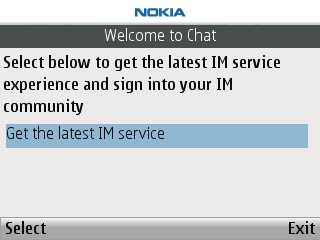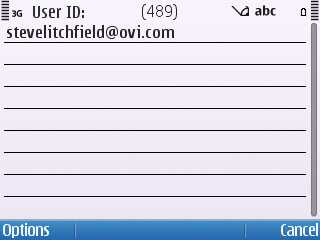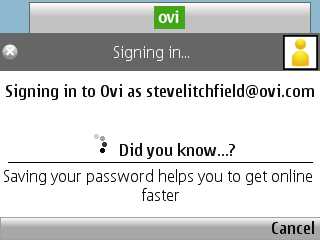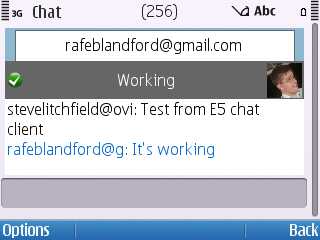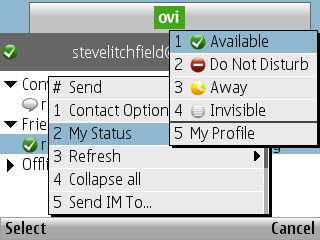 Signing in through Ovi Chat. There was no sign of compatibility beyond Ovi and Google's chat services though. Also note the Java interface, most evident when you're thrown into a full-screen plain text edit window every now and then....
Radio is the dual FM radio/Internet radio launcher that debuted on the N96. Internet radio was an eventual add-on for the E52/E55/E72, so it's great to see it here from day one.
Ovi Music is another web shortcut, this time to the (about to be renamed) Nokia Music Store, heavily optimised around mobile access. It's heavily optimised around popular music, of course, there's nothing whatsoever definitive about its selections. For example, the Pink Floyd albums on offer had numerous gaps (or maybe I'm just a dinosaur!) In addition, the old glitches in the Nokia Music system are still present, even in late 2010. Start typing quickly in a search field and your first two characters sometimes get swapped, with predictably disastrous search results.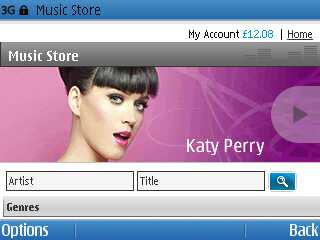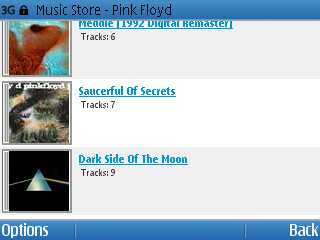 Music Search is voice search for tracks or artists in your Music library on the phone. It works well in a quiet environment, a nice little extra.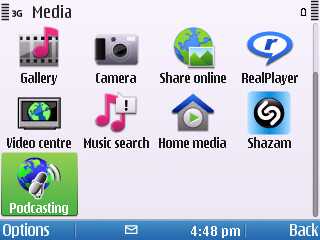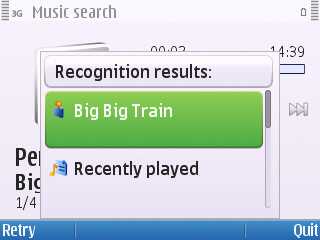 Podcasting makes a very welcome return to Nokia's Eseries, having also been passed over on the E52/E55/E72. Having one's podcasts gathered automatically through the day, ready for playing in Music player as and when is just terrific. As always, it takes a little fiddling around to get it set up, but once working it'll transform your life (or at least entertain you in moments of downtime!)
Communicator is where your IT dept (if they're in the picture) get to plug-in the right settings for Microsoft Communicator, the instant messaging system for companies. For obvious reasons, I couldn't test this, but suffice it to say that the Communicator message screens appear as tabs within the E5's Contacts.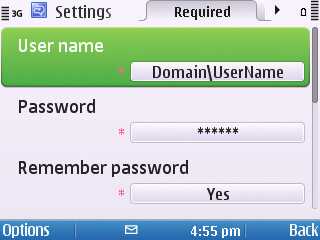 Quickoffice is both the latest v6.2 and also the full editing version, which is a pleasant touch on such a budget smartphone.
Bloomberg is a widget for the popular financial web site, with news, charts and graphs, including (again) auto-update checking - one such was immediately available. Unfortunately, a cockup either in Bloomberg's coding or in the idiosyncrasies of S60's application management meant that the update's icon then appears under 'Installations' rather than in place under 'Office', which is where the user finds the original. Might be confusing!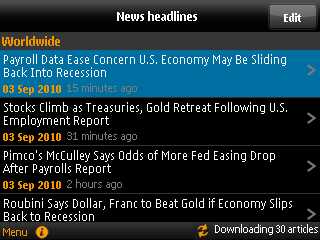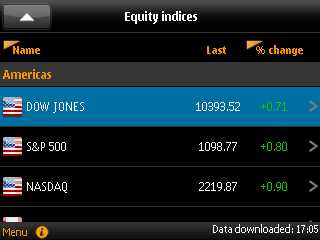 AP Mobile is also a widget, with news, photos, videos and more from the world of Associated Press. Neither widget is particularly fast in loading its data, but it's all free and bang up to date, so it would be churlish to complain.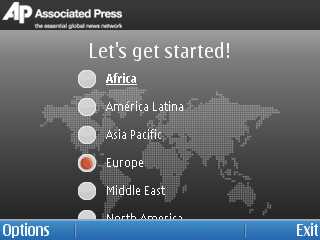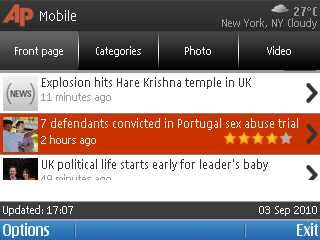 Psiloc Traveler is a well known bundled utility, providing conversions and travel information, while Font Magnifier is a licensed commercial utility from the same supplier, letting you fine tune the fonts used throughout the OS.
Vlingo is a smart addition to the software suite, providing one key voice recognition and dictation from anywhere in the OS (assigned to a press and hold on the right function key) - see our review for more on this - it's well worth investigating. This is the free version, E5 owners will still have to upgrade to the 'Plus' version when they need more.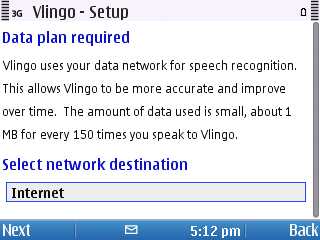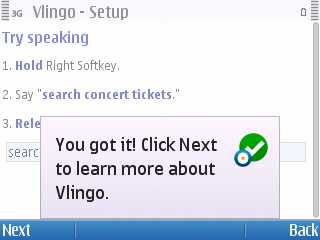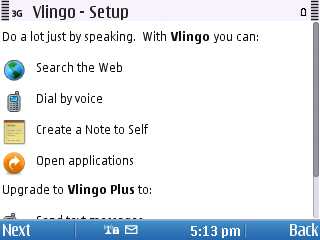 One nice touch on the E5 is the addition of a 'Tips' system. These pop up on the homescreen from time to time, seemingly on a schedule, and you can either click through to view (and disable for the future) or simply cancel the tip and get on with whatever you were doing.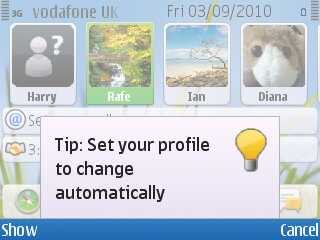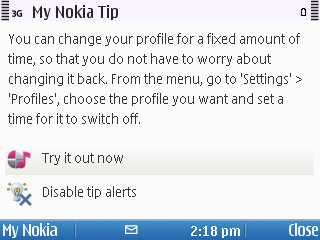 Camera and multimedia
So we've established that the EDoF camera is a good snapper but not up to anything remotely ambitious. And probably a good match for the E5's intended target market. Here are some photo samples, click through to download or enlarge the image to original size.
A typical sunny scene (left), a typical overcast scene (right), with no focussing challenges.
Close-up (around 60cm) to a flower, note the fence, some leaves and background are all in focus, the blue flower is slightly blurred, it's just beyond the EDoF's effective depth of field; on the right, shooting a subject from a metre and a half shows no such issue.
Focussing on the E72 involved a delicate touch on the optical trackpad and also forced you to keep it 'on' - the single d-pad press on the E5 is much simpler for most people to get their heads round. Note that these solutions are somewhat forced on users by the E5 form factor - the landscape screen means that it makes no sense to rotate the phone as you would most devices (looking for a shutter key).
Video capture is at VGA resolution, here's a sample: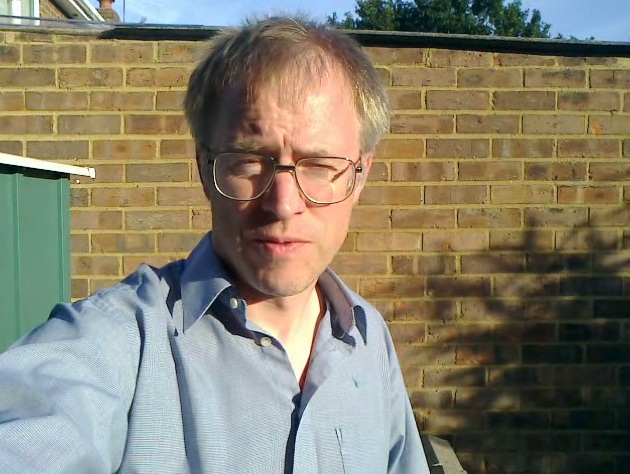 Click to download or play online in MP4 format - this is the native captured clip (4MB)
As you can see, video picture quality is Nokia-average. Good enough for casual fun videos but lagging behind what many would consider 'good enough' for playback on a big screen in 2010. There's no focussing of any kind, the frame rate is low and, worst of all, the audio capture (surprisingly for Nokia) is very poor and very quiet. There also seems to be some noise cancellation active for captured videos, giving an eery 'processed' effect, which won't be to everyone's tastes.
For both stills and video capture there's also the factor that the camera glass is horribly exposed on the E5's rear, ensuring it'll pick up its fair share of scratches and finger grease, which will impact on photo and video quality further.
Video playback is as good as ever, within the usual parameters of sensible (i.e. not desktop-class) resolution and bitrate, all my test WMV and MP4 clips played on the little E5 screen. The landscape format makes the device suitable for quick video snippets, but the physical size will stop you watching anything of serious length.
Boxed with the E5 is a simple no-frills stereo headset, with just a 'pick up' button in the lead. Music quality was harsh and the earbuds uncomfortable. Thankfully, the E5 works well with standard Nokia stereo wired headsets and, plugging in the multimedia in-ear headset from my N86 produced far better sound and comfort, plus the added bonus of playback control using the buttons on the headset's pod. Music (or podcast) loving E5 owners are recommended to budget for buying a headset like this. Or using an existing Bluetooth stereo headset, of course.
Verdict on the Nokia E5
Remember my trip to Nokia's test labs at Farnborough? They had a twisting machine that tortured the life out of relatively flimsy plastic phones like the N79? I'd love to see what happens when they put the E5 in this machine - maybe the latter would blow a fuse. The E5 really is that solid. The review unit, as you can see if look at the photos carefully, had already been dropped a few times by a previous reviewer, yet the hardware had shrugged the attack off as if by a flea. Especially in the budget smartphone market, you won't see luxury leather cases used, we're talking trouser pockets and casual abuse - the Nokia E5 will be able to take it all.
The E5 is also claimed to be the cheapest ever Eseries device, already on sale SIM-free at £199 or less online if you shop around (ignore the completely silly price on the official Nokia online shop) and we estimate it will be on pay-as-you-go in the UK for £149 fairly soon. Considering the specification, including 3G, Wi-Fi, GPS, plus the extra RAM and the build materials, that's a really good price.
But this is All About Symbian and I have to acknowledge that the E5 isn't really aimed at a typical AAS reader. However much you might be tempted by the inclusion of the extra RAM and the sturdy build quality, you'll have seen the QVGA screens Nokia have been using in their smartphones for the last five years and, like me, you'll be utterly dismissive of the E5 the moment you take it outdoors and try to get on with your life. True story: when I showed the E5 to my wife, she happened to be out in the garden at the time. I usually run every new phone past her for a 15 second 'look and feel' verdict as a typical 'normob'. "The screen seems to have gone off", she said. "How do I turn it back on?" "It IS errr.... on" I replied. She handed the E5 back and got on with hanging out the laundry.
Nokia has used the same screen technology in their budget C3 (with similar form factor, but running Series 40) recently. I hated that screen too. Yes, maybe using a simple transmissive display saves Nokia a few euros of build cost, but I can't help but feel that most users, even at the £150 pay-as-you-go price point, would rather pay an extra fiver and be able to use their new purchase outdoors.
Screen (and, arguably, volume buttons) aside, Nokia has made generally good decisions in constructing the E5. There's a lot to like, not least the re-introduction of Internet Radio and Podcasting to the Eseries range, plus a whole raft of other service widgets and clients - an E5 buyer is not going to be short of ideas for what to connect to.
Nokia continue to iterate around this small-screened, candybar QWERTY form factor - if only they could pull the best bits of the others in the series (E61i, E71, E63, E72) all into the one device then they really would have a winner. The E5, to a smartphone veteran, comes across as having had corners cut. To a new buyer in the High Street, I suspect the story might be different. They'll be enormously impressed by the build quality, specifications and even the interface. And, if they can learn to live with the screen performance outdoors, the new buyer should be pretty happy.
Steve Litchfield, All About Symbian, 5 September 2010
PS. See also Our Nokia E5 Image Gallery
Reviewed by Steve Litchfield at