Review:
Nokia 5730 XpressMusic - part 2 - Software and Multimedia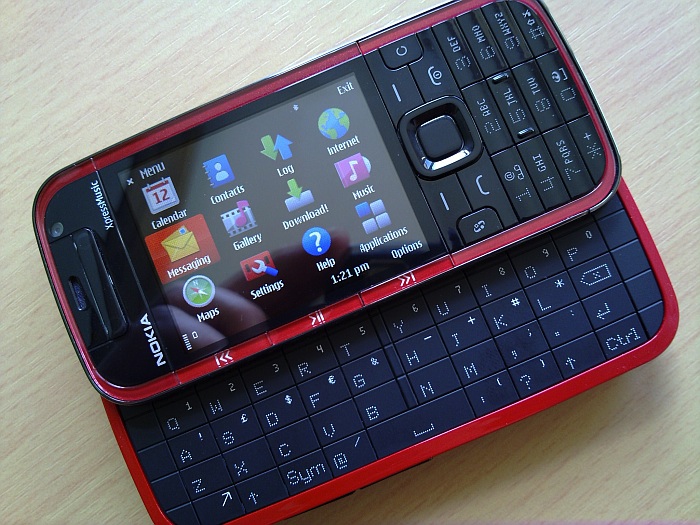 The New S60 Homescreen Themes
It's perhaps a measure of how mature the main one-handed UI is in S60 3rd Edition Feature Pack 2, that the principal things to talk about in terms of interface on the 5730 XpressMusic concern just its homescreen. As with a couple of other recent S60 releases (on both S60 3rd Edition and 5th Edition), there's a 'Contacts bar' homescreen theme - in the 5730's case, set as the default. There's also the curious 'Talking theme', though this has more to do with accessibility on the move, giving spoken access to common telephony features, a speaking clock, voice commands and an Inbox message reader. It's of limited use for most people and we'll cover this another time.
The idea of the Contacts bar is, as it sounds, to have a (scrolling) bar of your favourite Contacts, giving you easy access to calling or texting them and with a handy summary of your recent communications with them. Plus, most interestingly, the last two status updates for whichever of your Contacts 'social' feeds you've signed up for. In the screenshot here, I can see the first few words of Rafe's (i.e. AAS's) last two Twitter updates. Highlighting a text or feed update takes you to Messaging or your S60/Web feed reader respectively.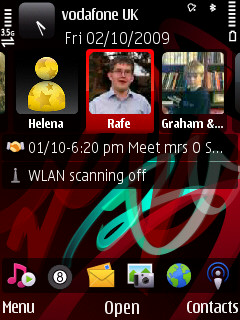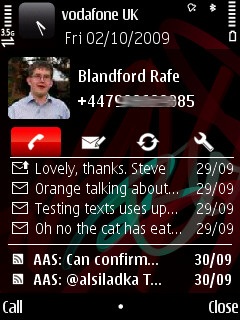 In fact, the 'web feeds' system built into Web is crucial to setting this information up. I'd have preferred to see some kind of wizard (e.g. "Set up Twitter/Facebook/Myspace feed? What username shall I use?" etc), but instead the existing web feeds are used. This can make including contact status updates rather cumbersome. For example, to add a contact's Twitter updates, you have to:
Start Web
Type in their Twitter URL (e.g. www.twitter.com/stevelitchfield) - the mobile site will be served up
Scroll to the bottom of the page and click on 'View Twitter in Standard'
When the page is loaded, use Options > Subscribe to web feeds > 'stevelitchfield's Favorites'
Back on the homescreen, go back into the pane for that contact and click on the spanner icon (Settings)
Scroll down and select 'Web feed'
Confirm that yes, you do want to add a web feed(!)
Pick the feed you added (about ten minutes ago!) above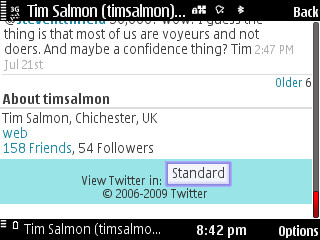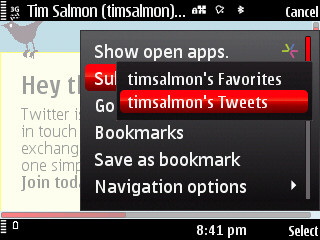 That's quite some app-to-app dancing, all to set up something really rather simple: any updates posted to twitter.com/username - and I absolutely fail to understand why Nokia makes this sort of thing so complicated. Yes, I like the underlying way web feeds are used across multiple applications, but would a simply 'Set up wizard' have been so hard to code up?
Once set up, you have to refresh your favourites' contact feeds manually, but this is fair enough since you may not want to keep going online automatically if roaming or if away from network coverage. I do like having my favourite peoples' mugshots on the homescreen, it's a nice personalisation touch. Scrolling between them is fast enough, though it's best not to have more than 5 or 6, to make them quicker to get to. For most people, this area will be used for partner, kids, mum/dad and a couple of best friends, perhaps.
Below the contact bar, you can choose between a number of plug-ins, including Contacts on Ovi, Calendar, WLAN scanning, and so on - it's good to see this flexibility not now restricted to just Eseries phones anymore. At the bottom of the Contacts bar homescreen theme are six application shortcuts, set up in the usual S60 way.
Having both shortcuts and contacts on the same homescreen brings a touch of N97 glamour to this rather more lowly S60 phone and I rather enjoyed using it.
Applications
The bulk of the S60 applications included in the Nokia 5730 will be very familiar to you. The main additions and notes are:
Web is the 'old' version, i.e. not the new version 7. Still, it's fast enough for most sites and more than enough for all mobile sites.

Included are a brace of social messaging icons, all links to the mobile sites: Ovi, Facebook, YouTube, MySpace and Hi5, though in the latter two cases, there's a mobile app/widget then offered for download.



Gallery | Images just opens up Photos, the carousel-based media browser/editor originally included in Nseries phones. It's a slick app, is integrated into (for example) the volume keys (for zooming in and out) and is great to see here. Gallery | Videos opens up Video centre, in similar fashion, even though videos also appear in Photos. I really wish Nokia would sort this mess out. See below for more on multimedia on the 5730.



Internet Radio and Podcasting are both present and correct, thankfully, after the scare of their omission in the recent E52 and E55. Even better, the front-mounted media controls work with both apps, albeit not if there's also Music player also loaded - you have to remember to Exit this first!

Nokia Maps v2 is included in the current firmware, but Ovi Maps 3 is a simple (Windows-based) upgrade away - well worth doing. In either case, I had no issues with the 5730's built-in Assisted-GPS, which locked on quickly and kept me on track over a lengthy test journey.

Home Media is a wizard-based application that leads you through streaming your phone's music into (and even syncing with) other home media appliances through UPnP. It's all a bit fiddly to set up but presumably the results are worth it in the end (I have no compatible equipment to try it with)

The N-Gage games client is built-in, along with a dozen trial versions, tucked away on the supplied 8GB microSD card. Pick any of them and they get installed in the usual way. The graphics performance of the Nokia 5730 isn't particularly remarkable, but most users will find a game or two to while away spare moments. It's worth noting that RAM isn't an issue with this device, either, so game playing isn't limited by memory shortages.



A couple of interesting extras are we:offset and AccuWeather, both freeware but nice for new users to see straight away.

One notable omission is an Ovi Store client - and there's not one in Download! and nothing offered from the mobile web version of Ovi Store, which is very disappointing, though doubtless this will be rectified shortly.
As a S60 3rd Edition phone, of course, there's great compatibility with a mound of third party software. Of special note is that video apps (e.g. YouTube) and games (e.g. Micropool, shown here) both run with acceptable speed. As on the E75, S60 3rd Edition FP2 is now optimised well enough that, for most people and most purposes, a dedicated graphics chip isn't needed, galling as it is for an über-geek like myself to admit this.
And, like on the E75, the entire interface runs in either portrait or landscape mode, as needed. Landscape mode is, of course, forced by opening the qwerty keyboard, but there's also an accelerometer-driven 'auto-rotate' option under 'Sensors'.
Camera and multimedia
As mentioned in part 1 of this review, the Nokia 5730 XpressMusic's camera is identical in specification to that of the E75 and more than its equal in terms of quality. Which is saying something, since the E75 has just about the best 3 megapixel camera I've ever seen in a phone, with care and good lighting, it produces better results than my Nokia N93. The 5730 adds a Carl Zeiss-branded lens, bringing slightly sharper detail and slightly better colours. The difference is marginal, to be honest, but it can be seen: have a look at these blow-ups of the same sunny scene: the E75's photo is on the left, the 5730's on the right. Note how the red play equipment is redder, the green leaves are greener and the blue sky is bluer. The railings are also slightly sharper, if you look closely enough.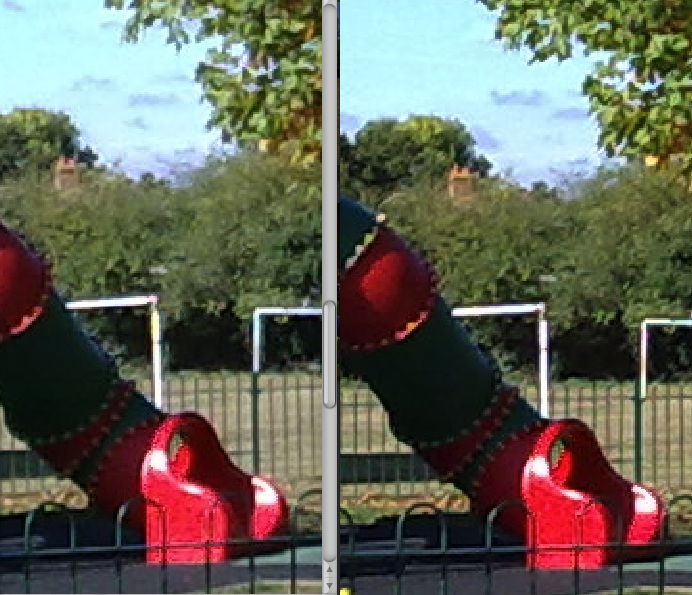 And here's the full size, 3 megapixel photo, just click to download or enlarge in your browser: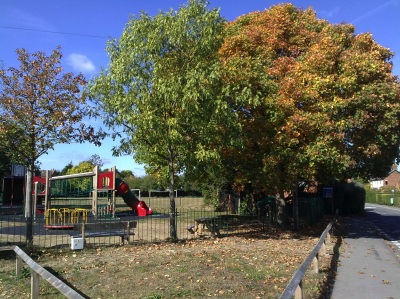 I've also included here a number of other sample photos from the 5730 XpressMusic, with notes. Your comments welcome on any of them!
Taken with sunlight through a window (left), a perfect photo in terms of focus, colour and exposure; and with flash on an overcast day on a window sill (right), the macro focussing is on the glasses and depth of field is small, but quite acceptable as a snap
Pushing the boundaries: in very low light (dusk, left), there's still reasonable detail and colour rendition; and dark, during the last throes of sunset (right), look closely and you can see the sensor noise in the dark areas, plus there's some blurring from having to take the shot handheld with a lengthy (flash/night) exposure. Overall colouration is good, though
Bright artificial lighting, loads of colours to render (left); Flowers again, in sunlight (right), gorgeous handling of colour
Although not quite capable of semi-pro photos and dubious for printed blowups of more than 7" x 5", 3 megapixels, combined with this lens and sensor, is certainly enough for good casual photography in goodish light. As you might expect, the unit struggles a bit in low light, but even here it performs a lot better than, for example, the camera in the Nokia 5800 (and sister devices) and is a lot better than many 3mp camera phones from other manufacturers.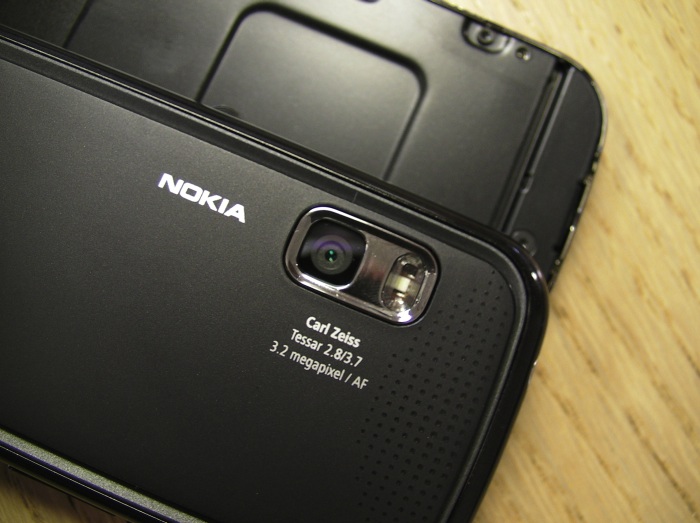 Video recording is, as is usual for all Nokia's high end phones, VGA at 30 frames per second. Here's a sample, 5730videosample.mp4, 5.4MB, click the graphic to download or open: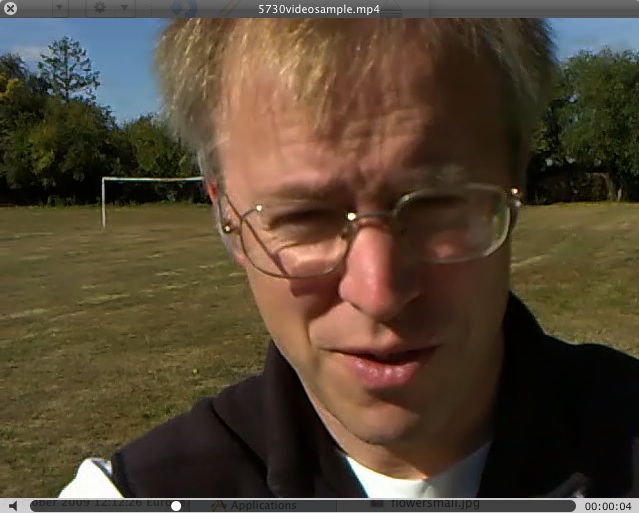 Focus is set to infinity, which is par for the course for something in this price range, the colours wobble around a little and the sound's good without actually impressing. In short, it's more than good enough for casual 'fun' clips, burned to DVD later or uploaded to YouTube for its HQ mode.
The LED does work for night videos, but it's very weak compared to the dual LED set up in recent Nseries devices and I wouldn't recommend shooting video on the 5730 after dusk.
Once shot, both photos and videos (confusingly) appear in 'Photos', as mentioned above. I liked the way the volume up/down keys double as zoom in/out when viewing photos, the animation is quite smooth. There are editing options here too, for both photos and videos, to either crop or add effects, or to trim or add music, as appropriate.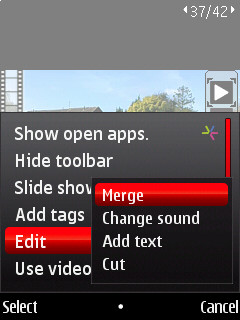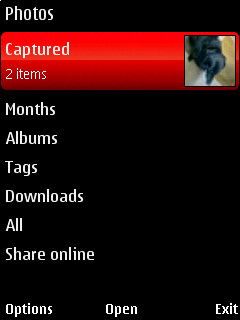 Video playback is to the usual Nokia standard, i.e. reasonably sized MP4, 3GP and WMV videos with H.263 or H.264 encoding play fine, though I had trouble with the picture on one of my normally-OK test clips - I'm guessing one of the codecs in the firmware was playing up and would hope Nokia fixed it in the first major 5730 firmware update. Having the hardware media controls to manipulate videos, rewinding, pausing and fast forwarding is nice, with the controls just below the actual picture (in landscape mode, of course). Yes, the d-pad also works, but it's just nice to have obvious controls in the right place.
Music playback is similarly enhanced, certainly for power users (who will be multitasking), and it's great to be able to have music or a podcast playing while also checking email or Twitter or browsing the Web, simply hitting a control key to change track or pause playback without having to:
stop what you're doing
either find Music player/Podcasting again in the S60 menu or pick it from the S60 'open applications' list
change track or pause, as needed
switch back to the application you were originally in
Simply hitting one button is soooo much nicer and more convenient. The Nokia 5730 XpressMusic, and this is a point worth emphasising, is the only QWERTY-equipped smartphone in the world that also has multimedia controls. Depending on your use case, it can be a heady, powerful combination. When using the music controls, an informational panel pops up on-screen to let you accurately select tracks or cue the current playback position.
Sound quality over the built-in speaker is OK, but as described in part 1 of the review, the plastic back rather gets in the way - watch this space for a DIY back-mod tutorial. With a grille of holes, the sound is far better and with richer bass and treble. Via the headphones supplied (in-ear, with hands-free pod), music quality is stunningly good, as you might expect for an 'XpressMusic' device. There's also the option (not explored here) to stream music over UPnP to a compatible home music centre.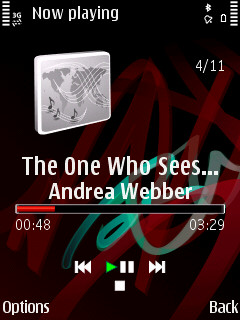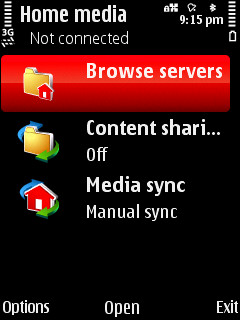 There are the usual S60 3rd Edition FP2 Visualisations (Spectrum, Oscilloscope, Circles, Album art) and Equaliser settings, to help things along and the only real black mark is S60's usual quirky handling of album art - for a typical music collection (like mine), with tracks ripped from a multitude of sources and using several different applications, only a fraction of the album art is shown. That there are half a dozen industry 'standard' ways for album art to be embedded or included shouldn't be a problem - Music player should know about them all - and yet it doesn't.
As with other recent S60 devices, the music offering is rounded out by an FM Radio ( and Internet Radio) and by the Nokia Music Store client, though the 5730 does add a 'Music search' utility. In theory, this will take a voice clue (e.g. "Kaiser Chiefs" or "Satisfaction") and find the appropriate artist or track for you in your music library. There's even a front keypad shortcut to this - press and hold the '*' key on the homescreen. Sadly, the results are somewhat erratic and in most cases I found it quicker to delve into my music library using the keypad or keyboard.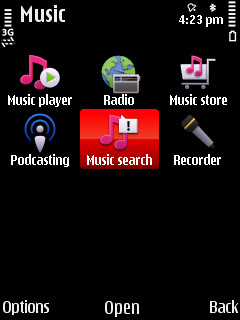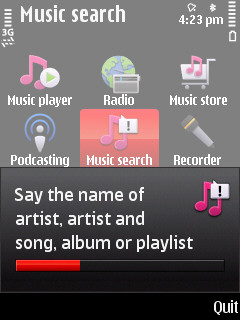 Verdict
There is absolutely no doubting the functionality quotient of the Nokia 5730 Xpressmusic - there are buttons for everything and more applications that most geeks could comfortably embrace. And, like the E75 before it, it does everything pretty well, whether it's typing emails or text messages, listening to music, taking photos or even (shock) making phone calls. To repeat my analogy from part 1 of this review:
"I've often talked about the Nokia E75 as the Swiss Army Knife of the smartphone world: it does just about everything and in a relatively svelte form factor. Using that analogy, the 5730 XpressMusic is the cheaper-built, unbranded Swiss Army Knife clone that also squeezes in a few more blades and gizmos - it won't appeal to the Knife purist, but it'll please the heck out of anybody wanting more gadgets per cubic centimtre."
Now comes the tricky part. Is it elegant, beautiful or cool? Not really, unless you try it in low light, where the backlit keys work a treat. Is it worth paying £280 (or so, inc VAT) for? Just about, though the 5730 will be better value once the price gets down near £200. Does it stand out, does it have a unique selling point? Aside from the QWERTY/music controls combination, not really.
However, I liked the 5730. I'm a self-confessed fully-paid-up geek and I liked it. Quite a lot - I was rather disappointed to have to send it back - in several ways it improves on its sister device, my beloved E75. The 5730 Xpressmusic isn't a game changer in any meaningful way, but it is a very useful extension (i.e. adding QWERTY) to Nokia's mid-tier XpressMusic smartphones. And, in that context it'll do well. And I wouldn't be at all surprised to see a few in geek hands later this month at SEE 2009.
Steve Litchfield, All About Symbian, 5th October 2009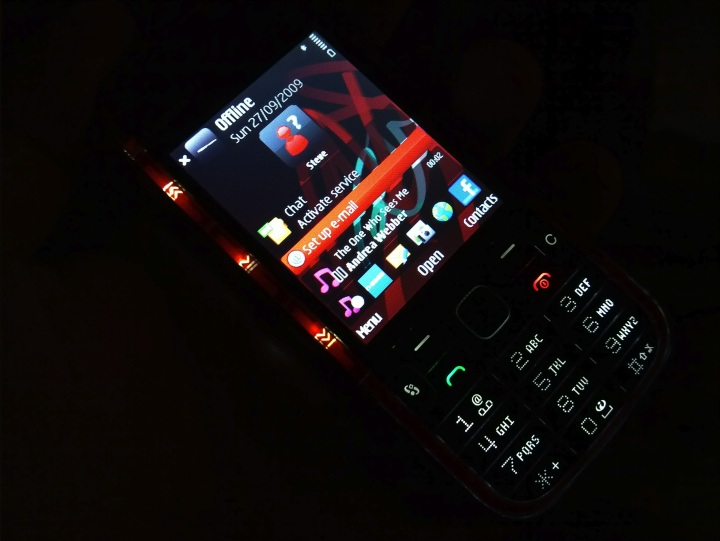 Reviewed by Steve Litchfield at