Review:
Nokia 5630 XpressMusic
Version Reviewed: 11.02
On opening the now familiar reduced packaging (it's good for the environment), my first thought on seeing the Nokia 5630 music smartphone was both simple and something I suspect the Finnish designers will be very happy to hear. That thought? "Where's my iPod nano, I need to see these side by side."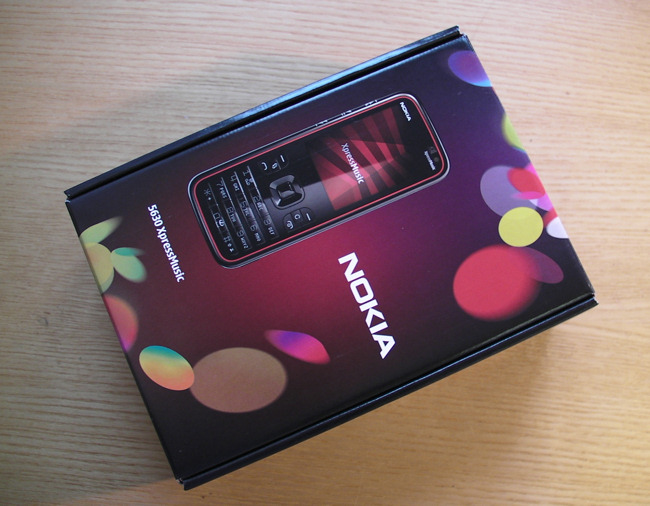 If you thought smartphones were big beasts, then the 5630 is going to throw your personal rule book out the window, because it has a diminutive size, with some great physical keys, no nonsense in its external ports, and it'll do pretty much anything a smartphone that's £200 more expensive could do. And do it while looking gorgeous.
The Nokia 5630 is that stylish, and having carried it for a few days, I'm very tempted to say that even before you look at the extensive feature list the 5630 has, you'll see that this is a phone that has serious style, albeit not one that matches the svelte lines of devices like the iPhone. It will be a matter of taste, but the 5630 feels like a Man's Phone – It's very angular, there are no graceful curves or wasted space in this phone. There's enough room to control it, see what's going on, and not even a glove compartment or little make-up mirror for decoration.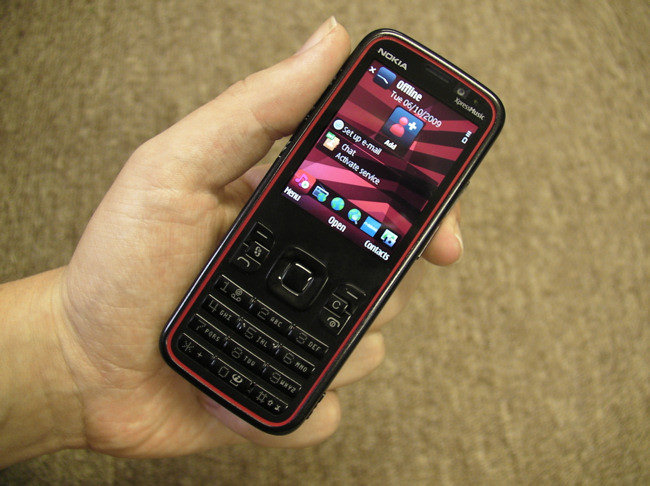 And in case you haven't got it yet, there's a handy go-faster racing stripe in red around the fascia that adds no function, but helps the fashion immensely.
But to balance all that anger in the plastic, the 5630 has a pretty good set of keys, both in layout and use. The number keys have a strong positive action and, thanks to the vertical spacing between the keys, you can easily go "touch typing" with them – something that's not possible on every S60 phone keypad in the current range.
This makes up for the interesting retro design to the number legend on the actual keys The dot matrix effect (also seen on the 5730, reviewed by Steve here) doesn't seem to quite fit with the styling. Yes this is a Ford Sierra of a phone but do we need a countdown from Airwolf on the keys? The letters are in the same style, but because they are a smaller font they are solid lines, rather than dots. Someone has common sense.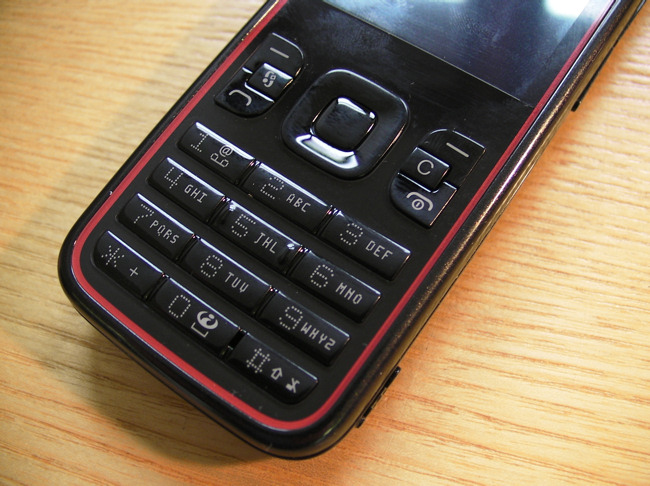 Moving up to the function keys and call buttons, these have regular symbols on them, nothing fancy here, but by sculpting the keys in each triple cluster it is incredibly easy to hit the key you want, even when operating by touch.
And can I just flag up some congratulations to the team who worked on this, because I've finally found a Nokia device that has a square 'cursor and button' layout that actually works with my thumb resting in the middle of the arrangement, as opposed to a gentle squeeze on the edge required by other devices. Nice one!
Of course there are compromises, especially when you consider the street price of the 5630 is less than £180 (or free on a small contract) - and that price will fall (you can pick one up now for £150, if you shop around). The major concession is in the screen. At only 2.2 inches, it's even smaller than the Nokia 5730's 2.4 inches, and while this may well put a lot of people off, especially those who do a lot of web browsing or working with documents, you have to remember you still have the same number of pixels on the screen.
In theory, you should have the same information as well, but in an number of places Nokia has increased the font size to aid clarity, but this doesn't actually cause me a lot of problems. Unlike earlier S60 devices which would only show 3 emails in a huge font, the current S60 phones show enough to be comfortable without becoming dense with information. The 5630 is no exception. I never felt that there should be more info on a screen than there is – the choices made here in this device are all natural.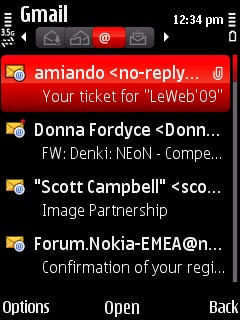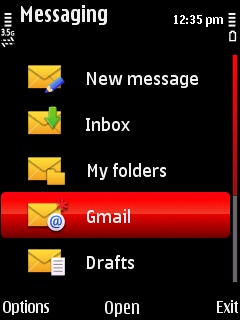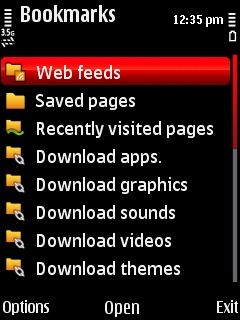 Returning to that initial impression of this being Nokia's iPod nano, the right hand edge of the machine has three audio control buttons – fast forward / play-pause / rewind – which give you access to Nokia's Music player.
The S60 Music app is proving to be a pretty robust little application. It had a major overhaul around the time of the N95 8GB (primarily to integrate podcasting into the app) and in my opinion that made it stand out against pretty much all the mobile device interfaces, including the iPod's classic menu. Since then though, we've had more devices released, with much improved interfaces, including the Apple iPhone and the Zune HD. The S60 app is looking tired, even though it still gets the job done.
The flaws are still evident. There are only ten 'steps' in the volume graduation (triggered by the buttons on the left hand edge of the 5630), and most of these will be too quiet or too loud for use, so in practice you'll have two or three volume settings that are suitable. Even though the majority of my Mp3 collection has album art visible both in iTunes and Windows Media Player on my PC, the artwork is not displayed on the 5630's playback screen.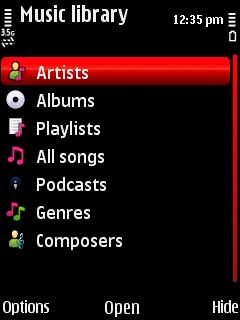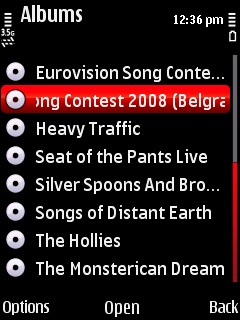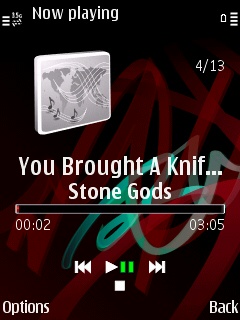 I can't fault the sound reproduction though – even using my default tracks to listen to a wide range of the spectrum (AC/DC's Thunderstruck and The Danse Macabre by Camille Saint Siens) there's little difference between the 5630 and more expensive digital audio players, even through my high end headphones.
The external speaker is a bit of a surprise, and it punches out a nice clean sound through twin lines of drilled holes in the rear of the machine. It won't win any prizes for a disco system, but it was more than sufficient to entertain myself in a hotel room. For the size of the speaker, it's not surprising that bass reproduction falls off when you really push the volume, but it sounds like the designers assume that you'll put the phone down screen side up. That way certainly provides for a better reproduction of sound.
Loading up the 5630 is through the now familiar choice of routes – either connect the smartphone as a USB device and copy the files over, or connect as a media player and using the sync capabilities of Windows Media Player or the Nokia Music Suite. Nowadays the PC Suite connection can act as both, so you don't have to go fiddling with settings during every connection.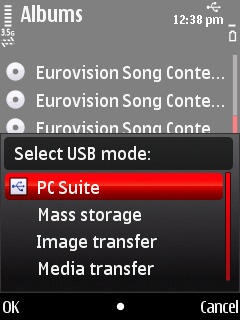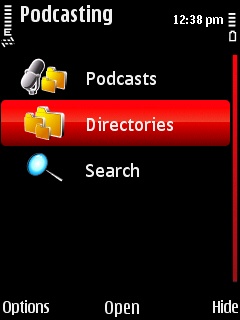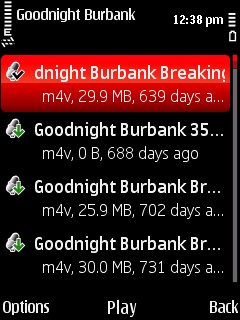 Depending on how you buy the 5630, Comes with Music is also an option, and the on device client will let you pull down as much music as you can through the Nokia Music Store. Putting aside problems of marketing and volume of sales, the Comes with Music service is a quick and easy way to grab the latest music and bulk up the 4GB microSD that came in the retail packaging.
Appearing as secondary applications, but clearly part of the remit of the 5630 as a music smartphone, are the Radio and Podcasting applications. Podcasting, much like the parent Music application, is little changed over previous versions, and sports a similar text heavy interface to subscribe to RSS feeds and download audio and video content over 3G or WiFi. Audio podcasts are played in the Music app, while video podcasts are passed to Realplayer – assuming that the video format is supported – something you'll need to check with your favourite 'cast.
The Radio application now has both the FM radio and the Nokia Internet Radio application under its icon. I'm always glad to see that FM is continued to be catered for as it has unique properties (no bandwidth charges, local content, delivered in real time) but the addition of Internet Radio (and Nokia's directory of online stations) has opened up even more listening options round the office, although I'm still wary of using it over 3G for both battery and bandwidth concerns.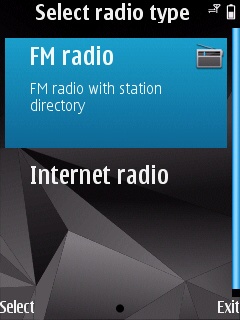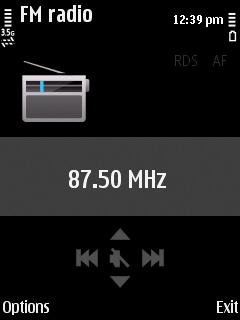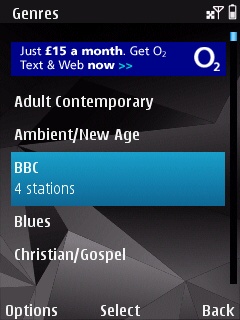 The music player also pops up on the standby screen, and this has received a new theme (like the 5730) which focusses on a much more personalised experience than older smartphones. Called "Contacts Bar" in the settings, this new theme's big addition is the top section, which allows you to add a number of contacts for incredibly quick access to call them, send a message (email or text) or see a list of updates in RSS feeds that you have associated with them.
Unlike the first iteration on the Nokia 5800, this is a far smoother implementation – for example, you aren't restricted to just four contacts – you can add to the spinning carousel at your leisure, and editing the RSS feed is a far simpler operation than the spiders web to find the correct URL on previous devices. The lesson here? Nokia can update UI's when they want to!
Moving down the standby screen and the services Nokia are pushing with the device, you come across a link to set up your email on the device, and for my Gmail account this was nothing more than popping in my email address and password. This is how it should be in my opinion – let the device work out all the settings, just as it does for my network and 3G settings by analysing the SIM card in the background.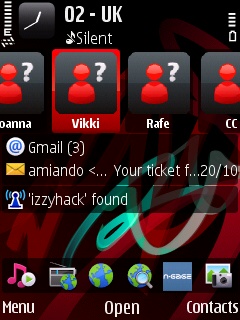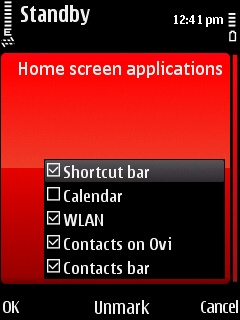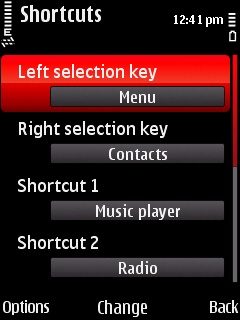 Once email is set up, the standby prompt switches to "Set up email notification" until you make your first connection, and then after that gives you a quick overview of how many unread emails you have and the most recent email – it's also the fastest way to access the messaging app as it is not (by default) one of the quick launch apps further down the stand-by screen.
Ovi Chat is in the next standby bar, and clicking here prompts you to either set up or Log into your Nokia/Ovi account. Once there you can find your friends, leave status updates and generally keep in touch. A good function, but I can't help wishing it was a bit more integrated with services like Twitter. Although the connection to Google Talk is appreciated, do I really need to update my status in more than one place? No. It should be possible for services, especially real time services, to send the information to each other.
But a quick point about the Nokia account. I've noticed that this has slowly crept out into more and more on-device services, but I want to say congrats to Nokia for making it optional. You can still use (and sync to) other online address books for example. I hope this continues to be the case.
Although not on initial display, you can add two other indicators to the stand-by screen, namely the Wi-Fi finder and upcoming appointments from Calendar. Both are similar to what's been seen on previous S60 devices and serve a useful purpose, but what's interesting to me is that they have been hidden away. This makes practical sense for the Wifi status, but shunting the PIM application away continues to stress that Nokia believes this is a media consumption device rather than an office workhorse.
That's borne out by the icons that initially populate the shortcut launcher, now at the bottom of the screen. From left to right they are Music, Radio, Web, Global Search, N-Gage and Photos. All bar one of them is for reading media, no matter the source of the media itself – although it is predominantly online.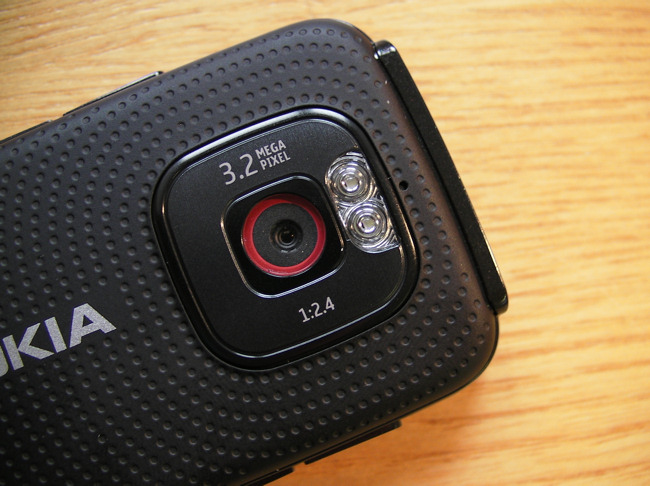 Of course, you can create stuff on the phone; it wouldn't be a smartphone if you couldn't! The (EDoF) camera is rather basic, but for a Nokia 'rather basic' is still ahead of the competition on the equivalent phone from other companies.
There are very few settings on the camera for taking pictures. All I can see that you can alter is the Scene Mode (auto, landscape, sports or night). Focus is taken care of with the EDoF (Extended Depth of Field), so there is no half way press on the shutter button to 'lock' on to your subject; you just point and squeeze, letting the software take care of the rest (but you still can't get good pictures, can you Ewan? – Steve and Rafe).
Panorama mode is pretty cool. It allows you to take a super-widescreen style picture by stitching together up to five pictures into one strip. You simply start the snap and move the 5630 to the left or right – when the edges match up, the picture is taken automatically and you are prompted to keep moving with the green arrows. A red pause symbol pops up as the next picture is taken, then it's back to the green arrows and red pauses as you move round. Even I managed to make it work (Barely! - Steve)
Interestingly, Download! is also in the top icons – Ovi Store hasn't made the jump into this firmware yet. That's an interesting decision as you'd expect the Nokia App Store to be an out the box thing in late October 2009. This is far from smooth. If Nokia really believe in Ovi, then it should commit to it 100% and get it on all the new devices. Download has been replaced, get over it and put the client you're pushing on TV and above my head in Heathrow Terminal 5 on the latest devices.


Click through for full image and play "spot the join"
For a long time now, when I reorganise the icons on my app screen, I create a folder called PDA and dump all the PIM and Clock apps into that folder. That's no longer needed, as the 5630 has an "Organiser" folder on display. Although Contacts and Calendar are featured at the top level (so I moved them), the rest of the PIM suite can live in here – including the two notes applications: Active Notes and, er, Notes. Perhaps this should be called Passive Notes? Or maybe someone needs to explain why there are two apps that do the same thing (in the eyes of the user) next to each other on a brand new machine?
Nokia have made a lot of positive noises about the environment, and their We:offset and Green Explorer are bundled on this phone. The latter opens up the web browser and offers lots of advice on being green with the help of Nokia. You know, advice like "why not take a walk" (using Nokia Maps), or "stop wasting energy" (by pulling out the plug on your 'energy efficient' Nokia charger!). You get the picture. We:offset gives you a carbon cost for any trips you make and gives you the option to pay for it direct from the handset. As a nice proof of concept this goes over well – as an actual tool to help the environment it would be nice to know where the money goes, how it's handled, and I'm sure an accountant would want to look at other ways of doing an offset.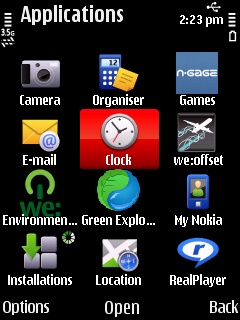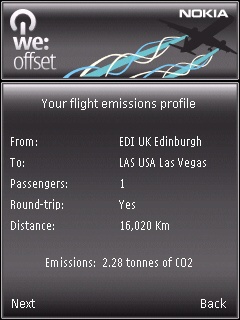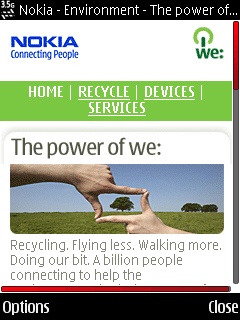 I also wonder if it's going to be a standard part of S60 now... and how long until we see a "Nokia Users have offset a million tonnes of carbon" style press release.
Like the 5530, the 5630 is missing a built-in GPS. Nokia as a company have placed a lot of focus on location-based applications, so the decision to cut the bill of materials in his area is intriguing. Of course, mapping and location doesn't necessarily fit in the market defined slot the 5630 is aimed at, but GPS is close to being 'standard' on any smartphone package. It is possible for some applications to fall back on using cell tower information, but this is a poor solution.
The Nokia 5630 occupies an interesting place in the device line up from the Finns. The model number clearly puts it ahead of the 5530, although the design ethos of that model and the 5630 are both incredibly similar. The 5630 does have 3G connectivity, which the 5530 does not, and I'll theorise that the savings made by the small 2.2 inch screen compared to the full face touchscreen on the 5530 is what has allowed 3G to be added.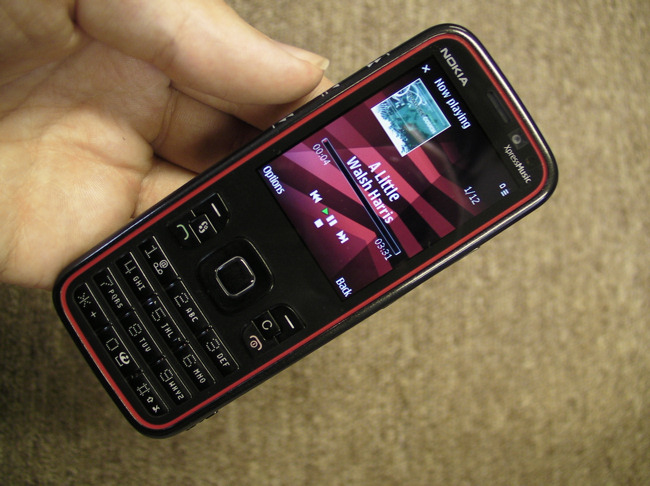 So put aside any sort of quest to be on the highest version number or biggest spec. The Nokia 5630 is neither of those. While this is a S60 3rd Edition phone, it feels just as advanced as some of the higher specced (and priced) 5th Edition phones. In no way is going 'back' to 3rd a backward step. In fact, for this phone it's the smartest option available.
For the user, the Nokia 5630 is a 'good enough' phone. It does music as well as any other S60 device, it has a strong focus on media that it can follow through on, and the other software and services on the device will mean that you can get a lot done with the 5630. It reminds me a little bit of the E75 – a device that wasn't especially stunning when first reviewed but slowly became the device of choice for many users, including myself, Steve and Rafe.
The 5630 doesn't quite reach that high, and I think it's because Nokia have a case of "that's good enough" for many of the devices. There's been some innovation in a few areas, such as the panorama mode in the camera and bringing back some of the successful stand-by screen elements from S60 5th Edition back to 3rd Edition, but other areas (the Music player UI being a prime example) haven't had a second glance.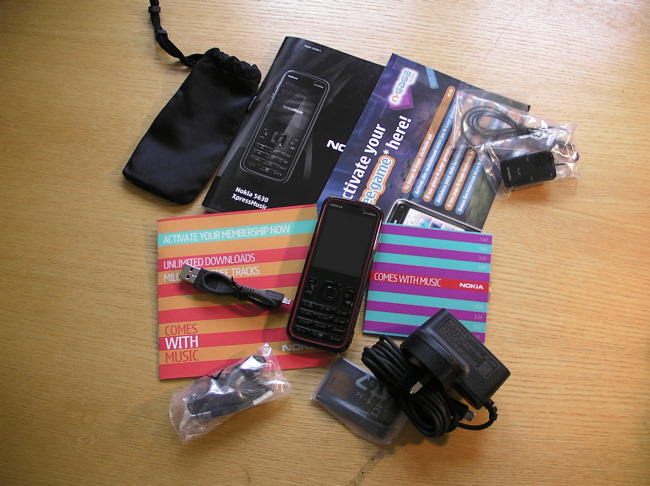 In theory, the Nokia 5630 should be a big seller on the High Street, especially if it can be in place for the Christmas market. It's a relatively stylish testosterone-inspired design; you should have the option for a Comes with Music variant (£229) and as much music as you can listen to; it fits in the hand nicely and all its elements work well together.
In reality, I think it's going to be a tough sell in-store. The price point (SIM-free or monthly) is going to be higher than the budget music phones, so those looking to buy for music aren't going to look this high. On the other hand, for a few 'dollars' more you can get a higher specced smartphone. Given that those buying on a contract are probably looking at an 18-24 month contract, they'd probably scrape together enough to make the jump.
Which is a shame, as there's a lot going for the 5630, and I'd certainly recommend that most people at least consider the device and try it in store. I hope the market provew me wrong and this sells by the bucketload, but I fear it's going to drown in a sea of similar sized devices that bracket the 5630's price point like a smartphone version of the Bismark taking out the HMS Hood.
-- Ewan Spence, Oct 2009.
Reviewed by Ewan Spence at