Review:
Nokia 5530 XpressMusic
Steve reviews one of Nokia's cheapest ever smartphones - and yet one that's reasonably up to date and with 90% of the functionality of its bigger brethren...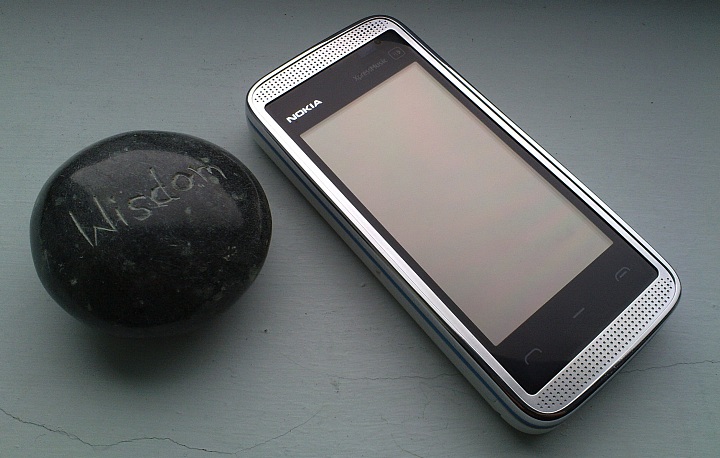 This - this is the point at which what Nokia in general (and OPK in particular) have been saying about Symbian OS taking over (from Series 40) in the mid-tier in the phone market comes home to roost. What we have here is a full-touchscreen S60 5th Edition smartphone with Wi-Fi coming in, unlocked, with no phone contract, for £130 including VAT in the UK - quite staggering. To put that into perspective, under the same terms the Nokia N900 is around £500, the N97 is £430, the HTC Touch Pro 2 is £470 and the (unlocked) Apple iPhone 3GS is... well, whatever you're prepared to pay, up to £700 in many cases. Compare those prices with £130 - you could buy three 5530s for less than a single N97, for example - and then bear the huge differential in mind when reading about some of the compromises and limitations below.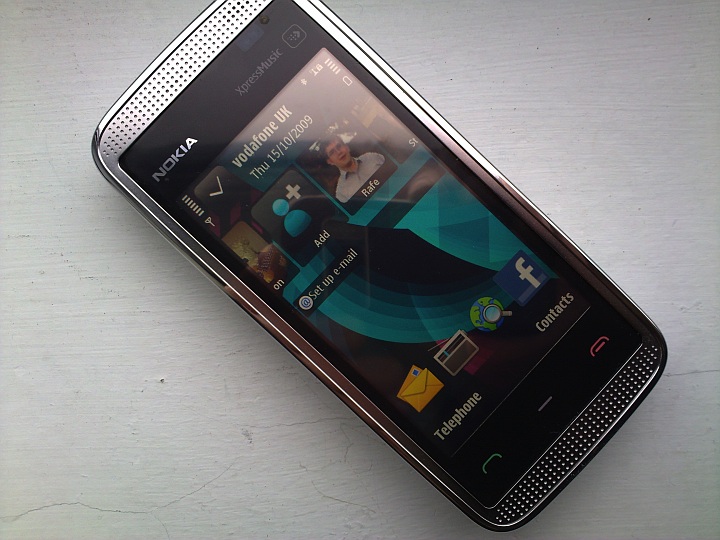 Hardware and styling
And so to the handset. The 5530 XpressMusic is the perfect size for a phone. Not a smartphone necessarily - you'd expect to add some bulk for extra screen real estate or qwerty keyboard - but the perfect size for a phone, something that anybody can incorporate into their lives without having to sacrifice pocket or purse space. And, perhaps, most importantly, something that feels great in the hand. The 5530 even feels quite solid, despite being 100% plastic (as you'd expect), with the only immediate build quality issue being that the device rattles - there's something inside the camera or main circuitry that's rattling and I've no idea what - which is worrying.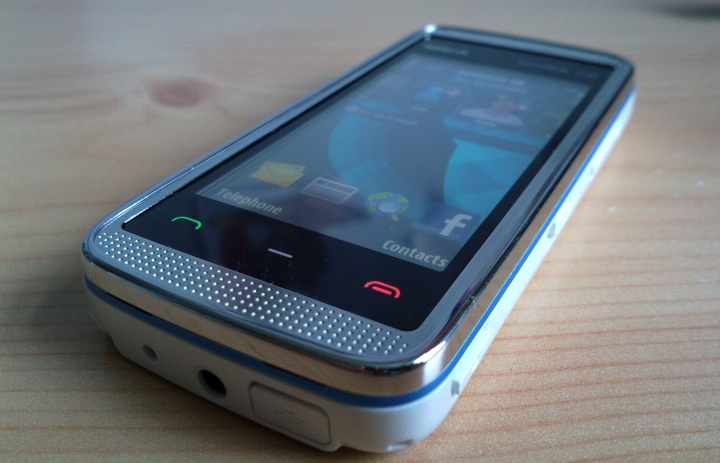 The styling is centred around a ring of chrome-effect plastic and a trendy semi-phosphorescent blue detail that sits just below the fake chrome. The touchscreen area on the 5530's front is actually around 3.5", as evidenced by the green/menu/red virtual keys and the XpressMusic hotspot, but the actual display is only 2.9" (diagonal), obviously something of a cost-cutting decision. The result is that S60 5th Edition's nHD resolution is somewhat crammed into a space almost identical to that of (for example) the QVGA resolution of the N95 8GB or N96. On the one hand, screen elements are a bit harder to tap on accurately and screen detail is a little harder to see, on the other hand the graphics and text look incredibly crisp and, to be honest, I had few complaints. Contrast outdoors is similar to that on the 5800 - no (relatively) expensive transflective layer here.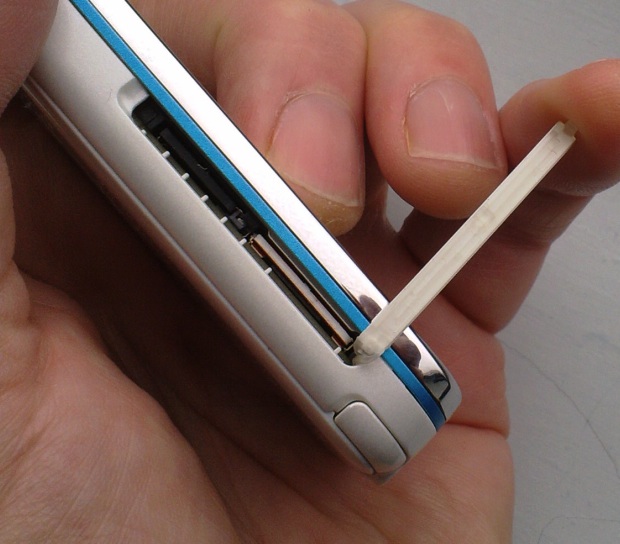 The SIM card slot and microSD card slot (4GB is supplied in the box) are covered by the same piece of hinged plastic down the left hand side of the 5530 - it's not an elegant solution but then, yet again, keeping the cost down was paramount here. There's a power button on the top, with a row of buttons down the right side: the usual volume up/down (and image zoom in/out where appropriate), keylock toggle (always great to see, I'm totally sold on this quick way of locking/unlocking) and the two-stage camera shutter button.

The only slightly controversial port decision is on the 5530's bottom edge, where you'll find both a 2mm charging port and a (covered) microUSB port. Given how new this phone is, I'd really expected to see microUSB charging. There's also a welcome 3.5mm audio jack and (again controversially) a stylus. Maybe this is relevant to the small size of the 5530's screen (and thus to the size of interface elements) or maybe this is just to help get the SIM card out - who knows?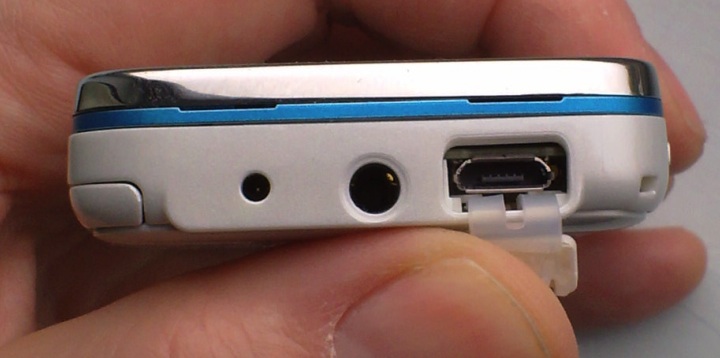 The 5530's back has just the camera aperture, styled as if it had a kickstand - but you just know that it doesn't. There's a single (and weak) LED flash and a non-branded 3 megapixel camera, of which more later. The back cover itself is extremely flimsy but in keeping with the build quality throughout the device. The battery is the same as that in the E75, i.e. 1000mAh, which should be more than enough for a phone with this size of screen and target market (i.e. you're not going to be watching videos or browsing the web for hours).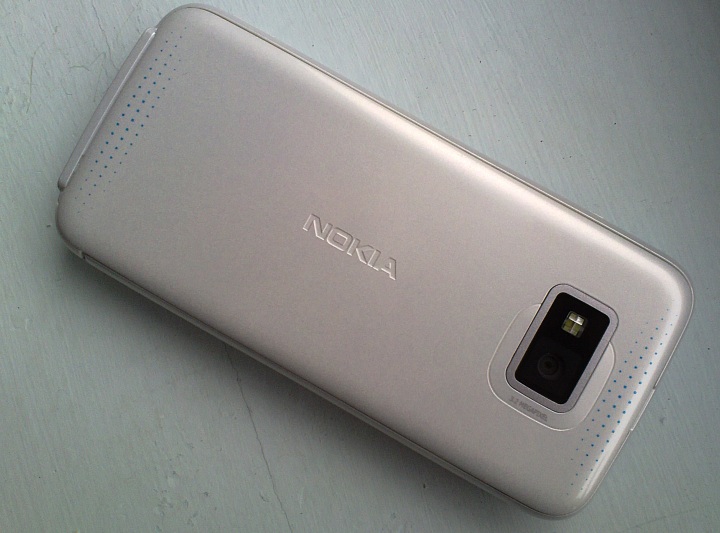 Inside the 5530 XpressMusic
So several compromises for the sake of price so far - but there are just as many inside the phone as well. The biggest are lack of 3G - so data use is limited to GPRS and EDGE speeds, which will certainly limit Web use for many users - and lack of GPS. This latter is somewhat surprising given Nokia's Ovi Maps-centric business model these days - you'd have thought that enough people would sign up for navigation to offset the cost of putting in GPS chips in each phone.
In fact, not only is there no GPS, there's also no copy of Nokia Maps, one of the first smartphones for ages to not feature this. Again, you'd have thought that it was easy enough to include Maps, even if only so that people could use cell tower location and see what was (roughly) around them? I wouldn't expect Maps to be featured prominently, but figured it should be on the 5530 somewhere.
However, it's not all bad news: there is Wi-Fi, rather welcome at this price point, and with the absence of 3G, it's just about the saviour of the device. There are also no significant memory constraints - after the usual startup customisations there's around 75MB free on disk C: and after booting there's 57MB of free RAM - which should be enough for anyone.
With the 'XpressMusic' part of the name, it's not surprising that the music side of things is well stocked. There are two loudish speakers, one at either end of the phone (with two narrow grilles each) - we're not talking Nokia 5800 volume or quality here, but it's good enough for most people. The supplied stereo headset is a one piece design with in-ear speakers - it's definitely a budget headset but again good enough considering the handset's price. There's Bluetooth A2DP compatibility too, of course.
No surprises on the music software front, though yet again Nokia Internet Radio is conspicuous by its absence (hey, it has only taken Nokia a year to port a simple 3rd Edition app to 5th Edition so far - there's no hurry....) Still, Podcasting and the Music store are both welcome and complete a competent music phone.
This being 2009, there's a token attempt at adding social networks to the phone. Hi5, YouTube, Facebook, MySpace, Amazon and Friendster icons are all prominent, but each only goes to the appropriate mobile web site - no widgets to be seen here, sadly (though the Facebook page at least offers one 'for the 5800 XpressMusic'(!)) If you want widgets you'll need to look in the Ovi Store - whose client isn't built-in - probably because it's being upgraded often. Instead Ovi Store is the de facto download when you tap on the provided 'Download!' icon.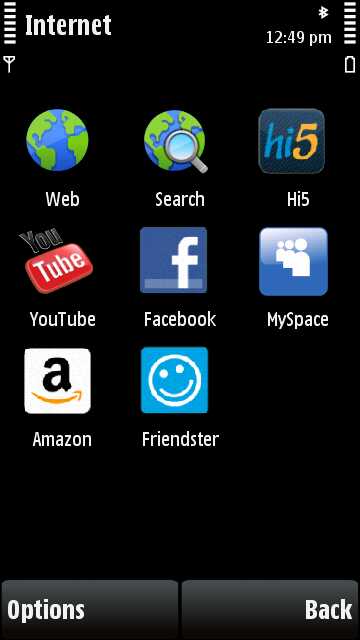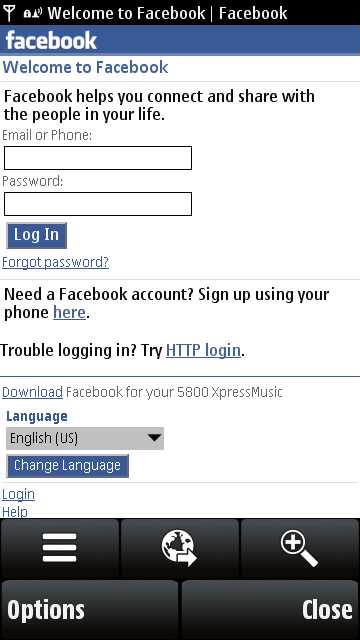 There are no surprises in the main Applications folder either: Boingo will help with Wi-Fi hotspots, Global Race is an average (though sluggish by iPhone standards, of course) racing game and Bounce is the 3D ball rolling game that we've seen a hundred times before. Video centre is there ready to play back BBC iPlayer videos - except that the Beeb hasn't enabled content for the 5530 XpressMusic yet, so there's little of interest there too.
Interface notes
Straddled in time between the Nokia 5800 and the fully 'kinetic' Nokia X6, the 5530 contains some elements from each, confusingly. There's full kinetic scrolling in lists, e.g. Contacts and Web bookmarks, but the main Applications menu and web pages, for example, are both represented in the 'old' way. I'd hope that the last step towards full kinetic/paper-like behaviour would be taken in the first major firmware update, but with Nokia's track record here it's hard to be certain. Where kinetic scrolling is implemented, it's done very well though.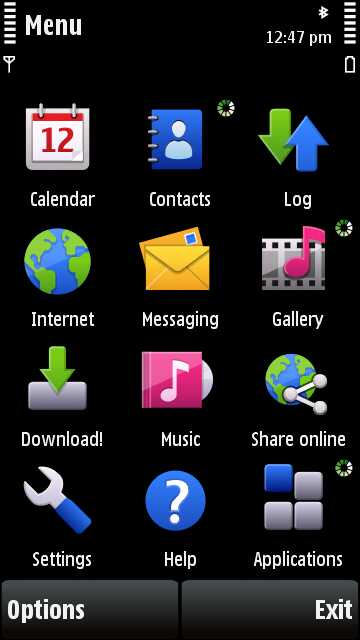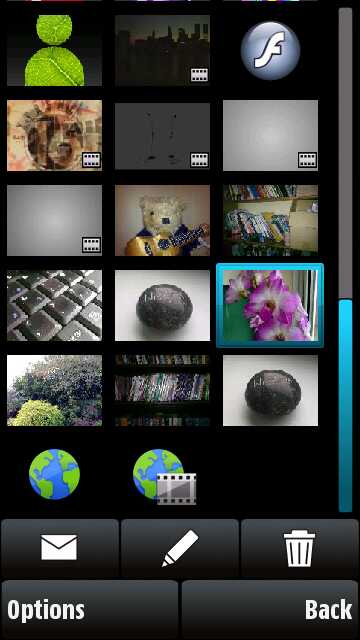 As with almost all S60 phones since the original N95 in early 2007, there's a built-in accelerometer to provide auto-rotation of the display when needed - as with the 5800 XpressMusic, this rotation works in everything except the homescreen (and games with hard coded bitmap graphics). And yes, auto-rotation can be independently turned off, along with enabling or disabling flipping the phone to silence calls or snooze alarms.
Firmly in the 'love it or hate it' camp is the 'Contacts bar' homescreen theme. Like the 5800, from a year ago, there's a strip of your favourite contacts, but here the theme is a lot more refined: the strip is scrollable, so you're not limited to just four people - and, importantly, the strip coexists with standard notifications and application shortcuts, with your contact details and feeds appearing on a separate (almost full screen) 'status' pop-up when tapped on. I like the system and used it a lot on the also new 5730 XpressMusic - it's just as useable here. Although, in terms of time, scrolling the faces to get to a favourite contact isn't very efficient, it's intuitive and fun, reminding yourself of all the people who matter to you - and for that reason it gets my vote.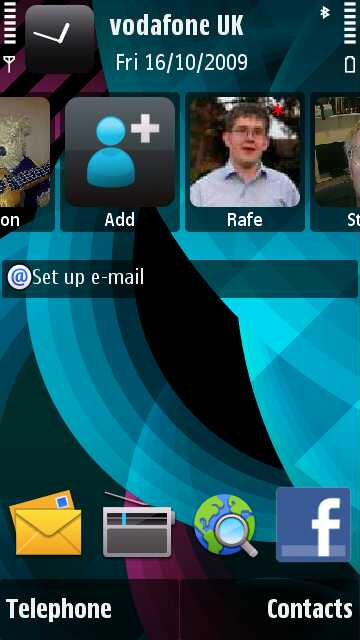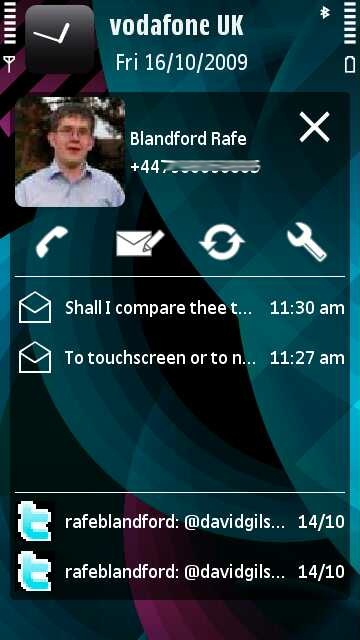 Camera and video
There's no Carl Zeiss branding on the 5530's camera lens, but Nokia tend to pick above average components and I wasn't surprised to get decent results out of the 5530 in good light conditions. As far as I can tell it's exactly the same sensor (and aperture) as on the 5800 XpressMusic, but without the Carl Zeiss lens. In otherwise, good photos with decent light, but terrible results after dark, indoors in dim lighting or with flash. Here are some examples, click on each to download or enlarge:
A couple of nice photos on windowsills in good (overcast) light...
Outside on the (aforementioned) overcast day in Autumn in the UK (i.e. not much colour in the garden!); a close up flash photo in near darkness, that single LED flash and the small aperture and sensor make night photos disappointing - but (again) arguably OK for the price point
Video capture is exactly as it was a year ago on the Nokia 5800 - with a default of 640 by 352 pixels at 30 frames per second and the higher VGA resolution if needed. And again, video's quite decent if the sun's out and then gets progressively worse as the light dies. For a smartphone of this price, VGA video capture is still welcome though, even at the tail end of 2009.
One thing that worries me is that the lens cover isn't recessed significantly from the 5530's back - it's going to collect fingerprints and dirt fairly quickly: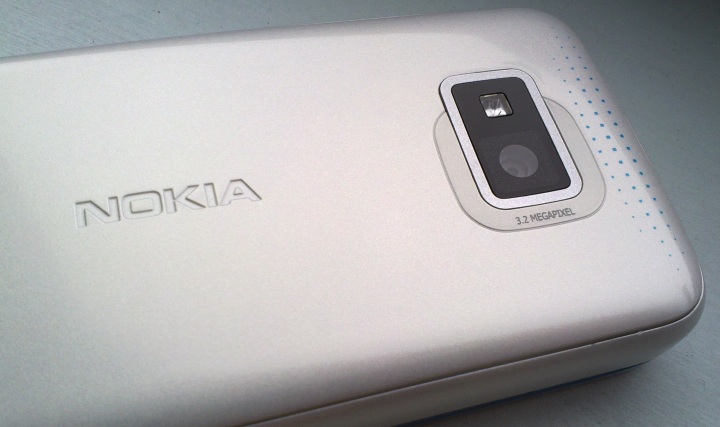 Video playback was excellent, it constantly surprises me how Nokia has managed to tweak and optimise S60's codecs in order to be able to play back many WMV and MP4 videos smoothly in software, as opposed to going down the hardware route (N95, N82 and - in a different way - N96, etc.) All my test clips played perfectly, although I restricted myself to videos whose frame would actually fit on the 5530's screen, i.e. I wasn't trying desktop-optimised clips.
__________________________________________
Apologies if, relative to certain other devices from the last few years, my lack of excitement is showing through in the main prose of this review, but we should remind ourselves that the 5530 isn't about geek excitement - it's about bringing the basics of touch on S60 5th Edition (at a price that is potentially groundbreaking) to a whole new audience. It's just a shame they won't be able to experience usably fast data or GPS navigation...
Steve Litchfield, All About Symbian, 17 October 2009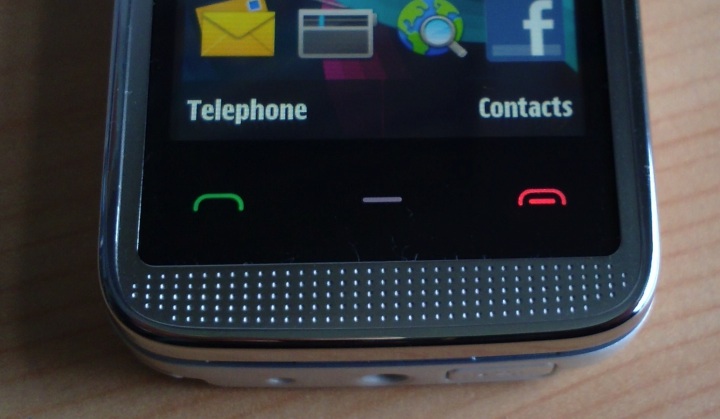 Reviewed by Steve Litchfield at