Review:
Nokia 5320 XpressMusic Review
Score:
83%
The Nokia 5320 is a music and gaming oriented smartphone which has the lowest launch price of any S60 device so far. Among its highlights are a dedicated audio chip for better sound quality, 24 hours of music playback, a 3.5mm audio jack, N-Gage-compatibility, and music/gaming keys.
Version Reviewed: Firmware 03.08
Nokia 5320 XpressMusic Review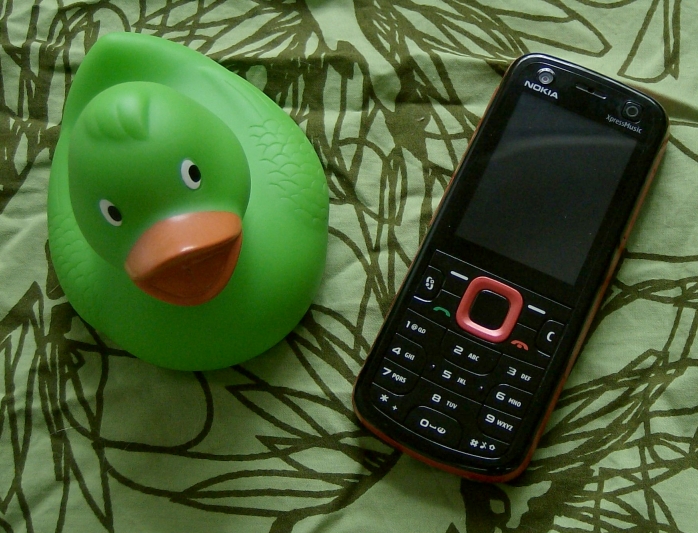 This reviewer should have started writing this review several hours ago, but got caught up listening to their music collection all over again after transferring it from an N95. It turns out that the Nokia 5320 XpressMusic is rather good as a music player, but more about that later.

Technically speaking the 5320 is a Symbian S60 3rd Edition Feature Pack 2 smartphone, but as with many smartphones lately (such as the 6120 Classic or E51) you would never guess from looking at it.

You can find all the official technical specifications by clicking here to visit the 5320's Forum Nokia page.
The 5320's price
We don't normally have this in a separate section but it's worth taking a moment to look at the 5320's hardware price (the unlocked SIM-free price, how much the phone actually costs without any contract subsidies). It has launched for approximately 200 euros plus taxes, which is the lowest launch price of any S60 device so far, and possibly the lowest launch price of any smartphone too.

While there are some older S60 models that are cheaper than this, a launch price is just a starting point and the actual price inevitably drops over time. A year from now it could well be that the 5320 costs 150 euros plus taxes, or perhaps even less. This is taking the S60 platform tantalisingly close to the average sale price of mobile phones, which is the hardware cost of the average phone that people buy, and which currently stands at around 80 to 90 euros. If the S60 platform's phones reach this price or even go below it, it may allow them to leave the expensive niche that smartphones have traditionally found themselves stuck in, and instead become genuinely mass market devices used by a large chunk of the planet.

That's all general theory though, let's return to the 5320 to see what it's like as an individual phone model.
The 5320 Hardware

The body of the phone is entirely plastic, with a glossy black front and back and a metallic coloured border around the edges (the metallic effect doesn't show up in photos but it is there in real life). The build quality is very good, the phone feels very solid and durable, and has no loose or creaking parts. It's quite a compact phone with a 2 inch QVGA screen which some may find difficult to read, but obviously many people can cope with this because the 6120 and E51 have 2 inch screens and they have reportedly sold very well.

The 5320's keypad is perhaps its biggest weakness: the menu and C keys are difficult to press, the soft keys are too near the middle, the gaps between the number keys are in strange places with no practical value, and the general flatness of the keypad makes it difficult to distinguish keys by touch. Similar layout problems appeared on the 6120 so if you didn't like that phone's layout you won't like the 5320's either. The keys themselves click nicely and feel solid, so the problems are entirely to do with their layout rather than the actual button hardware.

By contrast, the 5320's dedicated music controls are very good: they run down the left side of the phone and are easy to press, click nicely and feel natural to use with the phone in your hand. They're big enough to easily distinguish by touch, and in this reviewer's opinion this kind of side layout is the best for external music controls on phones. The volume control on the right side of the phone is similarly easy to use, as is the camera button also on the right, and the power button on the top. The music rewind button (on the shoulder of the phone) also acts as gaming button B in N-Gage games.

The 5320 direction pad is 8-way and can be used for diagonal movement in N-Gage games, see the Gaming section below for more about its abilities.

There's a "my own" key at the top right corner of the front of the phone, which can be defined to launch any application you want. If you hold it down for a few seconds it activates the Music Search app which lets you choose a track or artist by speaking, but more about that in the music section of this review. The key is small but actually very easy to press as it sticks out from the surface of the phone slightly, and it also acts as gaming key A for the N-Gage platform.

The left side of the phone has an extremely bizarre memory card slot: the slot door is external which should make changing cards very easy, but this convenience is totally wiped out because you have to take the back cover off in order to get to the ridge that opens the door. Who came up with this bright idea?

The bottom of the phone has a microUSB port with a plastic cover that slides out when you need to access the port. The cover is slightly difficult to keep out of the way while you're plugging the microUSB cable in, but otherwise the port works well.

The back of the 5320 has lots of dimples at the top and bottom to act as grips when the phone is being held horizontally. These are designed to help while playing N-Gage games in landscape mode, and do their job reasonably well. They don't make a huge difference, but it's nice that they're there.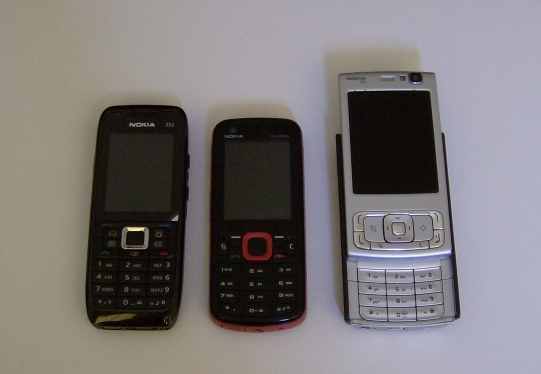 The 5320 is quite small compared to most S60 devices
As a mobile phone
Calls worked fine on the 5320, no dropped calls, no distortion or other problems. The speaker is nice and loud so you can hear the phone ringing easily, and of course the 5320 supports all the usual call options such as speakerphone mode and Bluetooth headsets. Ringtones can be most audio formats including AAC, MP3, MIDI etc, and the phone also supports video ringtones (these are displayed on the same list as audio ringtones). If you have loaded the 5320 with music the tracks will automatically appear as ringtone options.

Writing texts was a bit tricky due to the poor keypad layout, see the above hardware section for more details. The messaging application is similar to that on previous S60 models, but Feature Pack 2 brings some nice reforms such as unifying all message types into one "message" option. Multimedia messages are created by simply inserting various types of content (photos, videos, audio, text files, flash files etc) into the message in a similar process to attaching a file to an e-mail. This makes MMSes more user-friendly and easy to use, and it may broaden their appeal to a wider audience.
The 5320 is a quad-band GSM (850/900/1800/1900 mhz) and dual-band 3G (900/2100 mhz) phone. It has HSDPA support, and you'll see a 3.5G icon appear when the phone is downloading data using HSDPA.
As a music player, podcast player and radio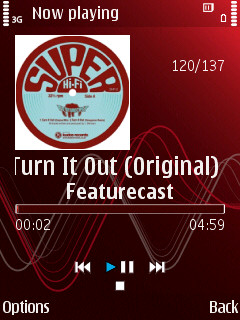 Well, this is it, this (together with the price) is the reason you would buy a 5320. Its greatest strength is its music playback abilities, and this reviewer has enjoyed using it as a music player a great deal.

The exterior of the phone shows it's a music device with its playback controls, and these work very well as noted in the hardware section above. They feel much more natural to use than the N81's d-pad-centric playback controls or the N95's two-handed playback controls.

The actual audio quality of the 5320 is very good, perhaps thanks to its dedicated audio chip. Music on the 5320 sounds more detailed than on the N95 for example, and it somehow has a lot of "oomph". There's no background hiss during moments of silence. On the old chestnut of gapless playback, there is still a brief pause between tracks, though it's perhaps a bit shorter than on previous S60 devices.

The external speaker is mono as there's only one, but it's fairly good quality and very loud. If you use the speaker on its loudest setting it will drain the battery quite quickly though.
Transfer of music via the USB cable is very fast thanks to USB 2.0 High Speed compatibility. As with other S60 devices there's no automatic refreshing of the music library, so you have to remember to manually refresh the music player after adding more tracks, which is a bit annoying. The 5320 has a memory card slot compatible with microSDHC cards up to 8 gigabytes officially, though unofficially you may be able to use cards with much higher capacities. As a rough estimate, 8 gigabytes is enough for about 2000 to 3000 tracks.

The 5320 has a 3.5mm headphone socket on the bottom of the device so you can use any headphones you want. The phone supports A2DP and AVRCP Bluetooth profiles, so you can also use it with most wireless Bluetooth stereo headphones. The music player app contains an eight band graphic equaliser featuring a number of presets, and you can add your own custom presets too.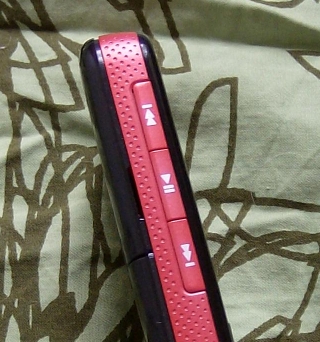 One big novelty selling point of the 5320 is its "Music Search" application, which lets you say a track, artist or album and the phone should start playing it. In real life its performance was mixed: it seemed to be excellent at understanding the names of artists but had trouble with track names, perhaps because there are far more tracks than artists. Music Search can be activated by holding down the My Own button on the front of the phone, and it gives you a certain amount of time to speak. There's no learning process, it will either work with your voice or not.

The 5320 includes Nokia Music Store, and our European SIM-free sales package included a voucher for five free tracks from the shop. This may not be present in your sales package though as packages tend to vary greatly from one market to another, and over time too.

The 5320 also comes with the Nokia Podcasting application built-in, which is excellent and allows access to a searchable database as well as a browseable directory of podcasts, so you don't even need to know any podcast addresses to get started. Note that the directory and database seem to be two separate things, for example All About Symbian's podcast is in the searchable database but not in the directory. Podcasts can be subscribed to and set to download automatically at certain times of day and/or on certain dates, so for example the phone could download podcasts at night and have them ready for listening when you wake up in the morning. However, this may not be plausible for those of you who have expensive phone data charges, as the only method for downloading podcasts on the 5320 is through the mobile phone network, the phone has no Wi-Fi.

There's a built-in FM radio which is compatible with Nokia's internet database of radio presets, so you can download all the station names for your current location. It's also compatible with Visual Radio and RDS. RDS is perhaps a bit redundant as the Nokia database provides much more detailed station names, but it's nice to have RDS as a backup service. This reviewer had never managed to get Visual Radio to work on previous Nokia phones despite living in an area with such a service, but the 5320 somehow managed to display Visual Radio with no problems at all.
As a gaming device
The N-Gage application was released for the 5320 a few weeks after its launch, and can be installed directly onto the phone by going to its Games folder and then clicking on the N-Gage icon. Alternatively, you can download it onto your computer and install it on your phone via the USB cable by clicking here. Once you have installed the app you can try or buy all of the N-Gage platform's games, with full functionality including online gaming. After you've installed the N-Gage app you can access it from the "Games" icon in the "Games" folder, and you can get to it directly from the 5320's default standby screen (a fifth icon featuring dice is added which launches N-Gage).
N-Gage may become embedded on future 5320 firmware versions, so you may find the app pre-installed if you're reading this review a long time after it was published.
At the time of writing the current version of the 5320's N-Gage app (v1.10) runs more quickly and smoothly than the current app on the N95 and N81 (v1.01). This is possibly due to improvements in the app itself, but also perhaps the 5320's much larger amount of free RAM and its newer version of the S60 platform (the 5320 uses S60 3rd FP2, while the N95 and N81 use the older S60 3rd FP1). The app launches more quickly too, there are a few improvements such as a built-in option to e-mail download links to a computer, and it has cured a few glitches including the "screen orientation dance" when launching games.
The 5320 has gaming keys for playing N-Gage games in horizontal mode, though as mentioned before they're rather cunningly disguised: the "my own" button in the top right hand corner acts as gaming button A during N-Gage games, while the rewind music button acts as gaming button B (and yes, that is the other way round to what was reported before the launch, but it makes sense when you use it).
Despite being fairly small, the A button works fairly well and is easy to press as it sticks out from the surface of the phone. The B button is trickier due to its shoulder location, but it's not needed as often as the A button (some games don't use B at all in fact). Holding the 5320 horizontally while gaming works fine because the phone is physically so small, the presence of the keypad doesn't cause any problems. The 5320's direction pad suits gaming and is very easy to push in any direction, including diagonals. There's a nice click when you select a direction, and the action is very smooth. The one criticism that could be made about the controls is the location of the A button, as this reviewer would have preferred it to be in the top left corner instead of the top right, i.e. swapped round with the videophone webcam. However, if you play games with the screen flipped (if you're left-handed for example) you will find the A button perfectly placed.
N-Gage games run just as fast on the 5320 as they do on the N95, and the smaller 2 inch screen makes them look sharper too, though it also makes in-game text and detail harder to read for those with poor eyesight. N-Gage really suits being on a lower-priced device as it looks and plays much better than most Java titles that are typical on phones in this price range. The future of N-Gage is arguably on devices like the 5320 which are aimed at the mass market rather than technophiles.
The lack of Wi-Fi support means that games can only be downloaded either directly through the phone network or indirectly from a PC or Mac using the USB cable or Bluetooth. However, the 5320's support for 3.5G HSDPA means the phone network speeds can be very high, comparable to Wi-Fi in some regions. If you have a flat rate data plan too, you probably won't miss Wi-Fi that much.
All in all, the 5320 handles games very well, and the N-Gage application adds a lot of appeal to this phone. It's not a dedicated gaming device of course, but as a phone it does gaming pretty well, and the N-Gage platform (especially its first party titles) shows off the 5320's gaming abilities very effectively. Try letting someone used to Java games have a go on the 5320 running System Rush Evolution, Creatures Of The Deep or Bounce: their jaws will drop.
As a smartphone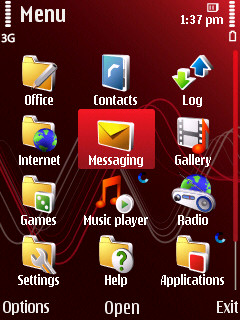 The 5320 is a Symbian S60 3rd Edition Feature Pack 2 phone, like the N78 and 6220 Classic. As has been mentioned in those devices' reviews, Feature Pack 2 is an evolution of S60 rather than a revolution, so don't expect any huge changes. However, there are some nice tweaks such as a clearer task switching menu, standby mode themes (which are surprisingly useful), on-screen labels for the direction pad key (centre key), and generally faster performance. Applications launch extremely quickly on the 5320, there's absolutely no delay.

As a smartphone, possibly the 5320's most notable feature is its astonishing 85 megabytes of free RAM, more than even the E90. To be honest, this didn't really make any obvious difference in normal use, and it's unlikely to ever be exploited by the target audience of this phone, so it's a slight mystery why Nokia included so much free RAM on this particular model. Perhaps this is an experiment with production techniques, with this amount of RAM due to become standard on S60 models in the future? Or are the very fast application launches a result of the massive RAM surplus?

Goodness knows what was going through the 5320 designers' minds when they assembled the 5320's main menu: it's completely bonkers. This is at its heart a music phone, it's being heavily advertised for its music abilities, it has dedicated music controls on its casing and a special audio chip for higher sound quality. So why on earth does the 5320's menu have its music-related apps scattered all around the place, with some of them hidden in the Applications folder and others elsewhere?

The 5320 should have followed the N95's example, which (in its latest firmware) has all its music apps including Music Player, Music Store, Podcasting etc all put into a single Music folder. Thankfully you can now create your own folders and sub-folders on S60 so it's a fairly simple matter to recreate the N95's solution yourself on the 5320, but why should you have to, and how many people will realise they can do this?

It's even more bizarre because the 5320 does have a single Office folder that contains lots of work-related apps such as Quickoffice (the full version with document creation and editing) and Active Notes. It's nice to see these useful apps reaching non-business phones, but why the heck are they given a neatly organised folder on their own when the music apps aren't? It's as if the 5320 menu designers thought they were doing an Eseries device instead of an XpressMusic device.

Firmware updates can be handled entirely through the phone thanks to "Firmware Over The Air", which means you can go to the Device Manager application and download updates directly over the phone network if they're available. If data charges are a problem, you can get unlimited firmware updates at service centres for free while the phone is in its 2 year guarantee.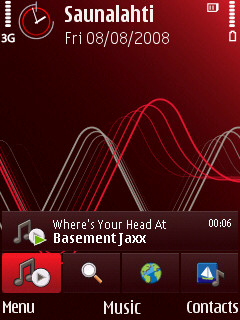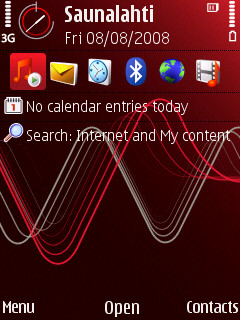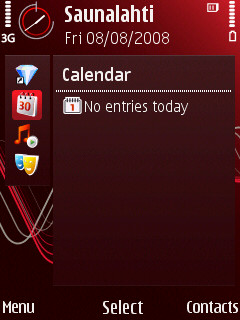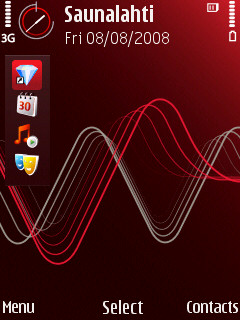 The standby themes allow the 5320 to have many styles of standby screen: default, horizontal and vertical. Other standby themes can be added when/if they become available, and of course you can switch off active standby altogether.
As a navigation device
Nokia Maps 1.2 comes bundled with the phone, but there is no built-in GPS receiver so you'll need a separate Bluetooth GPS unit (either Nokia or third party) if you want to use it for navigation.

In theory Maps should be able to tell you where you are based on nearby phone masts (using Assisted GPS or "A-GPS"), but this reviewer couldn't get it to work with this Maps version. You can install Maps 2.0 which has better support for A-GPS, but apparently this is still unstable on Feature Pack 2 models.
As a camera, camcorder and video player
Camerawise the 5320 is similar to many cheaper S60 models: a 2 megapixel still camera with twin LED flash, and a QVGA (320x240) camcorder which films at 15 frames per second. There's a dedicated camera button on the right side of the phone which launches and controls the camera/camcorder application. There's also a lower resolution secondary camera on the front of the phone which is intended for videophone calls.

The camera/camcorder application has some basic settings such as night mode, panorama mode, sequence mode and timer mode.

The gallery application isn't the Nseries one, though it is a fairly practical 4x5 grid of thumbnails for both still photos and videos. There's a built-in video editor which should be familiar to users of recent S60 devices, it's similar to the one on the 6120 for example.

You can see some sample pictures below:
Photo 4

Photos and videos can be uploaded to a number of online services including Ovi Share and Flickr using the built-in Share Online application, which is also integrated with the camera and gallery apps thanks to their "Post To Web" option.

The 5320 can play MP4 and RealVideo files, and Flash-based video too which can be viewed either separately or through the web browser on sites that have Flash videos embedded. Video files on your PC can be optimised for viewing on the phone (for example using Nokia Video Manager) and then transferred to it by USB cable.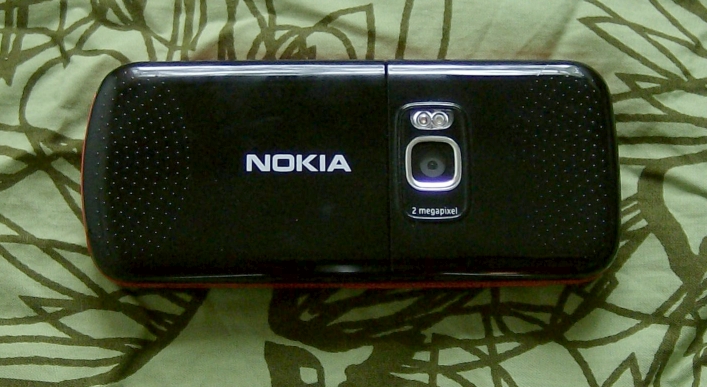 As an internet device
The 5320 contains the latest version of the S60 web browser, which is based on the same WebKit core as the iPhone's Safari browser, though unlike the iPhone the S60 browser has Flash support including Flash video. The 2 inch screen may make it hard to read text if you're fully zoomed out on a page with minimum font size, but if you're already happy doing that on the 6120 or E51 then you should be okay with the 5320 as well. The browser has been discussed so many times before that it's probably not worth going over here again. Third party browsers such as Opera Mini can also be installed if you prefer.

Webmail can be accessed through the web browser, and the messaging application also lets you send and receive e-mail using POP3 or IMAP4 accounts. These are fairly easy to set up on the phone as you usually just have to enter your e-mail address and password. If you're using Gmail remember to activate the POP3 or IMAP4 option for your account in your Gmail mailbox's settings section first.

As noted above, there's a built-in Podcasting application which provides easy access to a wide range of podcasts, though the lack of Wi-Fi makes it imperative to have flat rate or cheap data costs on your phone network.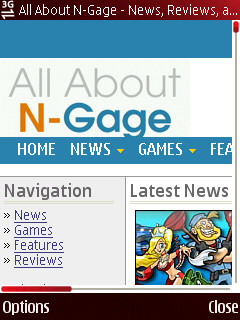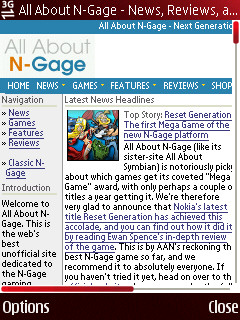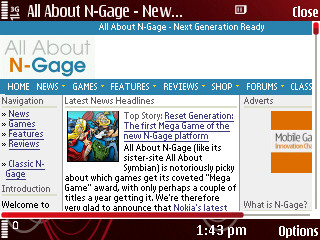 The All About N-Gage website viewed through the 5320's built-in web browser, first in normal mode, then zoomed out, then in horizontal mode.
Overall Thoughts
The Nokia 5320 XpressMusic has a lot of good stuff and some not-so-good stuff too.

The main things in its favour: a low launch price (which will lead to even lower prices after the usual drops start), excellent sound quality for music playback, N-Gage compatibility for gaming, the ruggedness of the phone itself, easy-to-use music and gaming controls, a 3.5mm headphone socket, a loudspeaker that really is loud, and a compact overall size.

The main things against it: an awkward keypad layout, the bizarre layout of the menu system and a crazy external card slot door which can't be opened externally.

Some people will also complain about things like the lack of Wi-Fi, auto-focus camera or GPS, but at this price level those kinds of features aren't really to be expected anyway. The 5320's hardware is easily good enough for the sub-200 euro market for which it is intended.

The 5320 is probably trying to sell S60 devices (and Nokia's music and gaming services) to young people and it definitely looks the part, it has good music hardware, and when the price drops have kicked in it will be at the right price level too. Nokia needs to get the firmware updated as soon as possible to sort out the illogical menu structure, that's probably the biggest weak point that can be fixed. It would also be nice if they embedded N-Gage into the firmware itself, so that people don't have to go through the slightly complicated process of installing the app manually.

While many tech sites concentrate on high-end 600 euro devices such as the N96 and iPhone, it's cheaper models like this that will quietly creep into far more people's pockets. This is a phone that ordinary people would feel comfortable buying. It's got flaws (some of which could be corrected through a firmware update) but this is exactly the kind of device that Nokia needs if it wants to get larger numbers of people using its online services and buying its smartphones.
AAS Score: 83%
Reviewed by Tzer2 at