Review:
Navicore Personal UK-Ireland 2006
Score:
81%
Steve Litchfield takes Navicore Personal for a spin and is impressed by the functionality, if not its speed or maturity.
Version Reviewed: 1
Buy Link | Download / Information Link
Navicore has been around the Symbian OS scene for several years now, but only recently has it started to get serious about selling a commercial product to end users, here with the S60 3rd Edition-compatible Navicore Personal.
On starting up, there's an activation by SMS but this happens very quickly indeed and there's no hanging around. You also have to tell the software which Internet access point you're using (i.e. pick your GPRS connection) so that Navicore Personal can grab traffic and speed camera updates. Unusually your first view is of the centre of your chosen country, even if you have a valid fix on your Bluetooth GPS, it doesn't try and zoom in straight away. The overview does show off the traffic integration though, with good display of all known incidents, updated every ten minutes by default - packet data use seems to be very low though, just a few kilobytes, so don't worry about your bill.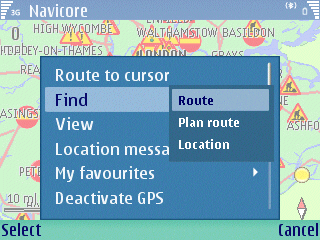 The way to get started is to 'Find>Route' (the top menu option), entering a street name into the 'Destination' dialog. I was pleased to see that all search quick matches are sorted by distance from your current position. Once OKed, the route is calculated and you're off and driving. By default, the main display is 2D, i.e. top-down, but it's easy to use 'View>Display mode>3D' to switch it into a more familiar first person 3D perspective.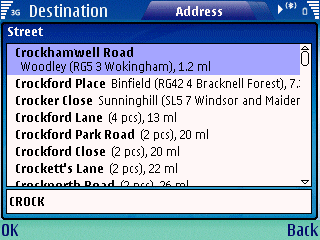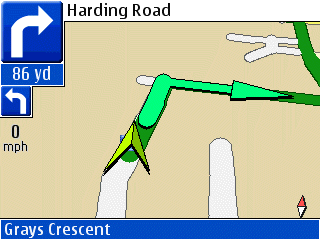 Voice instructions are somewhat more sparse than the chatterbox technique of the likes of Wayfinder, but this is subjective and it's nice to not be bombarded with repeated instructions over and over again. The screen updates quickly and, although the road displays aren't as pretty and mature as (say) TomTom Mobile 5 for S60 2nd Edition, there's still little doubt about where you are and what to do.
Calculation of new routes is fast enough (30 seconds or so for longer trips) and there are options for shorter routes (i.e. shorter but probably longer in terms of time), detours and for adding in (and removing) roadblocks. Rather curiously, despite choosing the 3D display as my default, Navicore went back to its 2D top-down maps several times during the test period, probably a bug in this version.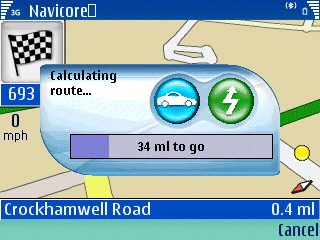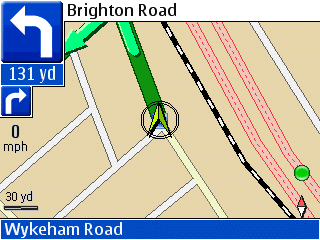 In addition to these two views, there's a 'Safety' display, with large turn instruction arrows and no pretty maps to get distracted by. The safety view also adds permanent display of both distance to your destination and ETA. Then there are a trio of GPS views, showing compass rose, compass strip and my favourite, the globe view, with a visual indication of where all the different GPS satellites are and their signal strengths - no use at all for navigating but very interesting nevertheless.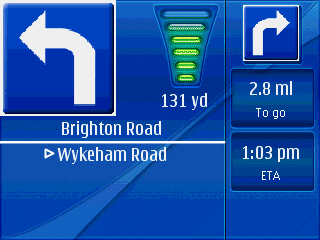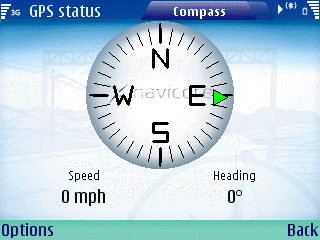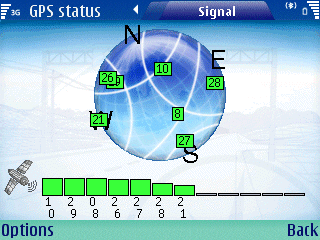 The Find route dialog is powerful but has its quirks. A tabbed interface means you can switch between looking for a street/address, a city centre, a POI (Point Of Interest), a contact, a favourite location, a specific latitude and longitude or a previously used destination.
Luckily, most of these work pretty well, but I had the most problems with the main address pane. Maybe it was the fact that I was reviewing Navicore on the keyboarded E61, but sometimes the first letter of my search string would get lost, other strings started off in lower case and finished in upper case and the way the quick matching system worked seemed to often take me by surprise - methinks there's some fine tuning needed in this section of the program code. There are other curiosities too, as in place names only being matched from the start, so that searching for "Bristol" brought up no matches - I had to type in "City of Bristol".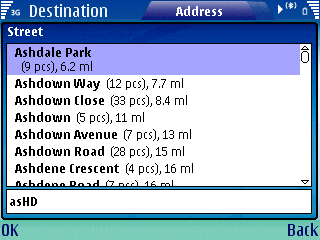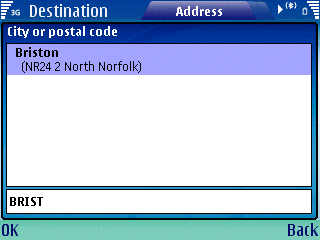 I was eager to try out the POI databases, which so often seem to be very poorly populated in many navigation systems. Unfortunately, it's the same story here. I looked for 'Places of worship', 'Car repair facility' and 'Doctor' as a test.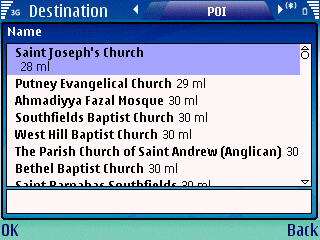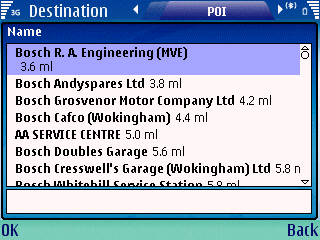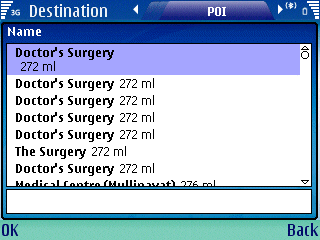 No churches for 30 miles? And 90% of all car repair facilities being branded Bosch? And, worse, I need a doctor but the nearest seven are all 272 miles away! Oh no! Other POI categories are better populated, so you'll be OK with golf courses, petrol stations and post offices, for example. But I wish companies wouldn't list POI categories that are obviously and horrendously incomplete.
Another way of specifying a destination is by zooming out on the map (shortcut key '2') and then popping up a scrollable cursor (shortcut key '3'), then choosing a location and using 'Route to cursor':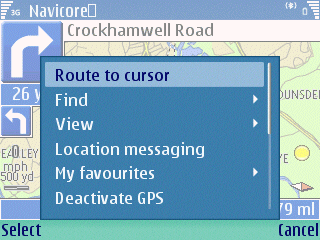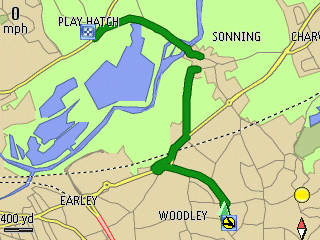 You'll remember I mentioned traffic information earlier? At any point you can use 'View>Traffic alerts' to see what's in the traffic database. It's easy to change the update period if you're worried about your GPRS bill (you don't need to be though) and the route planning engine inside Navicore personal takes the incidents into account when planning the fastest way from A to B, unless you turn the function off.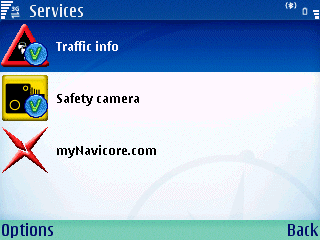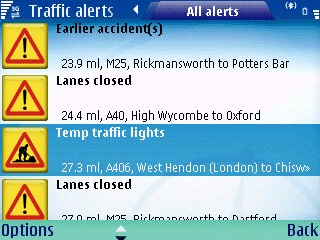 Also updatable is the Safety (speed) camera database. By default, a loud 'dong' sounds when you're getting close to a speed camera, a nice feature, although it doesn't allow for which direction the camera's facing. You can turn the alerts off in 'Settings' if you want to, along with plenty of other facets of Navicore, such as the guidance volume and voice used.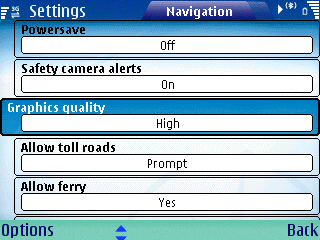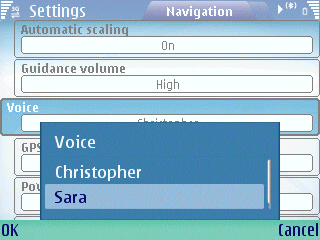 The same 'Proximity alert' system can be easily applied to POIs, by going into 'Settings>POI'. Checking each category makes items show up on the map views, while using the menu you can turn proximity alerts on in similar fashion to the speed camera special case: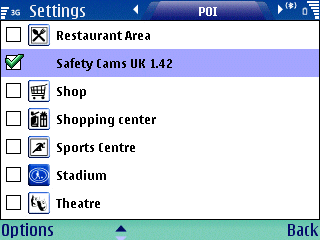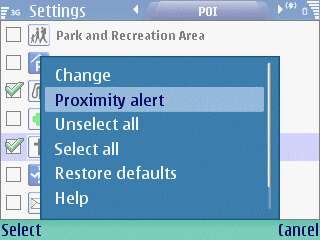 In addition to the wealth of funtionality above, there's an innovative 'beacon' system in which specially formatted SMS are sent out every so often to nominated recipient phones - if they have Navicore Personal installed they'll be able to see your position on their maps, and vice-versa if they're also sending out beacon messages. This is a nice idea but wasn't tested here and is probably a good subject for a separate feature.
Navicore Personal 2006 checks every single box on a purchaser's shopping list, works well nearly all the time and has safety camera and traffic systems included without need for extra subscriptions. But there are niggles, from the pedantic and quirky street dialog to the slow speed of menu and screen updates, from the poor POI population to the occasional re-appearance of the top-down map. While none of these are showstoppers, they take the edge of what is otherwise a fabulously fully-functionned satellite navigation system for smartphones.
Reviewed by Steve Litchfield at