Review:
N-Gage Replacement Covers
Score:
75%
Version Reviewed: 1.00
Any colour you like, as long as it's white.
That's what Henry Ford would say about the N-Gage's in the UK, because every place seems to have stocks of the white N-Gage, but nothing else. Even a cursory look at the device shows that the front cover clicks off almost as easy as the back cover. Could this mean the craze for customised covers of colour, artwork, and A.A. Milne's Tigger will soon be appearing on a games machine near you?
Allack, the all round good guys for N-Gage owners everywhere, are the first to carry Nokia approved custom covers, and the Editorial team here have long since disposed of their white covers so they can stand out from the crowd in whatever design from Allack they feel like when they wake up. So let's take a closer look at them.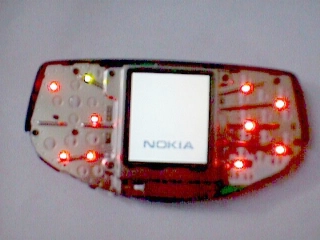 Doesn't look much does it? Ah but once you put them on... Wow! Even something as simple as the 'lime' cover (which has no artwork on it, it's just the lime colour all over) gives your N-Gage a lovely different look, and the finish feels wonderfully smooth and professional. All the cases have left intact the grey bezel around the screen that Nokia use on the original covers, and that not only enhances the idea that these are official covers (which they are) but also means you don't get too distracted when you're trying to pull a 720 Madonna with Back Flip on Tony Hawk's Pro Skater.
The other covers include some fantastic pieces of artwork. The 'Nuke' cover is probably the most subtle, with a light grey colour but lots of machine lines - it makes your N-Gage look a bit like something a Stormtrooper would carry.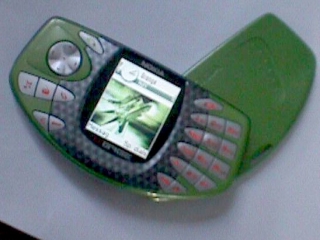 The others are based around a black finish, but have the sort of artwork normally reserved for huge murals in Universities where the Graffitti artists have been given free reign to do something inventive. 'Flash' and 'Flame' are particularly impressive.
These cases are a touch more expensive than covers for phones like the 3300, but that's to be expected. Nobody knows how strong the market is going to be, but if this first batch is representative of what we can expect, then I'm sure that more people are going to buy them, which should lead to lower prices. The one thing that could help here is Allacks website. They're still carrying computer generated stocks of the covers, and I feel that having genunie pictures of the coves would make people more confident in buying these cases over the net.
In short, these are groovy cases, and if you're the sort of person who wants to be a bit different, or you fancy a change, then these come strongly recommended.
Reviewed by Ewan Spence at