Review:
Mobipocket Reader
Score:
79%
Version Reviewed: 4.7
Buy Link | Download / Information Link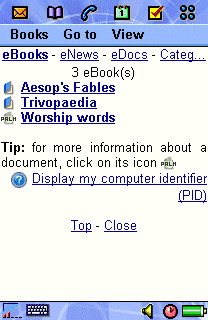 There's something both laudable and, at the same time, rather unsatisfactory about Mobipocket Reader. On the plus side, the developers get bazillions of brownie points for making the application (and its document files) completely cross platform. When I wanted a way of distributing my free Trivopaedia to the world, Mobipocket made it possible to get the file onto virtually any PDA or computer in the world. There are reader applications provided for all Symbian varieties, Psion's EPOC, Palm OS, Pocket PC and even desktop operating systems. And the same document file will work, unchanged, on every single one of them, which is extremely clever.
The accompanying Publisher desktop application can convert both HTML and word processor files into standalone Mobipocket documents, although some unfortunate translation errors in the header documentation mean that the license info is misleading (you CAN distribute your own documents for free, after all, as long as you don't charge money). And the main Mobipocket site is awash with good ebooks in the format, so you won't go short of reading.
You may have heard of AvantGo for Palm OS – Mobipocket comes with a 'Web Companion' utility that does the same sort of thing. You tell it which web-based channels (usually news-related) to go look at and it does the rest, detecting when you're online and compressing each site's stories. The resulting files are lean and efficient and installed automatically on your P800.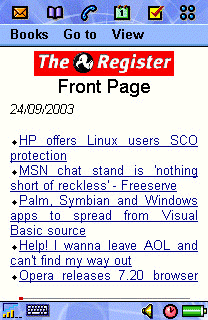 Thirdly, the Mobipocket Reader can handle standard 'DOC' etexts, the lowest common denominator in the ebook world, although even the latest version (4.7) is still buggy and the finding of text snippets is horribly broken.
Unfortunately, I have to claw back a good few of the brownie points mentioned at the start because of the general interface and functionality. In an effort to keep the interface the same on all the different platforms, Mobipocket has made one compromise too many – the interface seems rudimentary and fragmented in each of the different versions. Given that they'd already achieved the Big One, with compatible document files, there really was no need to make the applications all look the same as well. Better to use the strengths and styles of each platform, providing something that users of that device would instantly get to grips with. Ah well.
There's a (chargeable, obviously) Pro version as well (whose features you get for the first 30 days), although for 99% of us the free version is more than adequate. Considering the price, and the gripes above notwithstanding, Mobipocket Reader is an application that deserves a long and detailed trial.
Reviewed by Steve Litchfield at