Review:
Mobbler
Score:
75%
Have your mobile phone tell a big Orwellian database what music you're listening to? Just the sort of thing Ewan is looking for... honestly.
Version Reviewed: 0.21
Buy Link | Download / Information Link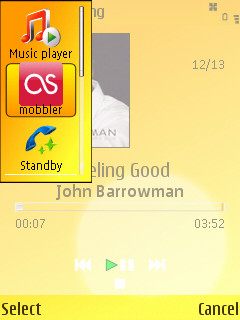 What's your favourite piece of music? What have you been listening to this week? Do you have an unhealthly obsession with... err... Hawkwind? (Sorry Steve, couldn't resist it). British web 2.0 service Last.FM has answered that question over the last few years to great effect. With a small piece of code on your PC or Mac music player reporting back what you actually listen to, Last.FM builds up an almost forensic like picture of your likes and dislikes, for you to investigate, find people who share your music tastes, and also to recommend music to you through a personal 'streaming radio station' built to your tastes.
And there might finally be a really good S60 client, letting your mobile music take part in the analysis as well.
I've pretty much switched to using my N95 8GB as both my primary digital music player and podcast downloader (the exceptions are when I'm going on very long trips and want to preserve battery life on the phone - at that point I'll switch to a standalone MP3 player for practical reasons), and I'm a big user of Last.FM on my PC. I've tried a number of solutions to get scrobbling (the process of telling Last.FM what music you are listening to) on the S60, and up until now I've been disappointed. The good news (especially if you're involved with Mobbler) is that I am disappointed no longer.
Mobbler does two jobs very well. The first is the aforesaid scrobbling of music played by the built in S60 Music player - bonus points here for not writing their own music application but simply using as much code as is already on the device. You do have to have Mobbler sitting in the background, but it looks to be a well behaved application, and doesn't impact much on battery or memory usage.
So it sits there, merrily noting down what you've been listening to. What happens now depends if you're online or not. If you are, and you log yourself onto your own Last.FM account (which is free to set up and run, apart from a few notable exceptions) then Last.FM will be notified about each song as you finish listening to it. If you're offline, then Mobbler will remember the tracks until you do go online; although if you exit Mobbler before the songs are uploaded then your playback history is forgotten. I'd like to see this fixed, not least because if the app does crash (and I've had a Kern-Exec 3 at one point when I loaded up the media player, podcasting client, Real player and Mobbler, all at once) then you can lose the historical data.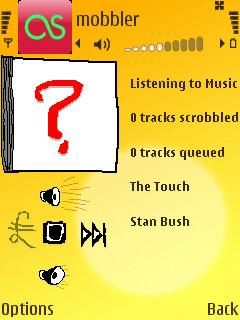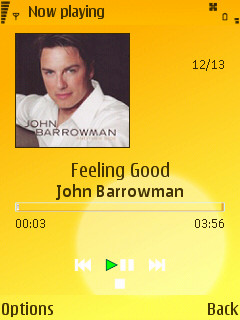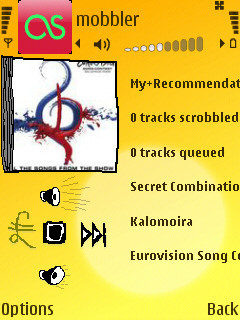 There's little more to say other than Scrobbling works, it does it in real time, and as you can see, the reporting on Last.FM is seamless.
The second job that Mobbler handles is the ability to listen to Last.FM 'radio' streams. These are customised (and legal!) channels for listening to music online. Thanks to Last.FM knowing your listening tastes, the recommended channel (which is available to every member) brings up new music that it thinks you will like. Mobbler will happily grab this stream and play it through your phone, and let you skip over tracks you're not quite sure about. Big warning - this takes a lot of bandwidth, so it might be an idea to only do this over Wi-fi and not a cellular 3G connection.
Mobbler is only acting as a conduit here, all the heavy lifting and processing is being done by the Last.FM servers, but I don't really care about the mechanics. I'm just glad I've got Last.FM in a usable form on my mobile phone, and even though the presentation of Mobbler on the screen seems a touch cartoonish at some points, it still does exactly what it sets out to do, and does it in a user friendly way. How useful this is to you depends on your thoughts on Last.FM. Members of the service should grab this open source application as quickly as possible.
-- Ewan Spence, August 2008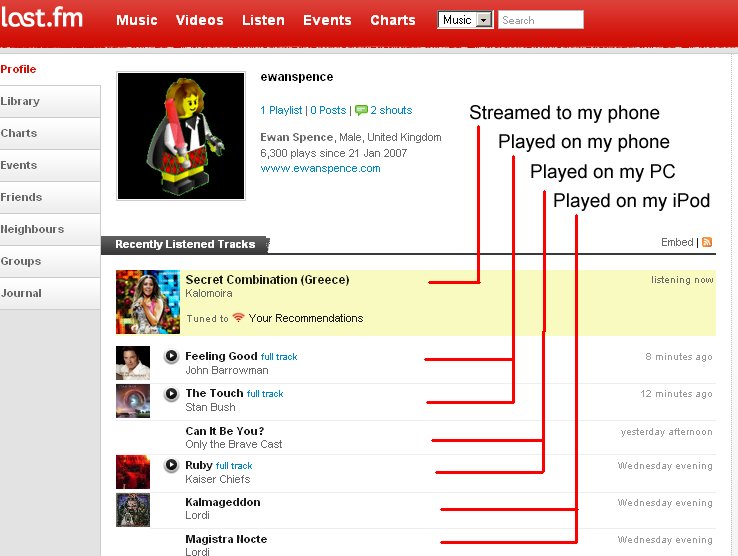 Reviewed by Ewan Spence at