Review:
Lucky Coins
Score:
78%
Version Reviewed: 1.00
Buy Link | Download / Information Link
SBSH have already had some notable releases on mobile platforms, now they've turned their eyes to S60. Following up the release of Safe Wallet Pro, they've now turned to the gaming crowd with "Lucky Coins."
If your first instinct is to imagine a small Irish leprechaun having "his lucky coins" around in the air, then (a) you need to lay off the Guinness and (b) you'd be right. Because the Emerald isle is very much the inspiration of the graphics and music in this game.
The gameplay is very reminiscent of the classic Bejewelled title – you have a grid of various tiles (coins, shamrocks, fruit) and you can exchange any two tiles that are next to each other horizontally or vertically. If you get three or more identical tiles lined up, they'll disappear and everything else falls down to fill in the gaps.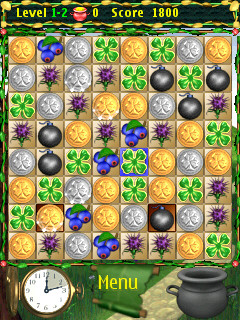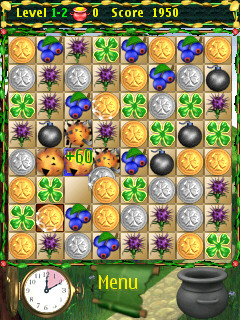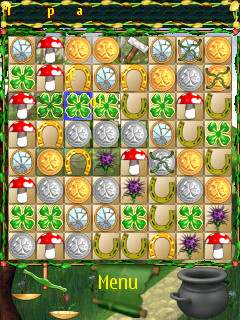 So what have SBSH added to the base gameplay, which is addictive enough in itself? Two main changes – the first is the addition of bonus tiles to give you a little bit of a helping hand, such as bombs to destroy a group of tiles, coloured potions which can remove whole batches of a specific tile, and clocks to give you a little bit more time to finish each level.
Yes levels, the second change. Rather than just a straight collection of points, Lucky Coins asks you to complete 25 levels (there are 5 styles, each with 5 sub levels to give you the full challenge). To complete each level, you need to find the hidden brown squares, which you can do by moving the tiles on top of them and make sure that you make some lines with the sparkling coins. These two tasks (one of which you can influence) are pretty well balanced, and give you both a clear goal and also the need to keep the game going as long as possible while you hunt for the hidden squares.
And if you run out of the built in levels, Lucky Coins will generate a new random level for you each day to work through.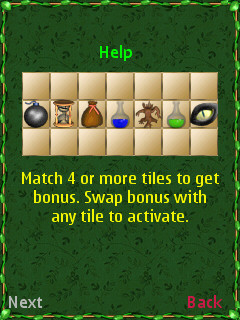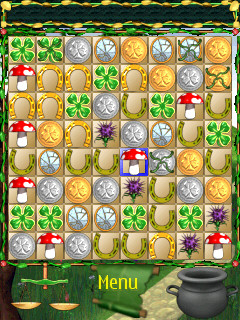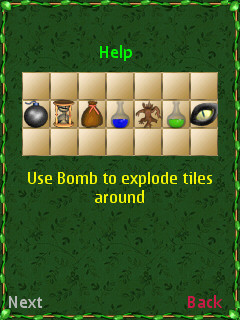 Lucky Coins works well on S60 devices, with a cursor moving around the screen, and one click to select the tile you want to move. Hit the direction you want to move/swap in, and your move is made. It's about as intuitive as you can get with a keypad – I'd be interested to see if a touch version is released for the 5800.
Given the all encompassing Irish theme, the liberties taken with the regular S60 interface rules are thrown out the window, but the charm has got to me. This is a good implementation of the Bejewelled genre, adding enough features to create its own style of play while retaining enough to feel familiar. For a first gaming title on S60, SBSH have done well, and I look forward to seeing more. Till then, Lucky Coins is staying on the phone.
-- Ewan Spence, Jan 2009.
Reviewed by Ewan Spence at