Review:
LCG Jukebox
Score:
55%
They came up with a great Email replacement app, can Lonely Cat do the same for the music lover? Ewan Spence finds out...

Version Reviewed: 2.14
Buy Link | Download / Information Link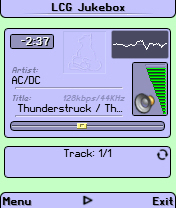 Now here's an interesting one – a

Music playing application designed for the heavy duty music user to run on S60 and UIQ devices (we're looking at the S60 version here) from Lonely Cat Games, a company that's done remarkably well with ProfiMail. But how well does their Jukebox stack up agains the built in music players on the N91 and E61i?
First of all, the N91. I'm a great fan of the music application that Nokia have written, and thanks to sensible use of the numeric keypad, I regard it as an equal to the iPod interface, and in many cases it does better than Apple's baby, so Jukebox has a lot to measure up to.
Jukebox is built around a playlist metaphor – you find your music in a file browser and select a folder's worth to add to a playlist. It is this playlist that you can navigate through with the cursor pad and number keys. I have to say that I'm not particularly happy with this single way of choosing tracks. Compared to the Nokia player (and any £10 MP3 player you can pick up at the local market), the ability to search on artist or album would be much appreciated.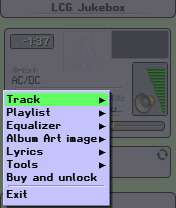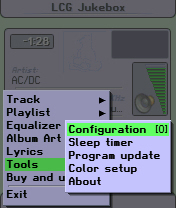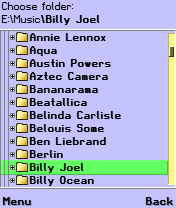 Two other problems specific to Jukebox on the N91 dull my appreciation. The first is that it can't see the main N91 playback controls, so hitting play will start the last tune in the Nokia Music player – great for beatmixing, but not for personal use(!) The second is that any access to the hard disk by other programs causes the music playback to stutter – something that I've never had happen with the Nokia Music player. It's fair to say that on a dedicated music phone, I'm not going to be switching to the Jukebox music player.
Jukebox does have some nice features – the ability to go online and look up lyrics to the currently playing song is not only useful in many situations, but it's well implemented in the application. I just wish this ease of use had been carried over to the selection of tracks from a large music collection.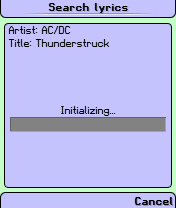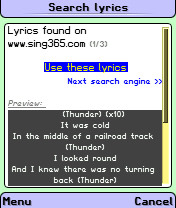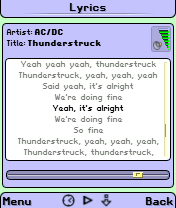 Also part of Jukebox is an Internet Radio player. Now this is a nice touch, but you still have to go into the 'Edit playlist' menu option to actually access it and choose a station - which is then added to the playlist for you to choose etc. There's a built in selection of stations that should cover most tastes, but be aware, unless you're using Wi-Fi, this could eat up a lot of bandwidth very quickly.
So how about on a device such as the E61 and E61i, where music isn't the primary goal? First of all, with a flash based microSD or miniSD card storing the music, the stuttering is no longer present (so the speed of the physical hard drive on the N91 can take some of the blame). There's also no pesky music controls getting in the way, so you'll be driving from the cursor and number-pad, as intended by the developers.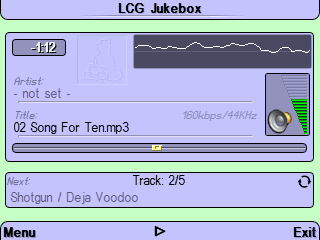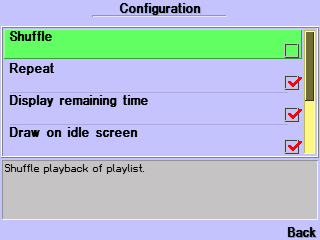 The problem with the song selection is still there, but as the built in E61i Music player has an extra dialog step to go through before you can search for tracks, this equals out the complexity of Jukebox's music folder system. A lot depends on how you've copied your music to the device – if you've kept some sort of order to them (e.g. one folder per artist) then you've got a good chance of navigating through to find your music here.
Overall, Jukebox is a bit of a hit and miss affair, with perhaps a little bit more miss. It's support for .ogg files will be welcome by some, but while it plays music well, finding it is the big problem. If track finding could be improved then this is a good replacement, but for now there's not a lot here to recommend, given that S60's Music player is free and built-in.
Ewan Spence, 11 May 2007
---
Reviewed by Ewan Spence at