Review:
HotViewer
Score:
71%
Version Reviewed: 1.00
Buy Link | Download / Information Link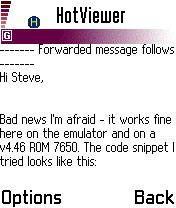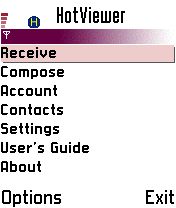 Let's get this straight, the email client on your Symbian Device (be it Series 60 or UIQ) is more than capable. It might not be perfect (for perfection, you need to look back at the email client on the Psion Series 5mx) but it does everything it needs to do.
Apart from talking to one of the biggest free email services in the world, Microsoft's Hotmail. Which is where this nifty 53kb Java Midlet comes in handy.
We've looked at Reqwireless before (with their Web Browser that's smaller than a jpeg of Wile E Coyote), and if you're familiar with that system then note that they use the same proxy server here to talk to Hotmail. What happens is that you provide your login details in the midlet, and it connects (via a GPRS or GSM Data connection) to the Reqwireless server. From here, you can see what is in your Inbox, reply as required, create new emails and edit a list of email contacts.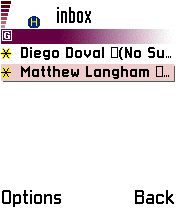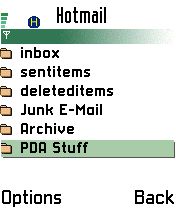 The main menu shows the full feature list. In a great move to save your bandwidth (something Reqwireless are pretty careful with) you can opt to start in your inbox, rather than in a view of all your folders. I'd rather see the initial view of the inbox than the folders to save on data bandwidth, but then I guess a lot of people might miss the folder option.
Anyway, clicking a folder will, after a bit of connection time (handily illustrated by a red progress bar) bring up its contents. Selecting an email to read means that the progress bar pops up again as the email is fetched and processed by the Reqwireless server into something readable on the Midlet screen (e.g. processing a complicated HTML email). This process uses the same engine as WebViewer, and I'm still as impressed with this now as I was when I reviewed WebViewer itself.
The other part of email is, of course, sending emails. It's not surprising that HotViewer can do this as well, although, because it is a Java Midlet, there are some caveats. The first is that any outgoing message is limited to 1024 characters. This isn't as bad as it sounds, as it's more than enough for a quick reply or for making a point by mail while you're out and about.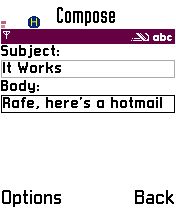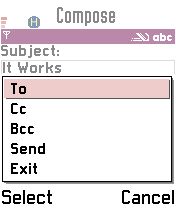 The other thing that got me trying to remember what I typed, was that the text box I typed the main email text into didn't expand when I moved to the next line. I could only see one line at a time by scrolling. Suddenly creating an email became a test of memory! While this might be needed for lower spec devices, I'm sure that a full screen, multi-line edit box would be more appropriate here.
Reqwireless don't program for a specific PDA or Smartphone, hence staying with the standard Midlet widgets and standards (i.e. what Midlets were designed for). This means that Series 60 (and UIQ) users are going to feel a bit cheated with the simple interface. Perhaps there's scope for a dedicated Symbian version?
In any case, HotViewer does exactly what it claims to do. While most people have access to a POP3 or IMAP mailbox, those that regularly use Hotmail will find this applet invaluable. It can handle HTML based emails, which is more than the built-in Email client (plus handling of Word files, ZIPs, images, etc.) so there are advantages. On the other hand, midlets are sandboxed and have no offline capabilities.
HotViewer comes out overall as a strong midlet and a useful bit of code to have on your phone.
Reviewed by Ewan Spence at