Review:
Handy Day
Score:
76%
Version Reviewed: 1.x
Buy Link | Download / Information Link
The purpose of Handy Day is to provide a days view of your 7650, appointments, tasks, sms, email, logs and of course favourite applications. It does this through a single unified interface that displays just what is required.
The review

On first hearing of Handy Day's favourite function, the ability to display 16 shortcuts on one screen I jumped at the chance to download and buy. Purchase was quick and easy. Unusually for Nokia 7650 Software, there was no need to register an IMEI number.
Now the thing that really impressed me about the software was the size, for those of us who are space conscious you can relax, the application weighs in at an installed size of - 86k - yes that small.
Features: Today Screen, can show appointments for today, up and coming appointments only. Tasks due including count of tasks active. Messages received, calls missed. The point is you only see what's relevant, ie: why show you 0 SMS Messages?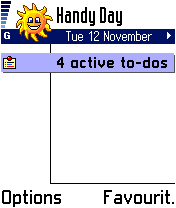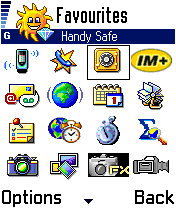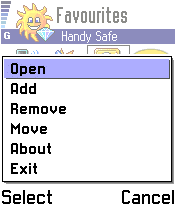 Clicking on the Favourit button gives you a glorious 16 small icons to cruise around. There is also an integrated advanced task manager.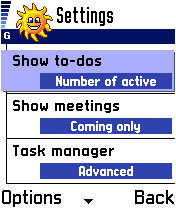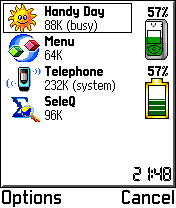 Conclusions
Four things make this software impressive, I find the software very clean, quick and simple. You have to admire the size of the installation 86kb, now that leaves more space for games!
When you open the grip its switches very fast.
An automatic key lock.
The small footprint.
The wonderful shortcuts, all 16 of them on the screen at once (you can have more)
Size 86kb.
Reviewed by Rafe Blandford at