Review:
Handy Converter
Score:
80%
Buy Link | Download / Information Link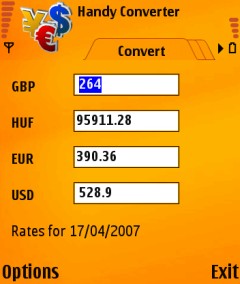 Handy Converter is quite simply a perfect piece of software. It doesn't do much, but that little is done without any flaw, inconvenience or confusion. Everything is where it should be, everything can be reached in less than 3 button presses, everything is clean, straightforward and easy to understand.
The software is a currency converter (hence the name) which shows you the 4 preferred currencies from the full list of 34 currencies on its main screen. You can type your numbers into any of the four entry fields to get a converted figure in the other three instantly. You can see the date of the last rate update all the time and, if you think the rates on your phone are out of date (as they will be), you can update them with the latest figures from the European Central Bank easily. It takes (literally) seconds, so having up to date rates is not only easy but cheap as well.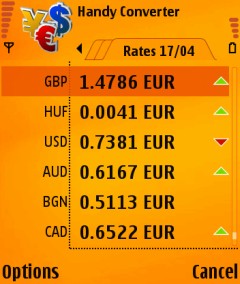 There are two more screens you are going to be less likely to need but they are there nonetheless. On the second tab you get a basic calculator for your 'currency exchange operation', you just have to enter the amount, the rate and the commission percentage. You can't pick the rate here, which makes this function slightly limited and less useful, but it's perfect for conversion between currencies that are not on the list of 34 currencies from the third tab. That list is a catalogue of the latest rates compared to Euros, in a quickly searchable table, where you can even see if the rate of a certain currency has gone up during the last update or down.
There might be (are) other applications doing something similar (amongst other things) but if you need nothing but an efficient currency converter, you should definitely considering buying Handy Converter.
(Available for all Symbian OS platforms)

Attila, AllAboutSymbian, 25 April 2007
---
Reviewed by Steve Litchfield, Attila Katona at