Review:
Handy Book
Score:
81%
Read eBooks on your Series 60 phone.

Version Reviewed: 1.50
Buy Link | Download / Information Link
Introduction

From my stand-point, the Nokia 7650 (apart from being a nifty phone), always had the attraction of filling a role in my digital life. While I still use my Psion NetBook as my 'big' computer (for me it truly is a replacement for a laptop), until the 7650 came around I still hadn't found a replacement for the trusty Palm III - which is approaching seven years long service (Whhaaaaattt? – Rafe). Don't look at me like that, Mr President, you should always choose the right tools for the job!
While the 7650 doesn't replace all the main areas (and I'm considering that to be a decent Palm Desktop style PC Sync), Handy Book means the 7650 can now take over one of the three main reasons I still carry the Palm. Reading Books
Ebooks, A Quick History Lesson.
EBook Readers (as they are commonly called) are now used to handle very large text file, which could be an FAQ, some technical documents, but primarily novels. Long ago, when the original Palm Pilots had 128K or 512K of memory (and couldn't handle text notes over 4000 characters), someone came up with the idea of a text compressor, which would decompress only the portion of the text that was visible on the screen, and prepare the next screen in the background while you were reading the current page.
Not surprisingly, it became rather popular, and the Doc file format (as it came to be known) became so popular that you get a Doc reader shipped on the CD that accompanies every new Palm. Doc Readers are available for pretty much every PDA out there, from EBook on the Psion and Communicators, Aportis for Palm and PocketPc, and a hundred others for desktops and handhelds alike.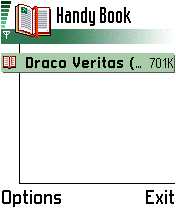 Now with Handy Reader on my 7650, I can Bluetooth over the latest episode of the BOFH, various online serials, and the occasionally mammoth copy of "Harry Potter and the Paradigm of Uncertainty"
The Review
Handy Reader reads EBooks in Doc or Text format, and does it really well. (Oi! Not another Yahtzee, Spence! – Rafe)
The Longer Review
Oh, all right then. Yet again we have an application that does exactly what it says on the tin. You've got two main views, and one main option.
View one is the library, which shows all the readable Doc on your machine. It also has the strange habit of picking up your written MMS messages as well – which can be a boon and a curse at the same time. The second view is the book itself, and in here you get the main option, which is how big you want the text to be. You get the perfectly described choice of small, normal and large.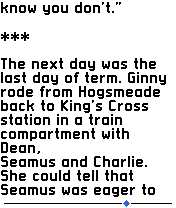 And that pretty much sums up Handy Book. It's simple, straightforward and when you get engrossed in something you don't notice that you're reading on a phone.
The one thing that isn't really clear in the accompanying documentation is how to make your own Ebooks. Epocware bundled a text to Ebook converter in their Ebook Reader for the 9210 communicators (it took in html or text files, and converted them into the Doc format, but this isn't a practical arrangement
You can use your Communicator to do the conversion, and then a quick Send Via InfraRed allows you to move a new Ebook from the 9210 onto the 7650. You can also use a number of PC based conversions, the most flexible being MakeDocW (which can be found here…).
Conclusions
I love Handy Book. Well, I love reading full stop, so this was a given. The strength of Handy Book is the fact that it is almost invisible. Because the interface is logical, you pretty much hit the right key when you need it. This means all your attention is on whatever you're reading.
And this is the only small problem. Because the majority of what I want to read takes 600K to 1mb, even when compressed in the Doc format. Argh, that's almost 25% of my phone! To me, it's worth loosing that amount of space, but it does mean that I only carry one book at a time.
81% - Even being the only Doc Reader around, Epocware have made another well thought out and polished application. Recommended.
(Oh, and the other two reasons I still have my Palm? Space Trader and an InfraRed Furby virus… Any takers?)
Reviewed by Ewan Spence at