Review:
HandyPaint
Score:
75%
We've all seen the semi-viral videos, where someone (apparently) knocks up a faux-impressionist masterpiece using nothing more than a smartphone touchscreen. It may be that I simply don't have the talent, but I'm a little sceptical, given the sizes of phone screens. Mind you, with software like HandyPaint, reviewed here for S60 5th Edition and UIQ 3, at least the tools are there to get close to the picture in your imagination. HandyPaint is something of a labour of love and it shows - it's not perfect, but is powerful and still improving.
Version Reviewed: 1.12
Buy Link | Download / Information Link
Let's be honest here - 'painting' on a phone or PDA touchscreen has always been something of a novelty, traditionally with a stylus on a resistive touchscreen but now also possible with fingers on a capacitive screen, as here on my review Nokia X6. But novelty or not, it hasn't stopped all of us wanting to have a crack at it once we spy a touch interface and colour display.
There have been a number of basic applications to allow this on S60 5th Edition, notably Nokia's own Paint Pad and 'Drawing', built into the N97's firmware, but HandyPaint is the most advanced so far, by some margin. It's still miles behind a painting program from a desktop computer, but it's here and it works.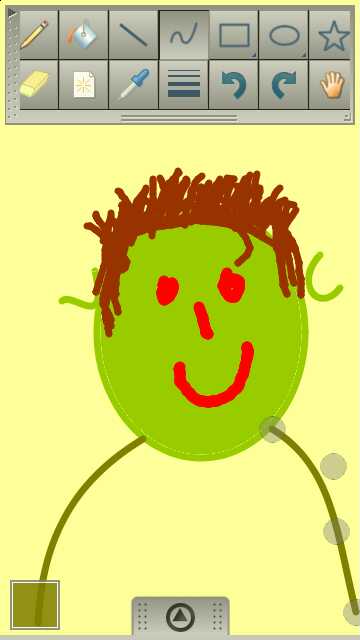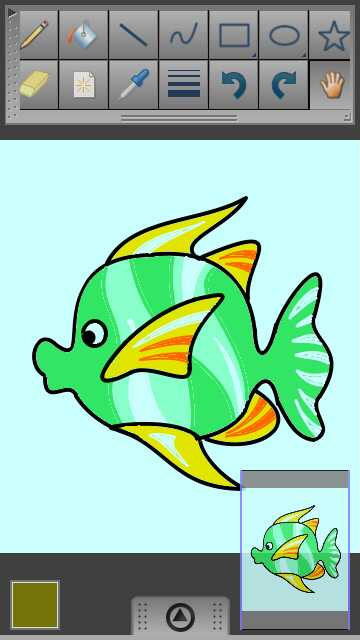 A left-right scrolling toolbar of eighteen icons forms the main control interface, with everything from a basic paintbrush of variable thickness to fill tools to 'bezier' curved lines (adjust the curves by dragging the control points - though once set, you can't adjust them later, vector-style) to predefined outlined or filled shapes. Tapping and holding on many of the controls brings up a pop-up list of alternatives, as needed, just as you'd find on a desktop paint toolbar.
Having a colour sampler (the 'pipette') is a nice touch, as are the zoom and canvas size tools - in theory you could work on a desktop-sized masterpiece and zoom in to perform detailed pixel-level work, but this would be masochistic in the extreme, if I'm honest. A text tool provides an unintuitive but surprisingly powerful text placement function - enter your characters and you then get to move them around the screen and size them dynamically until they 'look right'.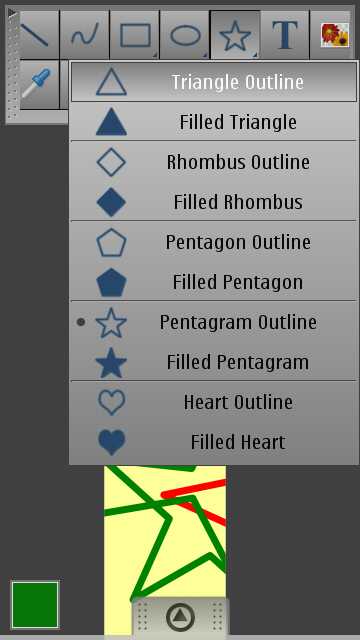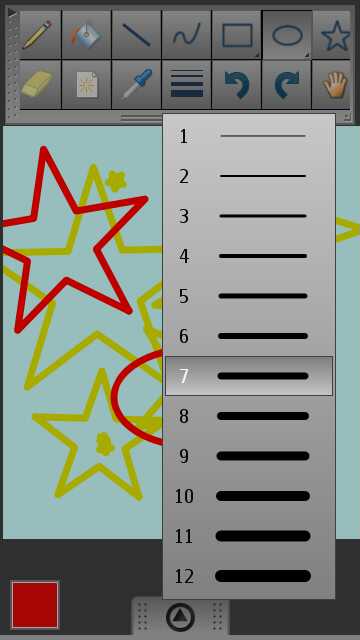 The main file and application operations are on an Android-style pop-up pane at the bottom of the screen, with four different bitmap file formats and a variety of colour depths, saving to a location of your choice on your smartphone's disks. 'My Paints' is a thumbnailed view of the pieces you've created and a nice way into the file system for beginners.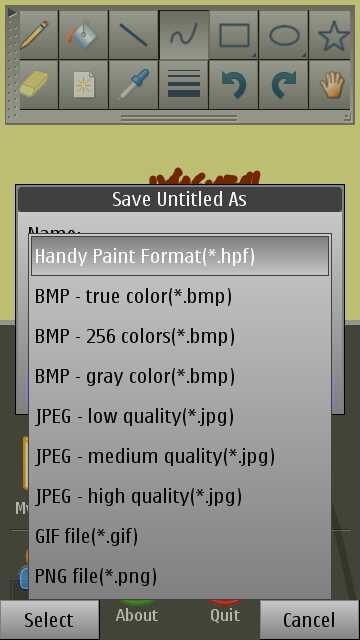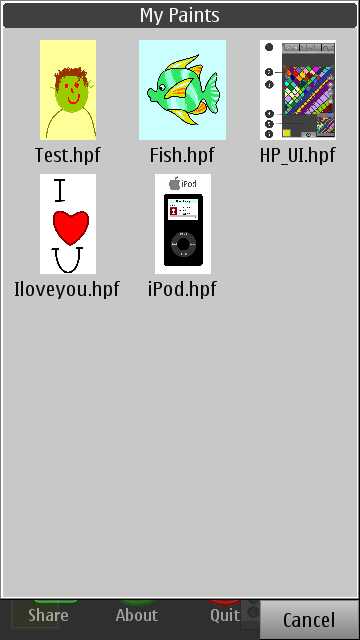 A 'Share' function ties in with Nokia's Share online system or you can opt to 'Send' your creations in the usual ways, via Bluetooth or MMS. HandyPaint is nothing if not well rounded. I did mention earlier that it's by no means perfect, mind you. Although it works in landscape mode as well as portrait, the canvas is then 'wrong' and even starting in landscape mode doesn't seem to make new canvases in 640x360 aspect ratio. Turning to landscape on the Samsung i8910 HD also has 'issues', in that the app crashes when the landscape keyboard appears for entering text. Finally, the virtual function keys that appear to accept or cancel the pop-up dialogs are particularly insensitive and required a number of stabs each before I managed to tap the apparent sweet spot.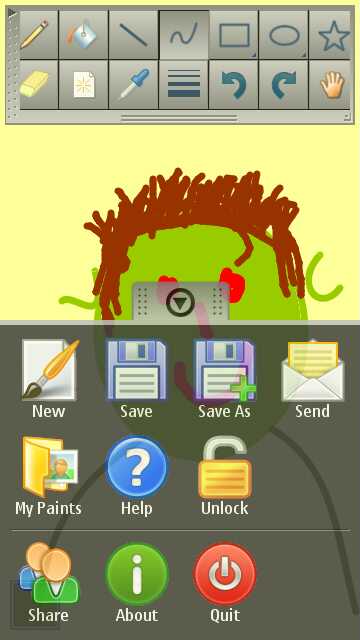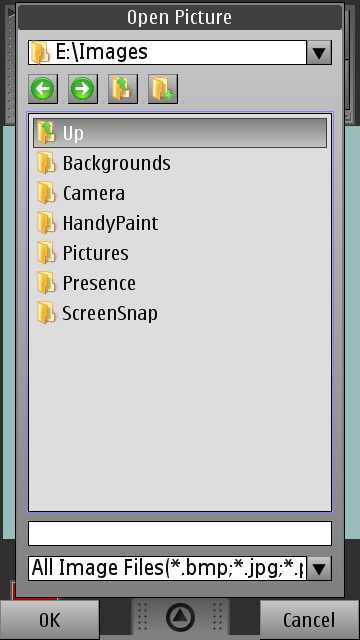 Still, I did mention earlier that this feels like a labour of love from MobiVio and they're keen to provide updates and fixes. There's a 'check for update' option within the app, too, so you're unlikely to be left stranded. Most importantly, the trial version is fully functioning so you'll know up front if it's worth paying the significant $15 purchase price.
Here's the download page though note that, oddly, the Sony Ericsson S60 5th Edition phones are all listed under Nokia! Don't let that put you off though - this one's worth evaluating if you've got an ounce of artistic talent in your hands. Just don't expect to enjoy it as much as a physical canvas and real paintbrush - computer painting remains something of an acquired taste!
Steve Litchfield, AAS, 14 July 2010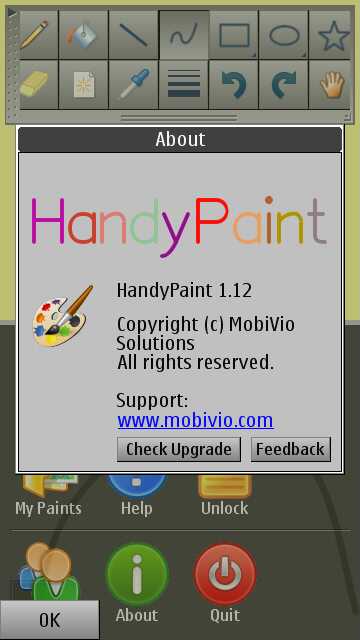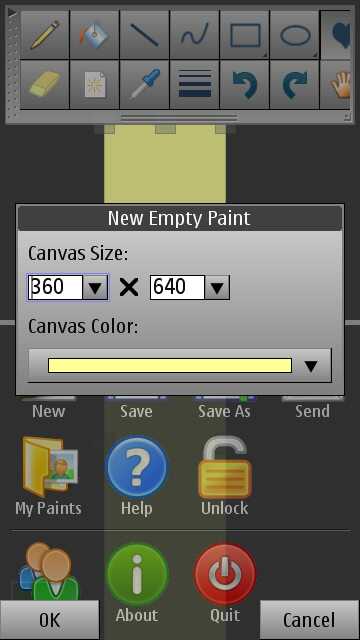 Reviewed by Steve Litchfield at