Review:
Google Local for Mobile
Score:
88%
The application that promises the earth - literally!
Version Reviewed: 1.1.1
Buy Link | Download / Information Link
Impressive. Staggering. Awesome. Expensive (in bandwidth). Unfinished. The superlatives, good and bad, just roll off the tongue when talking about Google Local for Mobile (a.k.a. Google Earth for your smartphone). That it can attain a score of 88 when it's incomplete and when it's not even a native Symbian OS application should tell you that this is something rather special.
Essentially, Google Local for Mobile (GLM) is a 100K Java (J2ME) application for just about every Symbian OS smartphone (and many on other platforms, including Windows Mobile), provided there is enough RAM to work in - around 4MB should be enough. On some devices, such as the Nokia 6680, you might have to close down other applications first or even reboot, in order to gain enough headroom.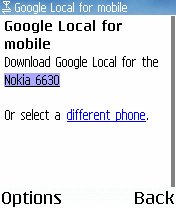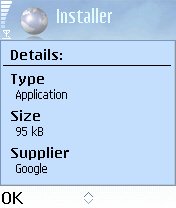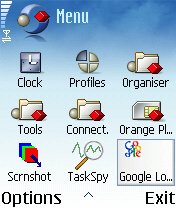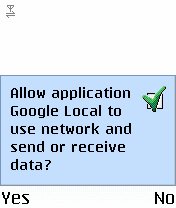 Step one is to head on over to the GLM home page on your smartphone. If the correct device is not auto-recognised, just pick it from the list. My Nokia 6630 was picked up, but I had to manually tell it about my Nokia 9300. In either case, a simple and quick 100k download later, there was a new GLM icon on my Menu/Desk.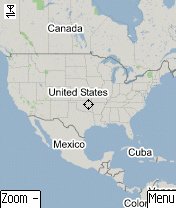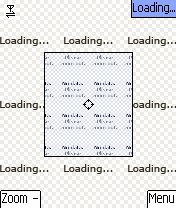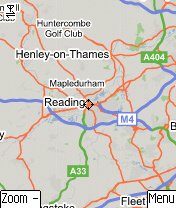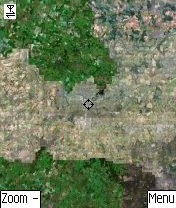 Now, GLM is currently heavily US-centric, but then it's an American product and it's still in beta. And it doesn't even claim to support anywhere outside the US, but that didn't put me off. GLM's menu is popped up with the right soft key, from where I searched for Reading, UK, and then switched from the 'Map' view to the 'Satellite' view. I then zoomed in on my house, step by step. Zooming is via the main navigator - press once to zoom in by x2, press twice for x4, and so on.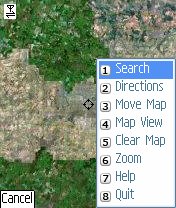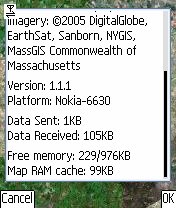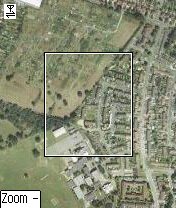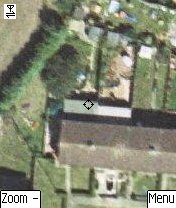 Scrolling around isn't too slow, the tiled redraw of each area is interesting to watch and my only real concern was wondering what all this is doing to my GPRS data bill. The Satellite images vary in detail, hue and quality, depending on which part of the world (or even which part of a country) is being viewed, but Google have still done a superb job matching the main map data seamlessly to the satellite imagery.
The aerial photography of my house, in case you were wondering, must have been from around 2 to 3 years ago, because a summer house erected in 2004 isn't shown. So privacy isn't an issue here, you're seeing the world as it was quite a while ago.
---
Before carrying on with the rest of the review (on a S60 smartphone), here's a taster of Google Local for Mobile on a different device, in this case a Nokia 9300:


The opening screen


Doing a spot of aerial tourism in the Nigerian lakes...


Heathrow from above


Wonder if I can see my Aunt Edna getting on one of these planes?
---
Again, the satellite images are always impressive, though as you can see from the Series 80 screenshots above, you will occasionally see joins and mismatches. The aerial photos are available for most of the Earth's surface, which is pretty cool, although much of the world outside the US is devoid of proper mapping and tagging, so you're limited in what you can search for (or get directions to) in the current GLM beta. With Google's resources, I'd expect this to improve drastically in the coming year.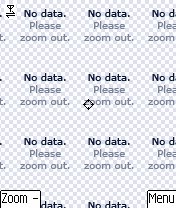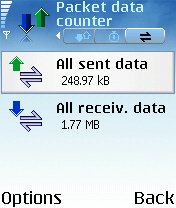 In terms of data use (over GPRS or 3G), a short session with GLM will need a Megabyte or so of bandwidth. During the course of researching this review, I managed to get through a whopping 6MB - my wallet is still cringing! Anyway, on with the review and the splendours of Google Local for Mobile.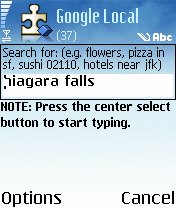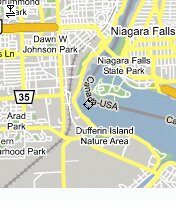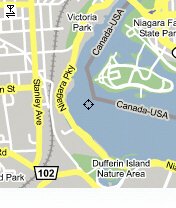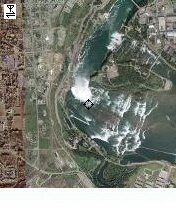 I realise that the majority of the worth of GLM is in the underlying geographical data, Points Of Interest and route planning - and we'll come to that in a minute. But it's just so cool thinking of places to visit and then zooming in to see what they look like from above.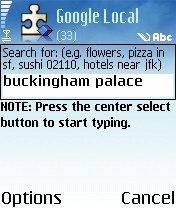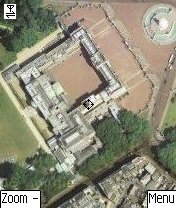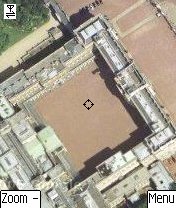 But enough of the sight seeing. Google Local for Mobile is supposed to be useful, not just cool. Say I wanted to find a hotel in Detroit: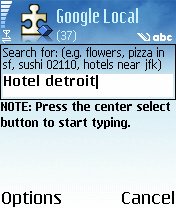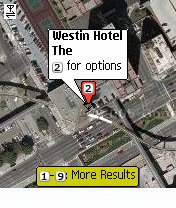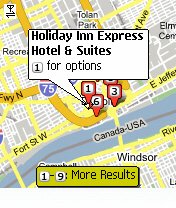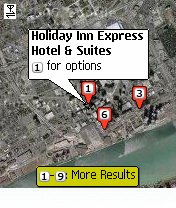 The underlying search is performed by the same engine used in Google Maps on the desktop, returning the ten top matches for your search string. Each is flagged, and pressing the appropriate number key on your keypad switches to each find. Simulataneously, you can also pan around, zoom in or out, switch between map and satellite views, and so on. Here's another example, looking for a chinese restaurant in New York: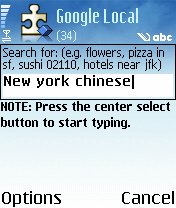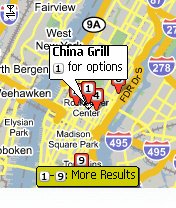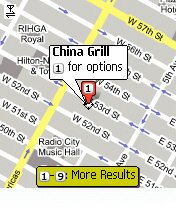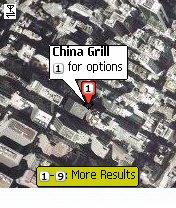 Both of these searches were in the US, of course, although again I'd hope that the same depth of information would gradually encompass most other countries, making GLM a fabulous global resource.
Finally, GLM has another ace up its sleeve. As with Google Maps on the desktop, it can provide detailed route planning, with each step of your journey shown graphically on either map or satellite views: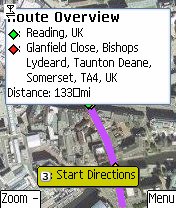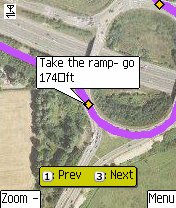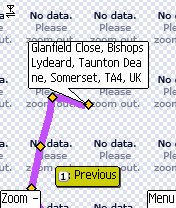 This is awesome, it really is. OK, so there's no GPS feed, so it doesn't compete directly with voice-guided sat-nav solutions like Route 66, Wayfinder and TomTom MOBILE. But it's still a very powerful way to visualise a route before setting off and, yet again, it's just super cool. As you can see, my destination (in Somerset, 150 miles away from London) was known by the underlying route planning engine, back at Google HQ, but there's no visual map data available yet for anywhere much outside the US and country capital cities.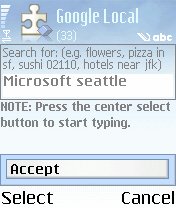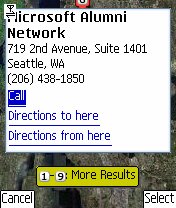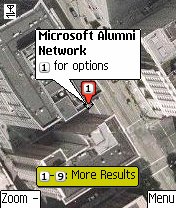 The interface is object-oriented, at least to the degree that, having found something, you can pop up information (e.g. to call the company/organisation) or get directions from/to it.
---
It's almost impossible to convey how significant Google Local for Mobile is, though Lord knows I've tried, with over 40 screenshots above. Ten years ago, I was sitting at my desk, hand-digitising Great Britain at a very basic level, for my Psion/Symbian shareware product Mapper, mainly because there was nothing else available. Five years on and TomTom started producing professional route planning, GPS-integrated street planners and navigation software. Five years on again and virtually the entire planet is available, online, with streets, route planning, features, attractions and satellite imagery down to 'that's dot is me in the garden' house level. And it's all completely and utterly free, available to anyone with 100k storage space and 4MB of free RAM on their smartphone. Quite, quite mind blowing.
Kudos to Google in all this, they're the ones bringing everything together. Yes, their expansion ideas have been somewhat scatter-gun in nature, but if some of the hits end up as useful and fun as this, I for one applaud them.
The one caveat (beyond the incomplete global coverage, which I'm sure will be fixed as GLM comes out of beta) is that it's naturally a little heavy on mobile data. Americans with flat rate GPRS and 3G plans won't be bothered, but here in Europe a couple of Megabytes extra on your GPRS useage equates to anything between £5 and £15, depending on tariff. As ever, the carriers need to produce more affordable tariffs if they want people to start using their networks in earnest. With the likes of GLM and mobile web browsers, there's just so much potential for true interactivity using smartphones, but it'll never really take off until people like me stop thinking 'I want to look this up, but it's going to cost me - I know, I'll do it later on my PC/broadband connection'.
Regardless of bandwidth caveats, Google Local for Mobile is a landmark system and at the very least you should install it on your Symbian (or Windows Mobile) smartphone and try it briefly for yourself.
Reviewed by Steve Litchfield at