Review:
Golf Pro 2
Score:
57%
Version Reviewed: 1.0.0
There's a well known English saying that you shouldn't look a gift horse in the mouth. In the context of Golf Pro 2 (for more on the name, see the note at the end of this review), its availability for free with some of the Nokia S60 3rd Edition smartphones should, in theory, mean that noone's going to complain too much if the game itself disappoints.
However, there's a problem. With a really good game, the purchase price is irrelevant, you're going to be playing it for a dozen hours a week and whether it's free or costs £30 doesn't matter that much. In the case of the original Golf Pro Contest (for S60 2nd Edition devices), Rafe and I would each play it daily and rated it very highly indeed. And with sports simulations, it's not a question of working through some quick plot and then getting bored. In Golf Pro Contest, there was always last time's score to beat, and with different wind strengths and directions for every hole, every time. Yes, there were some flaws, such as the single course, the confusing wind indication and the occasional lie detection problems, but the sheer gameplay carried us through.
The problem is that Golf Pro 2, developed by a new programming team, published by Synergenix and licensed by Nokia, isn't a good game. It could have been, mind you, and a worthy successor to the original, with plenty of nice touches, but the course design seems to have been done by a water-sports mad scientist, with holes more closely resembling the Florida Everglades than Augusta. I'm all for the odd lake or stream, to add interest, but the holes in Golf Pro 2 are so unrealistically and tortuously designed that the game's become more of a puzzle and less of a golf simulation. Where's the fun in a golf game that sees you double or triple bogeying most holes, with frequent dips in the lake, and where you'll regularly hit the 'stroke limit'?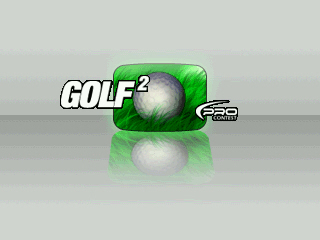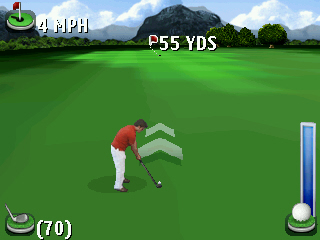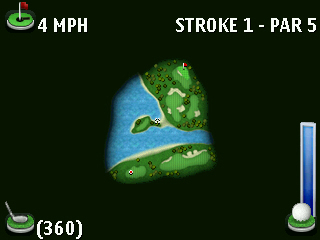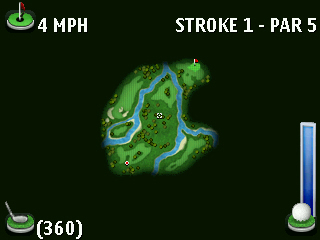 Now, this is obviously just my opinion, but my credentials including becoming fairly expert (over the years) and most of the golf game classics, including PGA Tour Golf and Links, and even writing my own golf game (Fairway) for many Psion and Symbian devices. In short, I hope by now that I'm a pretty good judge of what makes for good golf gameplay. After an hour with Golf Pro 2, I was having to force myself to continue, which is er..... not a good sign.
There are some positives, too, leading to the hope that with completely redesigned courses the game could be reissued in far more playable form. The graphics are extremely attractive, even working perfectly on the wide-screened E61, as you'll see here, and I love the 3D aerial shots of the ball in flight. Set up of the clubs, aiming and swing are adequate, although I'd prefer a more sensitive and responsive hook/swing control.
Display of wind direction and green break are OK, with the latter sporting a natty animated chevron overlay in a little window at the top-left of the screen. When putting, the aiming control is too coarse, but this should be easy to fix should Synergenix publish a revised version of the game.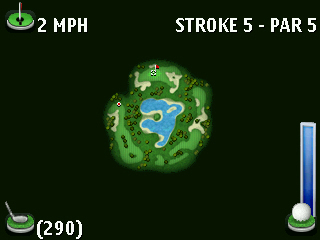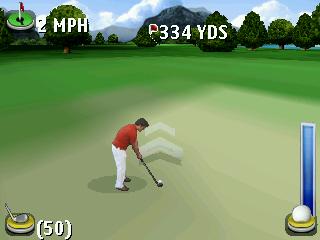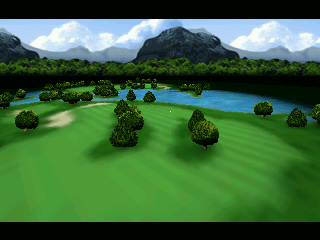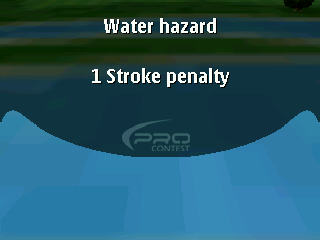 In summary, Golf Pro 2 doesn't really hold up as a commercial game. While it's nice to have it for free with some communicators, if Synergenix want to actually sell this then they should sack their course designer, pick up a few real world courses instead and do a little tweaking. And then call me, to put it all to the test....
As a side note, you may be wondering why I've titled the review 'Golf Pro 2'. This is what the game calls itself on the S60 applications menu. Depending on where you look, the game is called "Golf Pro 2", "Golf Pro Contest", "Golf Pro Contest 2", "Golf Pro Contest 3D", "Golf 2 Pro Contest", and don't even get me started on the different capitalisation options. Note to developers: be consistent in your titles!
---
Bonus external link: how a handheld golf game should be implemented(!)
Reviewed by Steve Litchfield at