Review:
Frutakia for S60 3rd Edition
Score:
73%
It looks just like a fruit machine but it isn't one! So just what is CrazySoft's latest puzzle game, for S60 3rd Edition and UIQ 3, 'Frutakia' really about?

Version Reviewed: 1.0
Buy Link | Download / Information Link
Frutakia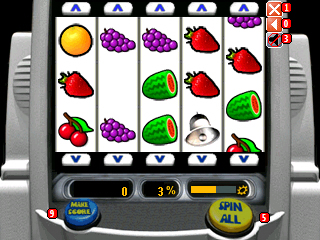 Despite what it might look like in the screenshots, Frutakia is NOT a fruit machine simulator! It's actually more of a puzzle game than a gambling one, although one game mode does have a strong gambling element to it.

The idea is to nudge the wheels of the fruit machine so that they form lines of three or more identical symbols horizontally, vertically or diagonally. When the lines are formed, the symbols disappear and are replaced with new ones.

Nudging a wheel uses up your life bar, as does pressing the "spin all" button which re-spins all of the wheels, and when your life reaches zero the game ends. Forming a row restores life and adds to your score.
Game Modes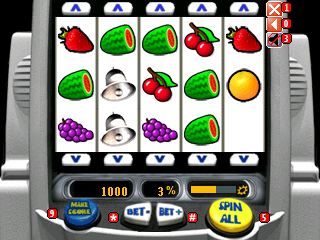 There are three modes of gameplay:

- Easy Game: Very straightforward, you just have to nudge the wheels to form lines as described above.

- Hard Game: The same as the Easy mode, but your life constantly runs out even when you aren't nudging or spinning. You have to form lines as quickly as possible just to stay alive.

- Frutakia: An interesting twist on Easy mode, it lets you decide how much to bet on being able to form a line with the next move, from 3% to 99% of your current score. To add to the novelty, nudging uses much more life than in previous modes, and it's safer to press the "spin all" button instead.

You can upload your scores to CrazySoft's web site by using a special code given to you on the game's scoreboard.
Controls
The game works well with any phone's keypad, you just press the number that corresponds to a particular option on the screen. Gameplay itself is easily accomplished with the direction pad or joystick, you just move left or right to the wheel you want to nudge and press up or down to nudge it.
Graphics & Sound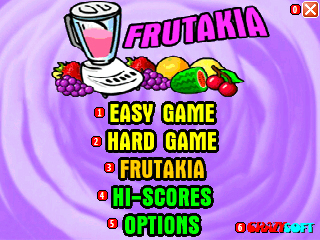 Frutakia features nice artwork and is well animated, but as with most puzzle games the graphics aren't exactly spectacular. The fruit machine wheels spin nicely and the symbols are colourful and easily distinguishable from each other, but there's nothing else to see.
The sound is adequate but nothing special. You get the sound of the wheels spinning, clicking into place or being nudged, and of course the various bleeps and bloops you'd expect from a fruit machine when you score.
Overall
Frutakia is a slickly presented and unusual puzzle game; CrazySoft have clearly tried to do something a bit different, which is always nice to see. It's an easy game to get into, and the gambling mode is strangely addictive as you try to keep beating your previous score by choosing the right moments to make high bets.

However, it doesn't have as much depth as it should do. You don't get a feeling of developing any strategy as you play the game, it seems like you win more by good luck than sound judgement. One of the problems is that you can't see very many symbols on-screen at once, which makes it difficult to plan patterns in advance. Although you can theoretically see the off-screen symbols going past you just before wheels grind to a halt, it's almost impossible to remember what they are for any length of time.

If you just want something undemanding to fill in time Frutakia is fine, but there's not much here for advanced players.
Krisse, 22 March 2007
PS: You can see a video of Frutakia in action on the Unofficial Nokia Gaming Blog.

---
About this review
This game was reviewed on a Nokia E61, and used the
S60 3rd Edition version of Frutakia
. There's also a
UIQ 3 version available
. Please note the S60 3rd version requires a QVGA screen resolution, either 240x320 or 320x240.
Reviewed by krisse at