Review:
Endomondo
Score:
75%
Sports Tracker isn't the only game in town when it comes to GPS-tracking your workouts. And especially not when it comes to sharing these with others, either for interest sake or to provoke healthy competition. Here, Ewan reviews Endomondo, a largely server-side solution that has a wealth of social features, in addition to the traditional mapping and logging summaries.
Version Reviewed: 2.00(0)
Buy Link | Download / Information Link
One of the observation s made by Nokia over the last few years is that your phone is one of the few things that you will always have about your person. If you run out the door, you tend to grab keys, maybe some money, and almost always, your phone. Couple that "always with you" idea and the built in sensors on newer devices and you start to open up some great pairings of software, hardware and the real world.
Endomondo is one of those pairings.
Let's start with the software on the handset. Endomondo is a fitness tracker. It hooks into the GPS chip on your smartphone, and with that it can store all your runs and routes as you work out. As long as you remember to hit the start button (the left softkey) and set up what sort of sport you are doing, then Endomondo will happily keep a diary of where you go, your average speed, and how long you were doing it for.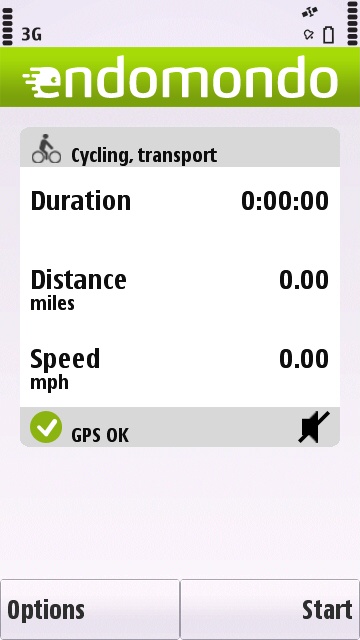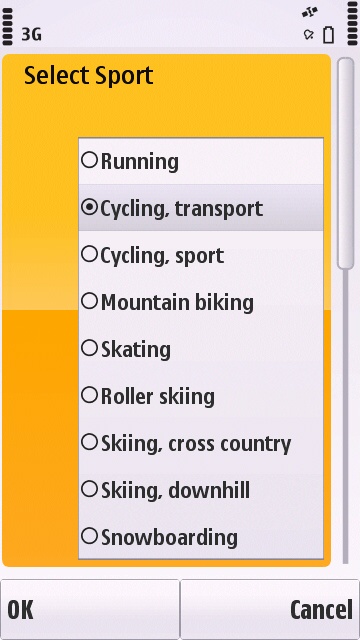 Just the sort of fodder you need to keep track of if you are calorie burning, or just looking for the motivation of filling in some blank spaces in a diary.
And to be honest, if that was all that Endomondo was going to do, then I'd be relatively happy. It's very much a bit of software that does one thing well and doesn't try to cram too much functionality in. You can choose your sport (but no adding new ones), you can get some audio feedback as you work out, there's a dashboard to give you an instant glance on how you are doing or enable you to review historical data... and that's about it.
The secret of Endomondo is that all the analysis happens at their main website, www.endomondo.com. The clue is in the Upload option sitting in the History view. Once you have recorded your workout, a quick tap will send it to the Endomondo servers. Log on to the main site, and you'll see all the effort you put in, right there in front of you.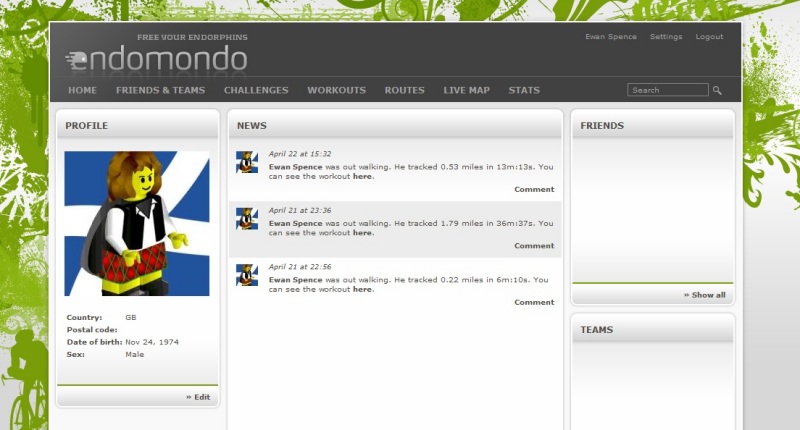 Mashed together with Google Maps, so you can see just how much "wandering" your GPS has done in terms of location when tucked in your cycling shorts. More importantly you get graphs and charts that you can analyse like a Formula 1 race engineer; from speed and height plots to [potential] calories burned and vertical distance travelled.
In short, everything you need to see where you really had to work while out and about, giving you the perfect opportunity to avoid that bit of road again – or make sure you hit it while you're going for the burn.
But Endomondo has one more trick up its sleeve. Just like the more popular websites today, you can hook up with your friends to create a social network of fitness buddies to get you through those mental barriers – and this really does help you apply yourself to the application. It's very easy to kid yourself when working out on your own, especially if you've set a goal of doing a few miles every day. But when you have friends looking over your shoulder (be it friends who you know from down the road, or friends that you've made on Endomondo just because they're in the same rough area where you live), then you realise they're keeping you honest, as you are with them.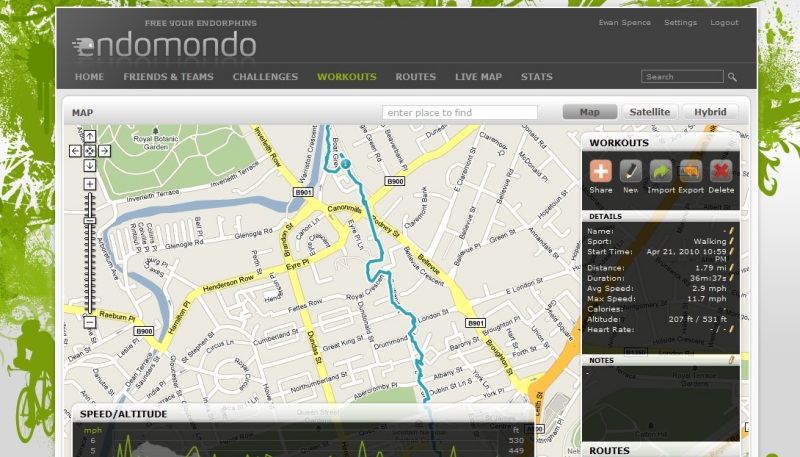 I like that the developers have put some thought into these friendship pairings, so you can have not just friends but create teams of your friends. Useful if you want to keep the Rugby team away from the cheerleaders when discussing what next to do for a challenge.
Yes, the challenges. As well as keeping each other honest, Endomondo can drive you onwards thanks to the spirit of competition. Which of your team is going to be the first to complete 500 miles, burn 100,000 calories, achieve the fastest speed or various other combinations of the values that are captured.
Endomondo takes the basic concept of fitness tracking on a mobile device, then leverages the connected aspect of both the smartphone and the modern web user to create a loose mesh to help you stay motivated while going through an exercise regime. For those of you who have done the whole fitness thing on your own, I'd recommend looking at this app for the social side of activity.
.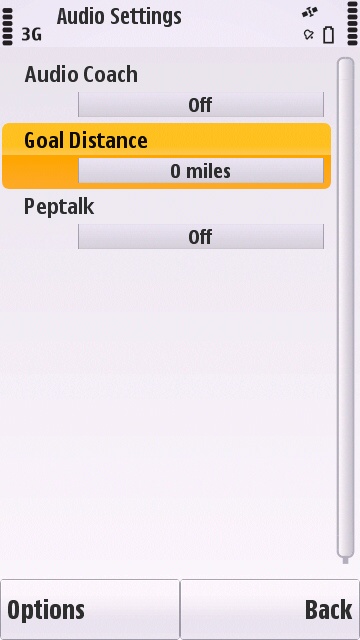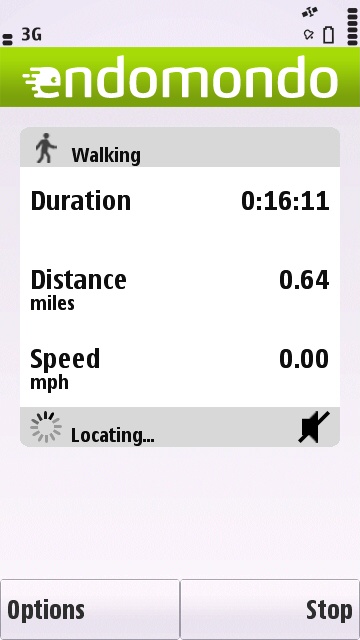 It's not perfect – I'd like to see the ability to add your own sport definitions, and it is, by it's nature, limited to distance sports that exist in the real world, so you can't add the rowing machine or exercise bike at the local gym. We've seen in other fitness tracking apps (notably the newly regenerated STT Sports Tracker) that having more data on the device can be done. Having to head to the full website to analyse your routes and see what your friends are up to detracts from the potential of the mobile application.
But at the same time the goal of the app is to capture what you do so you can use it later. Endomondo does this well, but there is room for improvement. Just as there is in any exercise regime!
-- Ewan Spence, April 2010.
Reviewed by Ewan Spence at