Review:
Documents To Go (UIQ 3)
Score:
86%
Steve tries out the latest office suite for UIQ 3 smartphones and finds a cracking piece of programming....
Version Reviewed: 3.000
How do you market an office suite for a range of smartphones when a large fraction of that range already have your main competitor's product built-in? By making it quite a bit better, that's how.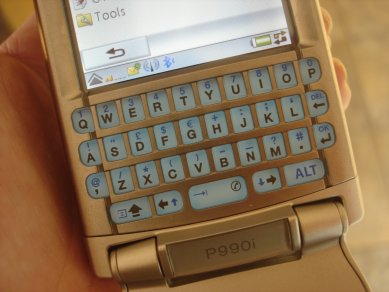 Quickoffice have been making strenuous efforts in the last few years to get their office suite included as standard on various Nokia and Sony Ericsson smartphones, with a fair amount of success. The theory is that, once in the ROM of a device, you're guaranteed a little income from every single device sale and you'll also have a great chance to head off any competitors at the pass. The only snag is the sheer amount of work, testing, tweaking and more testing required by the manufacturers - if they're going to associate their name to something then they want it bug free and stable (pity they haven't been applying the same philosophy to their own Symbian OS 9 firmware - oops, that's another rant for another day...)
Thus, it takes time, and Quickoffice 3.6.52, in the P990's ROM (and in that of the M600), is effectively last year's product. I know, because Quickoffice treated Rafe and I to a special preview of their latest beta versions for S60 3rd Edition and UIQ 3, scheduled for early 2007, and there's significantly more functionality in every area. Having said that, for viewing the odd Word, Excel or Powerpoint email attachment or for jotting down some notes or figures, Quickoffice 3.x on the P990 is more than sufficient, and most people won't need to look further.
But... you know what I'm like, and if you're a road warrior too, determined to extract the last gram of functionality out of your smartphone, then the supplied Quickoffice isn't really enough. Many document editing features are simply missing and when you edit 'rich' documents and then return them to the desktop/sender, you'll find that some of that rich content is missing - not a huge amount, but in the case of office 'masters', complete with markup, footnotes, comments and complex layout, you're really going to annoy your boss and colleagues by unintentionally stripping out any of their hard work. The next generation of Quickoffice should address this, but in the meantime M600 and P990 owners are stuck with what's supplied in their device.
Or are they? DataViz are a long standing rival of Quickoffice and have come out with their own office suite for UIQ 3 smartphones, offering $20 off the $50 purchase price as part of the 'upgrade' process. At $30, then, Documents To Go v3.00 for UIQ 3 is something of a bargain, especially considering its use is almost exclusively going to be work related and thus easily classified as an 'expense'.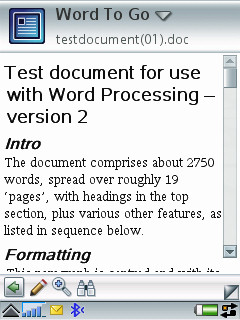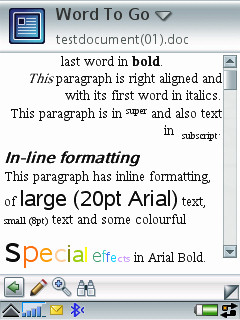 Starting with their (patented) 'DocSync' technology on Palm OS and moving into today's 'InTact' system for Symbian OS 9 devices, DataViz have always prized document integrity (I'll forgive them some very buggy Palm OS versions a few years ago), so it's no great surprise that this is a key selling point here. Essentially, the UIQ 3 application only presents the document content that can be displayed or edited, merging changes you make back into the master document structure behind the scenes.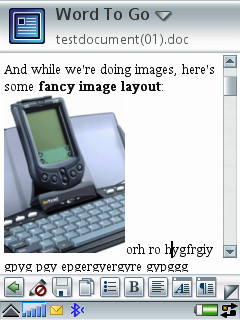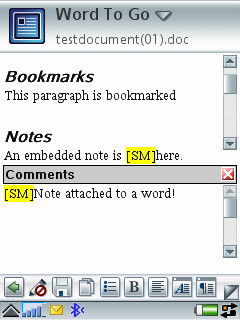 In practice, InTact seemed to work perfectly. I even tried to fool it with a newer, fancier version of my standard test documents, but no, the changed-and-saved versions opened perfectly back on the desktop again, in OpenOffice or Microsoft Word/Excel/PowerPoint. In addition, the opening of documents was much, much faster than in the built-in Quickoffice and the interface more intuitive.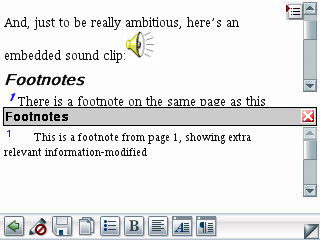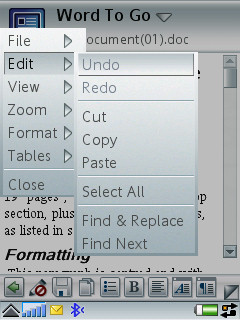 I was also impressed by the availability of three zoom levels and the choice between portrait or landscape in each of Documents To Go's three modules. This worked seamlessly (in much the same way as the built-in Quickoffice, admittedly), and browsing documents certainly worked well in landscape, although with a keyboard-based device there are lots of operations for which you'll need the screen 'the right way up', of course.
Most editing operations can be carried out in the Document To Go components, including (uniquely) editing footnotes, comments and text boxes. Editing exceptions include changing paragraph styles in Word To Go, viewing/editing charts in Sheet To Go and inserting new graphics or layout elements in Slide To Go, I'd guess that some of these will be added in future versions. In general, everything's tuned to the data that you'd typically need to alter within someone else's document, before returning it, and the concept works brilliantly.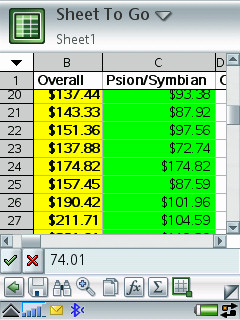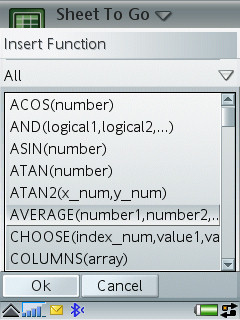 The spreadsheet module's function support is especially well-realised, you pick the function from the pick list and then each parameter (e.g. cell, or cell range) is successively highlighted so that whatever you next select will be overwritten in the correct place. Copying and pasting ranges of cells worked well too, with cell references being automatically adjusted.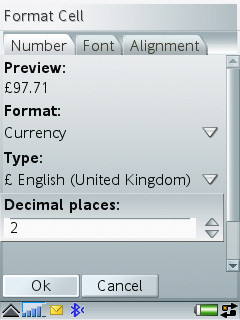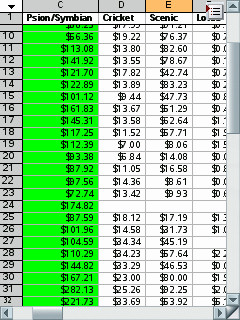 The small 'turned corner' at the bottom is the toggle for full-screen mode, very useful considering the smallish 240 by 320 pixel of the current UIQ 3 devices. Zooming out also helps, as shown above.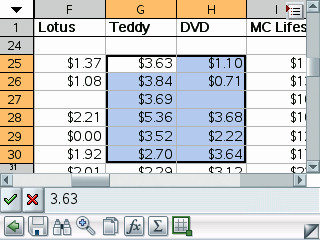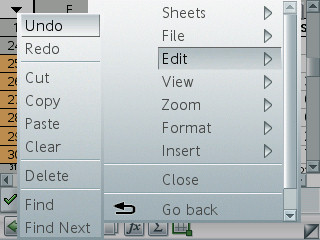 There's complete compliance with the UIQ 3 style guide, while adding helpful colourations where appropriate, making for an attractive interface all round.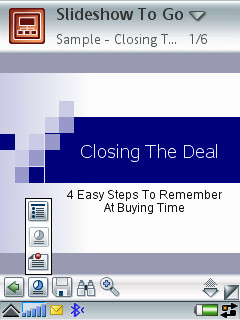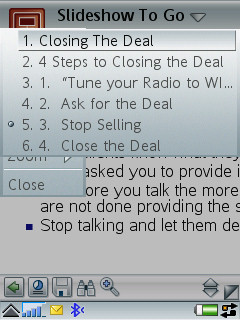 Slideshow To Go runs in three modes, as with most presentation applications. Outline view is where you edit your points and their bullet/level status, ideal for adding a few last points to an existing set of slides. Slide view gives a graphical preview, by default 'fitted to screen'. And Notes, obviously, is where you can tap in your thoughts on each slide.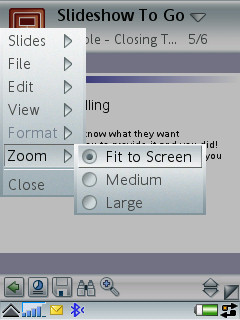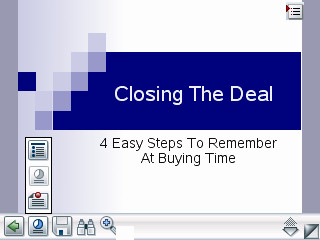 There's no module for driving a Bluetooth projector though, so you're effectively just using the smartphone as an editing device and will have to beam the Powerpoint file to somebody else's laptop if you need to actually present.
I have to admit I was somewhat blown away by Documents To Go 3 for UIQ 3 - the combination of InTact technology with the advanced editing features and seemingly crash-proof programming were a seductive combination. Admittedly, you'll only have a need for DTG if you're a true road warrior, but if that's you then this is an essential purchase.
Steve Litchfield, 29 Nov 2006
---
See also: DataViz's own Why DTG is better than Quickoffice page, although as explained above it's worth remembering that the Quickoffice in the M600 and P990 ROM is a relatively old version and that a new version is in the works....
Reviewed by Steve Litchfield at