Review:
CorePlayer Mobile for UIQ 3 and S60 3rd Edition
Score:
80%
Formerly known as The Core Pocket Media Player (TCPMP) and also BetaPlayer, now it is simply called CorePlayer Mobile. It has undergone various beta releases in the last 4 years and for those who had the opportunity to use it on Windows Mobile or Palm devices, it provided new experiences in viewing multimedia on the move.
Version Reviewed: 1.1.2
Buy Link | Download / Information Link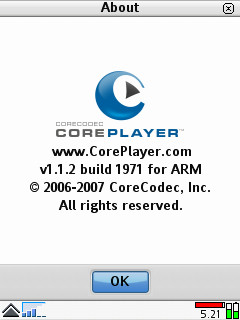 In the past, with limited hardware and processing power on mobile devices (expecially smartphones) compared to a full blown desktop/laptop computer, users needed to encode their favourite videos before they could be played on the move. Desktop applications like PocketDivX Encoder, S.U.P.E.R. and DVDCatalyst are some examples and it is not easy to choose the one which produces the universal best result. Won't it be better if we could just throw any music or video files in our Symbian OS smartphones and play them without hassle and without the need to convert to mobile friendly formats? Yes, with CorePlayer, we can!
Editor's note. Common sense still needs to prevail. Trying to play a VGA resolution desktop video, encoded at 20MB of data per minute of footage, is still foolhardy and a profligate waste of precious memory card space. CorePlayer may help solve the codec mess but you still need to be aware of the resolution and space requirements of the original file.
CorePlayer is essentially a universal player which supports a huge number of common audio and video formats. Here is the full list of supported files :-
Audio : MP3, AAC, MKA, WMA, WAV, OGG, Speex, WAVPACK, FLAC, MPC, AMR, ADPCM, ALaw, MuLaw & Midi
Video : H.264 (AVC), MKV, MPEG-1, MPEG-4 part 2 (ASP), DiVX, XViD, MJPEG.
Containers : Matroska, MOV, TS, PS, 3GPP, AVI, MPEG-4, NSV
And also JPG, BMP, GIF, PNG photos
Tell me, can any other Symbian application work with all of the above? SmartMovie, DivXPlayer, MobileDVD, OggPlay, LCG Jukebox, etc are examples of good existing applications and systems but they are limited to playing videos or music only, with much tighter compatibility. None offers an integrated solution like CorePlayer.
Real life test on the P990
The current release, version 1.1.2 beta, has improved a lot compared to the previous one. Particularly in terms of performance. To demonstrate its audio playing ability, I loaded a few songs in OGG format. All played without problem. The built in Music Player in the P990 cant handle these, so CorePlayer is very useful for those who already have a huge collection of OGG files.
However, CorePlayer's most precious technology is its video playing ability. Regardless of what format, as long as they comply with its specification, they play nicely.
There is no better way to test CorePlayer's video ability than Steve's Smartphones Show. I downloaded show number 44 to my PC and then transferred it via USB cable to my MS Duo card. And to my surprise, CorePlayer is able to play the 45MB file in full frame, with no choppy moments, no pixelated frames and everything smooth as silk! Unbelievable!...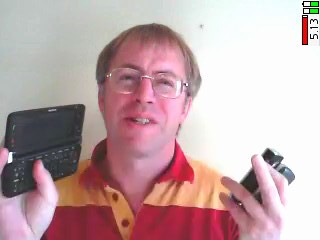 Was it luck? Let's have a peep in the file properties to see how this is possible.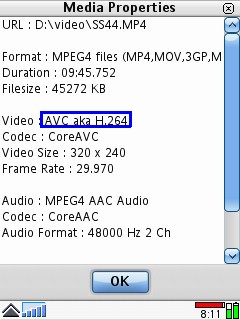 As you can see in the screenshots above, the MP4 file is using the H.264 codec, the future of computer video, in my opinion. I tried opening the same video file using the built-in P990 video player but it failed. In fact, I think there's a bug in this beta build where MP4 files are automatically associated with CorePlayer and the built-in video player can't see it…
The excitement of watching the H.264 file really made me want to put CorePlayer on more stressful tests. Other files that I tested were MPEG/MPG, AVI, 3GP and MKV, and CorePlayer passed the tests with flying colours - except for MKV files where it does not play them smoothly. And remember folks, we're talking about a "beta" application here, not a fully cooked one.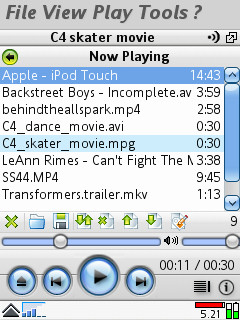 User experience
In CorePlayer, one of the main characteristics is the comprehensive menu layout. On a touchscreen device, this does work very well but I have a different opinion of its implementation on a non-touchscreen interface. We will look into this on the N95 version later.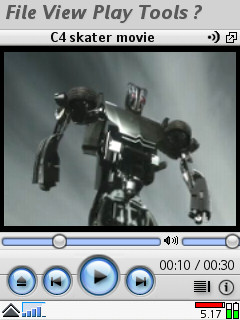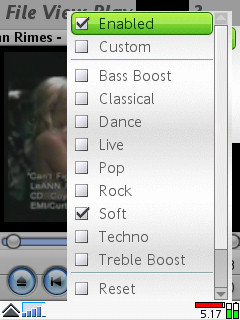 When a file is loaded, be it audio, video or photo, there are many options available from the comprehensive menu. For example, the "View" menu has 8 submenus, where 3 of these have cascading sub-submenus. The "Zoom" sub-submenu alone offers 10 options. It might not be the most user friendly application and the comprehensive menus sometimes made me think "Are all these necessary?" I leave it out for you to decide.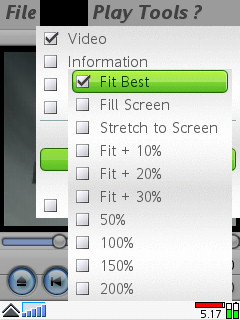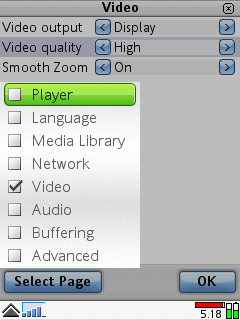 Another CorePlayer highight is the Flip Closed (FC) support on the P990. 100% working, without missing functions. But the current version has a bug where in FC mode, the center key is not labelled but is still functional for selecting items and stuff.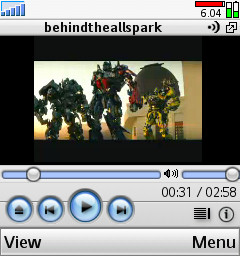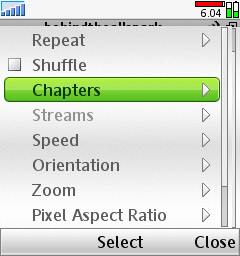 Oh... and because CorePlayer is not Symbian-Signed yet, the backlight dies after 30 seconds (depending on your backlight setting). The workaround is to set your backlight to be always switched on or to not forget to turn the volume up or down when watching videos. And, until it is Symbian Signed, it does not associate itself with media files. You can't use a file manager and select media files to be played via CorePlayer.
N95 - Multimedia beast on test
On the N95, CorePlayer finds a new home where it really can show off its talent. The N95 has been promoted heavily by Nokia and can really become a mini-home theatre.

The CorePlayer menu on the N95 is the same as on the UIQ 3 version. For example, opening files is very easy, thanks to its very well laid out and intuitive file browser.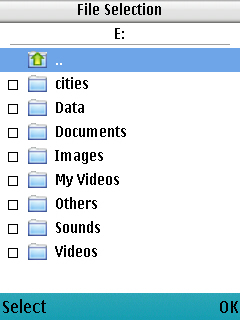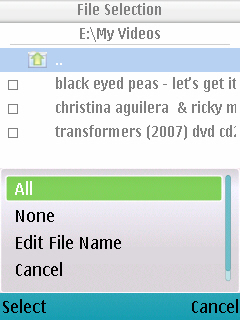 However, I have some comments on the design. The multiple cascading menus on a non-touchscreen device can sometimes complicate simple operations. For example, changing the zoom level takes more than 5 clicks. It could be simpler.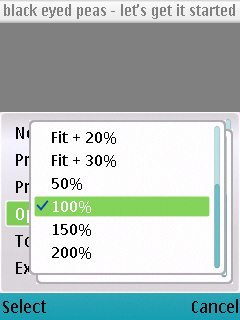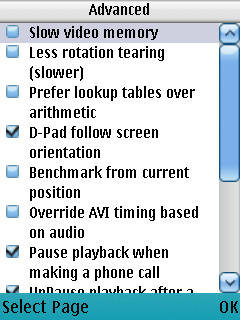 However, realising the need for simpler menu operation, the developer included a Hotkey customisation section, where you can assign keypad shortcuts to access some favourite functions you frequently use.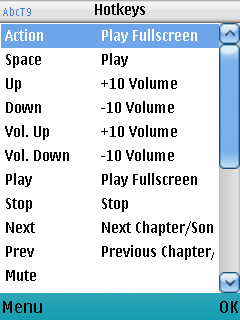 I found that the overall performance on the N95 is better when compared to the P990. Maybe it's because of the 3D accelerator or the more powerful processor in the N95. But in terms of interactivity, CorePlayer's functions are easier to access directly using the touchscreen on UIQ 3 devices.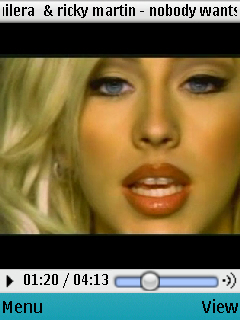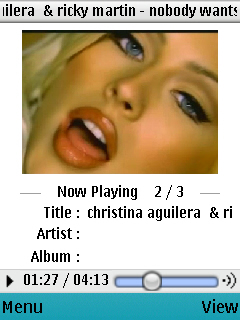 Conclusion
From the first time I used TCPMP on a Pocket PC, I envied the Windows Mobile community because they have an application that's so clever and useful. After a few years, CorePlayer is hitting Symbian and it fulfills my expectations of a futuristic mobile multimedia player. CorePlayer is also a challenge to other Symbian developers. The people at CoreCodec, led by Dan Marlin (aka BetaBoy), didn't know anything about Symbian until a year ago or so, when they produced a limited alpha release of TCPMP. And CorePlayer is now close to a perfect mobile multimedia application. Put some support for FLV (the format used by YouTube), RMVB and WMV files and it'll become perfect!
After using it for more than a month, my advice to all Symbian-based manufacturers (Nokia, Sony Ericsson, Motorola, Samsung, etc) would be to go talk to the CoreCodec team and put CorePlayer in all your future Symbian smartphones. Make it the default multimedia player - you'll do users a lot of favours, eliminating transcoding headaches for good.
Asri al-Baker, October 5th 2007

Reviewed by Asri al-Baker at