Review:
BlokBlitz
Score:
71%
Version Reviewed: 1.00
Buy Link | Download / Information Link
I have to confess that I (and the review's score) went through something of a roller coaster ride during the week or so I've been trialling BlokBlitz. But it all turned out OK in the end. Not brilliantly, but OK. Let me explain.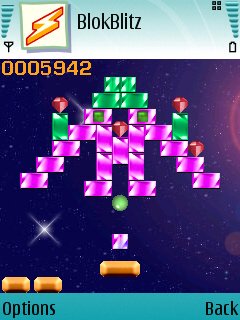 One glance at the screenshots and you'll have grasped the idea of the game - it's the familiar 'Breakout on steroids' that we've seen in a dozen other games on other platforms over the last 15 years. Each level is of a different shape and with blocks of different properties. When hit, some release icons; if caught with your bat these can mean points, or an unstoppable ball, or a larger bat, or the end of the game (makes mental note not to catch that one again...) As I said, this format isn't new, but it is currently unique on S60 3rd Edition - I don't count Meteor, because its current 3rd Edition version runs like treacle.
Now, BlokBlitz itself isn't exactly the fastest game in the world, which is where my problems started. When a level starts, with a full complement of blocks and with no 'caught' features in play, the ball's movement is relatively slow and the game is frustrating. Add in the fact that the 'flat bat' physics are such that the ball always comes off at the 'correct' and thus predictable angle - you can't even try to use the chamfered corner of the bat, as this doesn't seem to be used properly - and the first few minutes with the game aren't very inspiring.
Luckily, BlokBlitz gets better the longer you play it. The ball movement may not be speedy by default, but there's a speed-doubling block in several of the levels which then see the ball racing around at a much more challenging speed. And, although you're stuck with the flat bat, you learn after a while that, by sliding the bat under the ball at the moment of contact, you can 'spin' the ball off in other directions. It's not trivial, but it's possible.
The variety of block types and their catchable features then become the interesting part of the game. Unhappily, there's no help screen to explain what each falling icon does, so it's a matter of trial and error (after a few games, I only just worked out that catching a coloured block icon eliminates all others of the same colour)...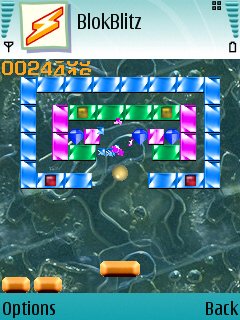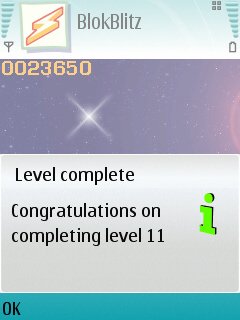 I'm guessing that BlokBlitz is aimed at the casual gamer, for playing in quick bursts - there's certainly excellent retention of where you got to in your last session, and the graphics and sound effects are very well done, as you'd expect from a developer of ZingMagic's reputation. But, despite cranking itself up in my estimation the more I played, I still find myself vaguely disappointed.
After the lightning 3D graphics of Oval Racer on the same platform (BlokBlitz being unashamedly S60 3rd Edition-only), I'd expected such a mere two-dimensional game would really challenge me with its speed, only to find a very competent and well-implemented game, but one that, given enough patience, could be mastered by almost anyone with even average reactions.
Having said that, it's not going to break the bank at $13 (£7), and it's certainly a rock solid game that should never crash, eat your RAM or otherwise misbehave. And that in itself is worth paying for these days...
Steve Litchfield, November 2006
Reviewed by Steve Litchfield at