Review:
EasyAcc MegaCharge D20
Score:
88%
OK, I say this every time, but... we have a new winner. In the power bank stakes, at least. The combination of input and output flexibility, capacity, ruggedness, coupled with a camping-grade torch, all make the slightly cheesily named EasyAcc MegaCharge D20 the accessory to beat at the moment. Just a fabulous bit of kit.
Buy Link | Download / Information Link
NB. The product has changed slightly since the review below. Mainly the same, but do see the new product page! Oh and it's now quite a bit cheaper.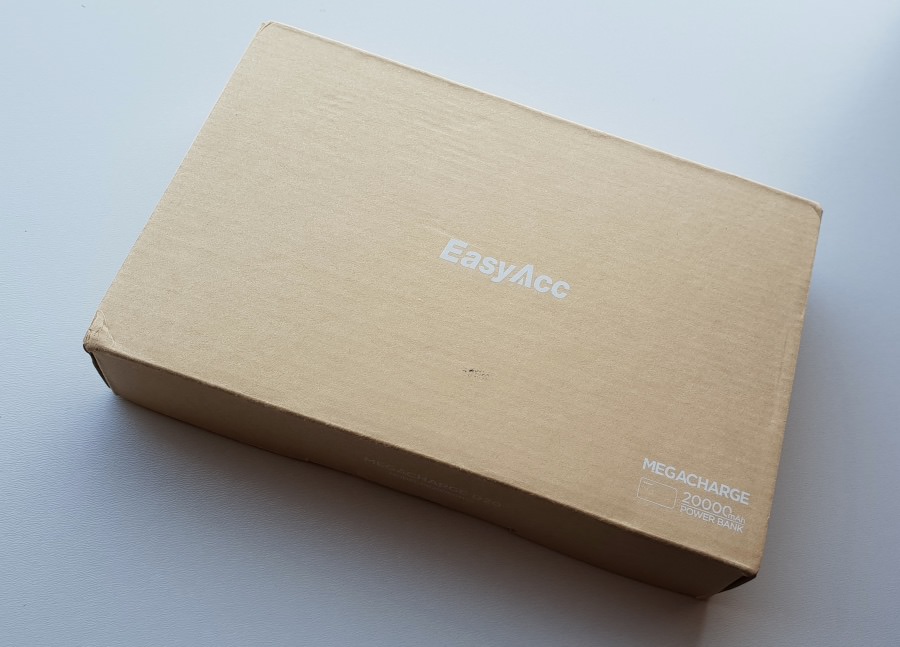 Arriving in a non-descript but clever box, the D20 (as I'll call it) is about the plan size of a modern smartphone, but obviously much thicker and heavier. It arrives with a couple of 0.5m charging cables (Type C and microUSB, of which more in a moment) - and these turn out to be wired for data too, so are handy short cables for general use.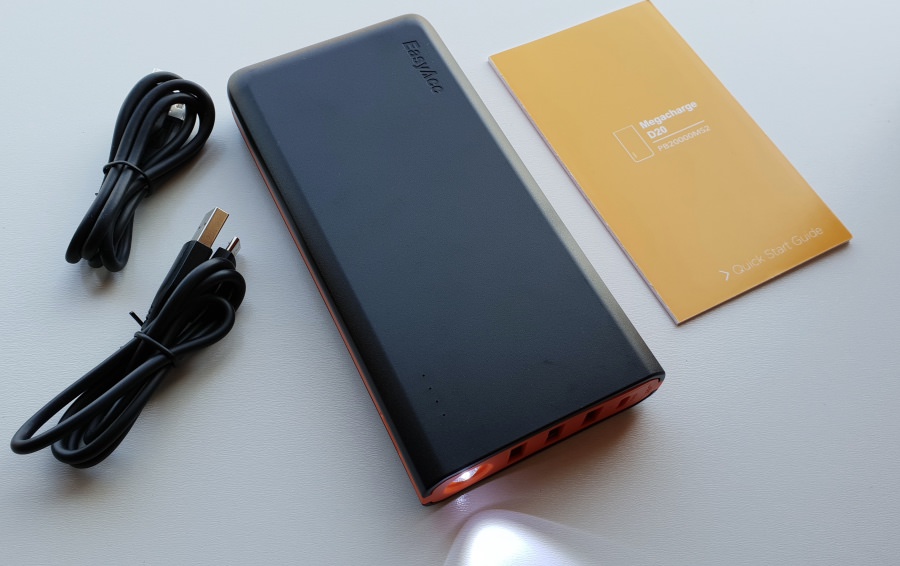 In terms of technical specifications, the output ports are:
USB A Quick Charge 3.0 (up to 18W)
2 off USB A 'Smart' output (up to 3A, i.e. 15W each)
USB Type C 'Power Delivery' (up to 3A, also 15W)
All of these can be used at the same time, though power is capped at 33W, so you won't get absolute full current on all ports if you're charging four things!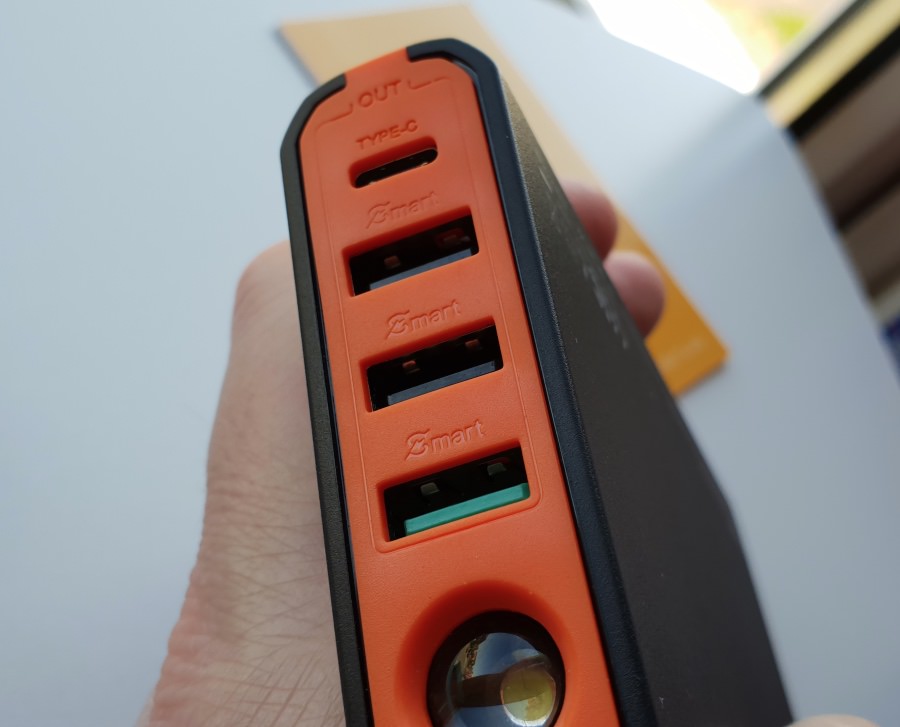 The three USB-A ports are all labelled as 'Smart', so in addition to their peak charging rates (and voltages), they can all also scale back intelligently to the maximum capability of lesser devices. In short, the idea is that you don't worry too much when plugging in.
The input system is smart too - you may remember that I've all sorts of issues with USB Type C working 'the wrong way', with the connected phone charging the power bank? Well, EasyAcc has fixed this by making the Type C port above output only. And then the inputs are on the side, with another Type C port for input only (at 3A), along with a microUSB port (2A). And, like the very best power banks, you can charge the device using both at the same time, i.e. at 5A, or 25W.
Meaning that you can recharge the D20 in just over 4 hours, which is quick for a 20,000mAh capacity tank. OK, in daily life you're more likely to just stick the nearest cable by your bed into it and charge overnight anyway, but it's nice to have the extra fast charge flexibility.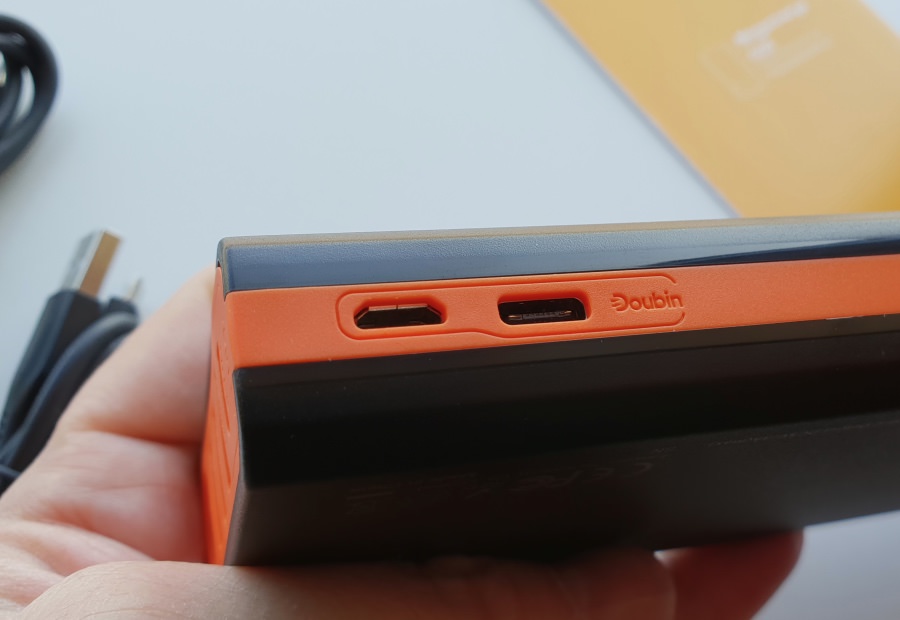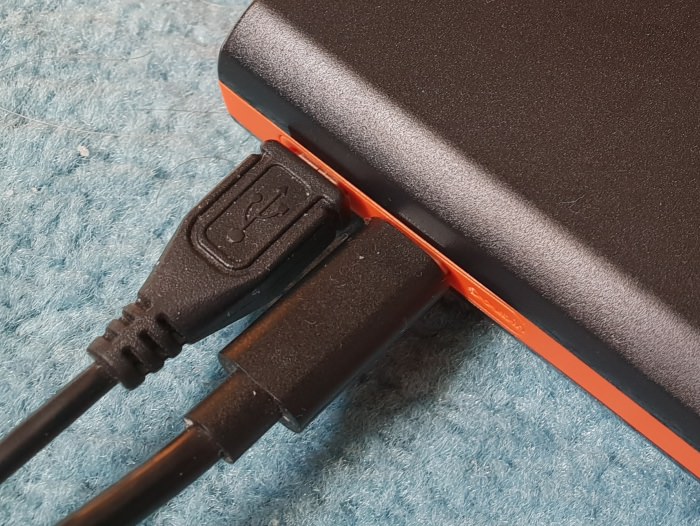 Charging the D20 at a full 5A or so...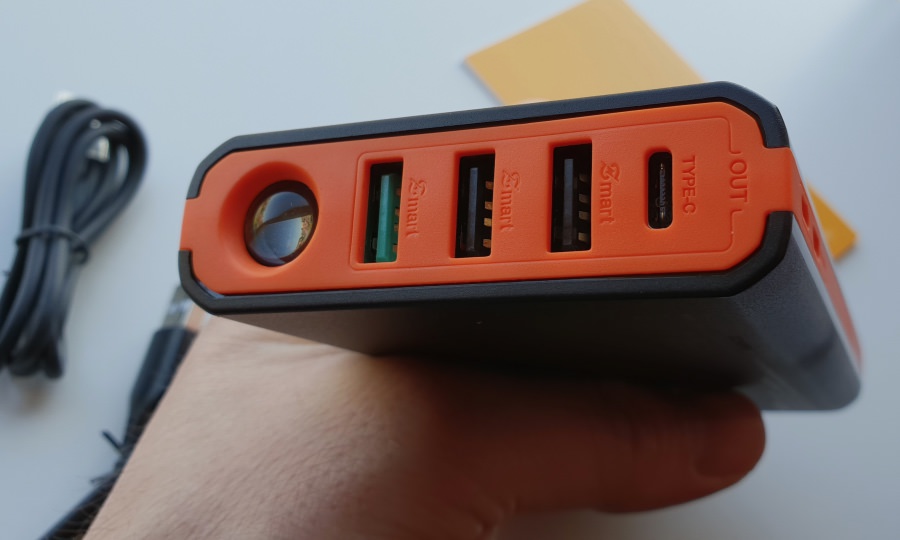 Power banks, despite what you might think, each have their own quirks and USPs, along with a balance of size and capacity over design and weight - and this MegaCharge D20 is just about perfect. Its capacity is high enough to recharge even the hungriest smartphone well over four times (even allowing for transfer inefficiencies), or you can charge up to four family gadgets at once and keep everyone going on a busy day out (cables permitting - even iPhones!)
Then, when there's a power cut or when you're hiking or camping and phone LED flashes just aren't enough, you've got the power LED floodlight here to rely on. The exact duration of this when the D20 is fully charged is quoted as 'over 100 hours', implying that it's so long that even the manufacturers haven't bothered to count or time it. Impressive.
Yes, yes, I'm getting carried away over an accessory yet again, but I think this EasyAcc power bank justifies it. Obviously, I was given a review sample and it will cost you £39 of hard earned money - it's not the cheapest 20000 mAh power bank out there, but I believe it's the best.
Reviewed by Steve Litchfield at