Review:
Superspot 20800mAh Executive Power Bank
Score:
90%
Even if you do the usual 3.7V/5V maths to calculate the actual power available at the voltage your smartphone needs it (i.e. the 5V level), you still end up with well over 15,000mAh of useable charge from this new 'Executive' power bank. Add in a unique backlit LED readout, triple output jacks and a torch function and you've got a really, really interesting mobile accessory.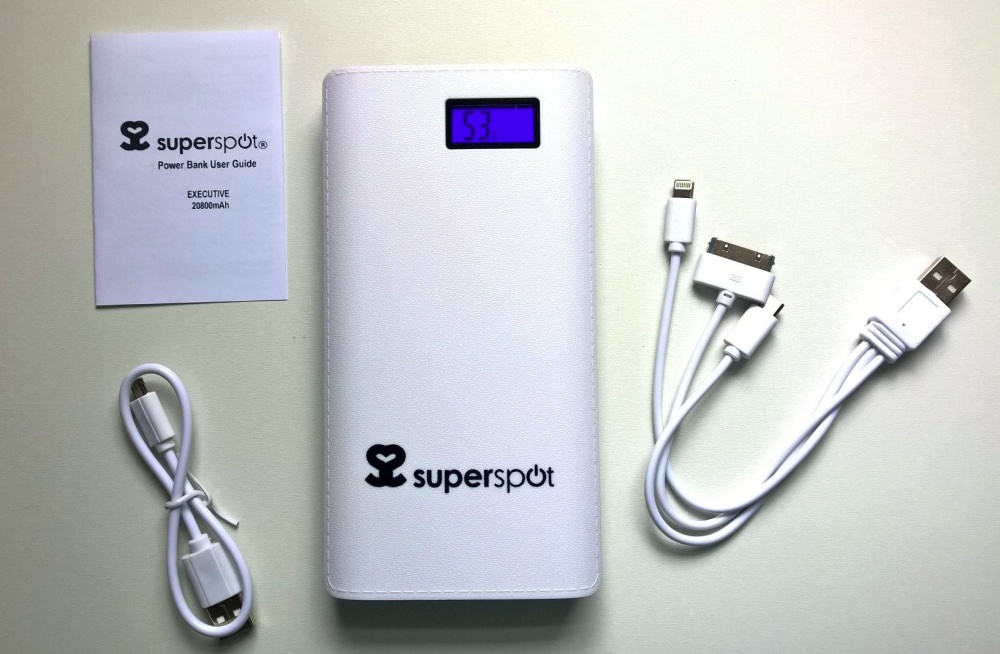 Typically, at a nominal '20800mAh', this would recharge a Lumia 1020 around seven or eight times from a completely empty battery. Or a Nokia 808 PureView about 12 times. Or any combination of family iPhones/iPods, Android, whatever, up to three at a time and for quite a few days on a single power bank charge.
There's only one catch. As you might expect, the Superspot Executive is a little chunky, guaranteed to weight down even the biggest jacket pocket, so you're best off leaving it in the briefcase (or handbag) when travelling. But even here it's nicely ruggedised in token 'leather effect' plastic, and with curves that tend to sit well in the hand for carrying.
Having reviewed a great many power banks over the last few years, it's a pleasure to come across one which has some genuinely innovative features:
the aforementioned backlit LCD display (of which more in a moment)
three 5V outputs, two at 1A and one at 2.1A - and yes all three can be used at once, provided you have enough USB cables for each device being charged!
a truly huge capacity - perhaps not totally unique, but certainly unusually large!
a LED torch, activated by a double press of the power button (a bit of a novelty, but who knows when this might come in handy, searching in the dark for a particular mains outlet or cable?)
comes with not only a microUSB lead to use and to charge itself (from the mains), but also a novel three-in-one microUSB/Apple 30 pin/Apple Lightning flying lead. Very, very handy, for those who live in multi-device, multi-platform households!
I've been testing the Executive on a three day trip away and so far the unit has recharged my Lumia 930 twice, my daughter's iPhone twice and my wife's Kindle once - and the display still says 63% left.
To put this sort of capacity in context, you could head out hiking on the Scottish Moors for a week of roughing it/camping, and so on, with zero access to mains electricity (or sun, this being Scotland!), using your smartphone for mapping, photographs, music and more, and I guarantee the Executive will still have something in the tank by the time you get back to civilisation. Or in the more typical family weekend away, this one gadget can be the power hub for everyone's phones and tablets, of all varieties. For 48 hours, half a dozen devices, multiple recharges, and zero worry.
Which is all rather impressive. In my testing, the only caveat (other than the size) has been when recharging iPhones, in that the Apple kit is very fussy about accepting charge from non-Apple gear and I often had to trick it by putting the supplied Lightning connector in several times - it always started charging in the end. Mind you, this is an 'All About' site and we're talking Symbian and Windows Phone, all with microUSB connectors, with which I had no issues at all.
Of course, USB type C is being phased in later this year, but then you'll have your own leads that can be plugged straight into the Superspot 20800mAh Executive, mixing and matching as needed.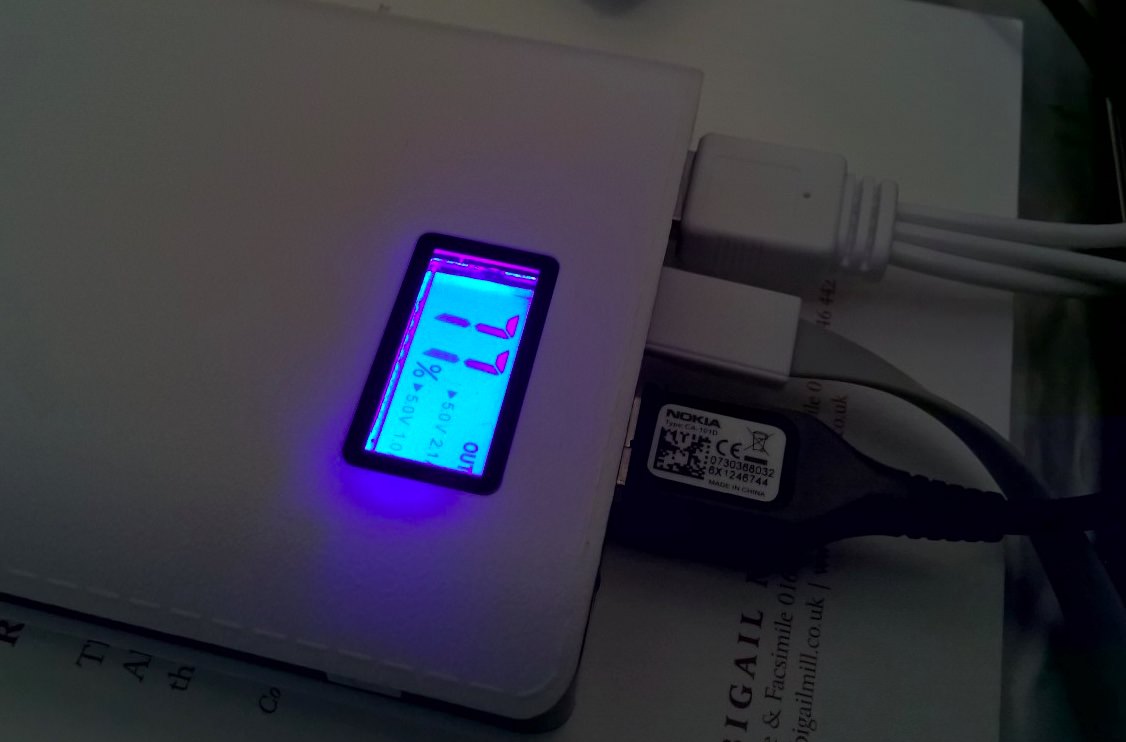 The biggest single USP is the LCD display, of course. This shows:
current battery status in percentage terms
whether charge is flowing in and/or out
confirmation of the voltages and current - it's true that these messages are fixed, and you already know which ports you're using, but it's still a nice touch to have it on-screen as well
And yes, the backlight goes off after ten seconds, so as not to keep you awake all night with its glow. Phew!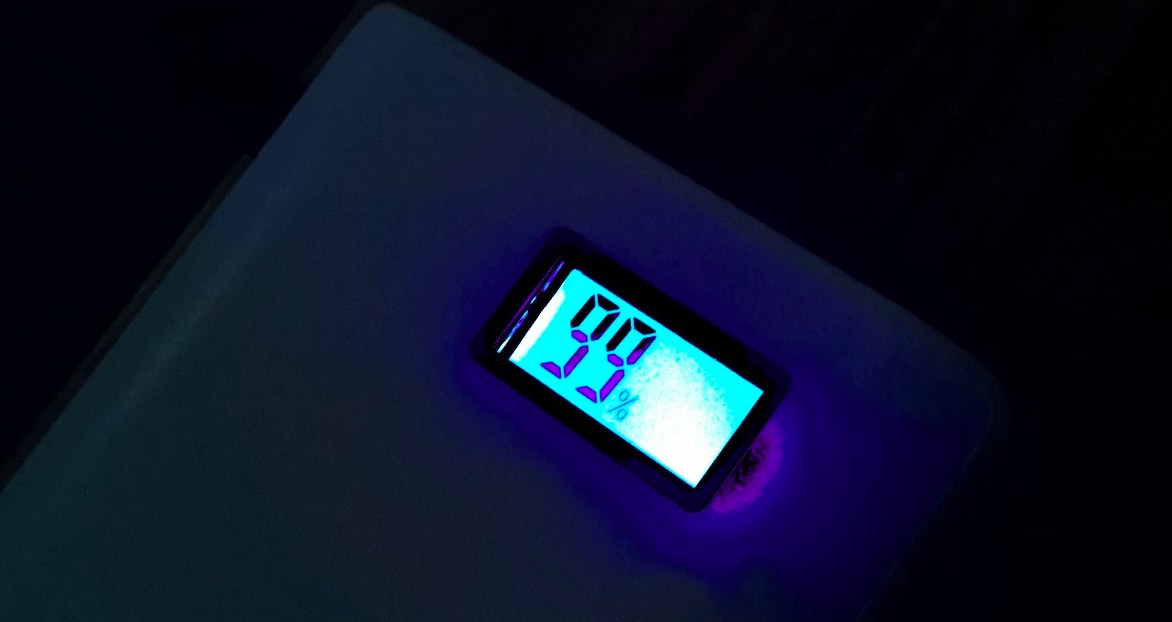 The iPhone caveat aside, it all works rather wonderfully. You do have to allow time to charge the Executive right up in the first place though - and we're talking overnight, maybe even 24 hours, so it's best to remember that you're going to need all this power a day or two in advance.
Unashamedly plastic in terms of construction, the Executive is also very easily gripped, thanks to the texture and the overhanging sides, forming sharp edges which would be unpleasant in something you had to hold all the time but which are an extra handhold for an emergency item like this. In the hand, it reminds me of one of the larger 'phablet' devices, though of course it's significantly thicker, at 23mm, and heavier, at 481g.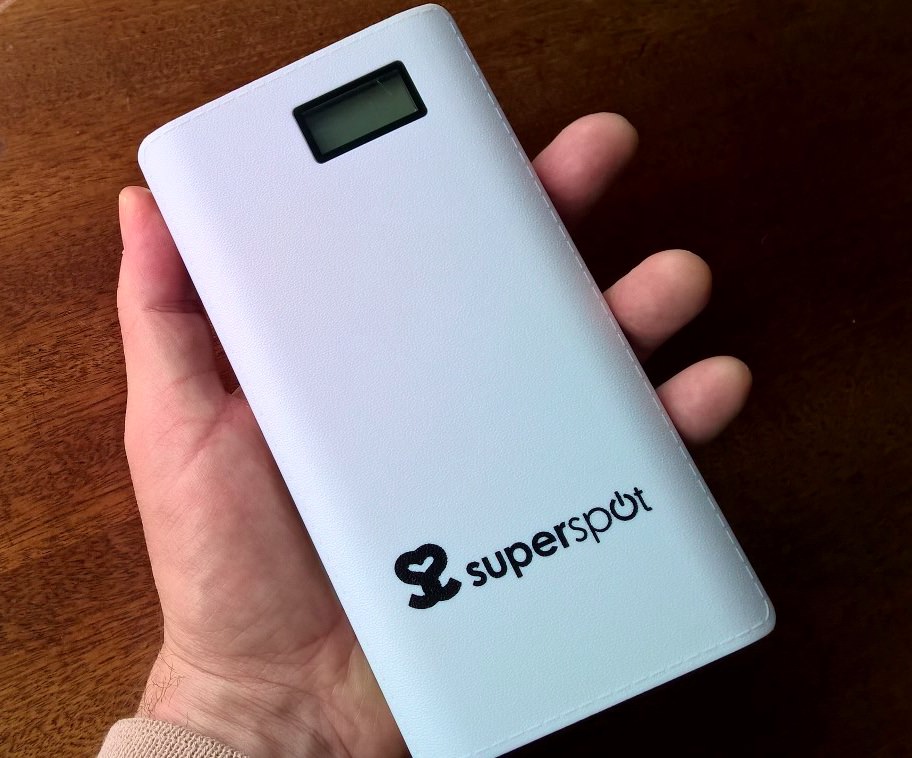 Even in a suburban environment, with the built-in torch, the three outputs and massive capacity, the Executive is just about the perfect gadget for a geek who's wary of power cuts, letting you carry on connecting and streaming, and so on.
If this all sounds a little gushing then also bear in mind the price, £28+VAT, over at Clove*, which I think is great value. Would I like to go even higher in capacity? I think that beyond this point the size of the charger will be prohibitive, though the Superspot 20800mAh Executive managed to convince me that it wouldn't take over my gadget bag unduly. And my family have been thanking me for the top-ups and charges ever since we left home and mains power points behind....
* I/we have no affiliation with the UK-based Clove, but I/we do think that they're great folk to deal with!
Reviewed by Steve Litchfield at