Review:
FantasyCar
Score:
76%
Ever fancied doing a 'Howard from Big Bang Theory' and driving the Mars rover? Here's your chance, with FantasyCar giving you the choice of five different vehicles and four landscapes (farm, dirt track, moon and Mars) and a selection of increasingly tricky obstacles to slam your vehicle over. No matter that you'll virtually destroy the vehicle in the process, the physics are 99% spot on, making it all more fun than should be legal when in charge of a billion dollar space car....
FantasyCar is a game, but it's also, at heart, something of a simulation, being built on the Box2D physics engine. What this means is that, as you drive up and down ramps, as you bash into obstacles, as parts are knocked off your vehicle, as objects fly through the air, everything behaves impeccably. The physics even go as far as modelling the weight and power (and drive wheels) of each vehicle, and of the gravity on the planet you're currently driving on(!)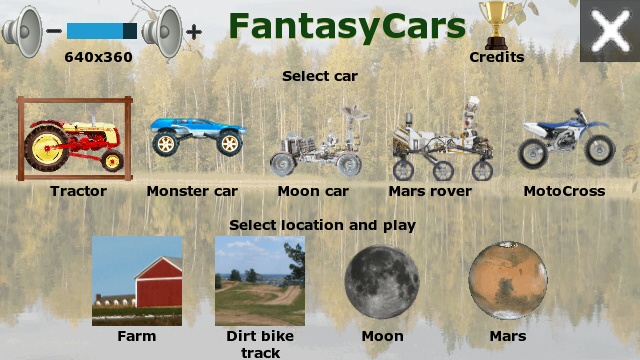 Unlike the traditional 'start on easy levels and then work your way up' model, FantasyCars takes a much freer approach - you can drive any car in any location and over any level, anytime you like. The satisfaction then comes from trying to get awarded three stars for each of the sixty or so levels, stars being awarded for speed in getting to the finish line. There are no opponents, nothing's locked out, it's just you and your satisfaction. And quite a lot of pure fun.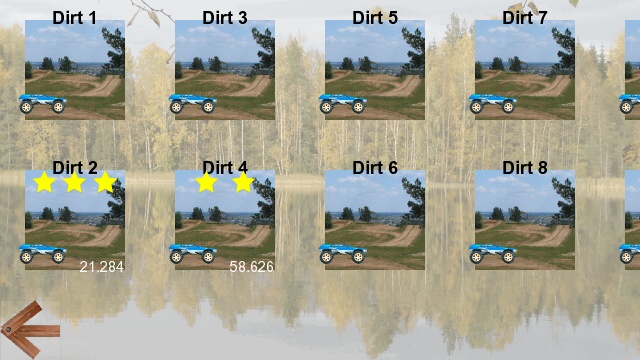 Once into a level, there are only two controls - forwards gear and reverse, each of which operate on the driving wheels with some sense of inertia (I did mention the impeccable physics, didn't I?), so you can't just stop the wheels going full tilt clockwise instantaneously - a change of direction requires some planning and timing of your pulses on the forwards/backwards accelerator keys.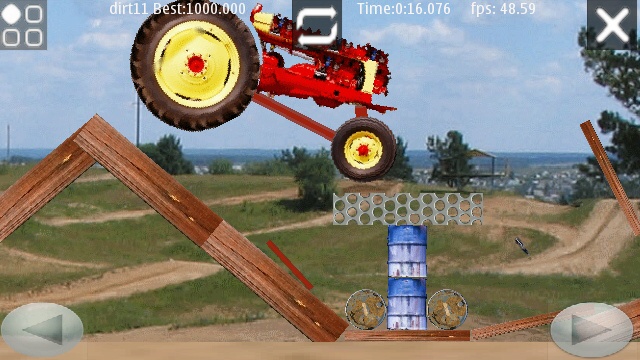 The levels are filled with obstacles, naturally, each of which falls and slides realistically, as if it has the appropriate mass (physics, yada yada), from barrels to blanks to sections of metal fencing to seesaws to windmill arms - oh, you get the idea. There's a lot to push, to climb, to duck under, to traverse....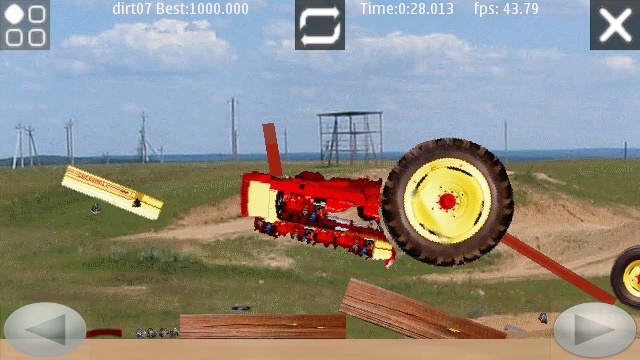 One of the cutest aspects of FantasyCar is the way your vehicles fall apart. As they get knocked, bits start falling off - bumpers, engine cowlings, and so on. If you bash the vehicle up enough, you can even disconnect the engine from its mountings, and the wheels from the chassis, with the disastrous example result above. Happily, a 'retry' icon is top and centre and then you're off driving again, with a newly restored vehicle.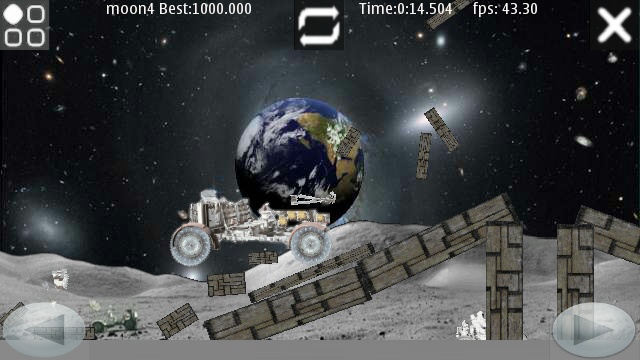 I mentioned Mars above - there's also the moon, with very low gravity, presenting a slightly different challenge and different obstacles. Shown above is the moon buggy, but the game's happy to let you rev up the 'monster car' and drive that on the moon, too - with predictably overpowered results.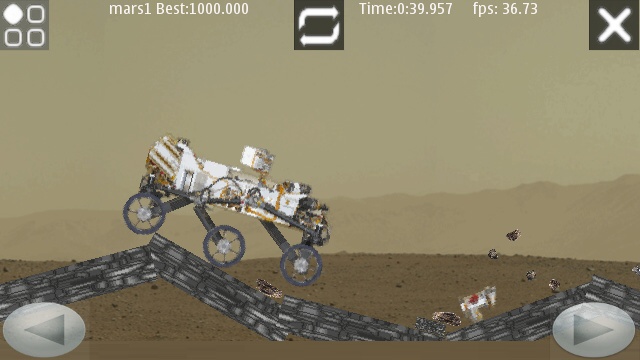 Shown above is a Mars rover (oh, look, a few bits have fallen off already - NASA aren't going to like this!) on the surface of the red planet. In truth, the physics aren't that different to that of Earth, but at least there's a bit of natural variation.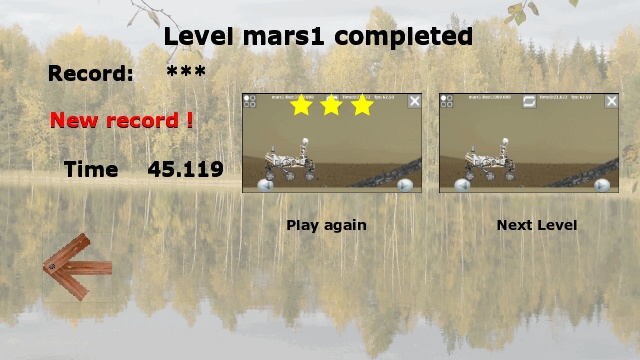 Getting three stars for a level isn't trivial, so the gameplay's pitched about right, especially as there's no competitive aspect other than competing with yourself to get perfect scores all the way through.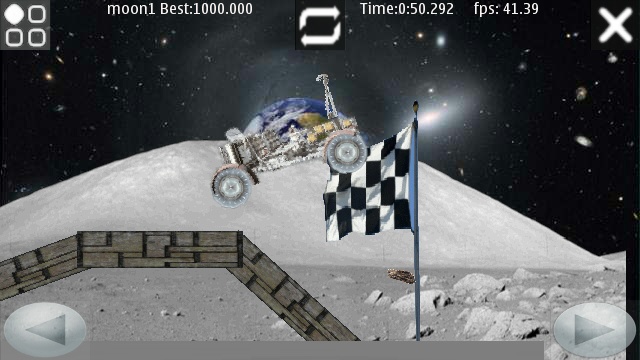 The backgrounds are photo-realistic and well done, panning smoothly in parallax fashion, to help the illusion of progress, while on the sound front you get not only appropriate engine noises ('put-puts' from the tractor diesel to more sci-fi like whines from the space rovers), but also appropriate vibrations from the phone's vibrator whenever you hit something or land hard - I've always felt that vibration was under-used in phone games, so it's good to see FantasyCar come good here.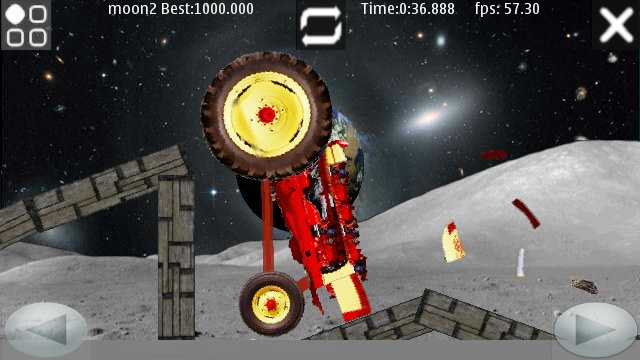 And, after all, where else could you drive a farm tractor on the flippin' moon?
FantasyCar isn't perfect - I experienced occasional lock-ups from the Box2D engine when playing on my Nokia 808 under Belle FP2, but the developer has shown that he's willing to keep updating the game, so I'm sure he's tweaking the code even as I write this. But for a 'casual' game, FantasyCar has a surprising amount of longevity, I'd estimate up to a hundred hours of gameplay.
And if that's not value for money for £1 then I don't know what is!
Reviewed by Steve Litchfield at