Review:
FastTube
Score:
65%
Choice is never a bad thing and that's why we're glad to see another YouTube client for Symbian. FastTube is free of charge and provides Hi-Definition streams (where available) and downloads from YouTube to your Symbian device. Here we put FastTube under the microscope and see what else it offers and how it compares to the competition.
Version Reviewed: 2.01
Buy Link | Download / Information Link
FastTube immediately presents a user interface similar to the YouTube mobile website, which is nice from the point of view of a consistent experience, whether you use this app or the mobile website. The downside, however, is that it is necessarily in a white background which will eat more power from the AMOLED displays on Symbian devices. I can see the day when developers will start campaigning for LCD-based displays so they don't have to worry about power consumption when choosing their colour schemes!
You start using the app without the need to sign in. Obviously this will limit you to YouTube's curated lists and searches. If you do sign in though, you'll be able to view your own videos, favourite videos, playlists, and the channels you're subscribed to.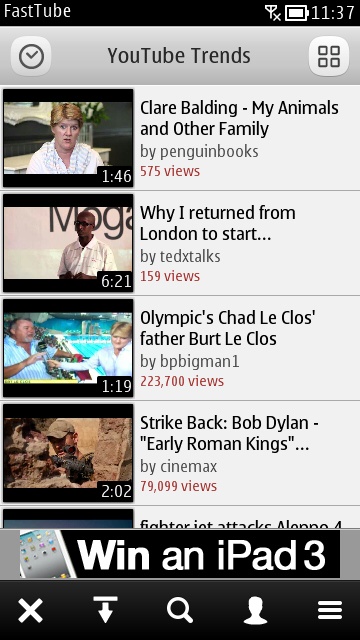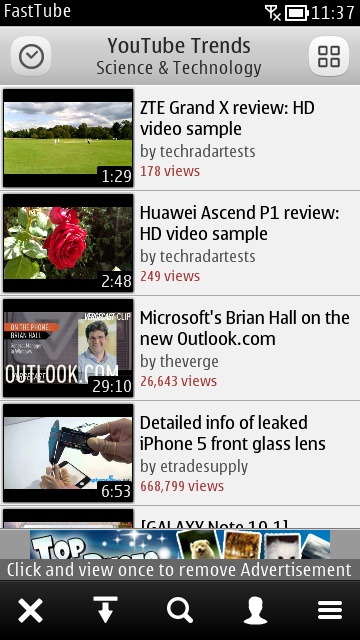 Exploring lists and categories
There isn't a clear 'homescreen' for FastTube. It is whatever the current view is set to, which can be altered from the menu icon in the toolbar. The views on offer include Most Viewed, Most Popular, Trending, etc. Within each of these, you can tap the icon in the top-right of the screen to drill down into subject categories like Science and Tech, Comedy, Education, etc.
The implementation of search in FastTube causes some confusion. If you tap the search button in the toolbar, the upper toolbar is replaced with a search box. However, tapping it again doesn't hide the search bar, which means you lose the icon to select categories.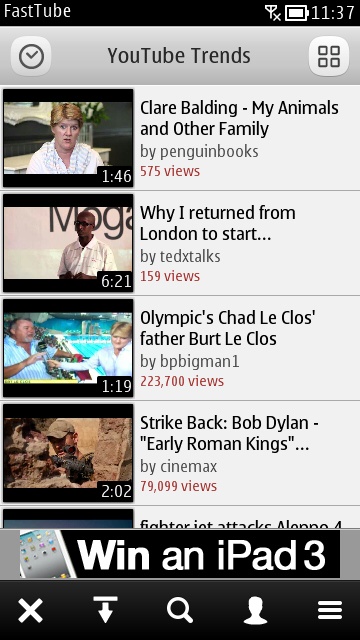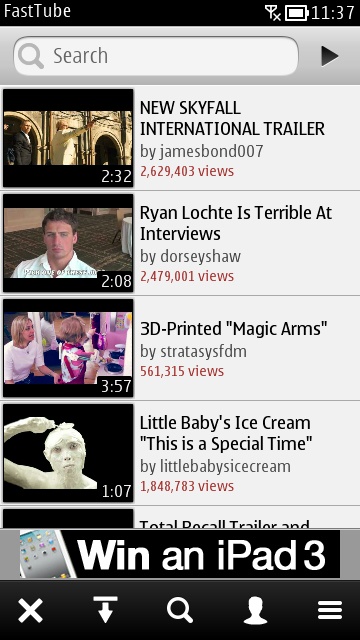 The search box occludes other UI elements until you pick a new category
The page design for individual videos works well. Beneath the video thumbnail there are options to select streaming quality, followed by a link to the account holder's page. The toolbar allows you to like or dislike a video, and the menu has options for adding the video to favourites or a playlist, and subscribing to the channel. However, the subscribe option was still available on videos from channels I was already subscribed to. Surely it would have been better to change it to an unsubscribe option?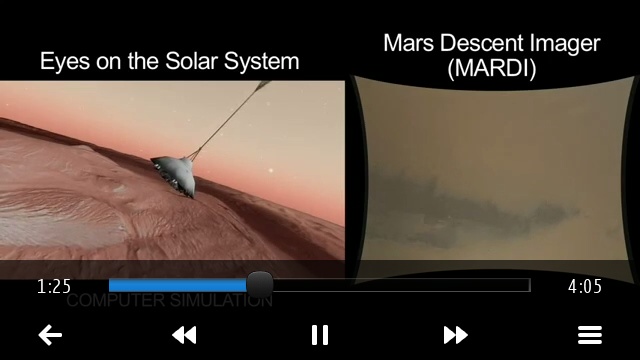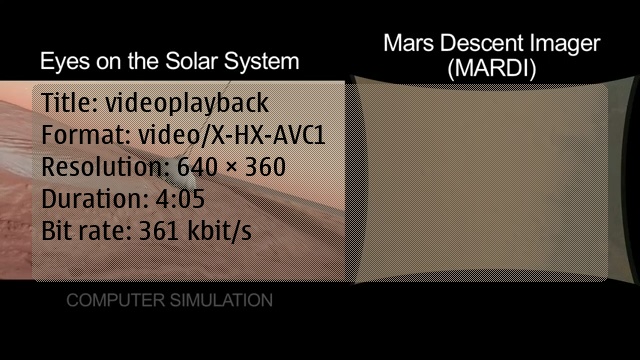 Viewing a video and information about its specifications
The individual video page also gives links to read comments, add a comment of your own, and there is also a link to view related videos. So, it seems all the standard YouTube options are there – right? Not quite. The one thing that is conspicuous by its absence was social sharing, or even at least an option to copy the video URL to the clipboard. Admittedly, this isn't a mission-critical function, but in the social media age, it is something that is missed when it's not there.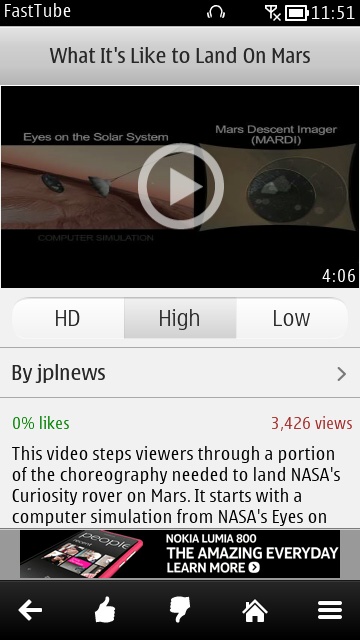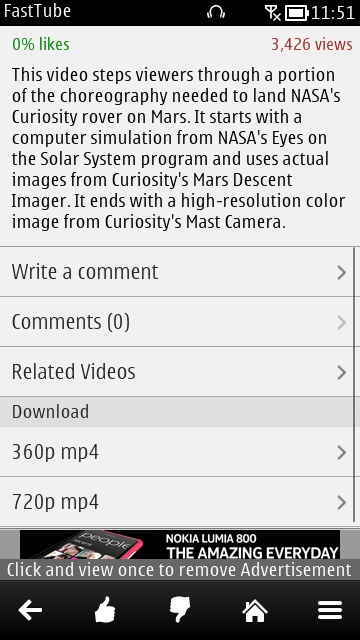 Individual video page
The final option for individual videos is that of downloading – which if you're heading off into the wilds where 3G dare not roam, then offline video viewing comes in very handy. This section has a link to each available format, e.g. 360p, 720p, etc. In most cases, downloading the smaller 360p video will be the best option for the nHD resolution of Symbian devices. However, you may want to copy the video to a PC, or stream to a DLNA TV, in which case having the 720p option is good.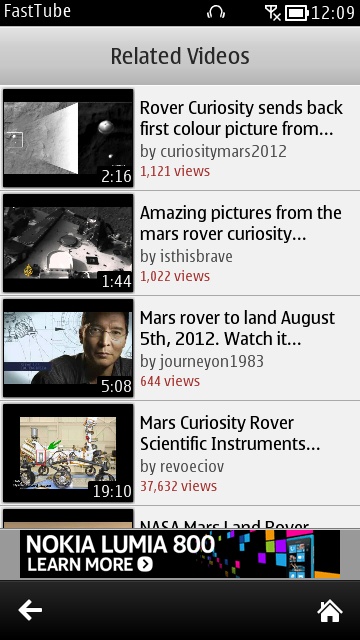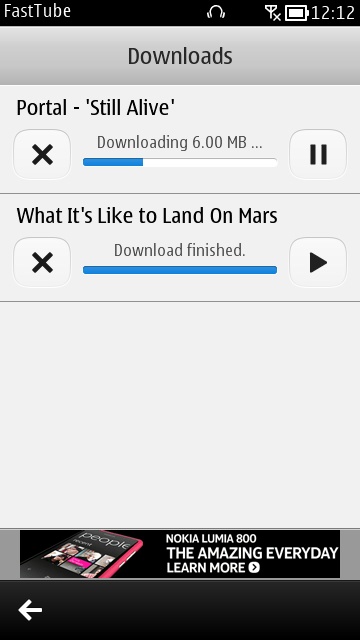 Related videos and video downloads
One last facet of the user interface that marred things for me a little was the advertisements. There's a handy notice when you launch the application that if you tap to view just one advert, no more will be shown. I hoped it meant 'forever', but it only meant until the application was restarted. If you don't mind in-app advertisements, then don't let their presence here worry you. However, if you prefer not to have adverts, then you might want to consider the paid-for YouTube application CuteTube, which also includes social sharing and video uploading, which FastTube (so far) does not.
Reviewed by David Gilson at