Review:
Stoppola
Score:
84%
Stoppola isn't the only time lapse tool on Symbian, but it's the newest and slickest one on the block and the most video-focussed. In fact, it's so new that it's only currently available for Belle FP1 devices like the Nokia 808 PureView, which makes it fairly exclusive. Here's my review, together with a sample of its output. Summary: works as advertised, but you have to pay for high resolution video output and - yes, it really does need wider device compatibility.
Buy Link | Download / Information Link
With an interface that's kept ultra-simple and is almost wizard-based, it's trivial to be up and running with Stoppola, with just the choice of shooting frames for a new project (or adding frames to an existing one) - or editing an existing project: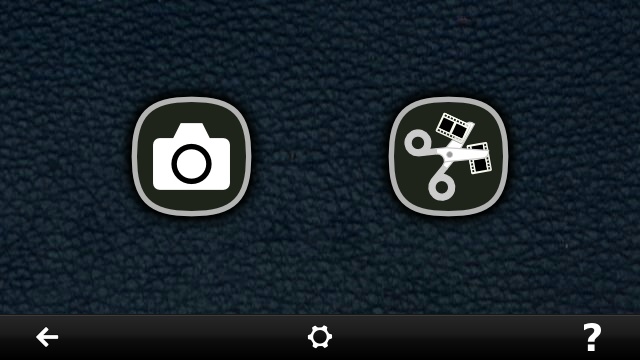 In my case, I tested Stoppola out with a trivial little scene in which two scourers escape from their plastic paackaging. Hey, at least it shows the sort of thing you can do - the very short video is embedded at the bottom of this review.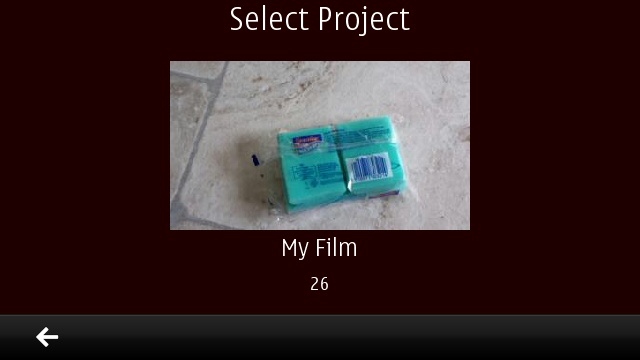 Stoppola turns out to be extremely flexible at capturing frames for animation. There's a very Camera-like set of focus 'scenes', plus, most importantly of all, you can trigger the capture of each frame in three ways - by tapping on the phone's display, by waving your hand in front of it (passing by the proximity sensor) or (my favourite) using audio. This last is brilliant for detailed and involved animations, since you can crouch down with the subjects, moving them a little at a time and simply clapping (literally, with your hands) to trigger the shot, i.e. without having to keep getting up to take the shot on the phone itself.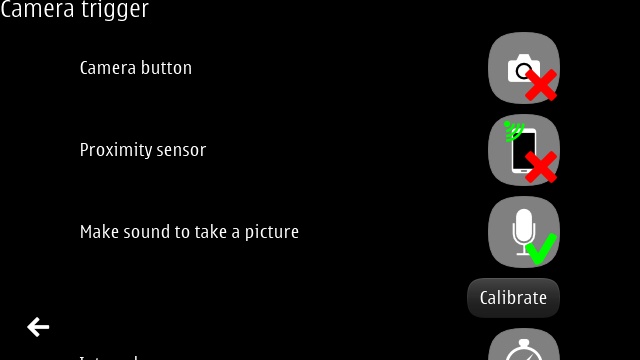 Rather mutually exclusive from these remote shutter options, but a great help for anyone more arty than me is 'Onion skinning', wherein the ghost of the previous frame is left on screen, so that you can judge how far to move a subject per frame (i.e. depending on how fast you want it to 'move'). As you'll see from the example at the end of the review, I didn't use Onion skinning and, as a result, ended up with far too much movement per frame. Or maybe I'm just impatient - professional animations (à la Aaardman) take inordinate amounts of time to compile, as you'll probably appreciate.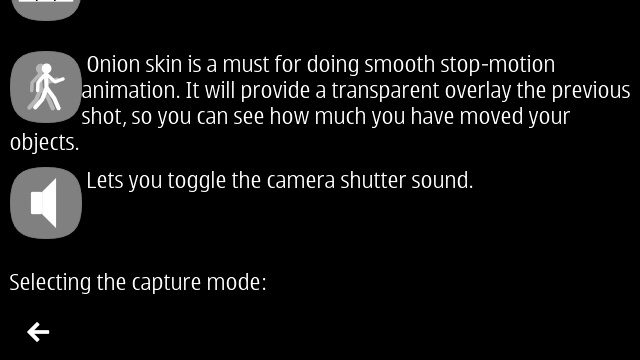 You don't have to specify a frame rate at the time of shooting, though it would probably help if you had a rough idea in mind. Having shot a number of frames, you're presented with them in a carousel-like editor. Tap and hold to delete any, plus there's a frame copying function, should you wish to repeat a section more than once.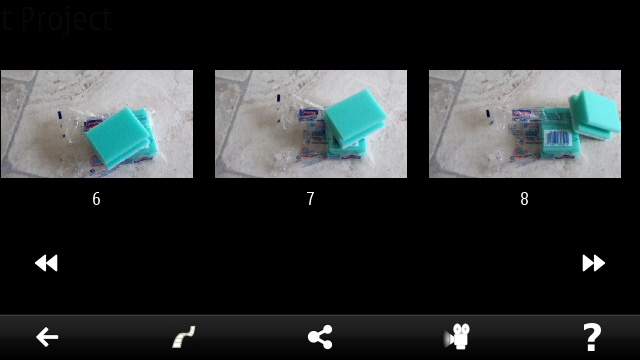 The preview function (second from the right in the screenshot above) lets you run your animation so far at any frame rate you choose, plus there's a microphone icon, letting you add a voiceover - a handy feature, though you're limited to an 8kHz commentary track, so you'll almost certainly prefer to add a .WAV file of your own instead.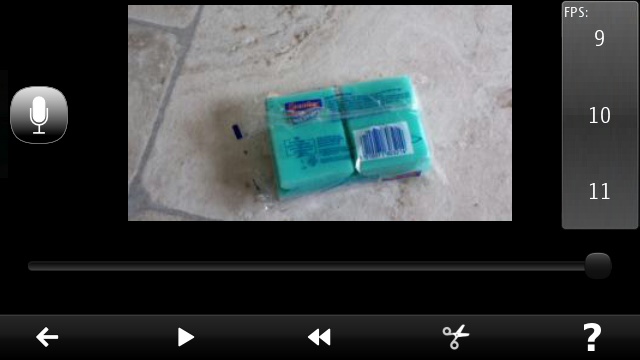 You can preview the animation in the small window or, by tapping, watch it at the default nHD full-screen, as here: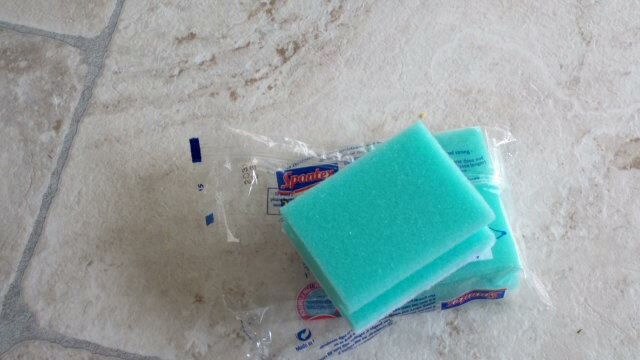 At render time (the second icon from the left, three screenshots above), you get to add the soundtrack of your choice (the default will be the WAV file recorded above), plus you can use MP3, MP4 or WAV sound files of your choice by putting them in a \Sounds\Stoppola or \Sounds\Recordings folder.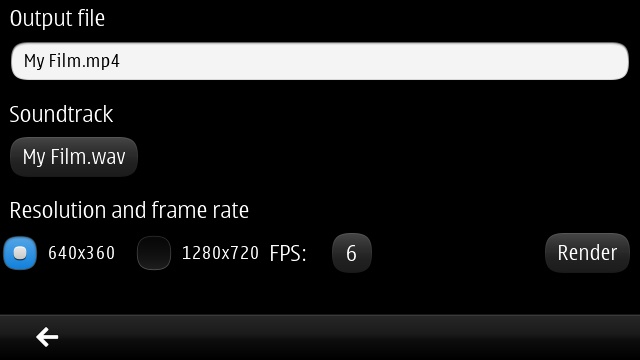 The free version of Stoppola renders to nHD, but you can upgrade to full 720p animation by using the supplied in-app purchase option, a new feature enabled by recent Nokia Store backend improvements. Somewhat confusingly, Stoppola appears to accept the HD checkbox above and even proceeds to say it's rendering the output file - but nothing's produced.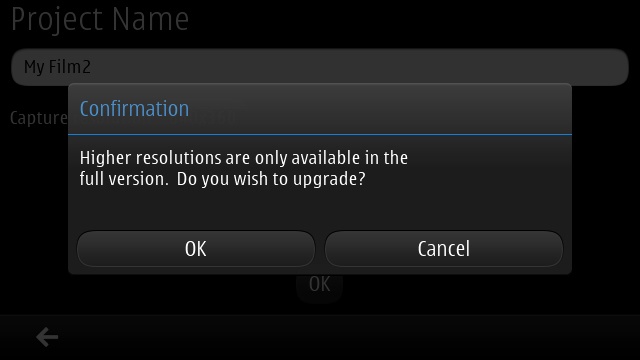 Upgrading (easiest done from the main Settings page on Stoppola's opening screen) costs £4, well worth it if you want to pursue this tool to create something more than my trivial example. And credit to Harri Pasanen, the developer, for allowing projects to be captured and everything to be played with, in the free version, so you can just opt to upgrade afterwards, when you're sure you've got an animation worth rendering at higher resolution.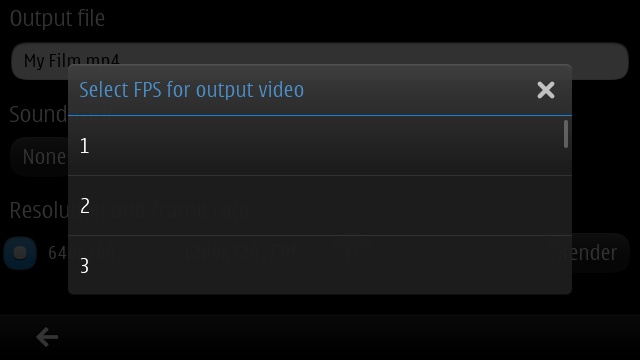 Stoppola isn't perfect - the user interface is kept simple, but so simple that I found I was perennially ending up at the opening screen by mistake and having to open my project again - nothing was lost, since everything's saved as you go along, but slightly annoying nonetheless. Add in the slightly confusing quirks in the 'lite'/'full rendering section, plus limited device compatibility, and you end up with a utility that's slickly programmed but which does come with a few caveats.
Having said that, Stoppola's functionality is mainly unique in the Symbian world, and makes creating MP4 animations child's play - there's even a YouTube upload function if you're confident enough to go directly from the tool to the waiting world. The developer reckons this will be his swan-song in the Symbian world, in which case it's a worthy exit.
Here's my trivial example animation, see below for download links.
Although only officially listed in the Nokia Store for the 808 PureView, the SIS is readily available for other Belle FP1 phones to install.
Reviewed by Steve Litchfield at