Review:
Lloyds TSB Mobile Banking
Score:
50%
Mobile banking seems to be one of the last few frontiers that are not well catered for here in the UK. There are many money managers, but few official applications, for our high street banks. Lloyds TSB has stepped up to provide Symbian users with access to online banking and the ability to find nearby branches and ATMs. One catch though – the mobile banking element is handed off to a mobile website. Which is... something of a fail...
Version Reviewed: 1.0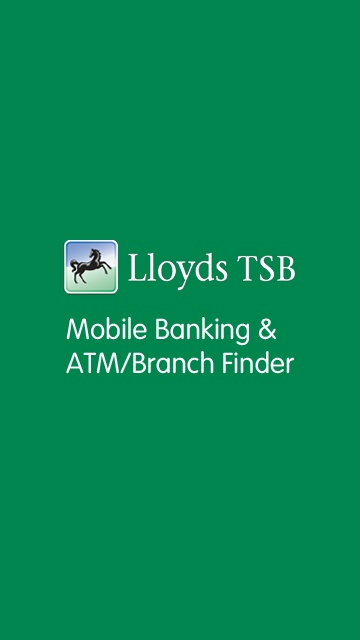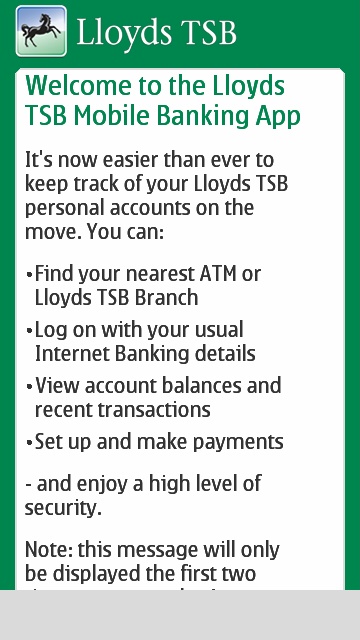 The Lloyds TSB application.
The Lloyds TSB app greets you with options to enter mobile banking, or the ATM and branch finder. There's also the "…More" page which has links to help pages and useful phone numbers. Tapping the mobile banking button opens a notice telling you that your web browser will be opened; closing the browser returns you to the app.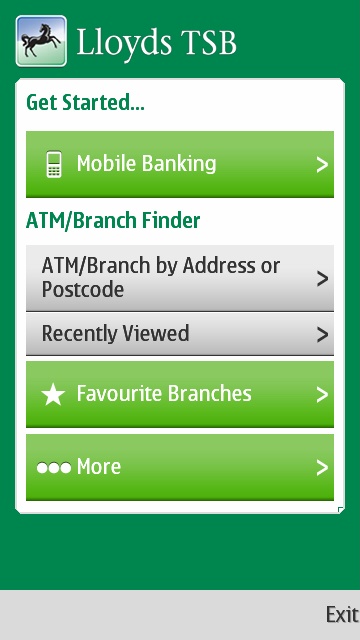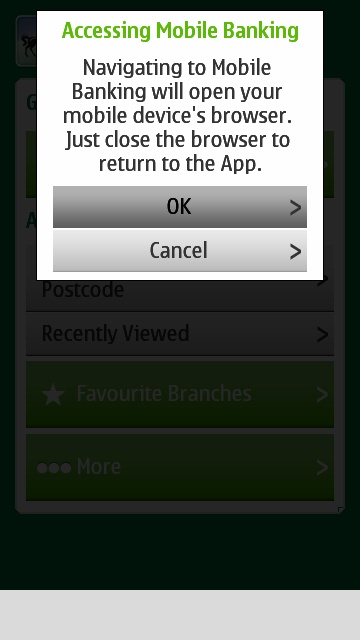 Main menu and browser notice.
Lloyds TSB handles its mobile web login by first asking you to enter your user ID and password, and then prompting you to enter selected characters from your memorable information. Having to remember and count to the Nth characters from a passphrase is the least pleasant form of authentication I've ever come across. Your User ID is at least (optionally) remembered for your next online banking session, though the security questions will naturally have to be entered each time.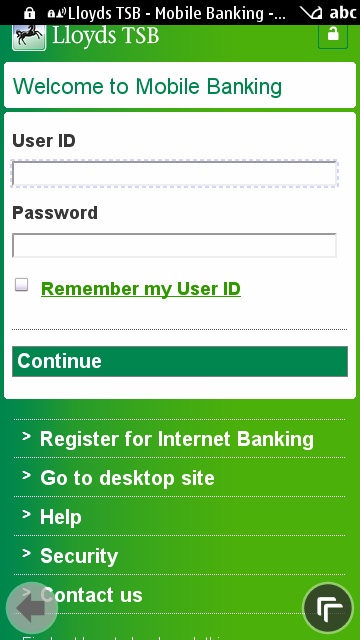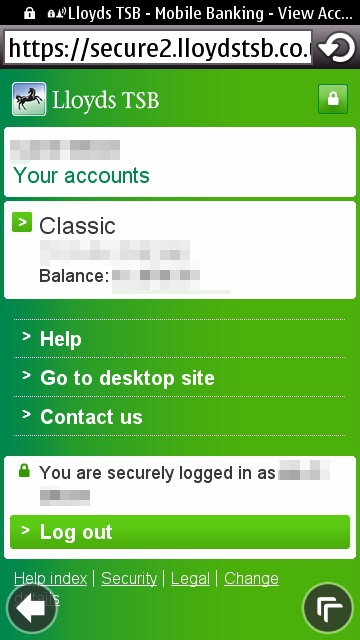 Getting started with the Lloyds TSB mobile banking website.
Once logged in, you can see a list of all your accounts. For each, you can view your balance and recent transactions – the most likely types of information you will want to check. However, the only functional task you can perform is making one-off payments to other bank accounts. To send a payment you need to enter the account and sort code numbers. However, if you regularly send payments to the same few accounts you may have already saved the recipients' details via the desktop website – in which case they will be listed in a drop-down menu. If you are new to online banking, you will have to go through a telephone authentication process before you can save recipient account details.
While having the ability to do any online banking from a phone is great, I was disappointed that the mobile site had no facility to manage direct debits or standing orders. The only way to access more facilities is to switch from the mobile site to the desktop site, which quickly breaks the user experience. While the Symbian Anna version of Web can just about handle the desktop site, it will not be practical for older versions.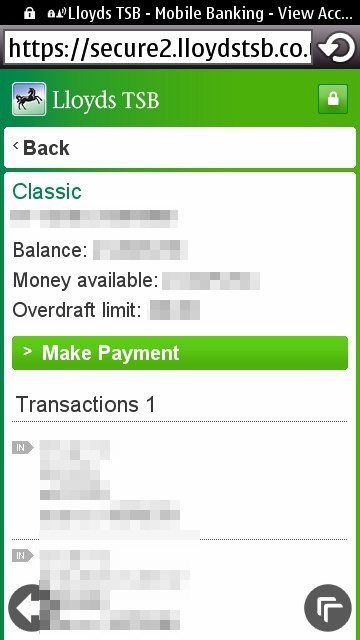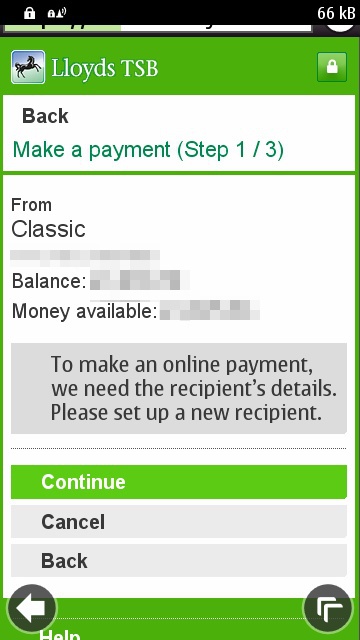 Checking transactions and making payments.
Thankfully, the functionality to find branches and ATMs does not require launching a browser. You are invited to select either or both kinds of location, and to enter a city name or postcode. It's here that you notice that the application hasn't been updated for a while, as it does not support Symbian Anna's split screen keyboard. Additionally, there is an "Open Now" option to make sure that you don't arrive at a branch that's closed!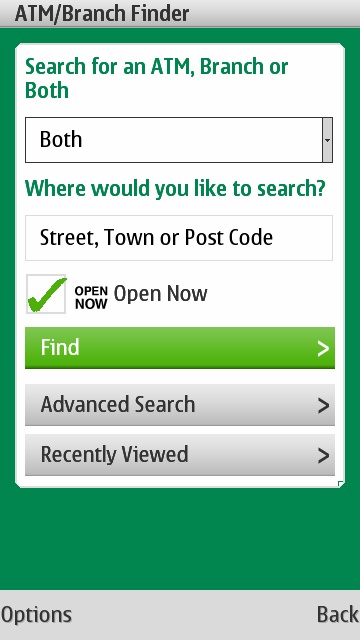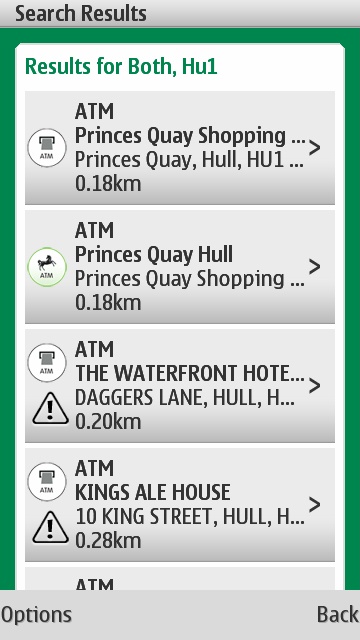 Searching for branches and ATMs.
After entering a search query, a list of results close to the address you entered is shown. Tapping a result brings up a page with the address, opening hours, and available facilities. There is also a favourites list, to save repeated searching for your regular financial haunts. However, while you can add branches, you cannot add ATMs.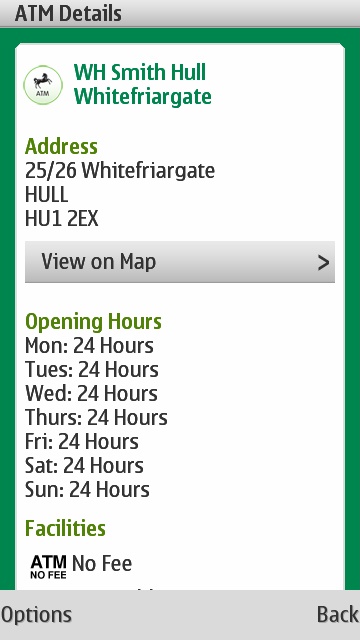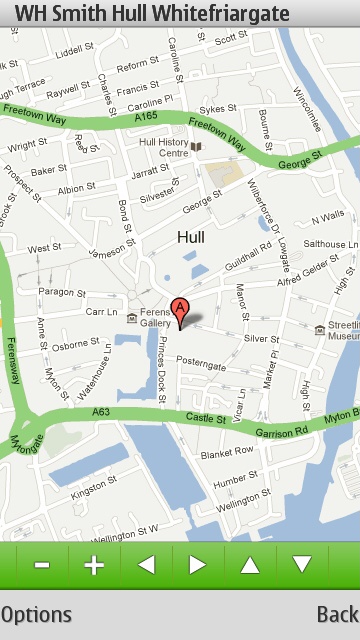 Viewing the details and location of a branch.
You can bring up a map showing the location of a branch by tapping its "View on Map" button. However, there are no pinch or drag gestures; moving and zooming are controlled via six icons along the bottom of the screen. As a result, every move requires a complete map reload, which makes for a stilted experience. It would have been better if the branch finder could have somehow been integrated with Nokia Maps for navigation purposes. Especially so, since the map view does not even show your location relative to the branch or ATM!
I wanted to be impressed with this application – I wanted mobile banking to mean real banking. However, the application launches a mobile website, and the branch finder doesn't do anything that a Google or Nokia Maps search couldn't do. Therefore, the only unique part of the application is the list of useful Lloyds TSB phone numbers – which could be saved to your address book anyway.
All in all, the Lloyds TSB app is more of a glorified bookmark than a useful application. Also note that there are versions of this application for the Bank of Scotland and Halifax.
David Gilson for All About Symbian, 26th January 2012.
Reviewed by David Gilson at