Review:
Word Hunter
Score:
63%
If you like word puzzle games and you have an eagle eye, then Word Hunter might be for you. This well presented game brings word search puzzles up to date for the 2011 Symbian user. If you can deal with the pressure of finding hidden words against the clock, then read on to find out more.
Version Reviewed: 1.0.0
Word Hunter is set out on a background image of a blackboard. So, as you might expect, all text has a look of handwriting in chalk. Unlike a real blackboard though, when you find a word, its letters spin around and change colour!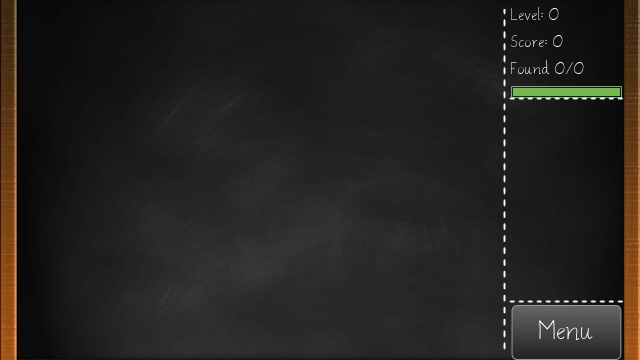 A blank board to start playing on.
If you're unfamiliar with the concept, a word search gives you a large grid of random letters, in which real words are hidden. They can go horizontally, vertically or diagonally; and backward or forward. In the case of Word Hunter, you are given a list at the side of the screen, showing which words to look for.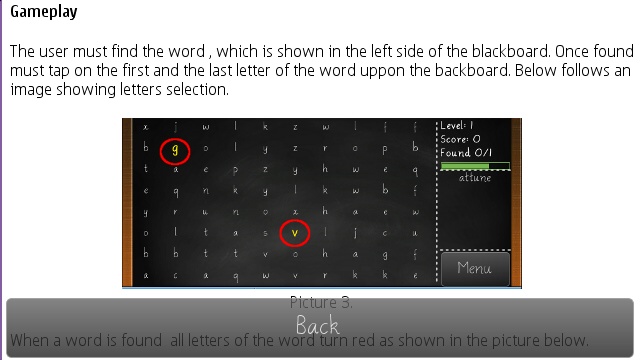 A useful help page is supplied.
The trick to word search puzzles is to find your best search technique. Some people just glance over the grid as a whole, and can see words without really thinking about it. Others can glance over the grid looking for a distinctive part of the word, e.g. a double letter pair. Then there's people like me, who go for the brute force approach. Searching the grid for the first letter of every word, then looking to see if the subsequent letter is among any of eight surrounding letters, and so on and so forth. If you have another method, please tell us in the comments!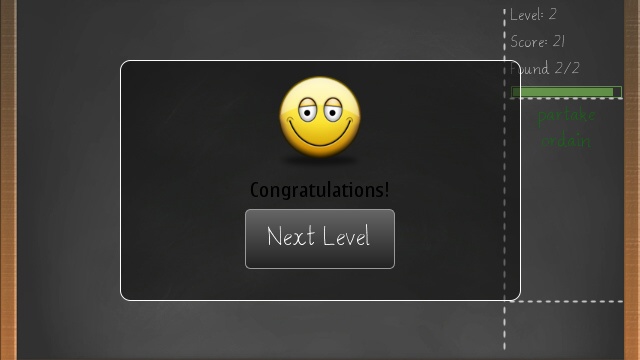 Happy face for the clever clogs.
Not only is this a visual recognition game, but it also becomes a memory challenge. The more words you can remember from the list, the more efficient your search will be.
Word Hunter manages to capture this experience perfectly, which gives the game some longevity. If this is your sort of thing, then continually perfecting your search method will keep you coming back for more.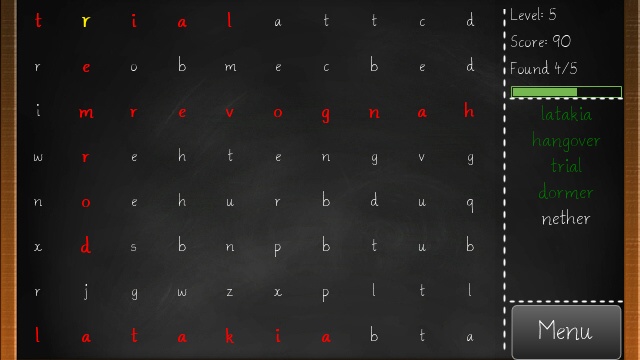 Discovered words are shown in red.
The early levels only require you to find one or two words. As you progress, you have to find more words, up to a maximum of seven. Playing against the clock, a green progress bar indicates how long you have left. The sooner you complete a level, the more points you score.
Word Hunter has a generous ten by eight grid, which is a blessing and a curse. On the bright side it means that there is plenty of scope for challenging puzzles. However, it makes the letters too small to read, and almost too small to tap on. After an extended period of gameplay, I found myself coming away with eye strain.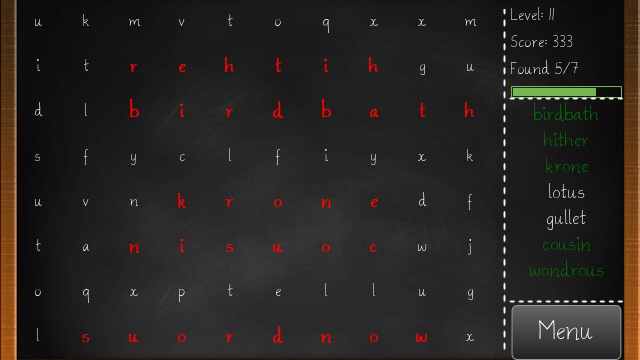 Words get more complex in higher levels.
I also noted that the touch input is sometimes unresponsive. To select a word in the grid, you just have to tap the first letter, then the last. However, I often found that my first tap was not registered. So the tap of the last letter in the word was interpreted as my first. You also have to make extra taps to undo errors. This wouldn't be much of a problem if you weren't playing against the clock. Since you are, it might make the difference of progressing to the next level or not.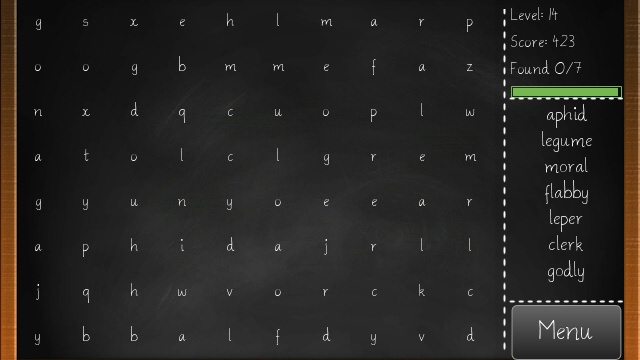 Level 14 was as far as I made it in testing.
You can get Word Hunter for £1.00 in the Nokia Store. I liked this one, despite the readability and responsiveness issues. There are plenty of other word search games on the Nokia Store though, some for zero cost, which we've yet to test out.
David Gilson for All About Symbian, 19 October 2011
Reviewed by David Gilson at