Review:
Gutenberg
Score:
40%
While Symbian users are STILL waiting for a Kindle application, we are not completely without a source of literary entertainment. Project Gutenberg is at the rescue with its vast library of public domain e-books. If you have a taste for the late and great classics, then you will mostly likely find what you want there. The mobile site of Project Gutenberg is brought to us as a web runtime (WRT) widget, just called "Gutenberg", from Pointlabs.
Version Reviewed: 1.0
The mobile homepage for Project Gutenberg lists all the links you might need to start finding what you're looking for. Along with a general search box, there are links to browse by: author, title, subjects, "Bookshelves", popular downloads, and the latest releases.
As you go into each category, there are links to change the sorting order, letting you list alphabetically, by popularity, by quantity of books, and by release date. Browsing by those sub-categories might be helpful to anyone without a definite goal in mind. Using the search box is better if you have a specific book in mind.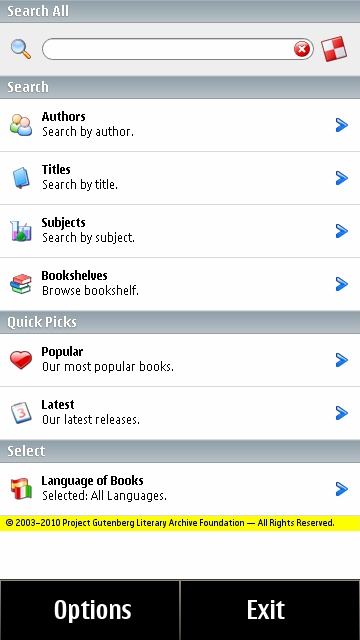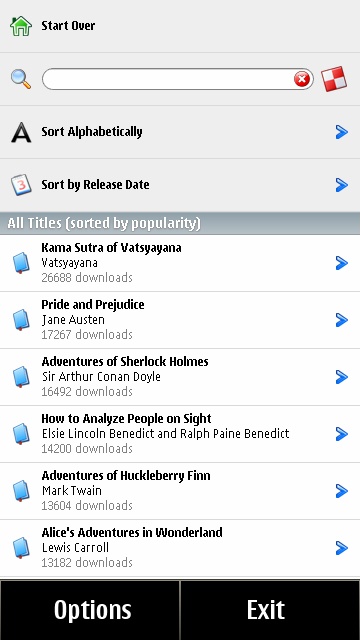 Gutenberg's home page and list of most popular books
The Bookshelves category is Gutenberg's way of providing genre lists, complementing the subject listings. In fact, it's not clear how the two classifications differ. However, both have a rich list of topics from which to find something to interest you.
There is everything from African history to Movie books. Movie books might sound an unlikely topic for a site that deals in books whose copyright has expired, but a great many films are based on classic stories, such as Dracula and Frankenstein, and even the Invisible Man.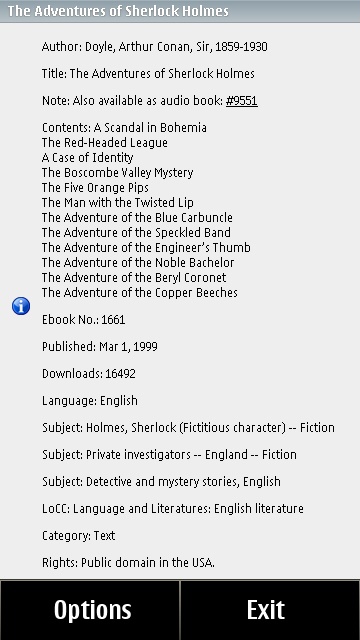 The header and download section for "The Adventures of Sherlock Holmes".
Once you find the book you want, you can download it in: HTML, ePub (with or without images), Kindle (with or without images), Plucker, and QiOO formats. Symbian has no viewers available for the last three formats. There are however, some ePub viewers available on the Nokia Store, and I'll be reviewing BuBue Book Reader tomorrow.
While ePub will require a third party reader, HTML can obviously be shown in the WRT application. The only problem with viewing books in simple HTML format, is that the whole book is shown in one continual stream. This means there is no way to save your progress. What's more, displaying a HTML file of an entire book is a memory intensive operation, even an N8 takes a noticeable amount of time to load most books.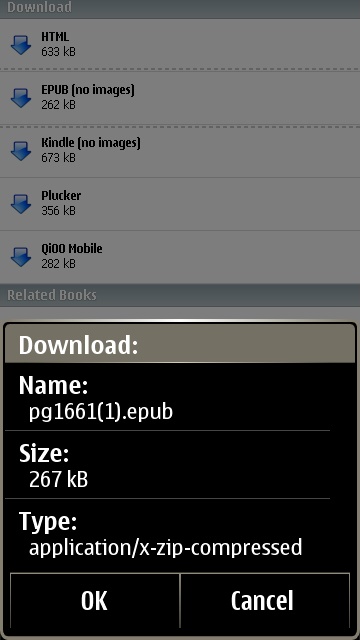 Downloading from Gutenberg; ePub files are automatically opened by Zip Manager, so remember to copy the file to your mass storage!
Because this is a WRT, rather than a native application, it lacks the standard controls that we are used to in Symbian applications. Most notable is the lack of any sort of back feature. While the old style touch UI buttons are shown, the only option is to exit the application. Your only alternative is to go back to the homepage via the "Start Over" link provided by Project Gutenberg at the top of every page. This actually makes the WRT more inconvenient to use than browsing the mobile website in your phone's browser.
While having this WRT gives a dedicated icon for Project Gutenberg, it's the lack of ancillary features that leads me to recommend viewing the mobile website in your browser instead of using this widget, and this is reflected in the low score.
You can find Gutenberg available for free in the Nokia Store.
David Gilson for All About Symbian, 15 October 2011
Reviewed by David Gilson at