Review:
Folder Gallery
Score:
55%
Viewing photos on a phone is something that we all take for granted. The Photos application on Symbian does a fine job, especially on touch enabled devices. However, if you don't want to swipe through everything on the device, you'll have to create albums. This can take some time, and there's no way to view photos in relation to where they are saved. Fortunately, that's where Folder Gallery steps in, generating galleries based on directories in your mass storage drives. Read on to find out how well it works.
Version Reviewed: 1.02(2)
Buy Link | Download / Information Link
Talking about viewing photos according to directories on mass storage may sound geeky in the extreme - but stick with me.
Unless you are super organised and meticulously maintain a desktop photo management application, you probably store photos by folder on your hard drive. So, doing the same on your phone isn't such a great stretch of the imagination.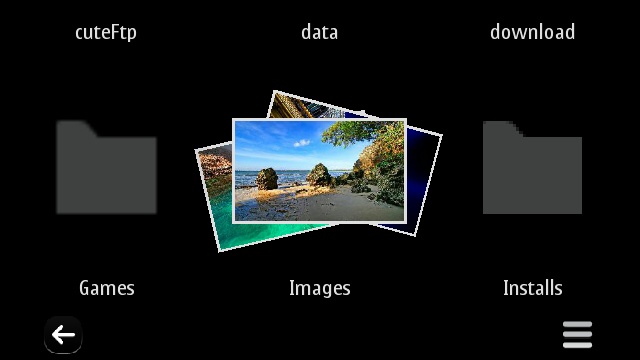 If you are in the habit of copying photos to your phone for viewing while you're out and about, then viewing them by folder could be quite handy. The built-in Photos application scans all drives for images, but leaves out any hint of directory structure, dumping everything in together. One option is to create your own custom albums, but that takes time.
The other option is to use File Manager for navigating to the photos you want to view. The problem is that you can only view one image at a time; you can't swipe from image to image or have a slideshow.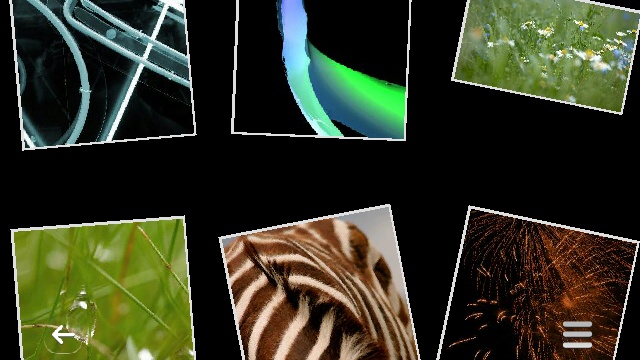 This is what Folder Gallery has been made to solve. The user interface is extremely stripped down, just showing a series of folder icons. For any folders in which it finds images, it gives not just one thumbnail, but thumbnails of the first three images in that directory, giving an impression of a staggered stack of photos.
When browsing a folder of photos, each photo is shown at an angle, which gives the impression of a scrapbook. Tapping on an image takes you to a full screen view, and finger swipes take you from one image to the next.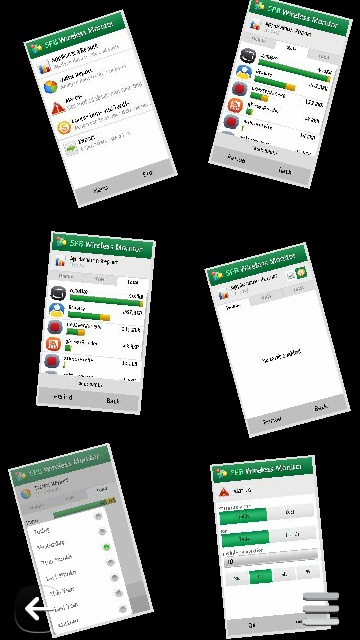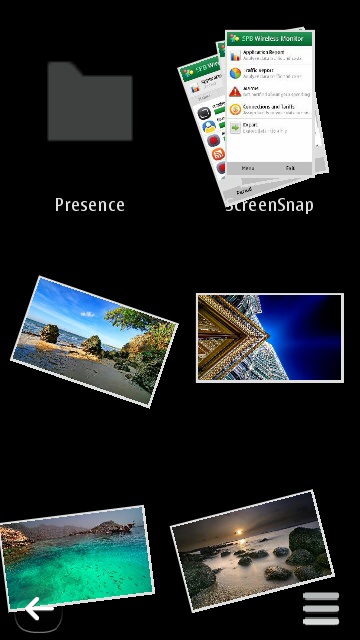 Given that Folder Gallery costs nothing, you'd be forgiven for asking where's the catch?.
Sadly, the catch is with its performance. Folder Gallery attempts to give kinetic scrolling, but it consistently stutters its way through every folder.
Things get worse when you approach the folder in which the Camera application saves photographs. Especially so if you have an N8 with 12 megapixel snaps. I found that Folder Gallery could not handle the 43 photos in my Camera directory. Strangely, it even started showing thumbnails for that folder, which were images from several other folders!
I wanted to like this application as I recognised the problem it was trying to solve. However, it's just too slow and unstable to make proper use of, despite its zero price tag. If you want to try Folder Gallery for yourself, you can get it for free on the Ovi Store.
David Gilson for All About Symbian, 30th September 2011.
Reviewed by David Gilson at