Review:
SPB Wireless Monitor
Score:
64%
Mobile data is an expensive resource unless you have an unlimited tariff. Oh wait, 'unlimited' doesn't mean unlimited! While Symbian OS can tell you how much data you've used during a given connection session, that count is gone once you disconnect. It would be useful if we could have a third party app running in the background, keeping a running total of your data usage. SPB Wireless Monitor is one such application, but how well does it work in practice? Read on to find out.
Version Reviewed: 3.0 (222)
Buy Link | Download / Information Link
For any sort of data monitor, I have certain expectations of how it should work. Top of my list is for it to automatically start when I reboot my phone. After searching through the fairly sparse menus, I couldn't find any sort of launch on boot option. I then assumed that it might have some sort of behaviour that went without saying, so I rebooted my Symbian Anna N8, and nothing; I had to launch it manually. However, my first few days with the application turned out to be filled with glitches; such as usage data not being saved. After several days, things seemed to settle down, and I discovered that it was recording usage data regardless of whether I'd launched the application or not!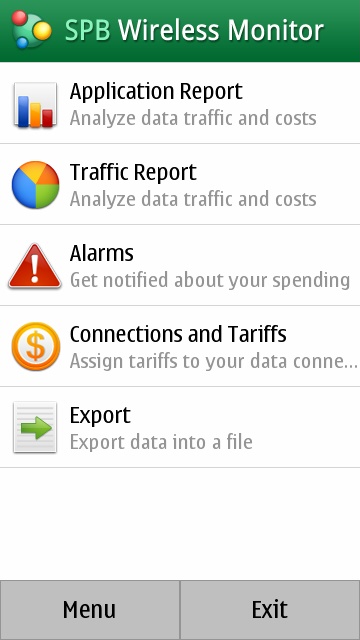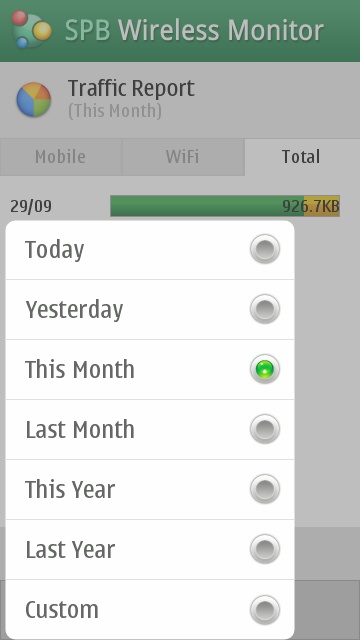 The main menu and choosing preset periods to view usage
The user interface of SPB Wireless Monitor looks great. The main page of the application is a summary of links to the individual features of the application. Everything is clean and well organised, without too many menu options.
You can view your data usage by application, which is further split into mobile data, WiFi data and aggregate. You can view your overall data usage too, for which you can define the period you want to view, e.g. splitting down into hours, days, and months, etc.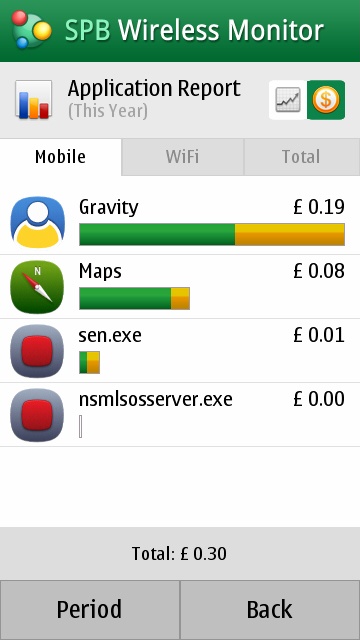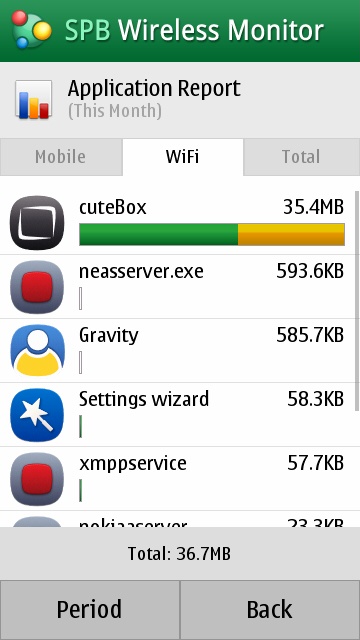 Viewing data usage by application
You can enter what your mobile data charges are, allowing the application to provide a cost report to you. You can also set up an alarm so that you get notice before you either pass your bandwidth cap or go beyond your budget. There is even an 'export to CSV' option so that you can back up your data and use it elsewhere. The file is saved to the C: drive, which will be fiddly for novice users to dig out. I would have preferred the export process to attach the file to an email, so you could just mail it to your desktop.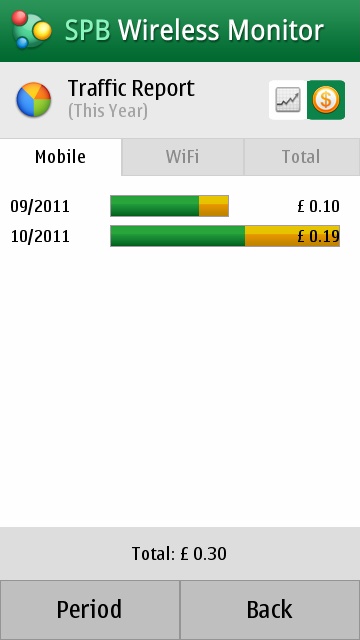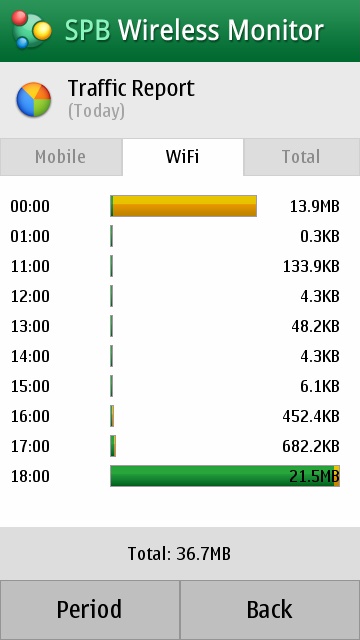 Viewing data usage on monthly and hourly basis'
SPB Wireless Monitor really looks the part, and is an application I'd like to install on my phone and those of my family who I give technical support to. There are times when unexpected behaviour of apps and routers can lead to a phone sneaking onto mobile data, racking up a big bill (unless you explicitly remove mobile data from your connectivity 'Settings'). This is just the sort of application that could help track down the source of such problems.
SPB Wireless Monitor has a free Lite version, and the full version is available in the Ovi Store for £8.00 or from SPB's website for $9.99.
My initial impression of SPB Wireless Monitor was coloured by a laundry list of glitches, such as crashes and lost data. However, it settled down in subsequent days and is reliably gathering data for me. Given its high price tag, I was not happy to see these glitches happen, but cannot rule out issues on my reviewing device.
David Gilson for All About Symbian, 3rd October 2011.
Reviewed by David Gilson at