Review:
Radio (Intersect World)
Score:
70%
Sometimes it helps to go back to basics. There are a lot of streaming radio applications out there, websites with audio to pass to your devices, and brand new ways to listen to media. While the ultimate back to basics would be to rely on the built-in FM Radio on your handset, let's move up one notch and look at Internet radio. It's fertile ground for developers (including Nokia itself), but today I want to listen to the effort from Intersect World.
Version Reviewed: 5.00 (1)
Buy Link | Download / Information Link
Cunningly called "Radio"(!), this client advertises over 45,000 stations to listen to. Although many of them are automated stations playing a pre-programmed stream of music, there's a lot to listen to. With stations from primarily the US and Canada (as well as the rest of the world), covering news, music, sports and current affairs, your problem is going to be trying to find the stations that appeal to you, not trying to find any nice stations to listen to at all.
Just remember, when the app says "national radio" it means the US, not where you are currently located.
There doesn't appear to be any major tie-up with any publishers or radio stations, as Radio is leveraging the SHOUTcast stream directory for the majority of the stations. In my opinion, this is a smart move. Unlike Nokia's Internet Radio application (Ovi Store Link) which requires SHOUTcast radio stations to be submitted and be curated into the Nokia directory, the full SHOUTcast directory is available to all here, and of course it uses the well known MP3/M3U/PLS streaming standard.
That means Radio uses these standards, and if you feel the need to add in a station that's not in SHOUTcast form but which does have an online stream (which is the case for one of Edinburgh's local Community FM stations), then it's a simple matter to add in the station's name and streaming URL, and away you go.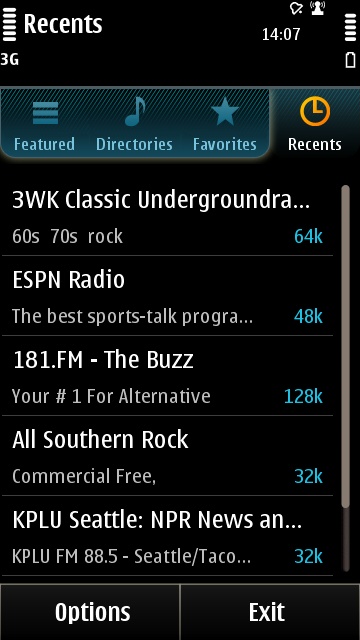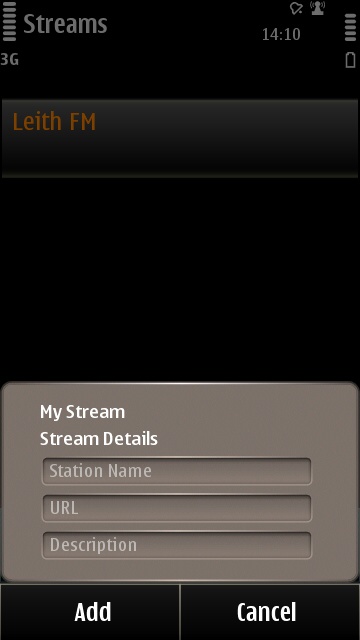 It also means that there are some obvious omissions, especially for us Brits. The BBC is only represented by the World Service, so no getting The Archers wherever you are in the world, or the local travel from BBC Coventry and Warwickshire. But on the other hand there is a huge amount of entertainment and information on offer here (and you can always fall back on FM or the podcast if you need to stay in touch with the antics in Ambridge).
Naturally, a lot of the quality in the audio delivered by an application is down to the station providing the stream, and there will be times where Radio will sit and cache audio. That's more than likely to happen on a 3G connection, but my gut feel is that most people will run this application over Wi-fi at the home or office, like an old transistor radio. To help, the bandwidth used by each stream is listed in the application. 72 kbps is regarded as FM radio quality, and I've no problem listening to music down in the 56k region.

On top of the listening experience that Radio delivers, you can also share what you are listening to with your friends on Twitter, Facebook and MySpace. This is the most basic sharing possible, with a text message simply saying "I am listening to 181.FM - The Buzz on Radio for Nokia." with no URLs, links or client notes for people to follow up and discover the app for themselves. This is very much a missed opportunity.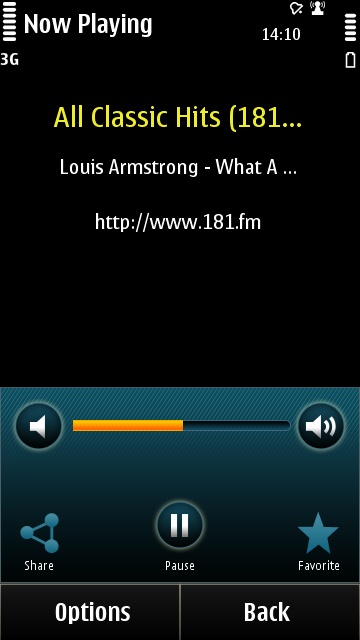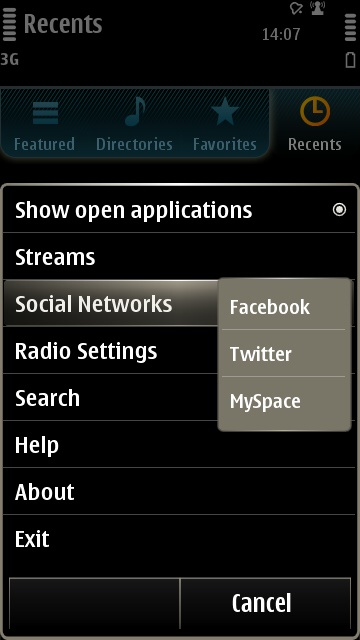 For some reason, there is no landscape mode at all, which makes it a bit weird on the E7 as this usually sits open on my desk. It is nice to see the external volume controls will work with the application, even when it is in the background.
Slightly worrying is that, on launching another application, the CPU prioritises the app being launched and not Radio, so you will get a dropout of the sound. Radio appears to have a relatively low priority in terms of using the CPU, so doing any work that requires some oomph will also result in Radio going quiet. And that, annoyingly, includes when Email goes and does a regular timed check to sync on my device. Every fifteen minutes.
Radio isn't set up to work in the background while you work, it's just too inconsistent. Sitting on the desk while I work on my PC, with email turned off, it works well. Arguably the same could be true at night on a bedside table (in which case can the next version have an "exit the app in 45 minutes" option?), but for heavy usage it's not quite there.
Within those limitations, this is a good SHOUTcast client, at a fair price (£1 for UK customers), and I think people are forgiving enough of the quirks of Internet radio to accept Radio's flaws, if internet radio is their thing.
-- Ewan Spence, Sept 2011.

Reviewed by Ewan Spence at