Review:
Wall Street Journal
Score:
50%
The Wall Street Journal is a well known publication, one which is trying to find a way through the new age of content distribution. While the options for how to do that with Symbian are limited, it looks like they might just have found a way. The Wall Street Journal app brings both free and paid for content to your Symbian device. Read on to find out how well it works.
Version Reviewed: 1.0.27
When you first start the Wall Street Journal (WSJ) application you're asked to create an account. This is somewhat inconvenient, but is over with quickly. From the WSJ's point of view, registering paves the way for you to subscribe later on.
The overall design is well laid out, and looks rather classy. There is always a WSJ header on screen, which is perhaps the only weak part of the layout. It seems to suggest you're never allowed to forget where all the content is coming from! Below the header is a sideways scrolling list of categories. They are: News, Latest, Markets, Opinion, Business, Tech, Life and style, and Quotes (i.e. stock market indexes).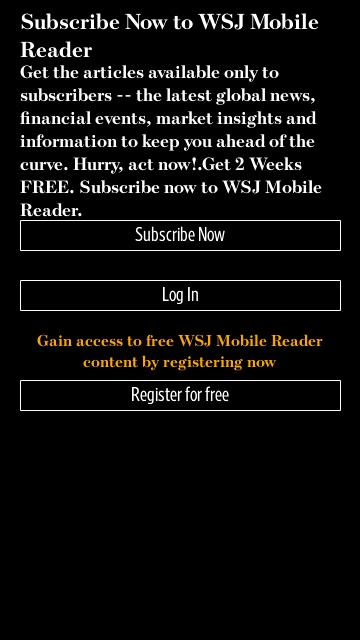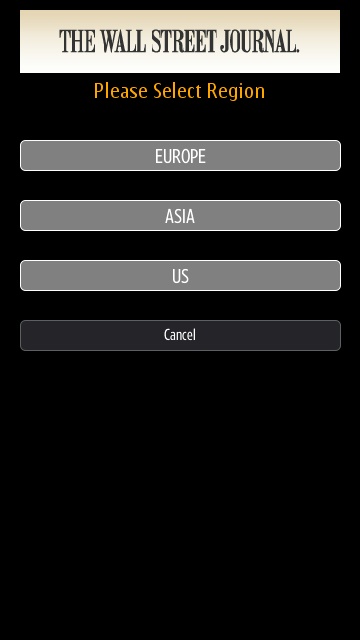 Configuring your WSJ reader
The main area of the app is a scrolling list of headlines accompanied with a photo from each article. Belowis a list of stock market indices which scrolls horizontally back and forth.
Some require a paid subscription to view in full. The paid-for articles are marked with a key icon to indicate they're 'locked'. The first paragraph is free to view, and is accompanied with a link to subscribe.
If you're interested, the subscription rates are $1.99 (USD) per week for the mobile reader, with added extras of breaking news headlines and multimedia content. For $3.99 per week, you can be subscribed to WSJ.com and the tablet edition too. Subscribers get their first two weeks for free as a cooling off period.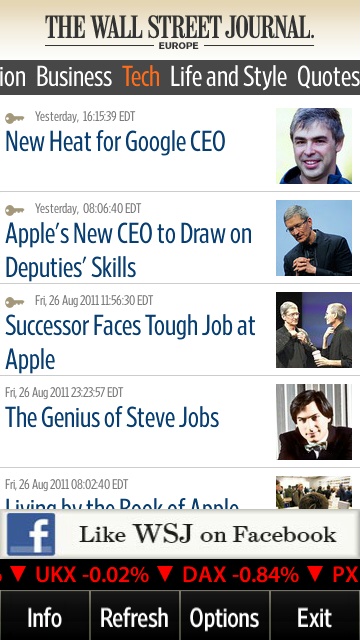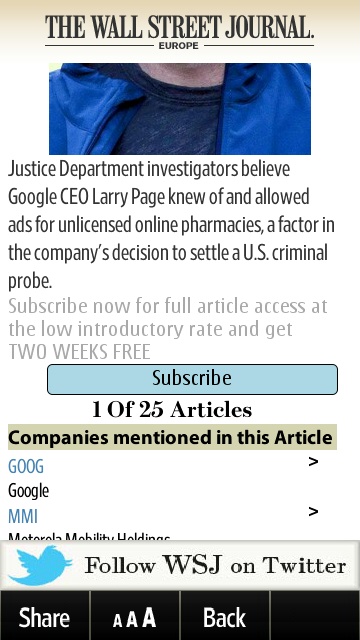 Browsing content and handling paid for content
Fortunately, you can change the font size on every view. The smallest of which is a stylish looking sans serif font. It's quite clear to read, but may prove difficult for those with poor near sight.
Everything sounds good so far, but the catch is the poorly optimised user interface. While it looks good in screen shots, interaction is extremely stilted. Things don't always scroll when dragged. There is always a delay between tapping or dragging and something actually happening. This even includes feedback to reassure you that something will happen.
Those issues almost make the app unusable. It's a shame, because this sort of content distribution is an interesting experiment that is worth seeing through. While most people agree that pay walls are not the way forward, at least the WSJ is offering half or more of its content for free.
You can try WSJ for yourself by installling for free from the Ovi Store.
David Gilson for All About Symbian, 29th August 2011.
Reviewed by David Gilson at